By Beth Deitchman
The story of an enchanted nutcracker, a curious young girl and a menacing mouse king has captivated audiences for literally centuries, since E.T.A. Hoffman penned the iconic tale. But Disney's The Nutcracker and the Four Realms is not the story that you know. It's a magical reimagining that takes 14-year-old Clara Stahlbaum (played by Mackenzie Foy)—a science whiz at a time when girls weren't likely to be interested in making things and building things—into a strange and magical world that's unlike anything we've ever seen before.
The parallel world that Clara enters springs from the sketchbooks of Academy Award®-nominated and BAFTA-winning production designer Guy Hendrix Dyas (Inception), who says that he looked to his inner child as he approached the film's visual look, asking himself, "What would I want to see? What would be a spectacular way to render this world for everybody when they're in that same head space?" Dyas took D23 on a guided tour through the new film's breathtaking lands and revealed a host of hidden treasures to discover in the stunningly detailed sets.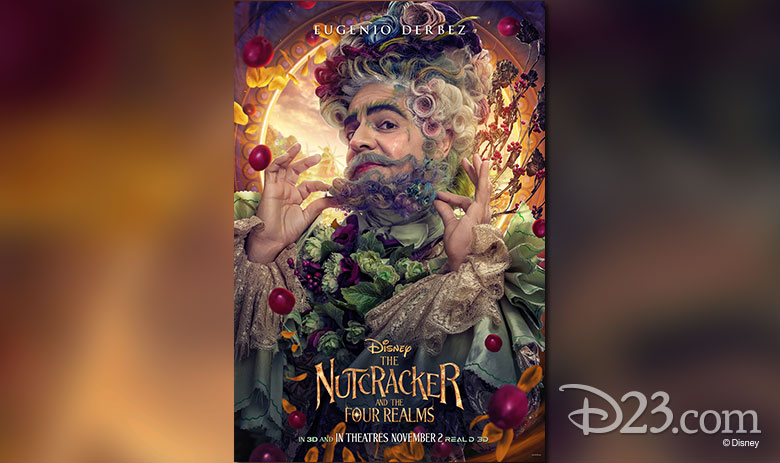 LAND OF FLOWERS
With more than 2 million individual CG flowers, turning windmills and a CG cobbled street, you can almost smell the fragrant Land of Flowers as you journey there with Clara. As he imagined the land, Dyas put tremendous thought into what the land's inhabitants would be like. As a result, the Land of Flowers has a thriving perfume industry, and the residents also work closely with beeswax and honey. "The basis for the costumes in the Land of Flowers were Victorian beekeeping costumes," Dyas reveals, adding, "If you look really hard, you're going to see beehives in the backgrounds and elements of that."
LAND OF SNOWFLAKES
The northernmost land was conceived with a very specific function. "It was designed as a giant iceberg that had broken away and drifted down, wedged itself into the norther part of the fantasy peninsula and is slowly melting," Dyas says. The runoff from the melting ice creates the lake from which the palace rises, and also creates the waterfall that drives the water wheels that power the palace. The Land of Snowflakes is inhabited by aristocrats, Dyas explains, who provide pure ice and water to the world—a most valuable commodity.
LAND OF SWEETS
Dyas describes the Land of Sweets as almost "Dickensian," though in addition to smokestacks and chimneysweeps you'll also see candy-colored smoke and people spinning taffy in the streets. The buildings might evoke Germany of the 16th century, though Dyas notes, "All the buildings are made of these incredible hard-boiled candies and sweets." As a result of all of the sugary-sweet details found everywhere you look, he jokes, the Land of Sweets is also home to its fair share of dentists.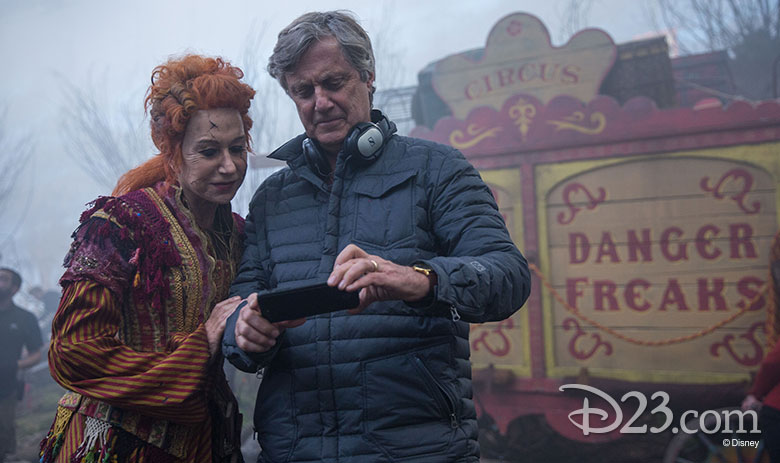 THE FOURTH REALM
To create a home for Mother Ginger, Dyas says, "I started on the journey of clearing my head and going into those nightmarish moments that you have as a child and trying to think what would be incredibly frightening." Though Mother Ginger is essentially a giant in the E.T.A. Hoffman tale, Dyas wanted to stay closer to reality. With Helen Mirren in mind, Dyas designed what he saw as a 30-foot marionette that would function as a kind of tank or vehicle Mother Ginger could control. "She was up in the torso of this very scary, steampunk-like marionette, controlling it with a big, booming voice and little slots where she could peek and see what was going on," says Dyas of Mother Ginger's lair. The Fourth Realm is intended to evoke the feeling of an abandoned fairground, "one of the saddest things you'll ever see," says Dyas.
Dyas, who began his career more than 20 years ago working in visual effects at Lucasfilm's Industrial Light & Magic, believes beyond all doubt that he has the best job in the world. "I get paid to sketch things and watch them come to life," he says, sharing that for him, the nervousness comes at the end when he watches the film with an audience. "You are in the dark and you get to listen to hundreds of people's reactions to that world [you designed], and you hope it's going to be awe and excitement and appreciation." And from the small details carved into Clara's Fabergé egg-inspired music box to the towering and timeworn carousel of the Fourth Realm, The Nutcracker and the Four Realms' stunning details take us on a delightful journey of discovery alongside our heroine.