By Jim Fanning
On October 10, 1952, Walt Disney's Trick or Treat flew into theatres just in time for Halloween—and for 65 years, this classic animated short has hilariously haunted audiences with an autumnal bounty of boo-tiful laughs. Both scary and sweet, Trick or Treat details how, on one eventful All Hallows Eve, Donald Duck is determined to play the tricks on his nephews— costumed as a devil, a ghost, and a witch—and keep the treats for himself. Huey, Dewey, and Louie set out to reclaim Halloween with the help of a sympathetic witch named Hazel and her anthropomorphic broom, Beelzebub. The "waggish hag" (as Disney Publicity referred to Hazel) pulls out all the scary stops to help the kids get their candy and uses her witch's brew ("This is the real thing," Hazel explains, "right out of Shakespeare!") to conjure up a spook-tacular parade of ghouls and ghosts to scare "that quacking rogue" into giving the determined doorbell-ringers their rightful treats and sweets. To celebrate this wickedly fun animated short's milestone anniversary, here's a goodie bag brimming with frightfully fascinating facts that are all treats, no tricks.
1. Jack Hannah Stages a Spooky Halloween Classic
In a career encompassing 65 Donald Duck shorts, Disney Legend Jack Hannah later recalled directing this Halloween-themed cartoon as a particularly enjoyable "treat." Rough animation was completed by February 1952. An incomplete version was screened for specially invited Disney Studio personnel not involved in production. A common Disney practice in the 1950s and 1960s, these test screenings were known as ARI (Audience Research Institute), a system created by public opinion polling expert George Gallup and adapted by Disney to measure audience reaction to in-production films. Jack later recalled that Trick or Treat had a particularly strong reaction at the ARI screening—as director, he would have been present and reviewed the completed survey cards—and a Disney Publicity press release reported the same. Calling Trick or Treat "a masterpiece of jovial jitters," the press release stated, "It has just been viewed at the studio in the early phases of production, and even in the state of animation shows the sure signs of another Disney short subject hit."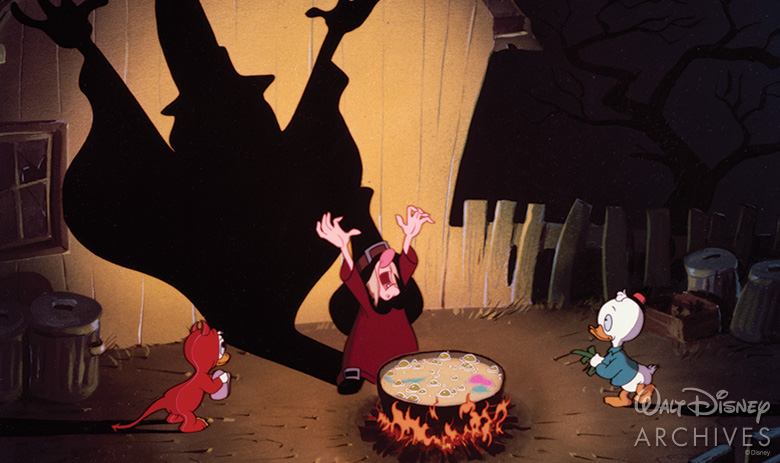 2. The "Wright" Story Man for a Halloween Tale
Veteran Disney story artist Ralph Wright created the story, filled with wild gags conjured up by Hazel's Halloween witchcraft. A contributor to everything from shorts (the Goofy "How-To" series) to features such as Bambi (1942) and Alice in Wonderland (1951), Ralph was renowned for his wild ideas—and for Trick or Treat, his wild imagination was exactly what the witch doctor called for. Ralph was inspired to create some of the cartoon's craziest Halloween hijinks as in the sequence where Witch Hazel enchants Donald's webfeet to dance, prance, or kick up the candy-closet key that he has swallowed. "We had a problem getting that to animate right," revealed Hannah. "We were very careful to prepare a strong storyboard, but the animator still had a little trouble making the Duck kick the key out of his own bottom." Incidentally, if Ralph Wright was ever looking for a Halloween costume he would have been well suited to trick or treat as a certain gloomy donkey, for Ralph was immortalized as the original voice of Eeyore in the Winnie the Pooh featurettes.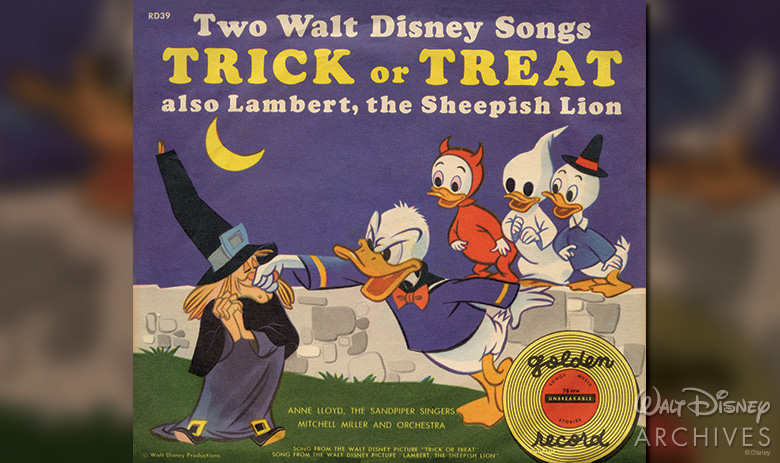 3. The Cinderella Songwriters Scare Up a Trick-or-Treat Theme
Early storyboard drawings portray Witch Hazel as singing her own Halloween ditty, but as Walt and his artists realized that this animated short was shaping up into something exceptional, it was decided to add a full-fledged theme song, composed expressly for this short. The musically memorable result was "Trick or Treat (For Halloween)," composed by Mack David, Al Hoffman, and Jerry Livingston, the team responsible for the songs in Cinderella (1950). Sung in the film by the Mellomen, who harmonized for many a Disney project, the Trick or Treat theme song was later recorded by Mouseketeers Karen Pendleton and Cubby O'Brien in 1958 for the Holidays with the Mouseketeers recording.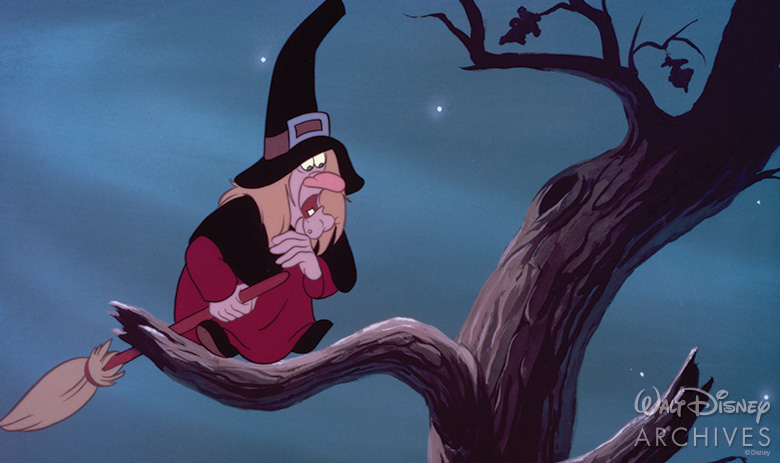 4. Speaking of (and for) Witch Hazel
In directing Trick or Treat, Jack Hannah found working with the dynamic new character of Witch Hazel a real scream. "We had a lot of fun with her. She spoke sort of Shakespearean English, full of thous and thees." The First Lady of Animation Voices, acclaimed voice artist June Foray, was signed on to perform the comical but classically toned old-hag's voice. (Interestingly, June later voiced another—and similar—character named Witch Hazel in several Warner Bros. Bugs Bunny cartoons.) For Disney, Foray went on to voice Grammi Gummi in Disney's Adventures of the Gummi Bears, Magica de Spell in DuckTales, and Grandmother Fa in Mulan (1998).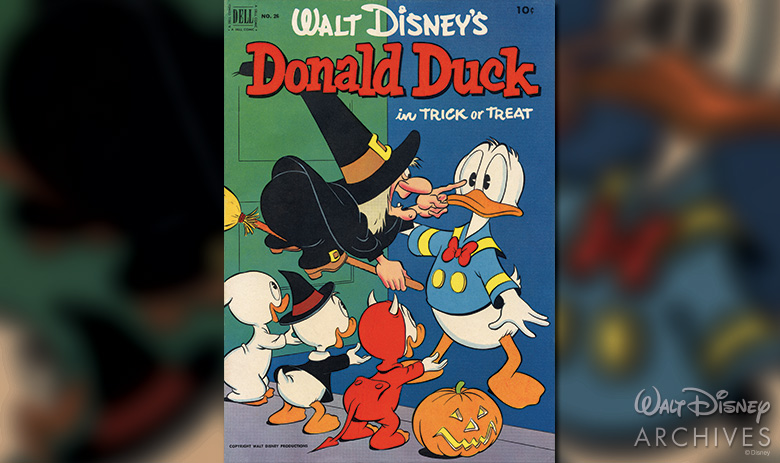 5. Carl Barks Treats Us to a Comic Book Version
At the same time Trick or Treat was hitting the big screen, a comic-book adaption (Donald Duck, Issue 26) by renowned writer artist and Disney Legend Carl Barks was hitting newsstands. Western Publishing comics editor Chase Craig said, "We wanted to do a Halloween book, and Disney had made this picture Trick or Treat, so we got the storyboards on it and turned them over to Carl." (Ironically, Barks recalled, "I didn't see the movie until long afterwards. I was sent the storyboard stats and told to make the stuff into a feature-length story. I soon found out the material wouldn't fill the 32 pages that were than the length of a feature, so I added some extra stuff.") In addition to a sequence where the nephews attempt to find the hair of a billy goat to complete Witch Hazel's spell, the added material mostly centered on a six-armed Cyclops Smorgasbord the Ogre—otherwise known as Smorgie the Bad—but Barks' editors excised the Smorgie sequence before publication. Three decades later, the "lost" pages were restored under Barks' supervision or publication in the hardcover collection, The Carl Barks Library, in 1986, and the Halloween-centric comic-book story has been reprinted internationally many times since in its complete form.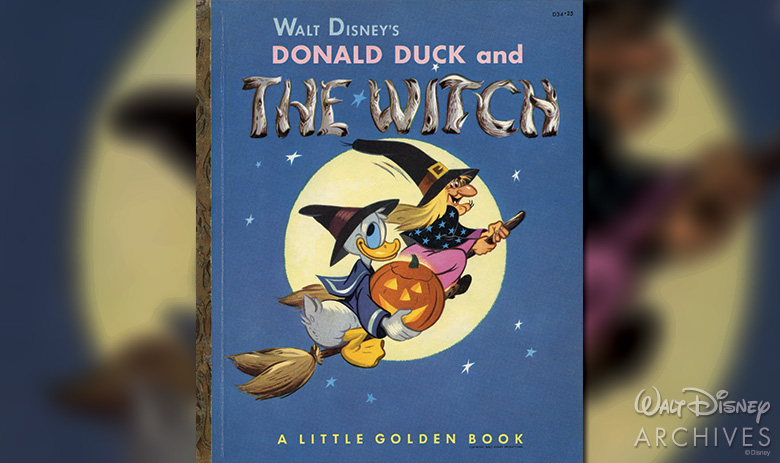 6. Witch Hazel Flies in to Stay
Though she may lack the glamour and beauty of a, shall we say, traditional movie queen, Witch Hazel makes up for it with a crazy kind of charisma. Though she never appeared in another theatrically released Disney cartoon, she made other appearances in other media, such as "The Mad Hermit of Chimney Butte," broadcast on Walt Disney Presents on April 1, 1960, featuring new animation of Witch Hazel directed by Jack Hannah. A Little Golden Book, Donald Duck and the Witch, was published in 1953, just a year after the short's release. The art was adapted by Disney artist Dick Kelsey for this new version of the Trick or Treat story, in "witch" Donald, the nephews, and Hazel all share a fall harvest feast. Hazel went on to more publication fame as the star of comic books overseas as well in the U.S., as in the second issue of The Beagle Boys comic book (November 1965)—even if Hazel is inexplicably called Wanda Witch.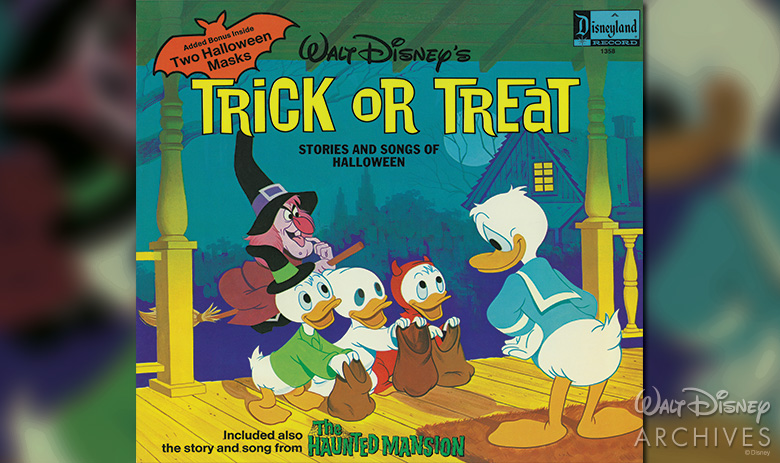 7. Witch Hazel Goes on the Record
The bewitching star of Trick and Treat conquered another showbiz medium when in 1974 this winningly witchy woman was featured on her own LP record album. Released on the Disneyland Records (now Walt Disney Records) label, the Trick or Treat: Story and Songs of Halloween LP is an unusual blend of the original animated short's soundtrack melded with newly written narration for Witch Hazel, performed by Disney Legend Ginny Tyler. Beloved as the "Disneyland Storyteller," Ginny delivers Hazel's dialog in her own style, while at the same time skillfully matching June Foray's original dialog, much of which is retained for this classic recording. As an extra spooky surprise, the LP came complete with two Halloween masks, one of Hazel, the other of a pumpkin, presumably the jack-o-lantern who pops up to say "Boo!" at the cartoon's conclusion.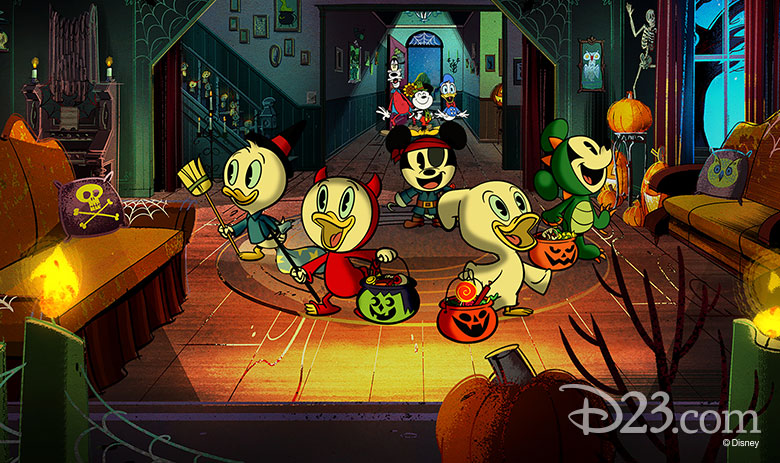 8. A Halloween Classic
In development as early as 1951, this special seasonal short was targeted for an October 1952 release, even though it played a special pre-release engagement in late September at the prestigious Radio City Music Hall in New York City. The enduring appeal of Trick or Treat was demonstrated the very next year with its inclusion in Halloween Hilarities, a theatrically released compilation of spooky Disney shorts. From then on, the bewitching battle between Donald and Witch Hazel has been showcased in innumerable anthologies, including the Disneyland TV series (where the merrily macabre short made its television debut in "All About Magic" on January 30, 1957). Trick or Treat was also featured in The Mouse Factory ("Spooks and Magic," 1972) and the frequently broadcast fan- favorite special A Disney Halloween, which first aired in 1981. A Trick or Treat cameo can be spotted in the all-new animated special, The Scariest Story Ever: A Mickey Mouse Halloween Spooktacular, that debuted on Disney Channel on October 8, 2017, with Huey, Dewey, and Louie sporting their costumes from the classic animated short. So be sure and put into practice the lesson Unca Donald learned in Trick or Treat: "When ghosts and goblins by the score, ring the bell on your front door, you'd better not be stingy or your nightmares will come true!"