By Courtney Potter
A fresh look at Disney•Pixar's Coco, and the next Star Wars story gets a title… See more, along with other news from around Disney, in this week's news briefs!
Brand-New Clip from Disney•Pixar's Coco
We're just about a month away from the release of Disney•Pixar's latest feature, the wonderfully colorful Coco—and we've got a brand-new clip to whet your animation appetite! Check out Miguel (voice of Anthony Gonzalez) as he—and a well-meaning mariachi player—incur the wrath of Miguel's grandma in the video, above.
Additionally, take a look at the incredible amount of research that went into crafting the story (and the music) of Coco in this new behind-the-scenes featurette, below. Hear from director Lee Unkrich and producer Darla K. Anderson (both of Toy Story 3 fame), and co-director Adrian Molina—as well as actors Gonzalez and Gael Garcia Bernal (Hector); composer Michael Giacchino (Inside Out, Up); and songwriter Germaine Franco and music consultant Camilo Lara. Mark those calendars: Coco crescendos into a cineplex near you on November 22!
Save the Date!
Be sure to mark these upcoming Disney events on your calendar:
October 29, 2017


D23's Spooky Screening Series: Halloweentown on The Walt Disney Studios Lot


November 17, 2017


Lunch with a Disney Legend: Russi Taylor


November 18, 2017


D23's Magical Screening Series: The Many Adventures of Winnie the Pooh in Florida


November 18, 2017


Mickey's of Glendale—Orlando Shopping Event


November 18, 2017


The Official Walt Disney Studios Tour—Presented by D23


November 26, 2017


Join D23 at the Saks Holiday Breakfast with Snow White


December 6, 2017


D23's Holidays in Hollywood


December 10, 2017


D23's Light Up the Season


December 10, 2017


D23's Holiday Shopping Day at Mickey's of Glendale


February 2, 2018


D23 Member Night at Disney's Aladdin at the Hollywood Pantages Theatre
Parks


August 25 and 29, September 1, 7, 10, 12, 15, 17, 19, 22, 24, 26, and 29; October 1, 3, 5, 6, 9, 10, 12, 13, 15, 17, 19, 20, 22, 24, 26, 27, 29, and 31; November 1




Mickey's Not-So-Scary Halloween Party at Magic Kingdom Park




August 31-November 13, 2017




Epcot Food & Wine Festival




September 15–October 31, 2017




Halloween Time at the Disneyland Resort




September 20, 22, 25, 27, 29, October 3, 6, 10, 13, 17, 20, 24, 27, 31




Mickey's Halloween Party at Disneyland Park




November 10–January 7




Holidays at the Disneyland Resort




December 16


Star Wars: Galactic Nights returns to Disney's Hollywood Studios


2019


Star Wars-Themed Lands Opening at Disneyland and Walt Disney World



Studios




November 3, 2017


Thor: Ragnarok opens in theaters


November 22, 2017


Coco opens in theaters


December 15, 2017


Star Wars: The Last Jedi opens in theaters


February 16, 2018


Marvel Studios' Black Panther opens in U.S. theaters


Television




October 19–31, 2017




Freeform's 13 Nights of Halloween




November 2017


Big Hero 6 The Series Premieres on Disney XD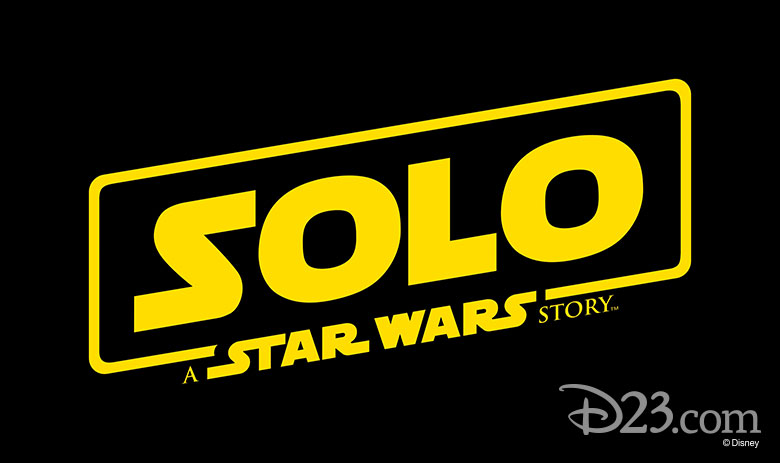 It's Official! Director Ron Howard Announces Name of Next Star Wars Story
It's a movie that's heretofore been untitled… but this week, that all changed! Director Ron Howard took to his Twitter feed to officially announce the title for the next chapter in the Star Wars story—all about the origins of everyone's favorite "scruffy-looking nerfherder" Han Solo. Watch Ron's quick, funny video here.
New Black Panther Trailer is All Kinds of Amazing
Oh, the anticipation! Marvel Studios' Black Panther won't leap into theaters until February of next year, but that doesn't mean our excitement is waning… far from it. Case in point: We almost leapt out of our collective chairs over this thrilling new trailer for the film, above. Take a look and see (or leap!) for yourself…
Black Panther follows T'Challa (Chadwick Boseman) who—after the death of his father, the King of Wakanda—returns home to his isolated, technologically advanced African nation to succeed to the throne and take his rightful place as king. But when a powerful old enemy reappears, T'Challa's mettle as king—and Black Panther—is tested when he is drawn into a formidable conflict that puts the fate of Wakanda and the entire world at risk. Faced with treachery and danger, the young king must rally his allies and release the full power of Black Panther to defeat his foes and secure the safety of his people and their way of life.
Directed by Ryan Coogler and co-starring Michael B. Jordan, Lupita Nyong'o, Danai Gurira, Martin Freeman, Angela Bassett, Forest Whitaker, and Andy Serkis, Black Panther arrives on February 16, 2018.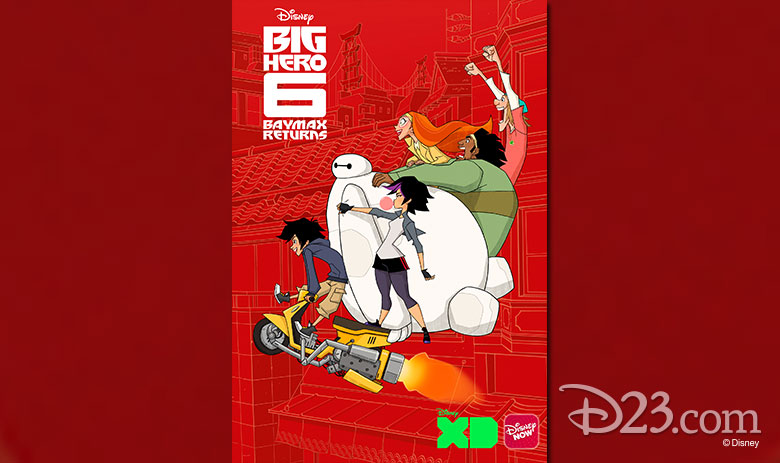 Big Hero 6 The Series Kicks Off This November
San Fransokyo, here we come! Disney XD just this week announced that their new Big Hero 6 The Series will launch with a one-hour TV movie (airing simultaneously on both Disney XD and Disney Channel) on November 20. Read all about it at our D23.com rundown here.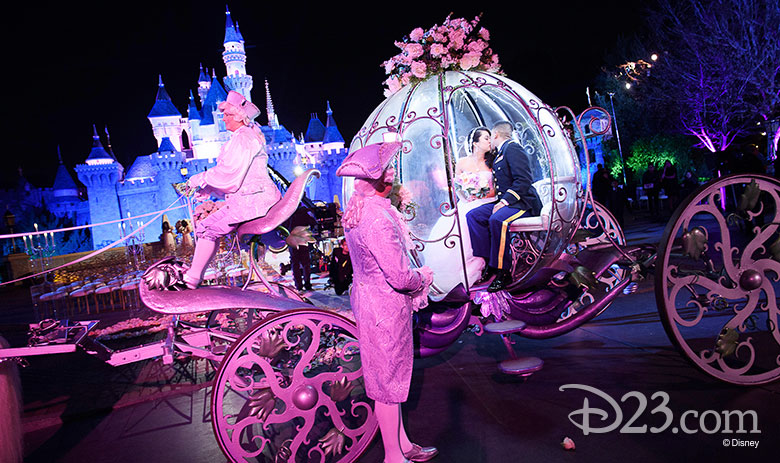 Freeform Says "I Do" to Disney's Fairy Tale Weddings
First comes love, then comes marriage… and Freeform will be there to chronicle several Disney-themed nuptials in a brand-new, seven-episode series entitled Disney's Fairy Tale Weddings.
Each hour-long episode will give viewers a behind-the-scenes look at some of the most spectacular weddings and engagements at Disney Destinations around the globe. From a sun-drenched holiday proposal at Aulani, a Disney Resort & Spa in Hawaii, to a winter wonderland wedding at Walt Disney World Resort in Florida, viewers will be guests from the start of each couple's "happily ever after" journey. The producers of the series—including So You Think You Can Dance's Simon Lythgoe—worked hand-in-hand with Walt Disney Parks & Resorts to bring you this special inside-look at Disney's magical wedding planning services. (Fun fact: It's fair to say everyone loves weddings—Freeform's original breakout special of the same name, which aired this past May, was its highest-rated unscripted TV special to date!)
Look for Disney's Fairy Tale Weddings on Freeform this spring.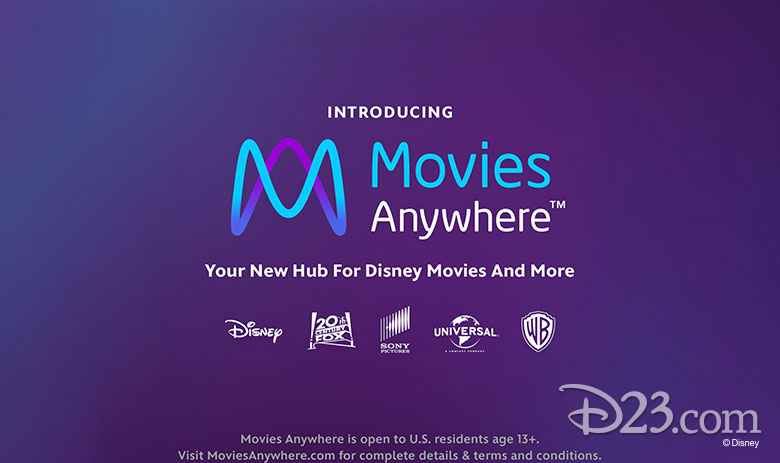 Everything You Need to Know About Movies Anywhere
If you've ever thought to yourself, "Gee, I've downloaded a lot of movies—Disney and otherwise—over the last few years, and I wish I had them all in one place"… well, listen up! Disney just last week revealed Movies Anywhere, a new hub for all your favorite films. Find out more right here.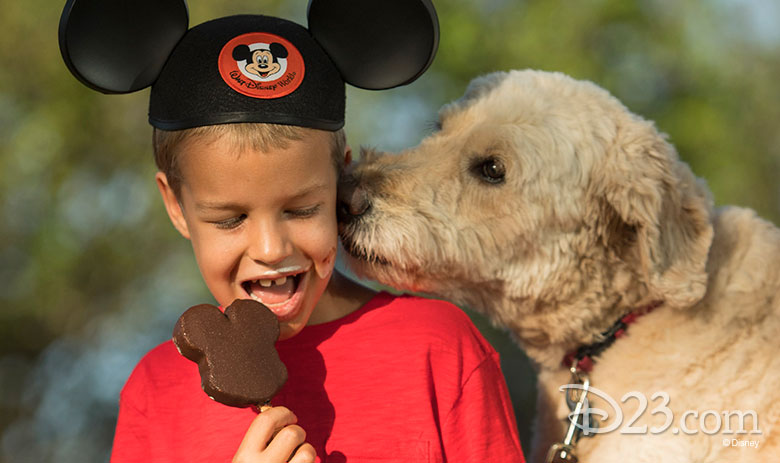 Pawesome News: Select Walt Disney World Hotels Now Allow Dogs!
Here is some paw-ticularly great news for Disney fans who don't want to leave their beloved pooch at home during a Walt Disney World Resort vacation… Guests are now allowed to bring dogs to four resort properties!
As part of this new pilot program, four Walt Disney World resort hotels have been designated dog-friendly: Disney's Art of Animation Resort, Disney's Port Orleans Riverside Resort, Disney's Yacht Club Resort, and the Cabins at Disney's Fort Wilderness Resort. There is a per night/per room pet-cleaning rate (between $50 and $75, depending on the property), and a maximum of two dogs per guest room will be accommodated. Each guest room will have easy access to outdoor pet walkways for exercise, and green spaces for your pet to take care of their, shall we say, "business." But if you're not a dog lover, don't worry—each resort will designate certain floors or sections of a hotel as dog-friendly, while the majority of areas will remain canine-free to accommodate guests with allergies or other concerns. They've got everyone covered!
And if you think staying at a Walt Disney World Resort property is exciting for humans, check this out: When your pooch "checks in," they'll receive their very own Pluto's Welcome Kit—which includes a mat, water/food bowls, a pet ID tag, disposable bags, puppy pads, and dog-walking maps… plus a Pluto "Do Not Disturb" door sign to alert hotel staff that a pet is in the room. And Disney enjoys a partnership with Best Friends Pet Care, an on-property full-service facility that can provide assistance with pet daycare and other services; do note that fees will apply.
We're betting the Disney dogs in your life will be paws-itively elated with this pilot program…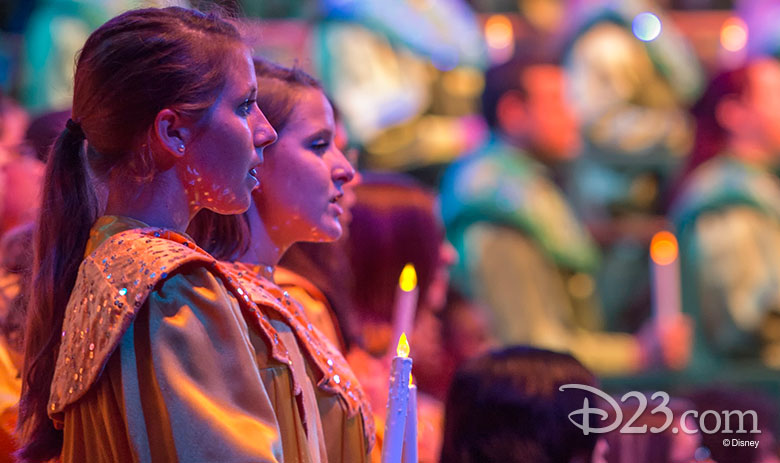 New Narrators Added to Epcot's 2017 Candlelight Processional
And speaking of Walt Disney World Resort, here's an update on a fan-favorite event that's only a few short months away: Several more celebrity narrators have been added to Epcot's 2017 Candlelight Processional.
Joining the previously announced new additions of actors Matt Bomer and Warwick Davis are—drum roll, please—Disney Legend and Guardians of the Galaxy Vol. 2 star Kurt Russell and Olympic gold- and silver-medal-winning gymnast (and recent Dancing with the Stars winner) Laurie Hernandez! (Both are first-time Candlelight participants.) And rounding out this year's list are recent additions—and returning faves—actress/comedian Ana Gasteyer and Ariel herself, The Little Mermaid's Jodi Benson.
For more information on all things Candlelight Processional, including the fantastic dining packages available, check out the 2017 event's page at DisneyWorld.com.