By Beth Deitchman
If you left your heart in San Fransokyo, you can now mark your calendar for a return trip to the city. Disney XD has just announced that the animated Big Hero 6 The Series launches on Monday, November 20, with a one-hour television movie—Baymax Returns—premiering simultaneously on Disney XD and Disney Channel at 8 p.m. EST. On a scale of one to 10, how would we rate our excitement? It's got to be at least an 11!
The new series picks up where Walt Disney Animation Studios' Oscar®-winning feature Big Hero 6 left off. Baymax Returns explores the moment in the film after Hiro believes his huggable high-tech robot is lost in the portal forever and discovers the chip his brother designed to create Baymax. Tech whiz Hiro sets off to rebuild Baymax—and also sets out on a new path as a student at San Fransokyo Institute of Technology. The rest of the Big Hero 6 team—Wasabi, Honey Lemon, Go Go and Fred—are along for the ride in Baymax Returns and in the series, which debuts in early 2018.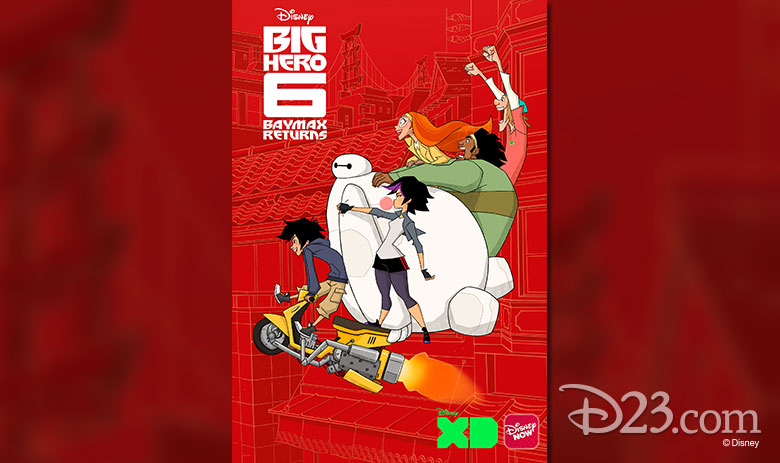 But lucky for us, we won't have to wait until then for new adventures for Hiro and his friends. Two special full-length preview episodes of Big Hero 6 The Series will debut exclusively on the DisneyNOW app and Disney XD VOD immediately following the TV movie. And on Friday, November 24, new Big Hero 6 The Series shorts will begin rolling out every Friday (for six consecutive weeks) on Disney XD, the DisneyNOW app and Disney XD YouTube.
And if that's simply not enough Big Hero hijinks for you, check out "Pocket Baymax" on the DisneyNOW app the same day that Baymax Returns launches. The customizable, interactive virtual assistant brings Baymax to life in a whole new way.
That's news that's worthy of a fist bump and a "Bah-a-la-la-la!"