On any given day, stroll through Disneyland and you can find Captain Jack Sparrow bumbling about New Orleans Square or a princess stopping in front of Sleeping Beauty Castle to greet her royal subjects—er, guests. Glance over your shoulder and you might catch a glimpse of the Cheshire Cat flashing that famous grin… or Ursula's sinister smile dripping with sublime wickedness. But it's only around Halloween Time that you'll find familiar faces like these carved out of a pumpkin! And there's a good chance that these spectacular seasonal creations were put there by artist and professional pumpkin carver Jennifer Hoppert.
Jennifer got her start as a commercial artist in New Mexico. After moving to Southern California, she landed a job in the Model Shop at Walt Disney Imagineering where she worked on designs for the parks in Anaheim, Orlando, and Tokyo for several years before becoming a stay-at-home mom. "As any artist will tell you, you can't just stop making art — that's not how it works." Fortunately, she found other ways to express her creativity. "I would go to a party and somebody would ask for a fruit tray, so I would bring 15 different fruits all carved, decorated, and put together," she says with a laugh. "I also found myself doing elaborate pumpkins for my kids at Halloween."
Release your inner artist. And the more creative you get, the more fun it is.
As fate would have it, Jennifer got a call from a former Disney colleague about a job carving pumpkins. Familiar with her handiwork, the friend suggested Jennifer for the gig. It was a match made in heaven, and five years later it's still Jennifer's dream job. "It was so much fun, and we got such a great response from the crowd that it kind of took off," Jennifer says about the first year they set up shop at Big Thunder Ranch, her Halloween Time home away from home. "Every year the pumpkins get more detailed, more creative, and we add more elements — wigs, hats, pipe cleaners, paint, yarn, and buttons. You name it if we can get it to stick on, we use it. It's gone to a level I could have never imagined."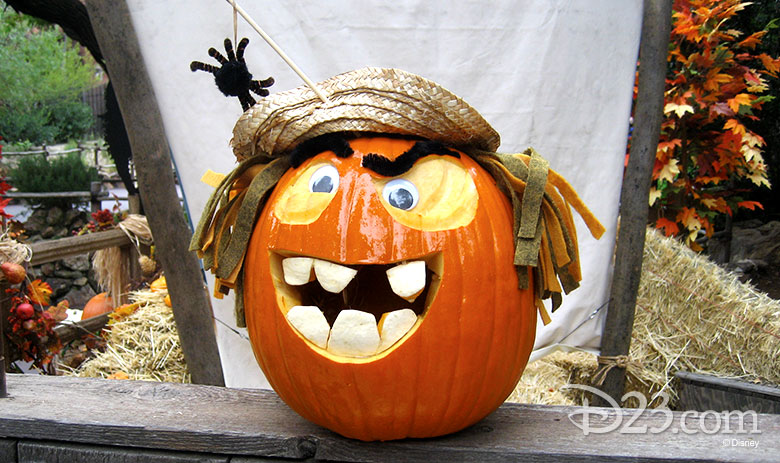 We wanted to share for you some of their tips on how you can create your very own professional-looking jack-o'-lantern. And however you choose to carve your pumpkin, we're sure it's going to be boo-tiful! And if you're apprehensive about putting carving knife to pumpkin, Jennifer says, "Don't be! It's so much fun. Release your inner artist. And the more creative you get, the more fun it is."
Start by drawing your design on the pumpkin with a water-based marker. Simply erase any mistakes with a damp cloth or sponge.
Use a sharp, straight-edged knife to cut the top and any larger areas, an X-Acto knife for details, and try the tip of a potato peeler to make small circles and curves. Please be extra careful with these sharp instruments. If you don't have the proper tools, check out a local arts-and-crafts store. Many now sell kits for pumpkin carving with everything you'll need, including serrated metal saws, which are safer than knives and allow younger children to get in on the action.
Always carve away from yourself, and never hold the knife in a stabbing position. Keep a portion of the blade in the pumpkin and, for a smooth finish, use slow, steady strokes as you carve. And remember, kids should carve only under adult supervision!
For a better grip, try holding the pumpkin in your lap and use your legs together with your free hand while carving.
Consider peeling off the skin to add a new dimension to your design. The flesh of the pumpkin is also much softer and easier to cut through.
Think outside the box. Get your inspiration from the shape of the pumpkin. Try turning it on its side and using the stem for a crooked witch's nose. Stack or lay them end-to-end and incorporate the design across all the pumpkins. The possibilities are endless!
Don't limit yourself. Try white- or green-colored pumpkins. Use small gourds for the ears and nose. Incorporate paint, stickers, pipe cleaners, cotton balls, or pretty much any other supply you can think of that suits your design.
Seal in moisture by coating all cut surfaces with petroleum jelly or vegetable oil. This will help prolong the life of your jack-o'-lantern.
Most importantly, have fun! Pumpkin carving is a great way to spend time with your friends or children and to create memories that could last a lifetime.