Rumors have been whispered for years about the little shop that once was the abode of Madame Leota.
While she disappeared many years ago, it has been said her visage appears now and then and her voice, carried on the breeze, is sometimes heard, humming a mournful tune.
The Imagineering backstory just told continues the tale of one of Haunted Mansion's most famous apparitions, Madame Leota. The ghost-lebrity that has since moved on to "regions beyond" is the inspiration for the new shop located in Liberty Square at Magic Kingdom Park in Walt Disney World.
More than 100
Haunted Mansion
merchandise items populate the store, and Memento Mori contains a unique Spirit Photography experience where a guest's image can be magically transformed into an 8″ x 10″ image of a spirit or ghost.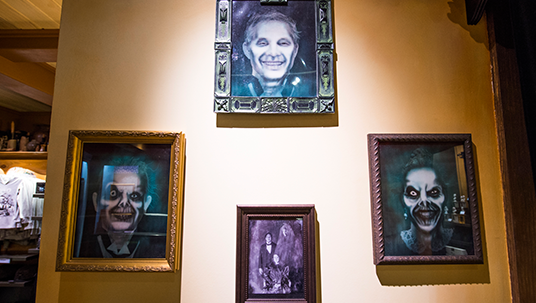 The D23 team wasn't able to check out the shop firsthand, but D23 Member Holly Frey was able to give us the lowdown on this creepy new crypt. Based out of Atlanta, Georgia, Holly and her husband Brian are quite possibly the biggest Haunted Mansion fans out there, and she describes the shop as "walking into our own personal heaven."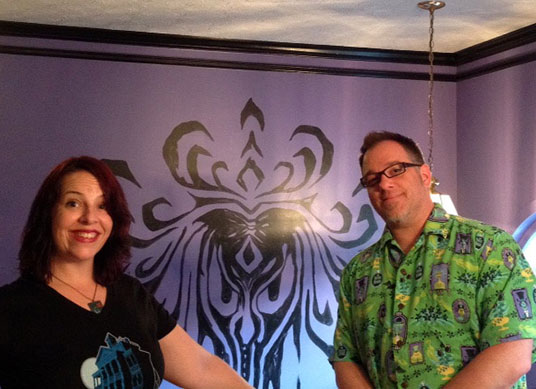 The couple has been married for 18 years and they have found a way to drag the Haunted Mansion to the dead center of their lives in every way possible. For starters, they love Master Gracey and the crew so much that they named two of their cats after Disney Legends and Imagineers Rolly Crump and X Atencio.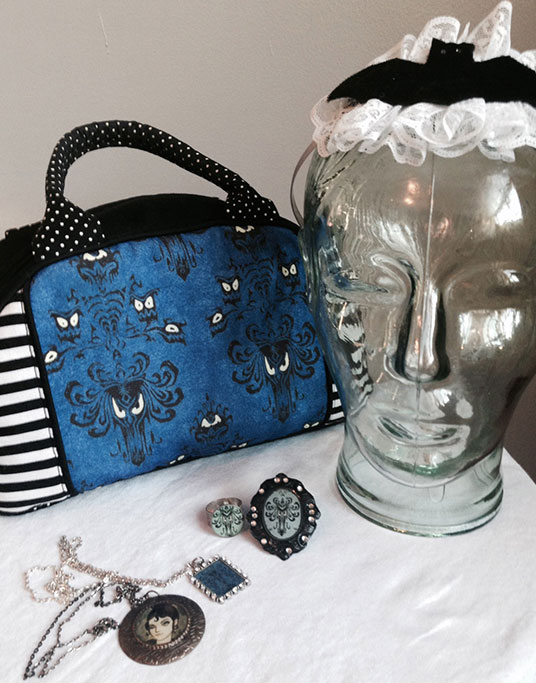 "The Haunted Mansion's design style is near and dear to our hearts," Holly says.
"I adore Victorian-era everything, and we both have a taste for the macabre. Brian's favorite things in the mansion are the singing busts in the graveyard. I'm partial to the ballroom and all the delicious furniture."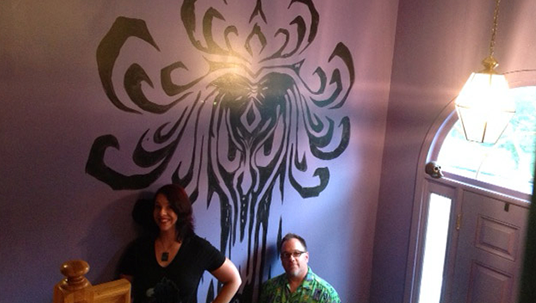 When the spirited couple went house hunting, it was paramount that they found a home that would fit their Haunted Mansion lifestyle, meaning it would look good painted black and purple, of course. "Our décor taste is definitely not neutral," Holly laughs. "We wanted to incorporate the style we love so much from the attraction with our own twist on it. When we first walked into the house we'd eventually buy, we knew the second we saw the foyer that we wanted to paint a large-scale version of the famous wallpaper damask there to greet visitors."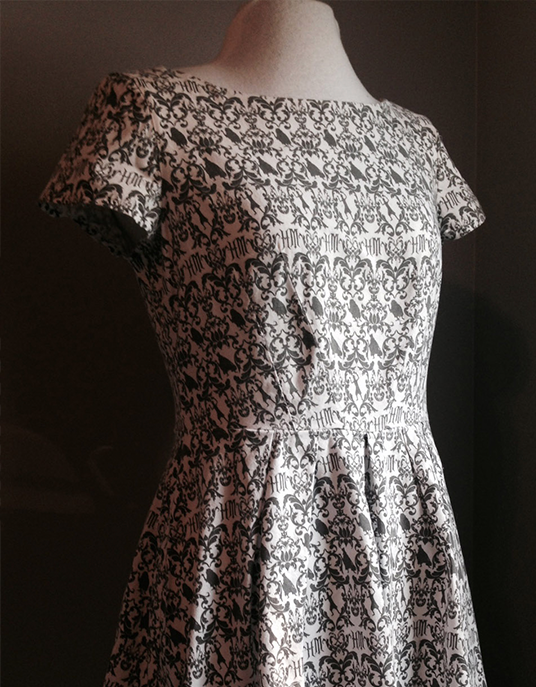 The two Mansion maniacs are always creating something newly inspired by the attraction. Brian works as a graphic artist and Holly has been sewing since she was a kid so there is no Haunted Mansion-inspired project that is too big or too small for them to take on. "We love building and creating things, so it's a natural progression for us to express our love of the Haunted Mansion through artistic endeavors," Holly says. "We've always wanted more Haunted Mansion merchandise than was available, so we just took matters into our own hands. That's is why I started sewing Haunted Mansion dresses, hats and handbags, as well as resin-casting my own jewelry. One of my dreams is to write a Disney sewing and crafting book."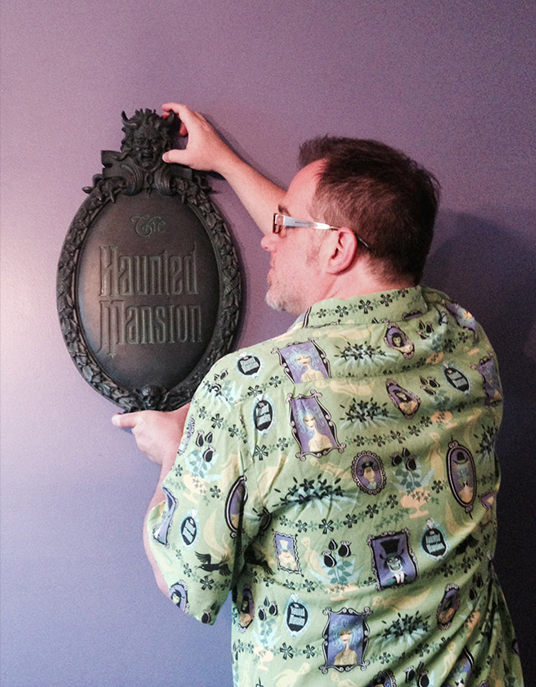 When they walked into Memento Mori Holly and Brian were right at home. "There was a great deal of excited gasping," Holly says. "Of course, we wanted everything, but we managed to keep the indulgence down to a dull roar. That way we'll always have things to buy on future visits. One of the items we just had to have from the shop was the Haunted Mansion sign–we're still putting finishing touches on our dining room, and it will look perfect alongside a blueprint of the attraction that friends gave us as a gift."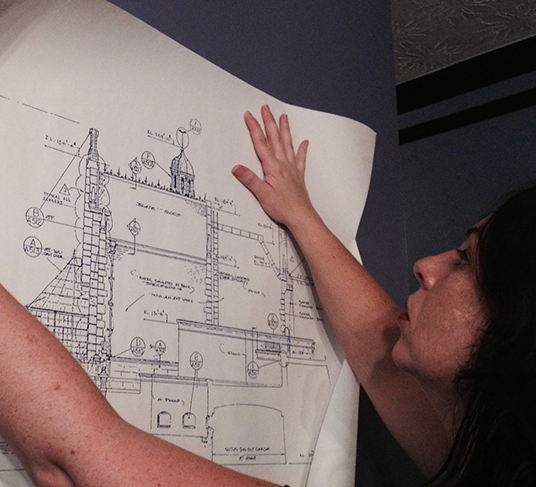 "Another thing I got terribly excited about was actually the placemats. Not because I have table-setting plans for them, but because I can take them apart and use the fabulous prints to make more things! I have a new handbag in the works already, and additional ideas are percolating all the time."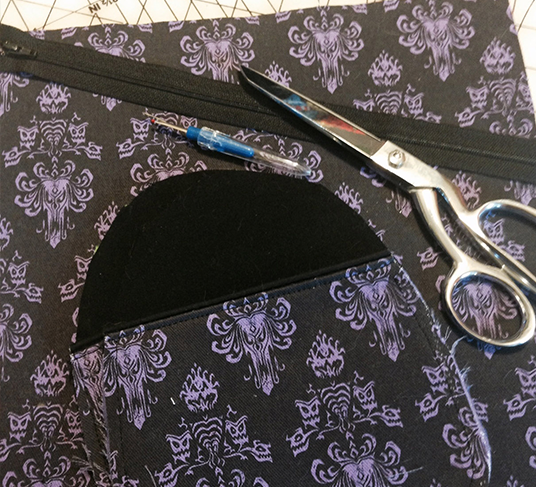 "But even though there were heaps of lovely things to admire and carry home with us, I actually think the highlight of Memento Mori may have been the cast members. They all seemed just as excited as we were to have the shop open and welcoming applicants for the Mansion's 1,000th happy haunt. Could the two of us count as one for that position?"
As Holly and Brian left their visit to Memento Mori, now their new favorite haunt in Magic Kingdom, something magical materialized. "The Halloween fireworks were going off," Holly remembers. "And it was one of those perfect moments that only happen in Disney."