By Jeffrey Epstein
Buena Vista Street is back! The beloved entryway to Disney California Adventure that celebrates Walt's early years in Southern California is set to reopen today as an extension of Downtown Disney District at Disneyland Resort. We got a first look at its glorious return and were able to get all the details you need to know! Plus, at the end, we show off some of the holiday décor that just went up around the Downtown Disney District and Buena Vista Street.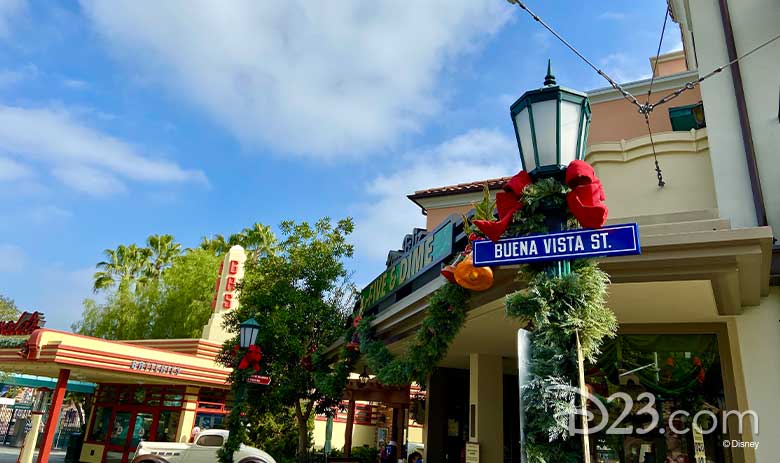 "I love coming to Downtown Disney District, especially here on Buena Vista Street when you walk in and see the garland all around the building, the lampposts decorated with ribbon," notes Rafa Barron, one of Disneyland Resort's ambassadors. "It brings back those holiday memories"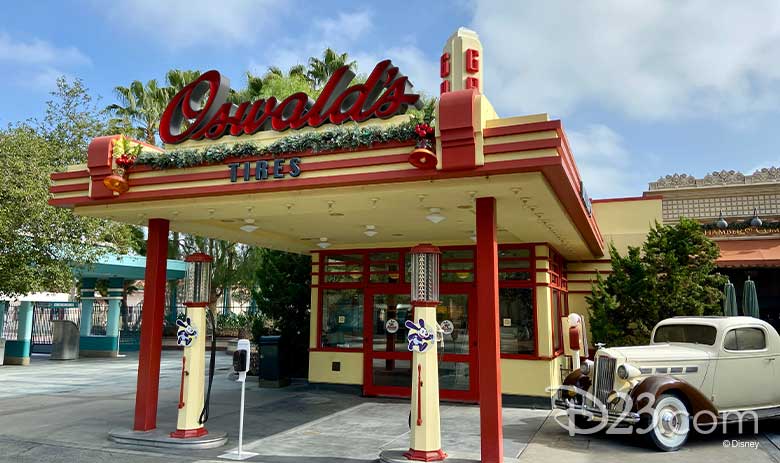 Walking from the main Esplanade area onto Buena Vista Street, the holiday spirit (and music!) is in the air. Bright, swirling greenery and ornaments adorn Oswald's, and every lamppost is trimmed with care. The Red Car Trolley has even gotten in on the fun. And all the stores have their festive flair as well, from the "classic Christmas" look of Elias & Co. to an expansive garland of candies inside Trolley Treats (and you're going to need to sample all the treats!). And while Off the Page is not part of this extension, check out the Kingswell Camera Shop for "Kingswell Signature Art," which offers a few stunning pieces that may make a great stocking stuffer (if you can fit them into a stocking!). And outside Elias & Co., a floral bed bursts with bright red and white blooms to help put you in a holly jolly mood.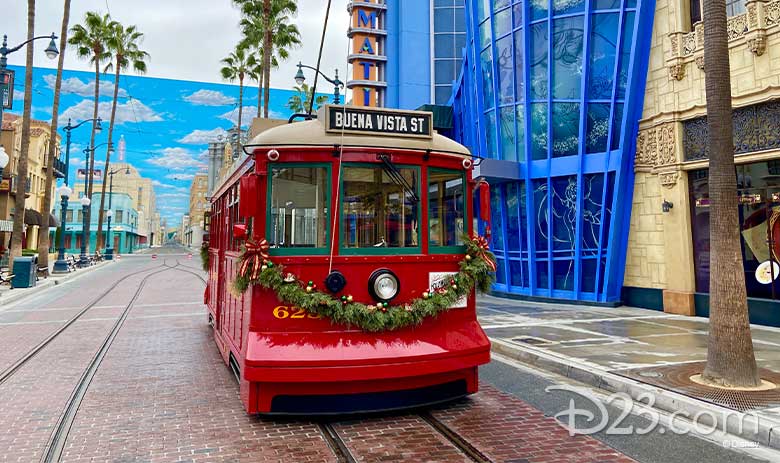 "This moment is exciting, not only for our guests as they get to visit Buena Vista Street again," observes a beaming Justin Rapp, Rafa's partner in making Disneyland Resort ambassador fun, "but it's also exciting for us because, as cast members, we get to be making that holiday magic that we are so accustomed to."
Of course, this is not the exact same Buena Vista Street we last visited. Much like they did for the reopening of Downtown Disney District this summer, the Disneyland cast members have worked hard to ensure that the best precautions have been put into place to ensure the safety and security of our guests.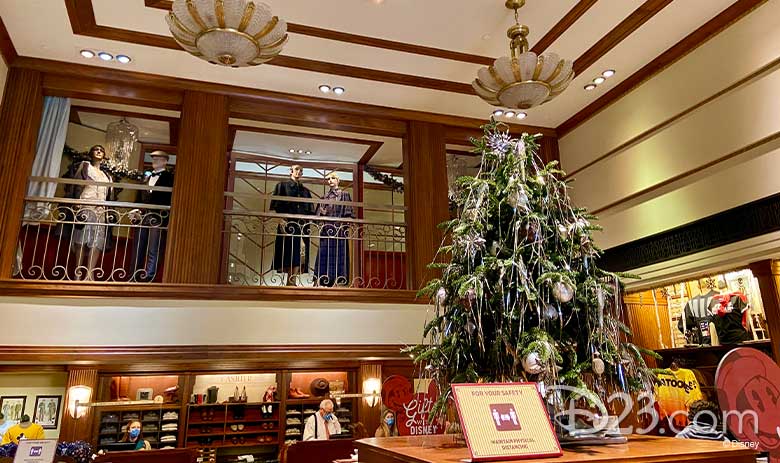 "I'm grateful to be able to welcome back guests with health and safety top of mind," adds Justin. "The training that the cast members have gone through has been incredible. We are trying to make sure guests have a nice safe holiday."
Well-designed signs that fit into the look and feel of their respective areas outline the protocols that have worked so well at our resorts around the world, reminding guests that masks must be worn at all times unless you are seated and eating or drinking (and yep, that includes when posing in front of all the delightful decorations, so wear a colorful mask!); guests should remain six feet apart at all times; regular handwashing is encouraged (and additional stations with basins have been set up); and of course, please cover your nose and mouth when sneezing or coughing (and if you don't feel well, stay home—Downtown Disney will be here tomorrow!).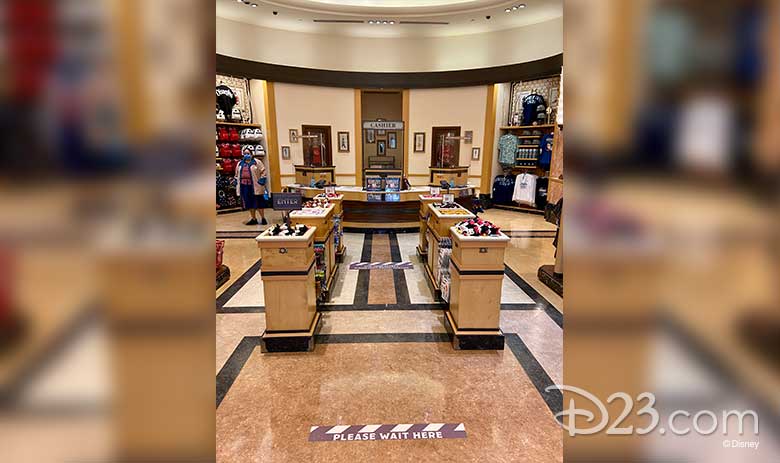 The check-out line at Elias & Co. is well-spaced for the safety of guests.
Like the signage, there are now well-themed markers on the floor to denote safe distancing between parties. And loads of additional seating has been added, which guests will certainly need so they can sit down to enjoy the popcorn and turkey legs and churros and Angry Dogs (yep, "imported" from Pixar Pier!). There is expanded seating throughout the area, offering plenty of space for guests to relax and enjoy some of Disneyland's signature treats.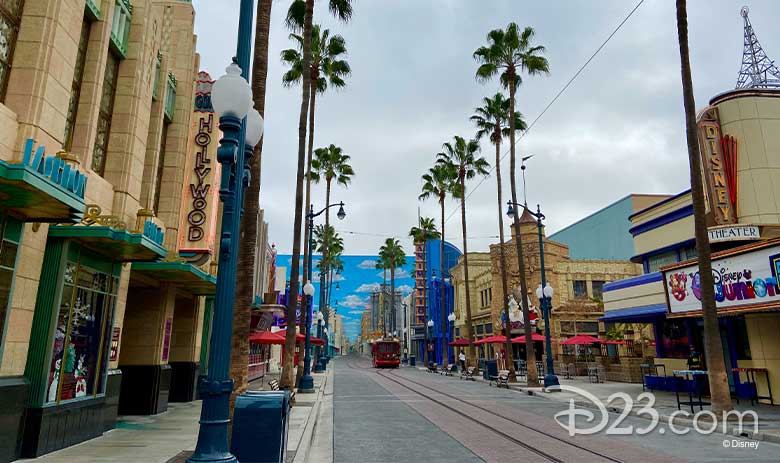 "One thing we have both at Trolley Treats and Marceline Confectionary is toffee," says Justin of his favorite Disneyland treat. "I love toffee. It's delicious and we make it fresh right here on Buena Vista Street. Seeing the process—from making the toffee to bagging it and it being sold and then into your stomach—it is so good!"
Rafa prefers the chocolate and peppermint marshmallow wands. "Every time I try it, it brings me back into the holiday spirit."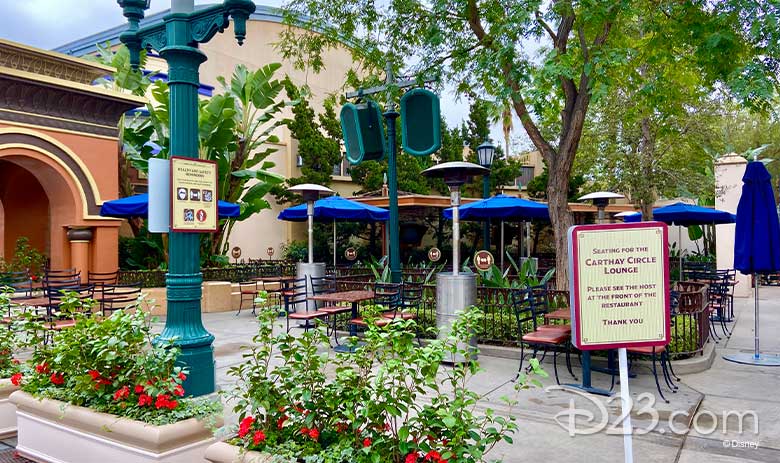 Carthay Circle remains a beacon. "When you think of Buena Vista Street, you think of Carthay Circle Restaurant," notes Justin. "And we are introducing Carthay Circle Lounge – Alfresco Dining. It's a new and innovative concept with an incredible menu created by our chef. And, beyond that, think about the atmosphere. You're sitting outside on Buena Vista Street surrounded by holiday décor—I don't think it gets much better than that!"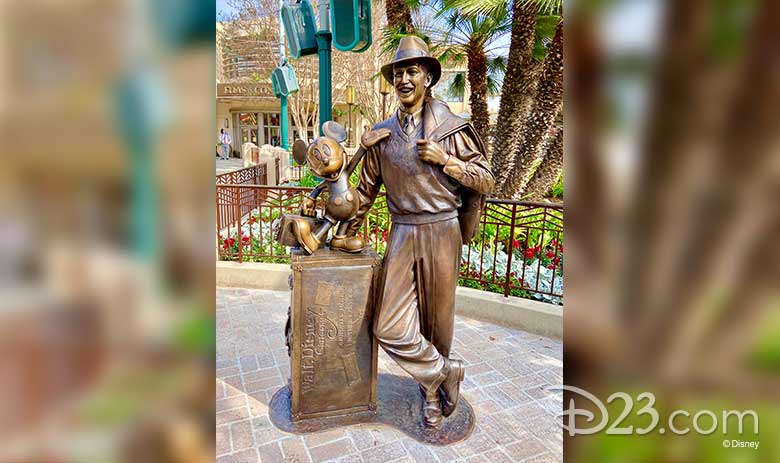 And at the tip of the street, nestled in front of Carthay Circle Lounge, the Storytellers statue of a young Walt Disney and Mickey Mouse gleams in the sun… perhaps a little bit brighter. In celebration of Mickey's birthday yesterday, Disneyland unveiled beautiful refurbishments of the Partners statue inside Disneyland Park and the Storytellers statue, and the Disney Parks Blog details how it was done.
Now, onto the details. Be sure to check out the Downtown Disney District Know Before You Go for complete, up-to-date information.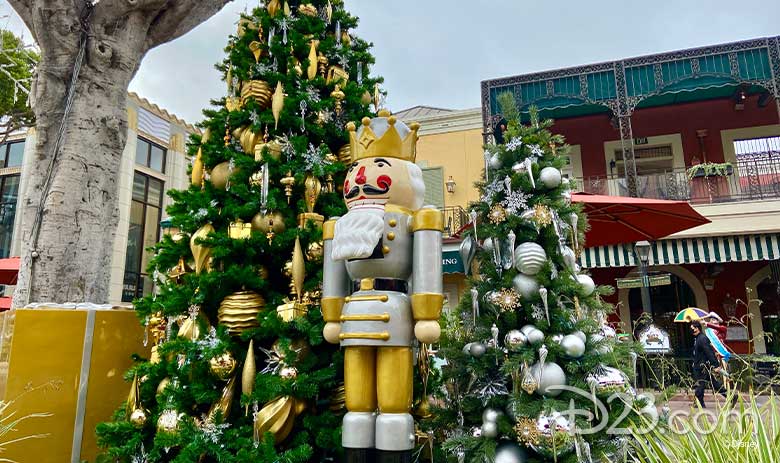 Getting into Downtown Disney District / Buena Vista Street
Starting November 19, parking in the Simba lot will be $10 per car. As before, there will be temperature checks before you enter.
Entrance onto Buena Vista Street will be first-come, first-served. However, once the area has reached capacity, a mobile waiting list will be used.
Beginning November 27, the Downtown Disney District (including Buena Vista Street) will be open from 9 a.m. to 9 p.m. The Downtown Disney District hours as well as individual dining and retail location hours may vary, so we always encourage our guests to check the Disneyland app or Disneyland.com for specific location hours of operation.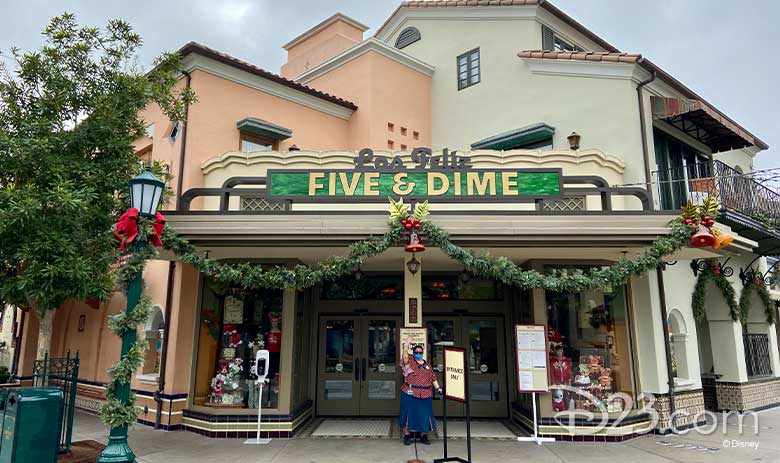 Restaurants/Quick-Serve Locations Open on Buena Vista Street:
Carthay Circle Lounge – Alfresco Dining: The fan-favorite sit-down restaurant of Disney California Adventure will offer al fresco dining and a significantly expanded seating area. Advanced reservations are highly recommended. Starting November 25, guests with proof of reservation to Carthay Circle Lounge – Alfresco Dining may enter Buena Vista Street up to an hour prior to their reservations with their full party, when Buena Vista Street is at capacity. Guests with a reservation to Carthay Circle Lounge – Alfresco Dining should speak with a cast member and present proof of the day's dining reservation for assistance. The entire party must enter Buena Vista Street at the same time.
Fiddler, Fifer & Practical: Enjoy a cozy cup of coffee or cocoa or scone!
Smokejumpers Grill: This quick-serve restaurant is reopening with a modified menu—but don't worry, it still includes those incredible onion rings! And with mobile ordering, you can just grab and go!
Award Wieners: These dogs are ready to take a bow at this quick- serve, which will offer mobile ordering.
Outdoor Vending Carts: Get ready to sample some of your favorite park treats as carts offering churros, popcorn, turkey legs, and even Angry Dogs are ready to serve you sweet and savory sensation
Splitsville Luxury Lanes™: Reopening for outdoor dining on November 24, guests can make a reservation or learn more by visiting the Splitsville page on Disneyland.com or the Disneyland app.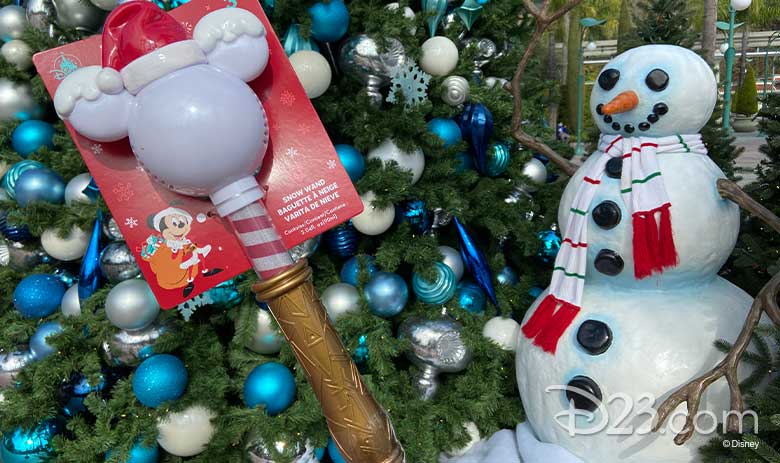 Miss seeing it snow on Main Street, U.S.A.? Create your own nighttime spectacular with this delightful new snow wand, available in Elias & Co and World of Disney
Shopping Locations Open on Buena Vista Street:
Elias & Co.: Along with stores such as Los Feliz Five & Dime and Big Top Toys, this signature shopping destination is bursting with holiday goodies and Disneyland-themed merchandise.
Julius Katz & Sons: Home décor abounds in this quaint shop.
Trolley Treats: Churro toffee anyone? Go in to see the candy-colored garland; stay for the sugar-coma-inducing deliciousness!
Kingswell Camera Shop: Now featuring stunning Disney artwork.
Again, please check out the Downtown Disney District Know Before You Go for complete, up-to-date details.
And have a very merry time looking at some of these shots of the dazzling decorations of Downtown Disney District. and Buena Vista Street.