By Courtney Potter
New Soul Sneak Peek Debuts During Essence Festival of Culture
"What is it that makes you, you?" During last weekend's first installment of the amazing virtual 2020 Essence Festival of Culture, the folks behind Disney and Pixar's Soul presented an exclusive sneak peek at the upcoming film! Director Pete Docter, co-director and screenwriter Kemp Powers, and producer Dana Murray joined American anthropologist/educator Dr. Johnnetta Cole and globally renowned jazz pianist Jon Batiste for a virtual panel titled "Finding Soul"; both Dr. Cole and Batiste—who lent his expertise to the jazz music featured in Soul—serve as cultural consultants on the film. Check out the heartwarming clip, which features the song "Parting Ways" (written, produced, and performed by Cody ChesnuTT), above…
Pixar Animation Studios' all-new feature film Soul introduces Joe Gardner (voice of Jamie Foxx)—a middle-school band teacher who gets the chance of a lifetime to play at the best jazz club in town. But one small misstep takes him from the streets of New York City to The Great Before—a fantastical place where new souls get their personalities, quirks, and interests before they go to Earth. Determined to return to his life, Joe teams up with a precocious soul, 22 (voice of Tina Fey), who has never understood the appeal of the human experience. As Joe desperately tries to show 22 what's great about living, he may just discover the answers to some of life's most important questions. Look for Soul in U.S. theaters beginning November 20.
And don't forget: Essence Festival of Culture continues this weekend and will feature cast members from Hulu's Bad Hair and Hamilton, launching this week on Disney+!
5 Fantastic Things to Watch This Weekend
If, like us, you reside here in the States, it's a holiday weekend—which means ample opportunity to take in some fabulous Disney-related viewing via the TV or streaming device of your choice. Obviously, as we've been celebrating all week, there's the big debut of Hamilton on Disney+… but don't miss out on another fun Disney+ premiere: The Mighty Ducks! Read more about what to expect this weekend by clicking here.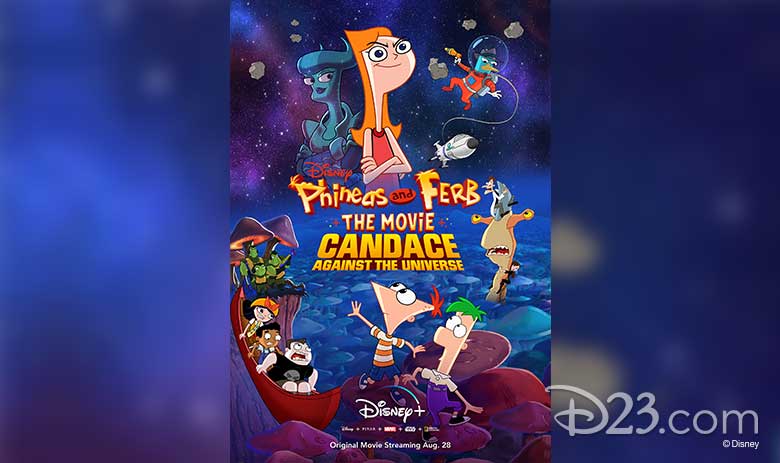 Phineas and Ferb The Movie: Candace Against the Universe Gets Disney+ Premiere Date
Speaking of Disney+, there's some other big news from the streaming service this week—chiefly, that the sure-to-be-out-of-this-world animated movie Phineas and Ferb The Movie: Candace Against the Universe, from the good folks over at Disney Television Animation, will premiere exclusively on Disney+ on Friday, August 28. The soundtrack, from Walt Disney Records, will also be available the same day!
Executive-produced by Dan Povenmire and Jeff "Swampy" Marsh, the creators/executive producers of the Emmy® Award-winning Phineas and Ferb series, Phineas and Ferb The Movie: Candace Against the Universe is an adventure story that tracks stepbrothers Phineas (voice of Vincent Martella) and Ferb (voice of David Errigo Jr.) as they set out across the galaxy to rescue their older sister, Candace (voice of Ashley Tisdale), who—after being abducted by aliens—finds utopia in a far-off planet, free of pesky little brothers. Among those reprising their voice roles are Caroline Rhea as Linda, Dee Bradley Baker as Perry the Platypus, Povenmire as Dr. Heinz Doofenshmirtz, and Marsh as Major Monogram; in addition to Errigo as Ferb, newcomers to the cast include Ali Wong as Super Super Big Doctor, Wayne Brady as Stapler Fist, Diedrich Bader as Borthos, and Thomas Middleditch as Garnoz.
All four seasons of the original Phineas and Ferb, along with the Disney Channel Original Movie Phineas and Ferb the Movie: Across the 2nd Dimension, are currently available to stream on Disney+. And beginning Tuesday, August 25, all episodes will be presented on Disney XD leading up to the highly anticipated movie's Disney+ premiere. Mark your calendars!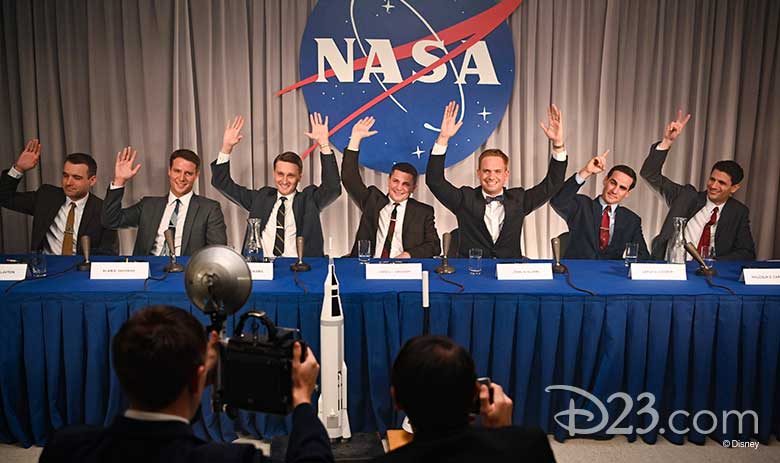 Disney+ Joins Comic-Con@Home Lineup From July 23–26
More Disney+ "news you can use": The streaming service just announced it'll join the upcoming Comic-Con@Home—hosted by San Diego Comic-Con—with virtual panels for three of its upcoming original titles!
As part of the entirely virtual festival, Disney+ will feature the anthology docuseries Marvel's 616, on Thursday, July 23, at 1 p.m. PT; the aforementioned Phineas and Ferb The Movie: Candace Against the Universe on Saturday, July 25, at 12 p.m. PT; and the service's first scripted series from National Geographic, The Right Stuff, on Saturday, July 25, at 1 p.m. PT. These Disney+ panels—featuring a host of amazing creators, showrunners, and actors from all three projects—will join those previously announced from Walt Disney Television and Hulu…
Comic-Con@Home will be held on the same dates as the previously canceled Comic-Con, July 22 through 26, 2020, and online attendees can use the official #ComicConAtHome hashtag to be included in all the fabulous virtual activities!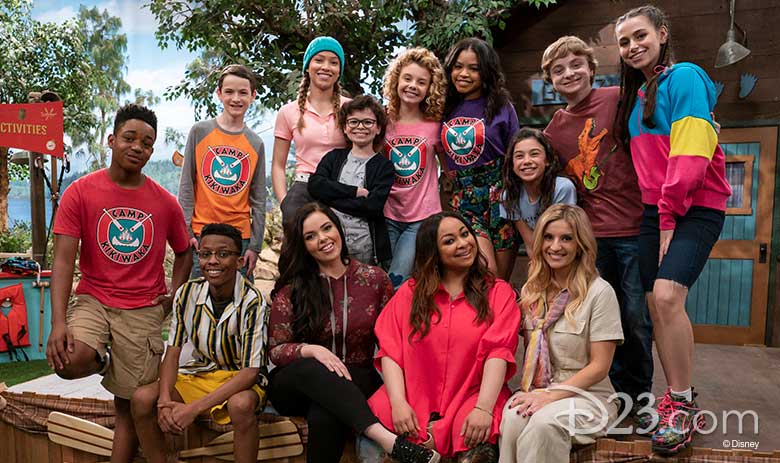 Raven's Home and BUNK'D Crossover: Get Ready for Summer Fun!
There's some side-splitting summer shenanigans on the way from two of Disney Channel's hit comedies! Raven's Home and BUNK'D will be given the Disney Channel Crossovers treatment later this month with the hour-long Raven about BUNK'D—a camp-tastic special that blends the two shows into one fun-filled story! But that's not all: Disney Channel's newest anthem, "We Own the Summer" by none other than Dancing with the Stars alum and ZOMBIES' own Milo Manheim, is featured in the episode.
As the story unfolds, Raven (Raven-Symoné), Chelsea (Anneliese van der Pol), and their collective kidlets set out on a long road trip to Maine's Camp Champion—but a GPS malfunction sends them off course to Camp Kikiwaka, a place with an uncertain future even for those who can catch a glimpse of said future. While Raven and Chelsea hunt for Maine lobster, the kids make arts and crafts and develop feats of engineering… and then set out to find the camp's infamous "Snipe" in Moose Rump's Forbidden Forest. The adventure also includes celebrity piglets, hidden tunnels, and a musical performance, as the newcomers get to know BUNK'D's zany cast of characters.
Look for the Raven about BUNK'D episode on Friday, July 24, at 8 p.m. EDT/PDT—only on Disney Channel and DisneyNOW.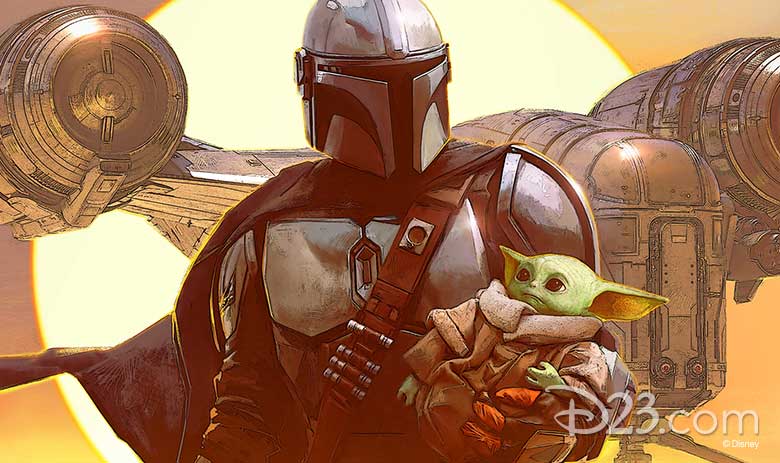 Lucasfilm Announces The Mandalorian Publishing Program
Enjoy The Mandalorian? (Honestly, who doesn't?) Looking for some terrifically exciting reading material, premiering just in time for the holidays? Then we've got news for you!
Fans of the acclaimed Disney+ series can soon go deeper into the world of The Mandalorian than ever before; as announced this week over at StarWars.com, a new publishing program dedicated to the series, featuring books and titles for fans of all ages. The series kicks off this fall, with releases planned through the winter and spring. Titles will include The Art of The Mandalorian (Season One) by Phil Szostak; The Mandalorian: Original Novel (adult novel, Del Rey) by Adam Christopher; The Mandalorian: Allies & Enemies—Level Two Reader (DLP) by Brooke Vitale; and several more. And in making the announcement, StarWars.com also shared a sneak peek at The Art of The Mandalorian (Season One), featuring a brand-new illustration by Lucasfilm's Doug Chiang—seen above.
The Mandalorian-inspired comics are also coming from Marvel and IDW Publishing, and magazine, novelty, and coloring and activity titles are on the way from Titan, Studio Fun, Crayola, Thunder Bay Press, Disney Publishing Worldwide, and Dreamtivity. Plus, younger readers can expect a Little Golden Book and a Screen Comix retelling of Season One.
Well, there's some holiday shopping sorted… and it's only July!