By Beth Deitchman
In bringing Frozen 2 to the screen, the creative team at Walt Disney Animation Studios only had to contend with fiery forests and stormy seas of the animated variety, but the film's final year of production was a thrilling adventure, as fans will discover in Into the Unknown: Making Frozen 2. The film, of course, had the ultimate "happily-ever-after," and went on to become the No. 1 animated feature of all time, but the six-episode docuseries—debuting this Friday, June 26, on Disney+—takes viewers on an incredible, emotional behind-the-scenes journey, with stops inside the walls of Disney Animation's Burbank headquarters, the Lopezes' Brooklyn, New York, apartment, California for D23 Expo 2019 in Anaheim, and the film's first audience preview in San Diego.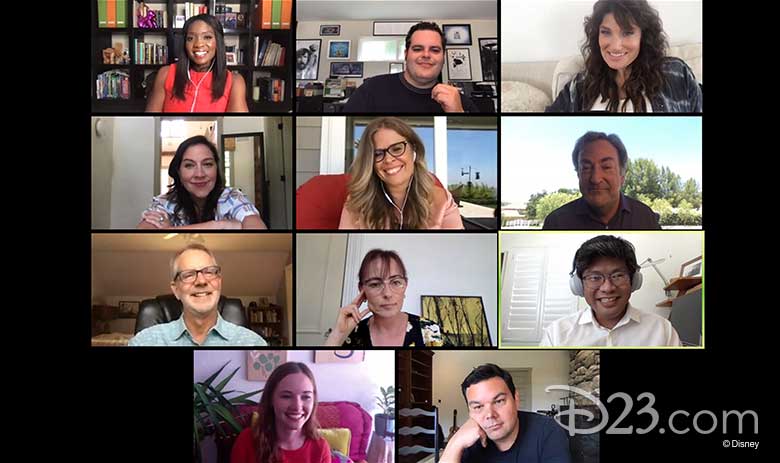 Frozen 2 directors Jennifer Lee and Chris Buck; producer Peter Del Vecho; and songwriters Kristen Anderson-Lopez and Robert Lopez recently joined stars Idina Menzel and Josh Gad; supervising animator for "Elsa," Wayne Unten; and animator Malerie Walters for a virtual press conference that also included docuseries director Megan Harding. Harding and her team from Lincoln Square Productions had the enviable task of becoming flies on the wall as Disney Animation ushered the film through the final 11 months of production. The documentarians captured powerful moments we've longed to watch—such as Menzel singing the song "Into the Unknown" for the first time with a full orchestra—and parts of the process that we never before imagined, such as a look at the incredible lengths animators go to in order to ensure that every shot of Elsa is perfectly believable. Here are five fascinating facts we learned about Into the Unknown: Making Frozen 2.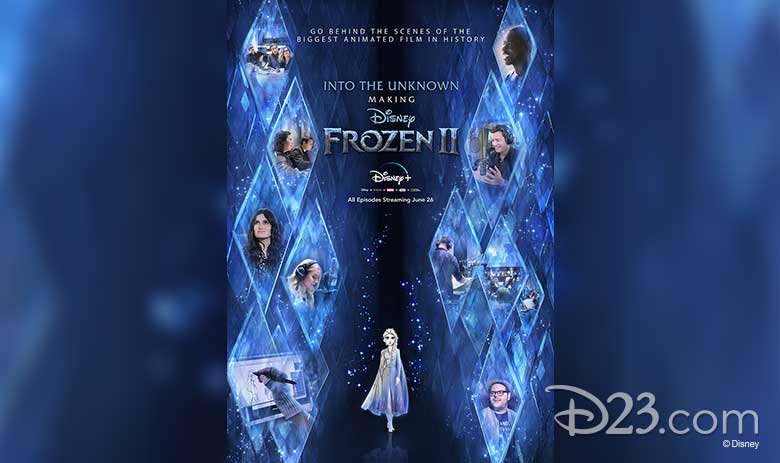 The brand-new docuseries was actually inspired by the first Frozen.
In 2014, Harding partnered with Disney Animation on a primetime television special that aired on ABC and looked back on the 2013 film's amazing success. "That was the first time I met Jenn and Chris, the Lopezes, Wayne, Peter, and everyone here," she recalled. "They started telling these great stories about how Frozen had come to be." The New York-based director remembers thinking how great that would have been to film—"to actually see that happen, rather than just hear about it later."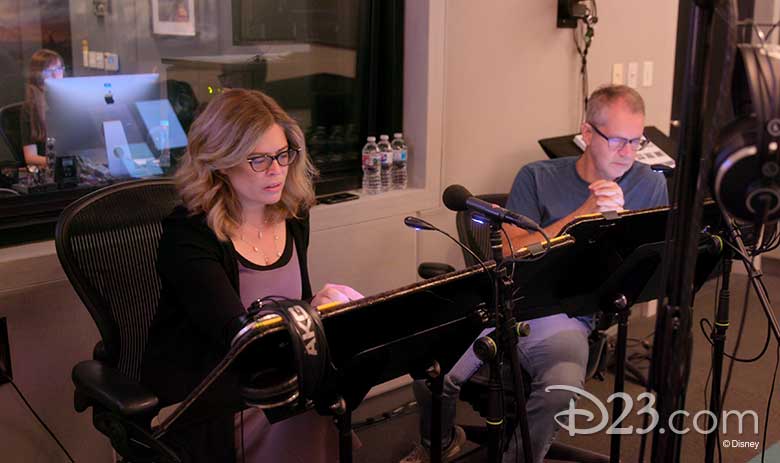 When Harding and the Lincoln Square team learned Frozen 2 was happening, they reached out to Walt Disney Animation Studios and the two entities partnered, with filming taking place over 115 days. "Right from the very start, I think there was an incredible commitment that we all wanted to make something that was very different from a traditional behind-the-scenes special," Harding says. "It had to be true. It had to be honest. It would tell you how animated movies were made, but more than that, it was really about [the idea] that creativity is really hard, these movies don't just come out fully formed—they are hard-won by many talented people," Harding shares. "That meant that people had to be honest and brave and fearless when we came by, which everyone was—even when I'm sure they really didn't want us there."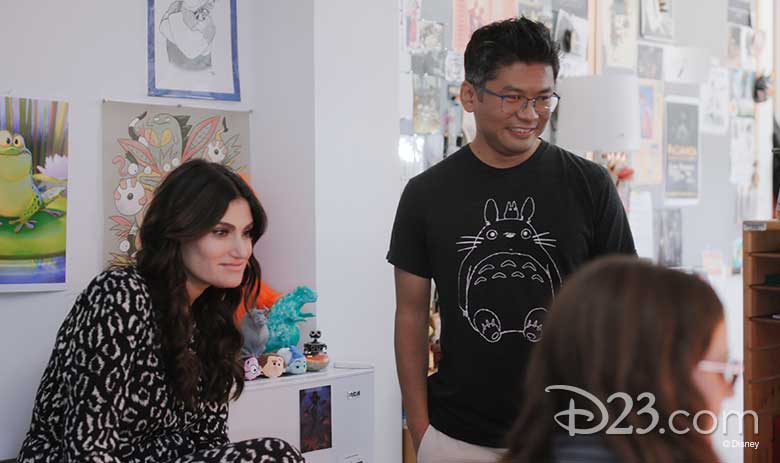 Menzel sees the creative team's willingness to be vulnerable as key to Frozen 2's success and one of the reasons why the docuseries is so compelling.
According to Menzel, playing Elsa has changed her life, and she credits Wayne Unten for "the way that he has integrated who I am and my soul and my essence into this character that I'm so proud of." Young people relate to Elsa, but Menzel admits that she, too, struggles to balance strength and vulnerability. "Maybe that's why [Elsa] speaks to people in such a broad way," Menzel says. "What I actually loved seeing about Jenn and Kristen, too, are these two powerful women doing so much, making themselves vulnerable but being in such powerful positions—not afraid to make their choices and decisions and take risks. I really love that the documentary celebrates them as working women, as well."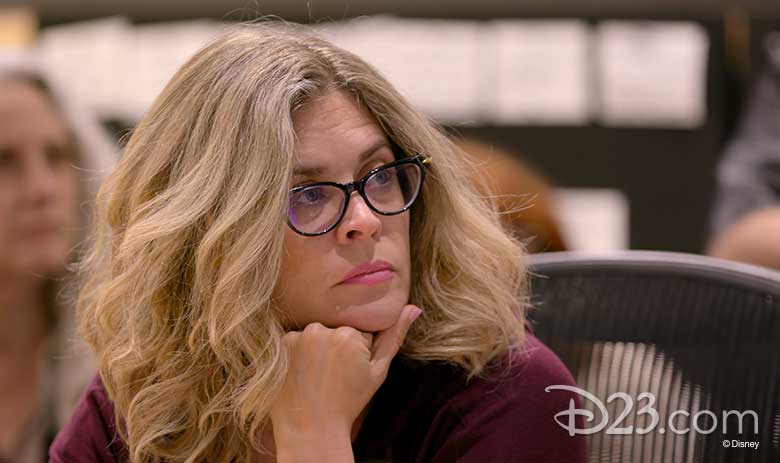 In addition to seeing Anderson-Lopez working out of her Brooklyn home and joining meetings with Disney Animation via video calls, in the docuseries fans see how Lee—who is also Disney Animation's Chief Creative Officer—balances writing, directing, and heading up a studio with raising a family as a single mom. "Family comes first for all of us and we just gave each other permission to say, 'What do you need?'" Lee says. "I think it's just creating this space of how we support people to bring out their best work. [That's] the environment we have and that's an environment that connects very deeply with me, that everyone is valid in the room and what they bring is important—and from there, trusting the best will come."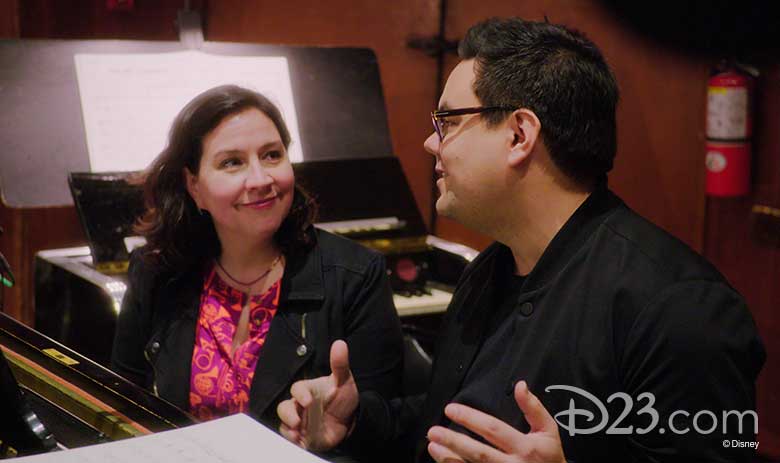 Sometimes even flies on the wall can't escape being noticed.
The Lopezes work out of a small apartment in Brooklyn, and Bobby recalls, "They didn't just bring one camera. They brought like three cameras and a sound guy. They had a lot of stuff." Kristen also points out that the early stages of songwriting don't lend themselves to a documentary, so they would wait to invite Harding's crew into their studio until they were further into the process. "A lot of creativity happens while we're recording a demo. We make a lot of the small tweaks," she says. "But it's not sitting in a room with more camera people than the two of us, going, OK, what does Anna say here?, because that's such a private sort of "play date" kind of experience. You have to be free to jump up on the couch and be Anna and it would have felt really strange [to do that] with cameras."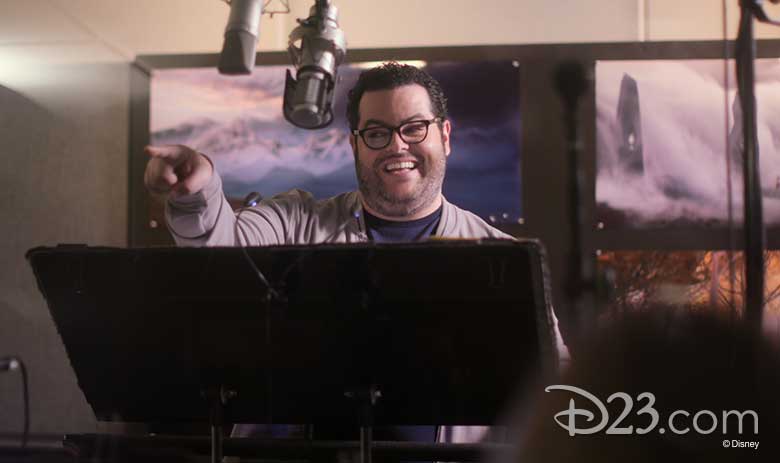 Gad admits that he became a bit nervous while singing on camera as Olaf—although you'd never know it while watching Into the Unknown: Making Frozen 2. "I'm not Idina. She goes up in front of like 50,000 people and she's like, 'Oh, that was a small audience,'" he says good-naturedly. "I get intimidated if there's more than three people in a room when I'm singing."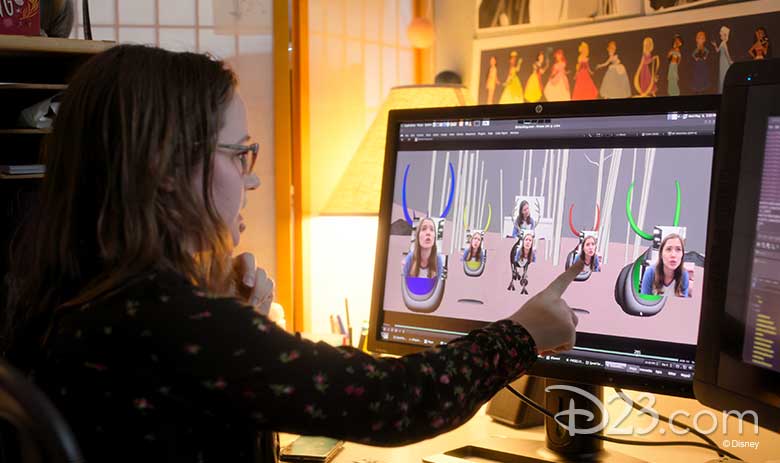 The docuseries shines a light on the incredible dedication—and physicality—that come with being an animator.
For her pivotal shot of Elsa running and leaping near the end of the song "Into the Unknown," Walters ran through the streets of Los Angeles while her boyfriend skateboarded alongside her, filming her reference video. In another magical moment—which Gad proclaimed one of his favorite moments of the docuseries—Walters shares a reference video she created for her shot in "Lost in the Woods," with her own face standing in for a chorus of singing Svens. Details such as these paint a new picture of what it is to be an animator at Disney. Walters shares, "I think no matter what I'm working on, you're always putting a little piece of yourself into it, and I think that's what makes animation so fun. It's really what draws me to it."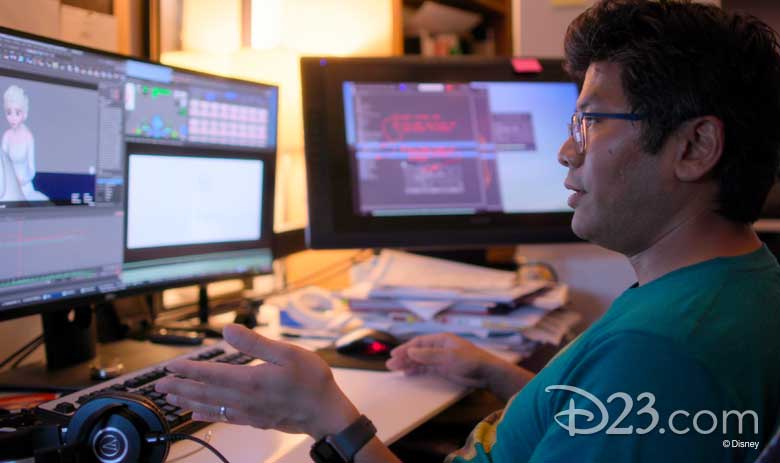 Veteran animator Wayne Unten—who has been with the character of Elsa as long as Menzel has—points out that the studio's Burbank headquarters has "Animation" on its façade, but he's often thought it should highlight "collaboration," as well, given the vast array of skill sets that go into bringing a film to life at Disney Animation. He continues to be impressed by the unexpected combination of talents that go into every project, recalling a conversation he had during Frozen 2 with effects supervisor Erin Ramos. "I'm in her office… and I see math on glass. That is the coolest thing… There's so much genius from everyone that makes these things possible. It's just such an honor to be a small part of that."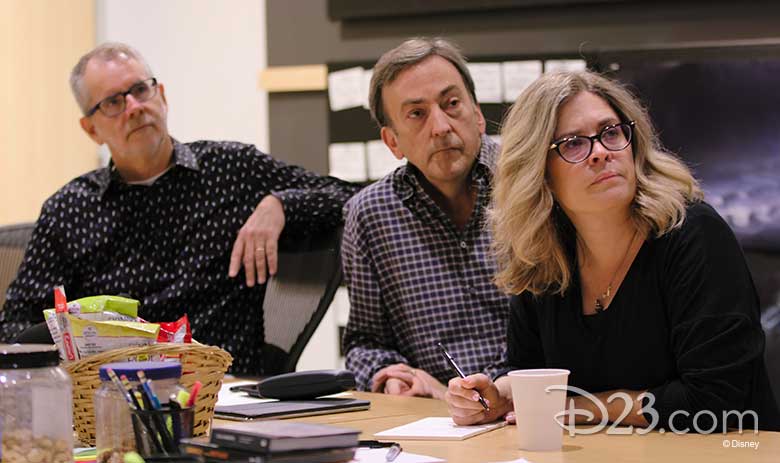 Overall, the filmmakers gave Harding and her team incredible access to the entire creative process.
As a child, Lee loved getting a behind-the-scenes glimpse at favorite films through programs like The Wonderful World of Disney. "I'm so overwhelmed by what the studio does—what every artist, every technologist does to get these films going. It's such a unique process," she says, noting that her excitement over Into the Unknown's potential to inspire a new generation overtook any hesitation she may have had about challenging moments that the cameras might capture.
Into the Unknown: Making of Frozen 2 highlights the tremendous pressure the team felt to deliver a sequel to a movie that had become a worldwide phenomenon, but Buck also points out, "We put pressure on ourselves all the time on every movie that we make… It was a little different, a little bit more, but it was still the same pressure that we do with every film."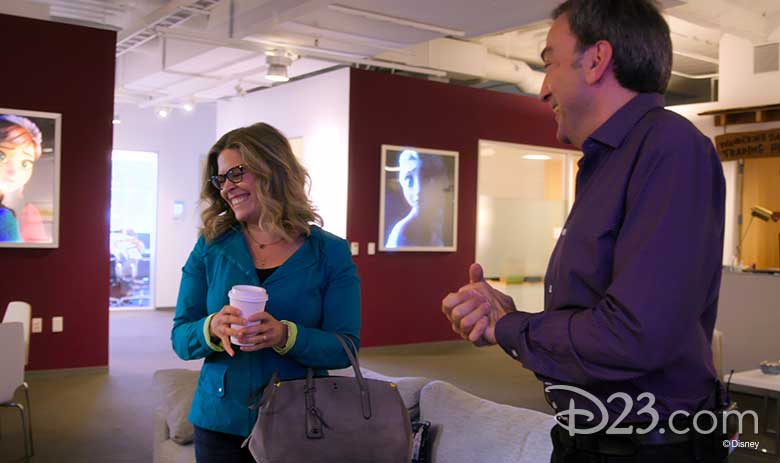 Above all, Del Vecho was eager for fans to see the collaborative nature that comes with working at Disney Animation. "[In the docuseries], you get to see the animators, the lighters, the effects artists—everything together that has to work like clockwork to make the film," he says, "and I think most people don't understand the number of people it takes and the hard work it takes to put these films together."
Gad emphasized the complete trust he places in the Disney Animation team throughout the production process. And while he believes fans respond to the big, memorable moments in Frozen and Frozen 2, he thinks it's something else that makes the films transcendent. "It's those little things that speak to the attention to detail and to every single animator, and to every single composer, and to our brilliant directors, our brilliant talent, and our brilliant producer," he says. "Everybody goes into this and they let every moment count. [They] don't let any moment go to waste, because then not only will it be special the second it's released, but every day thereafter that [when] your kids, or grandkids, or great-grandkids watch it, they will see it for the first time and have that same feeling of wow."