By Zach Johnson
Halloween wouldn't be the same without Big City Greens!
The animated series' first Halloween special, which aired during its first season in 2018, will soon be followed by "Squashed!", premiering Saturday, October 9, at 8:30 a.m. ET/PT on Disney Channel and DisneyNOW. The all-new 22-minute special follows the Greens as they prepare for their Halloween party. Tilly (voiced by Marieve Herington) feels bad for Bill (voiced by Bob Joles), who's disappointed by the poor yield of his small pumpkin patch. When they visit BigTech to make a produce delivery, Tilly secretly "borrows" an alien chemical compound from Gwendolyn Zapp (voiced by guest star Cheri Oteri) to make Bill's pumpkins grow bigger. Initially, it works… but then it mutates them into body-snatching alien monsters! Before the premiere of "Squashed!" we chatted with brothers Chris and Shane Houghton, creators and executive producers of Big City Greens, to find out more about what's in store.
Big City Greens' first Halloween special, "Blood Moon," was "so much fun" to make, said Shane. "It was a fun deviation from what you would normally find in the series. It expanded the world a little bit, and we got to do things that maybe we wouldn't do in a normal episode. Plus, it's always fun to see everybody in costumes! So, when we got the chance to do another Halloween episode, we all jumped at it." In fact, Chris said, "We made sure we produced it as the first episode of season three, because we wanted to pour everything into it; it's a lot easier to do that at the beginning of a pickup than in the middle. I think 'Squashed!' is very representative of what the crew is capable of right now, because all of them stepped up and poured themselves into it, and it shows. The episode looks amazing!"
According to Chris, special attention was paid to ensure they didn't "retrace our footsteps" in the season premiere. "We realized the first Halloween special, 'Blood Moon,' was all about Cricket and his dad—their relationship—and how Halloween trick or treating has changed for them," he said. "We started to look at Tilly and asked, 'Well, is there a Tilly Halloween story?' Funny enough, it still centers around her relationship with her dad. We realized Tilly can dress up like her dad, like she's trying to become her dad; he's her hero. This special explores what happens when she inadvertently disappoints her hero." Shane then shared a possibly "controversial" opinion, saying, "The conflict between Tilly and Bill is something that—in my opinion—is more dramatic than the alien monsters showing up."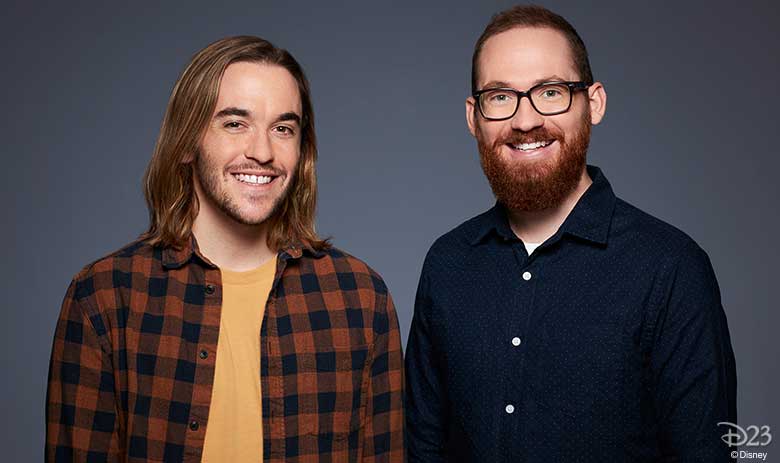 There are plenty of nods to classic horror films in "Squashed!", and there are many other Easter eggs to be found. "We have our very own parody song that plays during the party sequence," said Shane. "The shorts department at Disney is making a music video based on this very goofy parody song, which turned out great." Titled "Monster Man," Big City Greens' parody song already debuted as part of the Broken Karaoke short-form series on Thursday, September 30—and it will be available to stream starting on Friday, October 8.
Although the third season of Big City Greens is still in production, that doesn't mean fans of the hit animated series will have to go without new content throughout the month. On Friday, October 15, at 7 p.m. ET/PT, three teams of two young pastry chefs will bring Big City Greens to life on Disney's Magic Bake-Off, designing cityscape cakes complete with fondant streets, sugar paper maps, and their favorite characters, all topped with fresh fruit or vegetables from the Green family farm. Chris and Shane serve as guest judges, working with Chef Gracie to judge the two video challenges and the final cakes on taste, creativity, and presentation. "We had such a blast coming in and working on Disney's Magic Bake-Off," said Shane, who took up pie-making during the pandemic. "I was thrilled and honored to be asked to just be a guest judge with Chris. Gracie is a Disneyland pastry chef and an expert; she knows everything. Chris and I just got to come in, bumble our way through some stuff, and provide some colorful commentary. We had a fun time. It was awesome."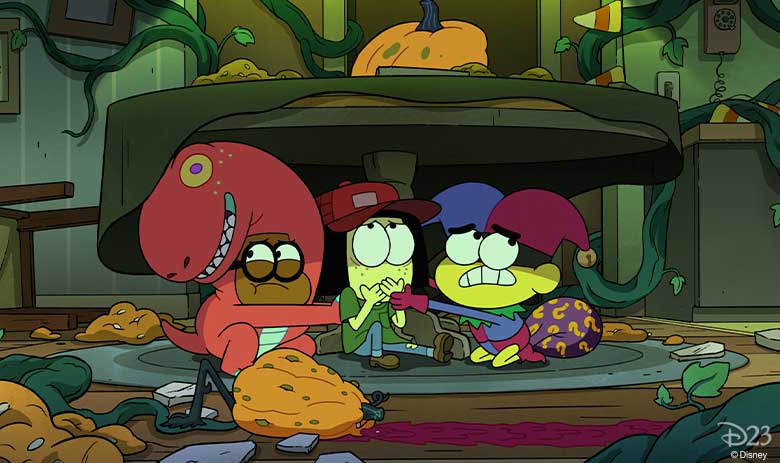 The Big City Greens fun continues on Saturday, October 23, at 8 p.m. ET when Cricket and Tilly host Disney Channel's first-ever "Shortstober" in their festive Halloween costumes while trying to summon a ghost before they go trick-or-treating. The half-hour special features previously aired shorts from Big City Greens, along with Amphibia, Descendants, The Ghost and Molly McGee, Halloweentown, The Owl House, and ZOMBIES. "Last year we did 'Shortsgiving' for Thanksgiving, and this is kind of a sister sequel to this hosting format that the Greens have taken over, which is really exciting," said Chris. "In the 'Shortstober' special, the Greens are out in the backyard. They're all manning a rickety projector and a stage, and they are showing off a variety of different Disney TVA shorts. It's a real honor for the Greens to be able to serve as hosts for Disney Channel. It's got this homemade backyard feel; it feels right for the Greens, for the hosting format, and for the shorts." According to Chris, Cricket and Tilly are made for this. "They are Disney Channel's biggest fans," he said. "They know everything and everybody. It's a really fun opportunity for them."
As for what's in store for Big City Greens' third season, the Houghtons didn't want to say too much. "There are going to be some big changes for the Greens coming up," Shane said, not wanting to spoil anything. "Season two ended with Gloria [voiced by Anna Akana] finally opening her very own café in partnership with Gramma Alice [voiced by Artemis Pebdani]. We'll explore some of that relationship and see how they work together as partners running a café. And the Greens will continue to have some fun adventures in the big city."