By Jocelyn Buhlman
Halloween is almost upon us, conjuring up thoughts of jack-o-lanterns and silly ghosts and… Poe Dameron? That is no trick—this Halloween season, we're exploring the spooky (but still silly!) side of the galaxy thanks to our friends at LEGO® Star Wars. While the Star Wars universe doesn't have its own Halloween-style holiday, the galaxy is FULL of terrifying characters and creatures perfect for filling intergalactic ghost stories! LEGO Star Wars: Terrifying Tales, scaring up fun on Disney+ October 1, takes a ghost story approach to Star Wars, where Poe and BB-8 explore the creepy castle of Darth Vader while being accompanied by the castle's caretaker, who tells them spooky tales of the Dark Side as they explore. We talked to the special's executive producers, Josh Rimes and David Shayne, to get an "eek peek" behind the scenes of this terrifying…ly fun special:
D23: The Official Disney Fan Club: There's never been a Star Wars Halloween special—what inspired this one to happen?
Josh Rimes (JR): With the success of The LEGO Star Wars Holiday Special a year ago on Disney+, we began thinking about other seasonal events we could paint with the irreverent LEGO Star Wars brush. The answer came to us naturally: a Halloween special! We very quickly knew we wanted to lean into the iconic villains of Star Wars and celebrate the dark side—much like the way the Disney parks celebrate villainy during Halloweentime.
David Shayne (DS): A Halloween special felt like a no-brainer. It got even better when we realized we have perfect haunted house setting: Darth Vader's castle.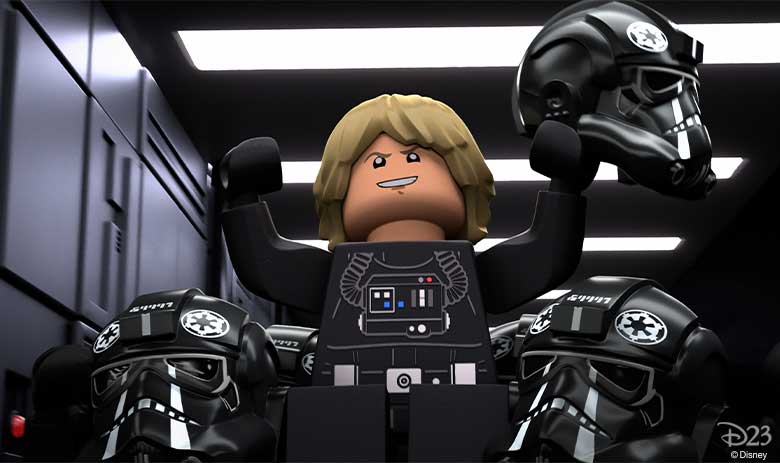 D23: What made Poe and BB-8 the perfect characters to lead this story?
JR: Like the LEGO Star Wars Holiday Special, this special takes place immediately following the events of Star Wars: The Rise of Skywalker. We still wanted to play within that sandbox of New Trilogy characters, because through their eyes, we can look back and capture the entire history of the Star Wars saga.
DS: Throughout the sequel trilogy, Poe is full of confidence and swagger—even in the face of overwhelming odds. It seems like the guy is NEVER scared, so we think of him as "courageous." But we started to ask ourselves, is that really the right way to measure courage? We wanted to see Poe wrestle with that, and it's fun to have BB-8 along to call that out.
D23: Can you tell us about the new characters, Dean and Vaneé?
DS: Dean is a 12-year-old mechanical whiz kid who uses his wrenching skills to earn money for his family back on Arkanis. Unfortunately, that meant taking a job working for Graballa the Hutt, and while working for a Hutt is never fun, Dean manages to keep a positive attitude.
JR: He's the heart of our story—a kid who's a dreamer and is just trying to do his best in a tough galaxy. When Poe comes on the scene, Dean is truly in awe—getting to meet his hero and go on this adventure with him through the castle.
DS: Our villain Vaneé isn't technically new, since he has a silent appearance in Rogue One: A Star Wars Story and has shown up in the comics, but as far as I know, it's the first time we've heard him speak onscreen—which was done brilliantly by Tony Hale.
JS: Vaneé is Darth Vader's loyal attendant who stayed behind at the castle, despite years going by without Vader ever returning. We've seen this character briefly before, but he truly gets his spotlight here as he regales our heroes with dark tales that feature classic and iconic Star Wars villains.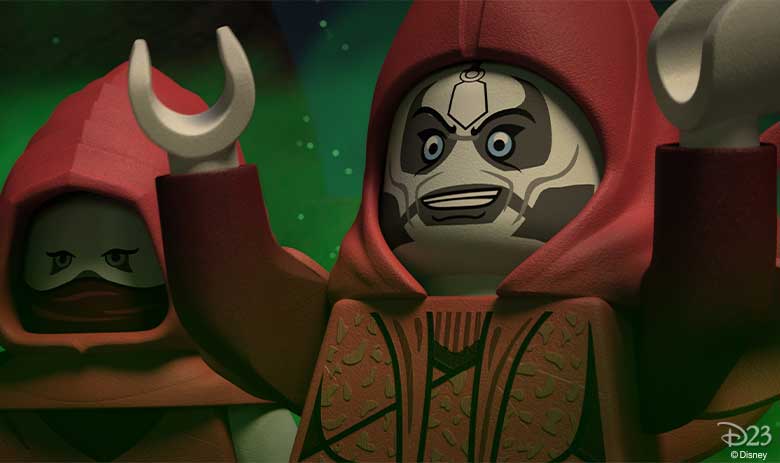 D23: Can you hint at which villains or creepy characters may appear in the special?
JS: We'll cover most of them! We wanted to really cover all eras of Star Wars, so we'll see Darth Maul and General Grievous go, we'll witness a formative moment in the life of Kylo Ren, and, of course a LEGO Star Wars special wouldn't be complete without Darth Vader and The Emperor and their hilarious dynamic.
D23: What makes the LEGO format unique for telling this story?
DS: We say that LEGO Star Wars is "canon adjacent," so we can mess a little with how characters act in order to see their sillier, funnier side. There is nothing more fun than writing scenes with Emperor and Vader, who have a funny, bickering relationship.
D23: What is your favorite part of the special?
DS: Without giving away too much, we took a look at Star Wars: A New Hope through the lens of a classic campfire horror story and it is filled with so many little moments—visual jokes, twists on lines, even the spin on the score—that I just love.
JR: There's one moment that I absolutely don't want to spoil, but it involves a Twilight Zone-inspired tale that imagines, "What if Luke Skywalker joined the Empire and went bad?"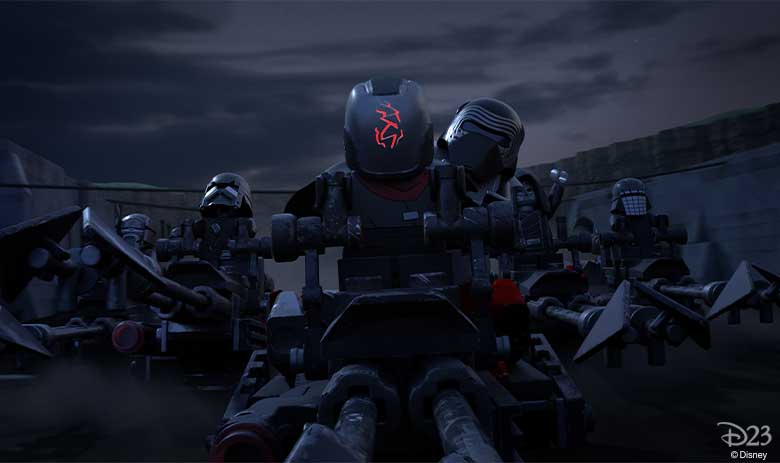 D23: What message do you hope fans take away from the special?
DS: I hope if they learn anything from the special, it's that fear is natural. We all get scared, but the real measure of courage is what we do in the face of our fears. Even as an adult that's a lesson I am CONSTANTLY re-learning.
JR: We always try to infuse our Star Wars stories with hope and optimism—and even though we are celebrating scary villains, there's still this great, big heart to this story about facing your fears and how sometimes it's okay to be scared. There's such a sweet dynamic between Poe and Dean, and in the end they both teach each other something valuable about what it means to be a hero.
DS: Also, turning Darth Vader's castle into a hotel is a really, really bad idea. Don't do that.
D23: What holiday or holiday season would you like to see a LEGO Star Wars special tackle next and/or do you have a dream holiday special for LEGO Star Wars?
DS: I keep insisting that an Ewok-themed Arbor Day special would be a smash hit, but the folks at Lucasfilm wisely keep turning me down.
LEGO Star Wars: Terrifying Tales is streaming on October 1 on Disney+ as part of their annual Hallowstream celebration!