Halloween is almost upon us! The fall holiday is thought to have originated with the ancient Celtic festival of Samhain, when folks would light bonfires and wear costumes to ward off roaming (grim-grinning) ghosts. Over the years, Halloween's evolved into a totally family-friendly event—filled with fun festivities and plenty of food. Thankfully, Walt Disney Parks and Resorts has got their fall-season guests covered on all fronts, with lots of special events (and not-so-scary excitement) leading up to the big day.
Take a look below at some spooky, spectacular Disney Parks and Resorts shindigs that'll delight guests of all ages!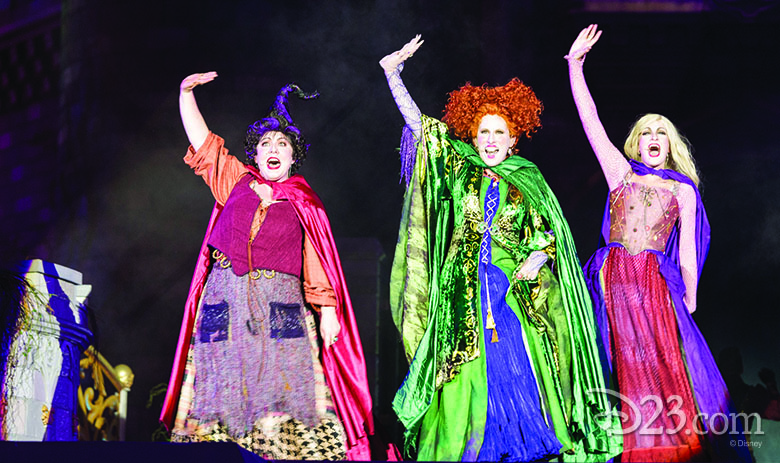 "Hocus Pocus Villain Spelltacular" at Walt Disney World
Appearing exclusively during Mickey's Not So Scary Halloween Party at Magic Kingdom Park (a separately ticketed event with special fireworks, the Boo to You Halloween Parade, and trick-or-treat fun for everyone), the all-new "Hocus Pocus Villain Spelltacular" brings the supernatural Sanderson Sisters to a Disney Park for the very first time! Run "amuck" with Winifred, Mary, and Sarah as they create a "party potion" for the biggest Halloween bash this side of Salem. With a little help from The Princess and Frog's Dr. Facilier, The Nightmare Before Christmas' Oogie Boogie, and a slew of classic Disney villains, the Sandersons will "put a spell on you" now through November 1.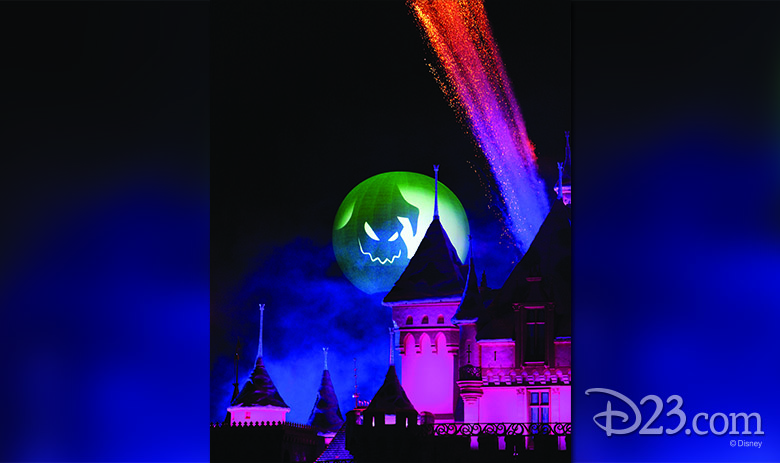 Mickey's Halloween Party at Disneyland Resort—Expanded!
Don't worry, West Coast friends: There's tons of spooky fun to be had at Disneyland Resort, too. This year, Mickey's Halloween Party has been expanded to 17 nights! The special event (also separately ticketed) features creepy twists on classic attractions and all your favorite Disney characters dressed in their Halloween best. And don't forget the fan-favorite "Halloween Screams" fireworks spectacular each night—it's a Mickey's Halloween Party exclusive!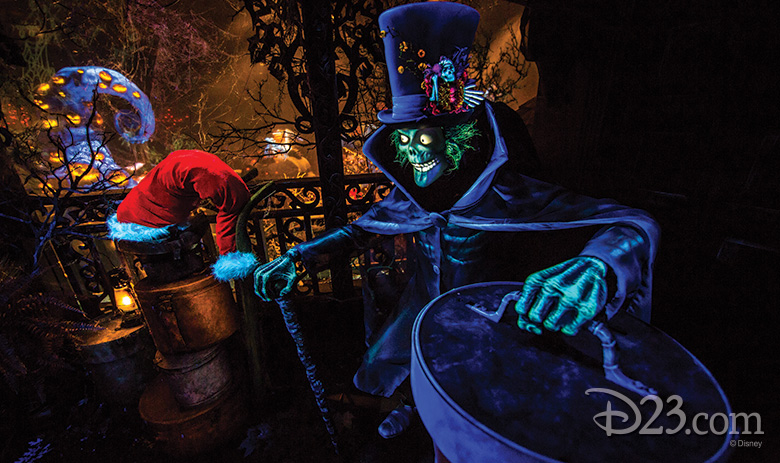 Hatbox Ghost at Haunted Mansion Holiday
Speaking of Disneyland Resort, we'd be remiss not to include the latest happy haunt inside the Haunted Mansion Holiday—Jack Skellington and his Nightmare Before Christmas crew's yearly takeover of the Haunted Mansion attraction. Mr. Ghost has a brand-new hat to put in that hatbox, and it'll last him through the next several holidays! (And keep your eyes peeled for a new gingerbread house in the attraction's big "dinner" scene; it's been constructed by some well-meaning, albeit accident-prone, gingerbread men.)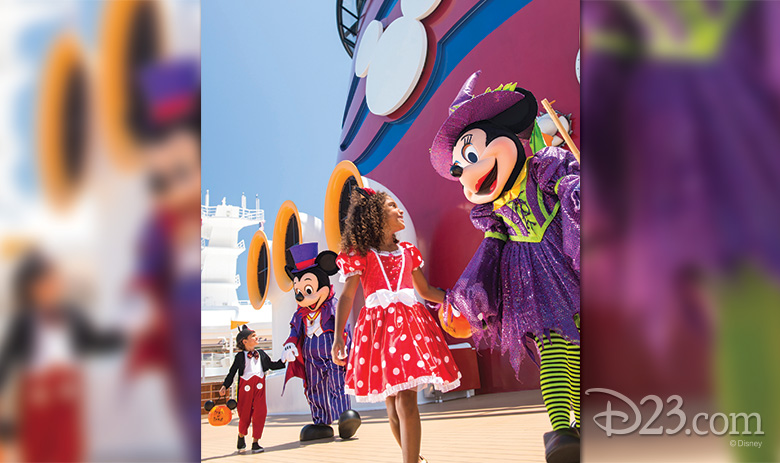 Halloween on the High Seas on Disney Cruise Line
If you're taking to the water this fall aboard Disney Cruise Line, you're in for a wickedly wonderful time! Halloween on the High Seas, which takes pace on most voyages aboard all Disney Cruise Line ships from September through October, features Halloween-themed parties (for both kids and adults), special entertainment, and amazing themed décor everywhere you look—including The Pumpkin Tree, which magically transforms throughout each cruise. Special experiences include a family costume party with Disney characters, a Nightmare Before Christmas—Sing and Scream interactive movie experience, and lots of ghost stories under the stars.
Disneyland Paris's Halloween Festival
"Ooh la la!" Even Disneyland Paris is getting in on all the harvest-hoopla fun with their Halloween Festival! From October 1 through November 2, guests can watch the Maleficent Disney Villains Promenade show and Mickey's Halloween Celebration parade (both featuring Disney characters resplendent in Halloween costumes), visit their favorite villains in Maleficent's castle courtyard briar bush, or take some photos in one of the Park's seasonally decorated photo locations.
Disney's Halloween at Tokyo Disney Resort
Guests at Tokyo Disney Resort are in for a ghostly good time, whether they visit Tokyo Disneyland (featuring the Happy Halloween Harvest parade and special fireworks) or take in a trip to Tokyo DisneySea. This year, the New York area of Tokyo DisneySea's American Waterfront is home to a special "Villains Halloween Party"; at Sailing Day Buffet, guests will enjoy a variety of delicious dishes (including dessert, of course) inspired by the Disney Villains, and decorations themed to the villains (and the holiday) will fill each corner of the restaurant… not to mention the Resort itself!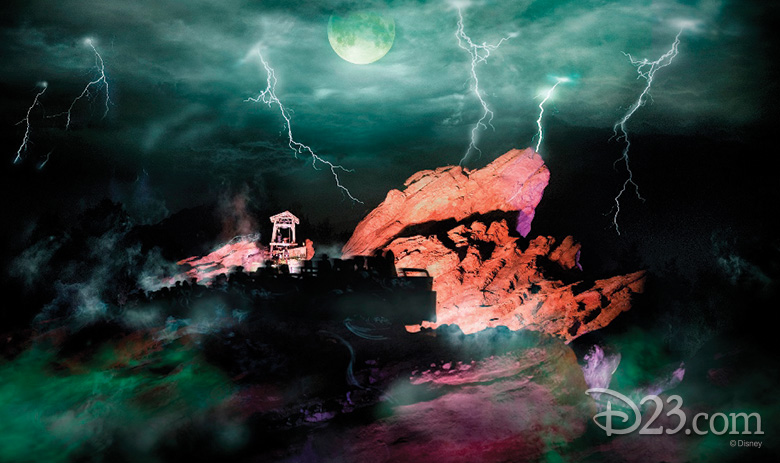 Hong Kong Disneyland Resort's Haunted Halloween
Frightful fun is in store at Hong Kong Disneyland Resort. Their Disney Haunted Halloween event welcomes guests to "lose their way" through their ghostly lands, "where the long-since dead come hauntingly alive" each night through October 31. The Ghost Town dares even the bravest amongst us not to lose their souls to the mesmerizing spirits at Mystic Point, while all manner of (deceased) cowboys and miners have overtaken Grizzly Gulch. And take heed: The Jungle River Cruise could turn into a dark and foreboding journey…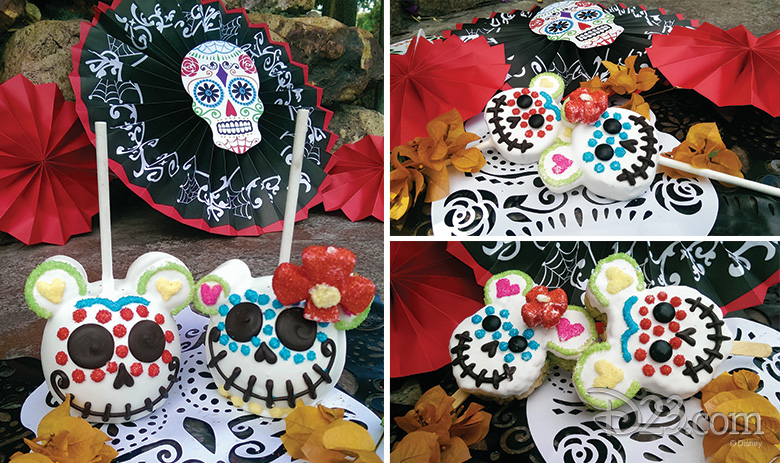 Dia de los Muertos Treats at Disneyland Resort
The day after Halloween (November 1) is known as Day of the Dead, or "Dia de los Muertos"—when families honor those who've passed before them with festivals and other celebrations. Disneyland Resort has already debuted some delectable fall treats themed to that special day, including "sugar skull"-inspired candy apples, cake pops, and krispies.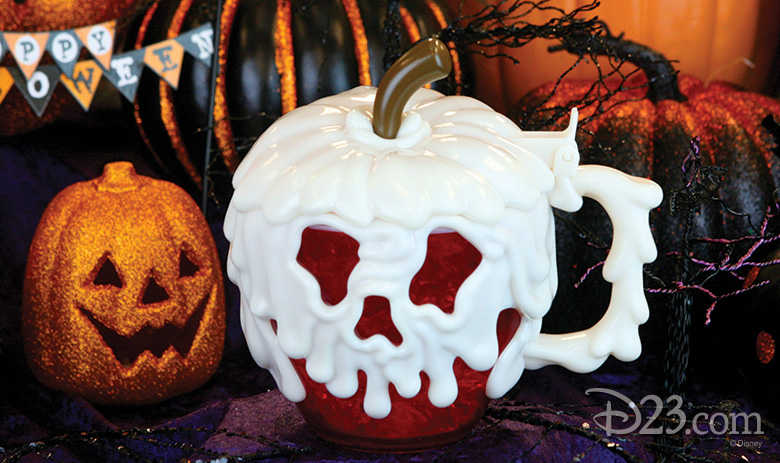 Take the Halloween Fun Home…
Disney fun and Halloween go together like hand in costumed glove—but if you want to take home an extra-special memory from All Hallows Eve, there are several brand-new souvenirs available at both Disneyland and Walt Disney World Resorts. Look for a spooky Poison Apple Stein (you'll feel just like the old crone in Snow White and the Seven Dwarfs), a Vampire Mickey Premium Popcorn bucket (arriving in October), and a new version of the Zero Premium Popcorn bucket flying in directly from Halloweentown.