By Jocelyn Buhlman
Before the Avengers and their allies assembled to Disney California Adventure Park, guests could shrink down to the size of a bug and explore the world from the eyes of their favorite characters from Disney and Pixar's a bug's life. The land featured the 3D show It's Tough to Be a Bug!, along with Flik's Fun Fair—a collection of fair-inspired attractions perfect for both the young and young at heart. While we've said "bye." to 'a bug's land' as we once knew it, there are still plenty of details and shout-outs to the land hidden in Avengers Campus, and we can't stop buzzing about them! We hope we're not bugging you if we round up some of these details, so that next time you visit Disney California Adventure, it won't be too tough to be 'a bug's land' fan!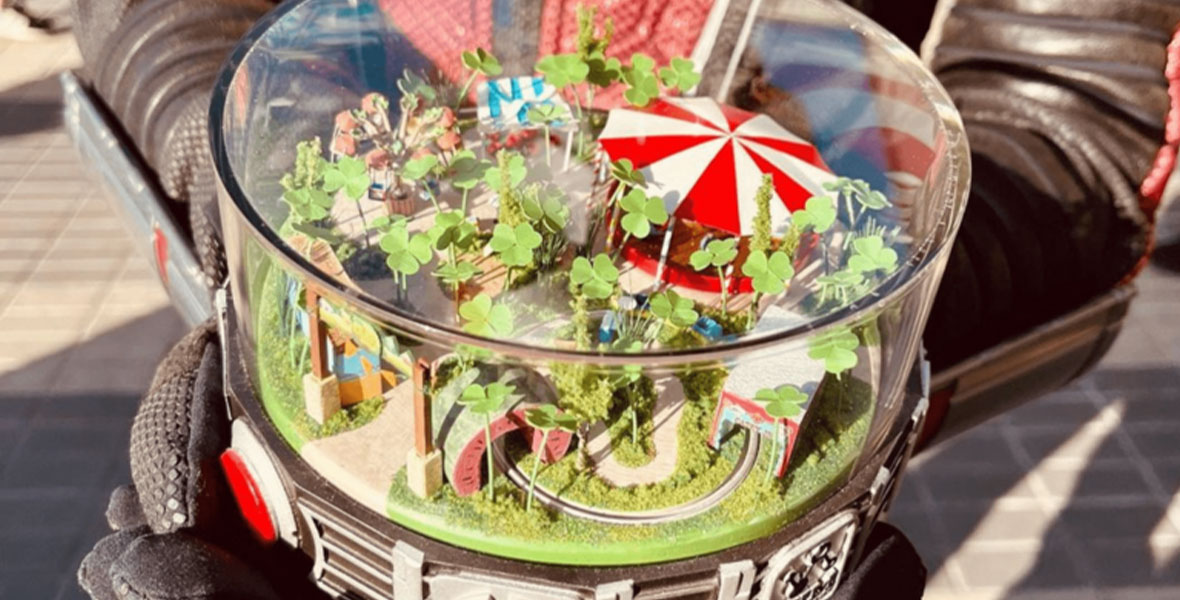 So that's where 'a bug's land' went…
If you've visited Avengers Campus recently, you might have spotted Ant-Man or The Wasp showing off an example of the Pym Particles power: They shrunk what they call a theme park to the size of a bug! If you're lucky enough to see it (contained in its small case for safe keeping), you might even spot the iconic hidden four-leaf clover that once towered over park guests in 'a bug's land.' Our favorite shrinking Super Heroes don't always have this case with them, however; it turns out their ant friends are as big of a fan of Heimlich's Chew Chew Train as we were, so sometimes Ant-Man and The Wasp leave the land behind so the ants can have some fun. After all, don't they deserve a nice day at Disneyland Resort, too?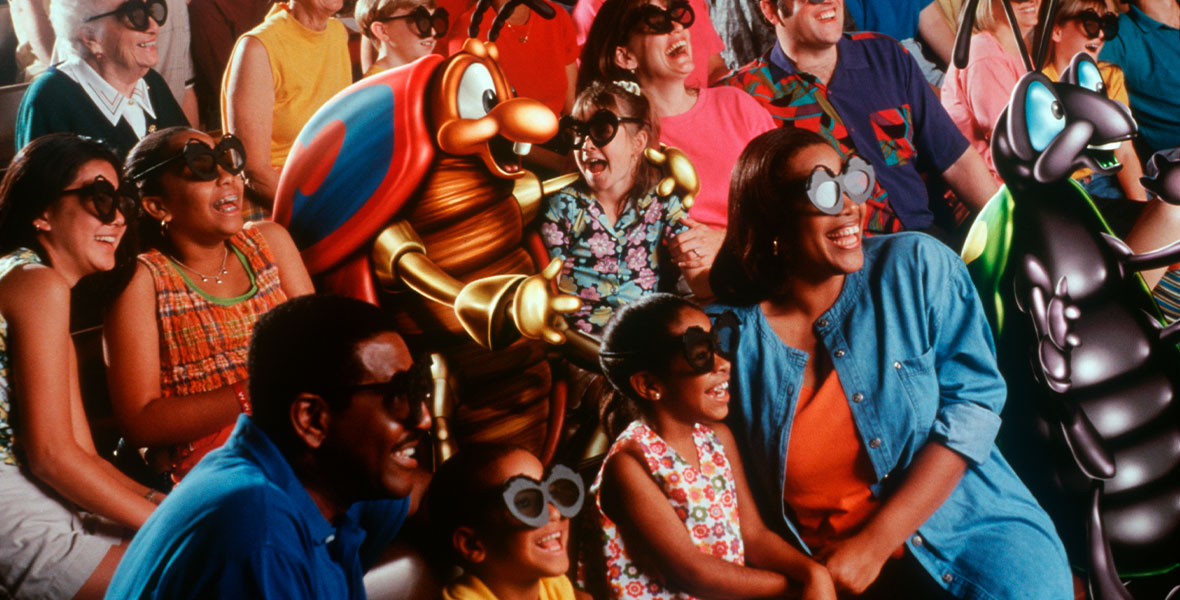 We're totally buggin' over this prize
There's a lot of detail to take in during the WEB SLINGERS: A Spider-Man Adventure preshow. You might have been too busy examining the LEGO Death Star, Lucky Dog pizza boxes, or the whiteboards full of notes to notice a certain hidden shoutout to a show we're all buzzing about. In the claw machine on the left side of the preshow room, you can peek in to see an assortment of fun prizes (including other Disney shoutouts—hey, Baymax!). One of those prizes is a familiar pair of "bug-eye" glasses you might recognize as the glasses from the 3D experience It's Tough to be a Bug! Don't worry, you don't need to win the glasses in the claw machine; if you're hoping to see the world from a bug's point of view, the show is still performing "off-Bugway" at Disney's Animal Kingdom.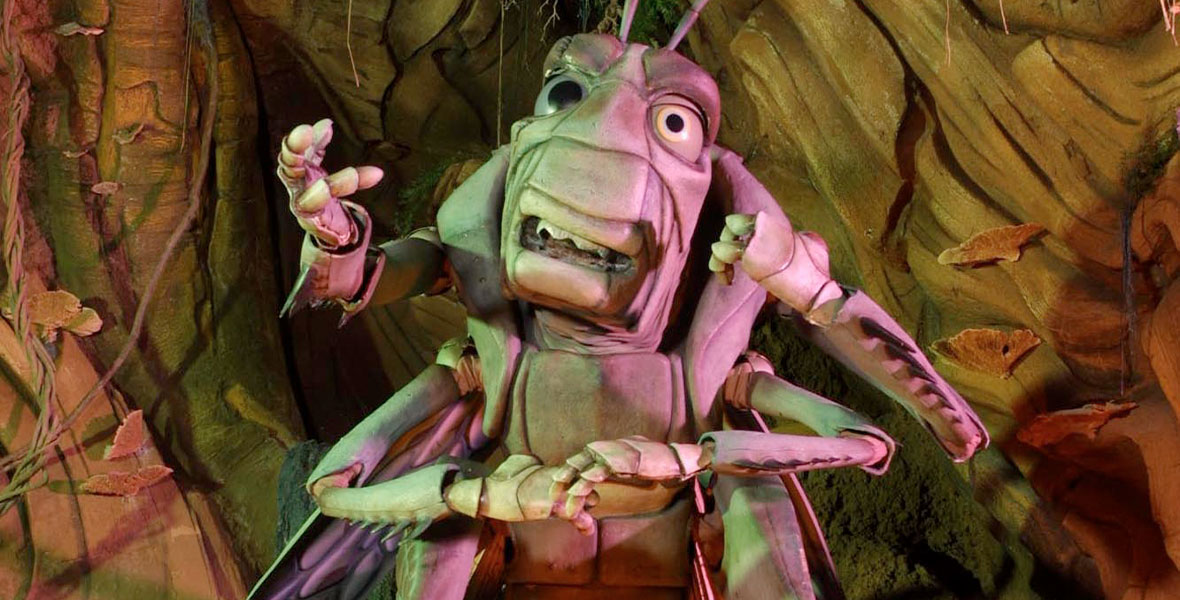 Assembling hidden details
The It's Tough to Be a Bug! details don't just end in the WEB SLINGERS: A Spider-Man Adventure pre-show. The WEB open house is located in what was once a Stark Industries warehouse, and you might notice remnants from the time when the building was used to craft the latest in Stark Industries technology. If you look closely, some of the leftover assembly line machines might bug you a little bit—just before you load your WEB Slinger vehicle, you can spot control boxes on the wall from It's Tough to Be a Bug!, including the control box for the Hopper Audio-Animatronics® figure. The fearsome grasshopper is a fan-favorite, so it's fitting that there's a small tribute to him within the WEB SLINGERS: A Spider-Man Adventure queue.
A robot in train-ing
Once you've boarded your WEB Slinger vehicle, we know you're focused on helping Spidey take out the rogue Spider-Bots. In between battling the bots, however, we suggest you keep an eye out—because we've got another Easter egg to bug you about in this attraction: After the first scene of Spider-Bot battling, keep an eye out for a yellow and gray robot pallet. There's a small label on the robot: H.E.I.M.L.I.C.H. Fans of Heimlich's Chew Chew Train might need a moment to stop and stare, because this robot was originally part of the Heimlich Chew Chew Train's attraction vehicles. It's only fitting that so many cool details from 'a bug's land' are hidden in a Spider-Man themed attraction, but if you want to see Heimlich in his full glory, don't worry! Just hop on the web and stream Adventure Thru the Walt Disney Archives on Disney+; part of the beloved Chew Chew train is safe and sound in the Walt Disney Archives, and you can see him for yourself in the documentary.
Big decor inspiration from a small source
A spider-themed location isn't the only place you'll spot 'a bug's land' Easter eggs. Luckily, the Pym Tasting Lab took some decoration inspiration from Flik's Fun Fair in 'a bug's land.' With Ant-Man's incredible shrinking and growing technology, the Tasting Lab was able to replicate the Christmas light décor that you might remember from Tuck and Roll's Drive 'Em Buggies. While the lights aren't exactly the same, the supersized string lights offer a fun through-line between the tiny world of 'a bug's land' and Hank Pym's amazing shrinking and enlarging technology.
Building a better campus
As you head from Cars Land to Avengers Campus, you'll notice a bright yellow crane hanging over the entry way. While that crane currently serves as a reminder of the campus' history as a Stark Industries compound, the crane also has a more whimsical history from when it was used in 'a bug's land.' The maintenance crane once lifted vehicles from Heimlich's Chew Chew Train on and off the track of the attraction—we're glad to see it's found a new, heroic home at Avengers Campus!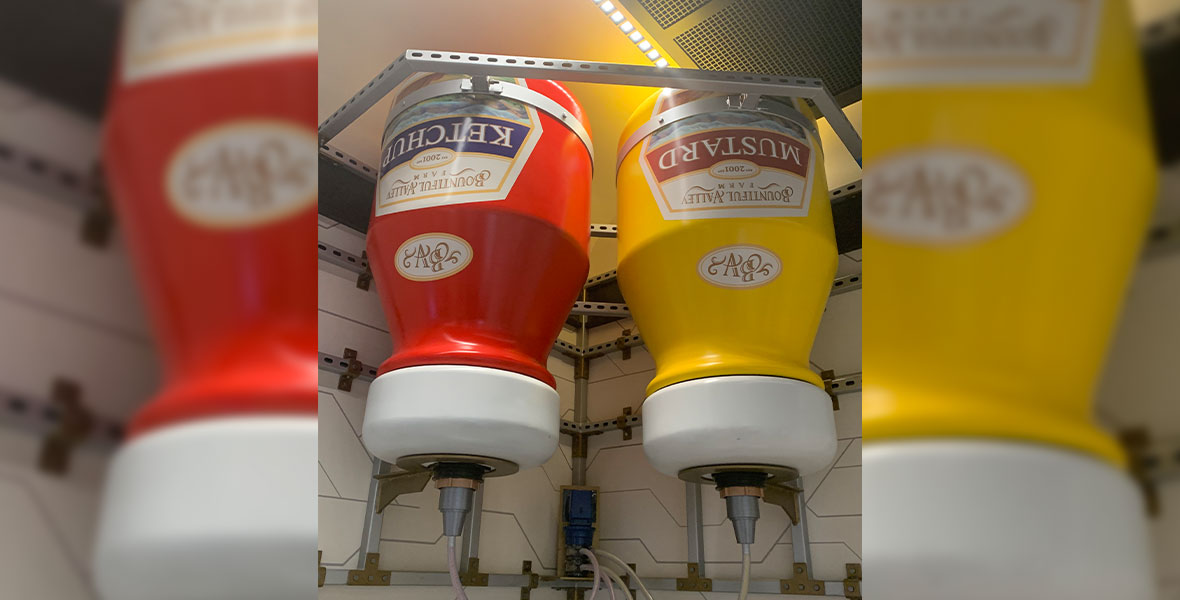 A bountiful reference
We obviously know that 'a bug's land' existed before Avengers Campus—but do you know what was there before 'a bug's land?' Bountiful Valley Farm was an opening-day attraction for Disney California Adventure that celebrated the agriculture of California. This attraction became part of 'a bug's land' in 2002, before eventually making way for another Pixar-themed area: Cars Land!
When you go pick up your supersized and super small snacks from the Pym Test Kitchen, don't forget to grab some ketchup and mustard. The condiments are dispensed from enlarged ketchup and mustard bottles bearing the logo of none other than Bountiful Valley Farm! Although the location is no longer there, we can still enjoy some of its bounties thanks to this Easter egg.