By Sarah Sterling
Disney and Pixar's latest animated adventure, Turning Red, has spread panda-monium across the globe and turned us all into certified 4*Townies! We can all relate to adorable and confident Meilin Lee who must find the balance between being her family's dutiful "Mei Mei" and embracing the messiness that comes with growing up, and…turning into a giant red panda! We know you've already streamed this stu-panda-ous movie on Disney+ countless times and probably noticed a classic Pixar Easter Egg or two, but, if not, we've prepared the most comprehensive list of Easter Eggs, hidden details, and Disney references from Turning Red for you to enjoy and enhance your panda power.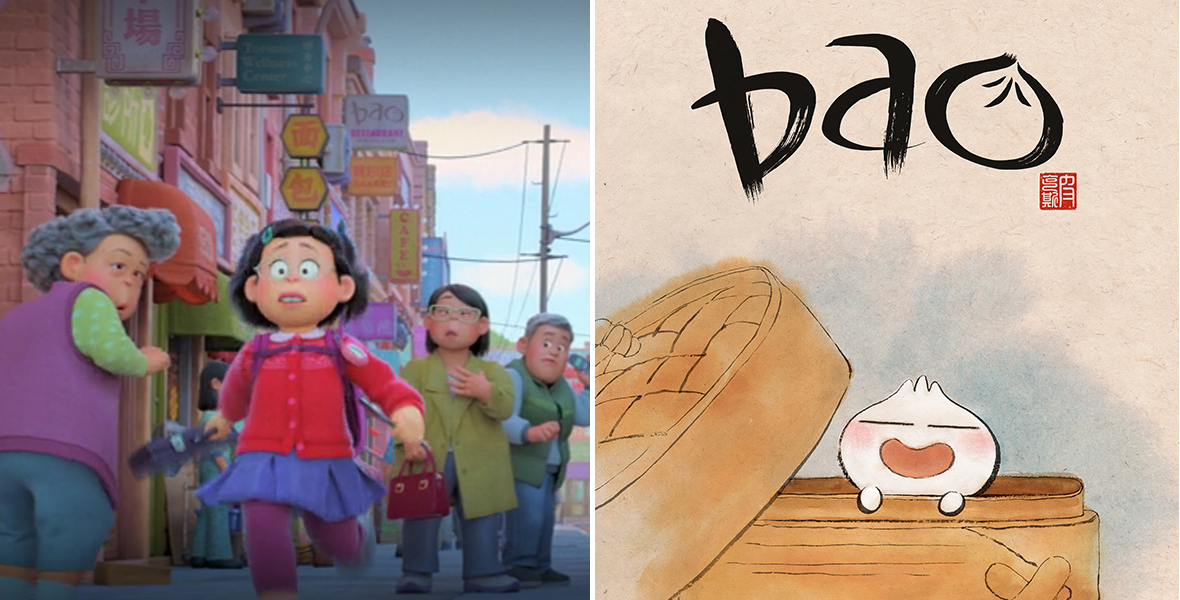 1. Domee Shi's "Bao"
Turning Red Academy Award®-winning director, Domee Shi, made her directorially debut at Pixar with her short, Bao, which played before Incredibles 2 in 2018. When Mei gets off the bus at the beginning of Turning Red, you can spot a sign for a bao restaurant behind her with the same font as the title treatment for Pixar's Bao.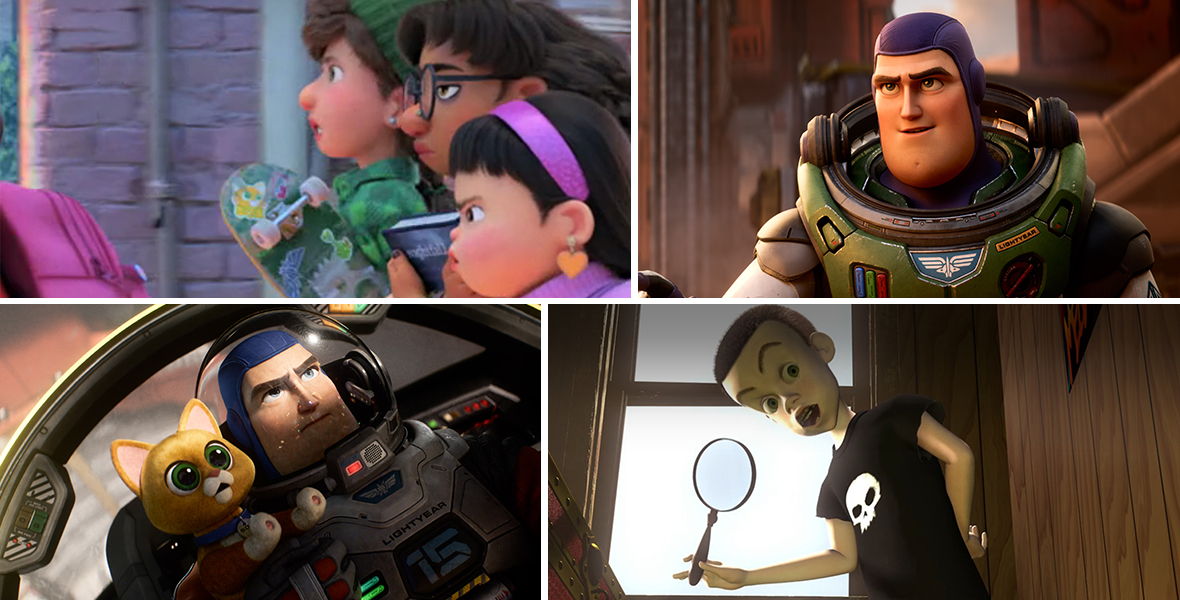 2. Miriam's Pixar-centric Skateboard
Mei's bestie, Miriam, must be a huge Pixar fan ­– she has three Pixar Easter Eggs on her skateboard alone! Take a closer look and you'll notice two nods to Pixar's upcoming film, Lightyear. One is the classic Star Command logo featured on Buzz Lightyear's chest piece and the second is a sticker of Sox, the robot cat that Buzz will befriend in Lightyear. Finally, you'll also spy a large upside-down skull across the middle of the skateboard ­– this is the same skull found on Sid Phillip's T-shirt in Toy Story!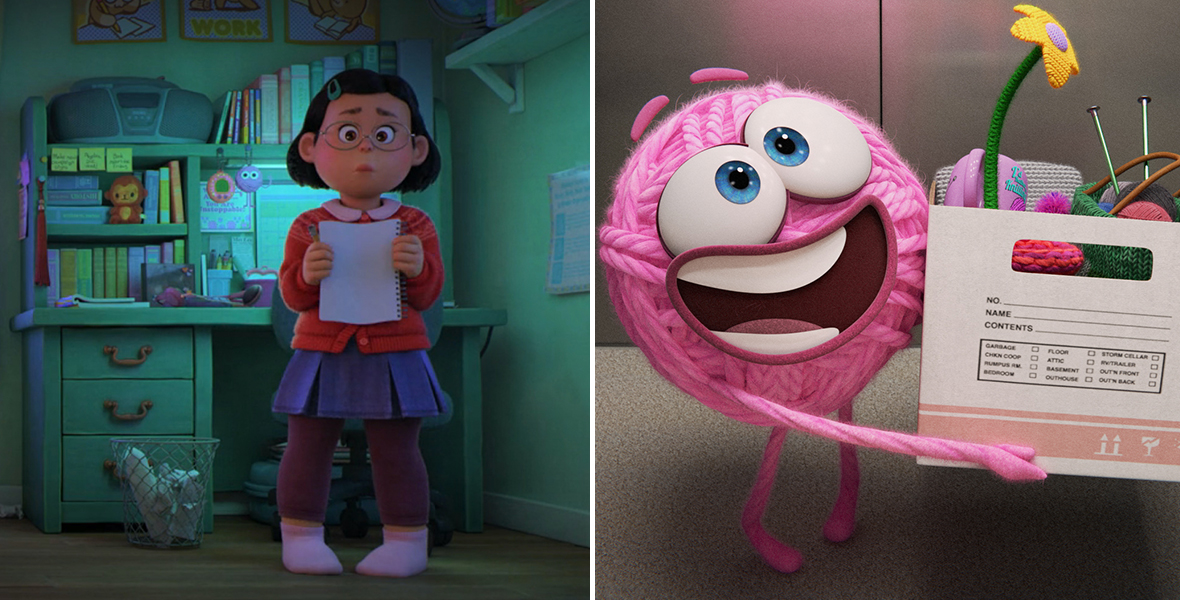 3. Mei's Purl Keychain
In 2018, Pixar released their very first SparkShorts film, Purl, the story of an eager ball of yarn who has trouble fitting in at her new job at a fast-paced, less than welcoming company. Lovable little Purl can be seen in keychain form, hanging from the top of Mei's desk as she does homework.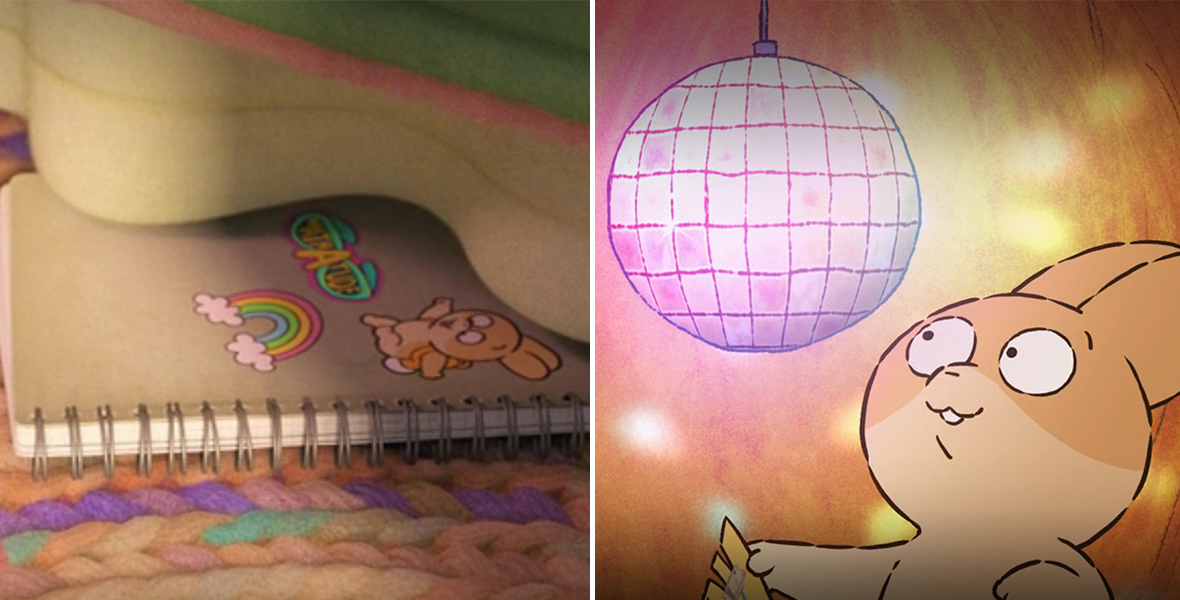 4. Mei's Burrow Sticker
Pixar's short film Burrow premiered in 2020 on Disney+ and is about a young rabbit digging her first burrow…despite not really knowing how to. The Burrow bunny is briefly visible on the back of Mei's notebook where she draws pictures of tantalizing mermen.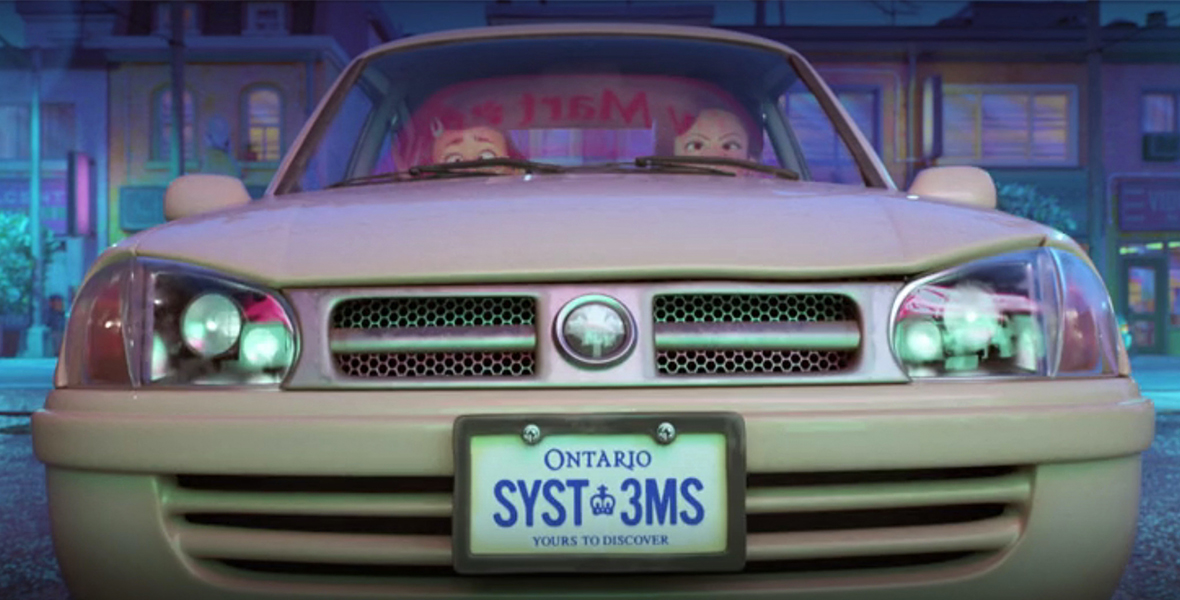 5. Ming's License Plate
Mei's mother, Ming, has a very specific vanity license plate that reads, "SYST3MS – Yours to Discover." This is a discrete tribute to Pixar's Systems team, which covers all things data, computing systems, recording studios, teleconferencing, and production pipeline software for the animation studio. We wonder if Ming is into coding 🤔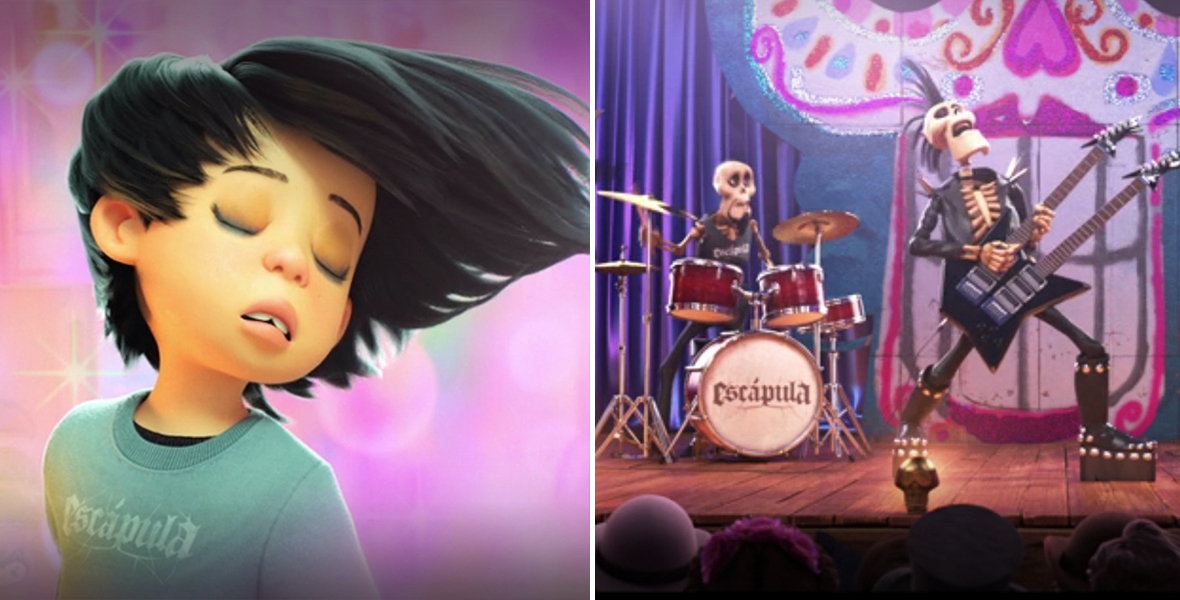 6. A Band from the Great Beyond:
Mei goes full heart-eyes when she sees her classmate, Carter Murphy-Mayhew, in the hallway at school. But don't be distracted by Mei's tunnel vision, because Carter is wearing a T-shirt for the band Escápula, which is the same ghostly punk rock band seen in Pixar's Coco during the battle of the bands!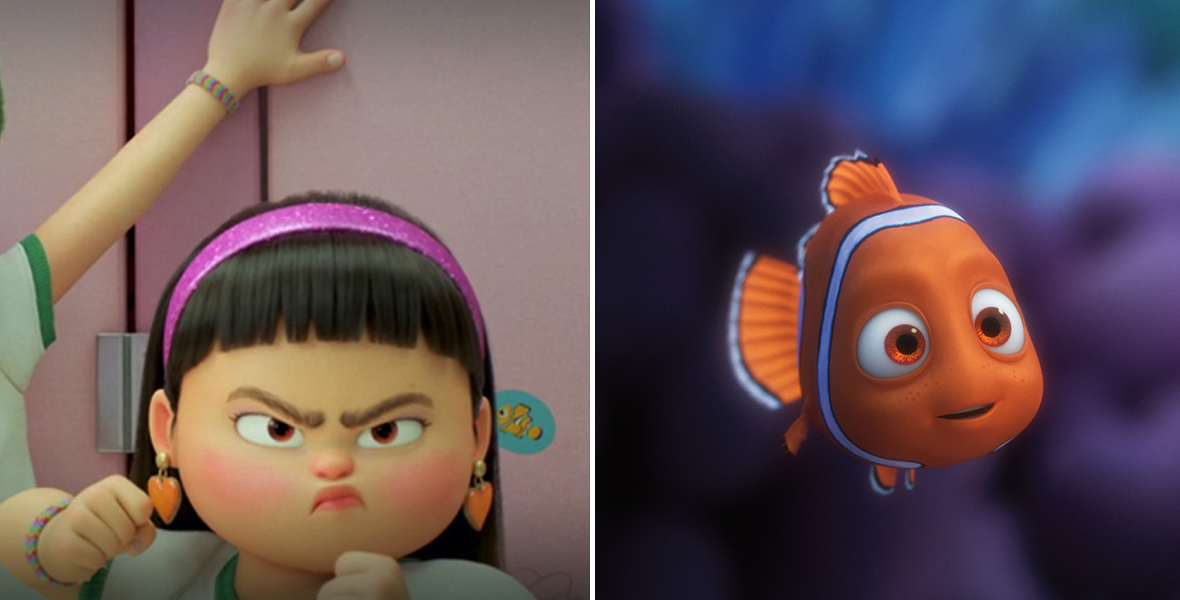 7. We Found Nemo!
After Mei allows her panda to get the best of her during a dodgeball game, the girls run to the bathroom so no one will discover her secret power. A small clownfish sticker can be seen on a stall door behind Abby. It's unclear if this clownfish has one small fin, so it could be a nod to Nemo or Marlin from Finding Nemo, but either way, this Easter Egg so totally rocks, dude!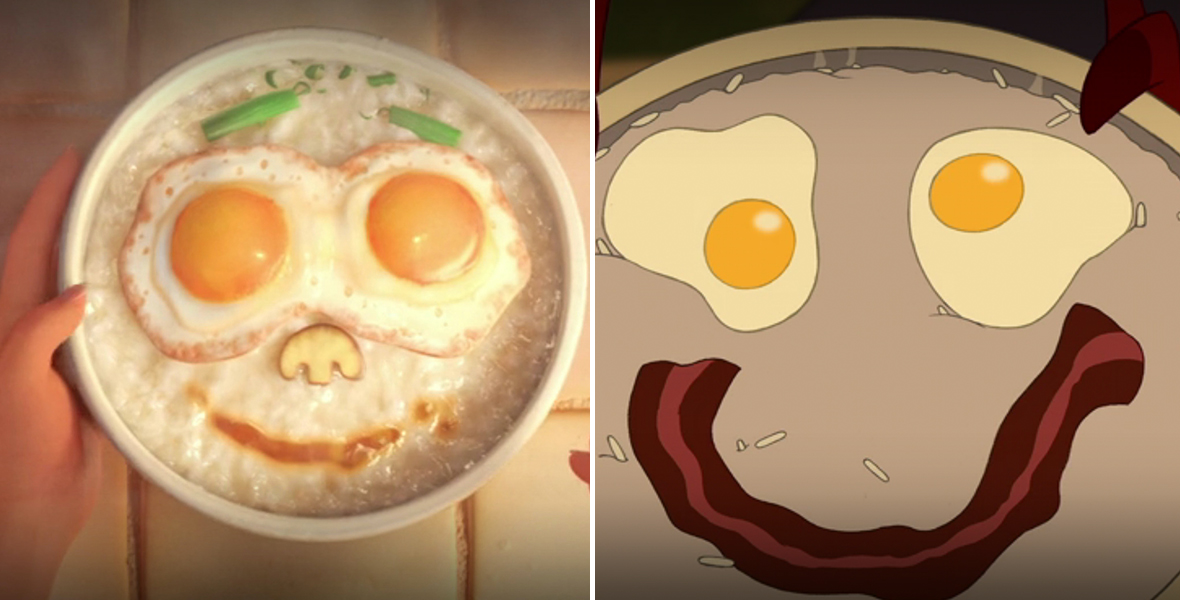 8. Porridge That's Happy to See You
A rare reference to a non-Pixar film can be found when Ming makes breakfast for Mei on the morning she first turns into a red panda. Ming prepares a bowl of congee and uses eggs, mushrooms, and other condiments to create a smiley face. Similarly, in Mulan, Mushu makes Mulan a smiley bowl of porridge on her first day of army training. Who wouldn't have a grin-credible day with this breakfast!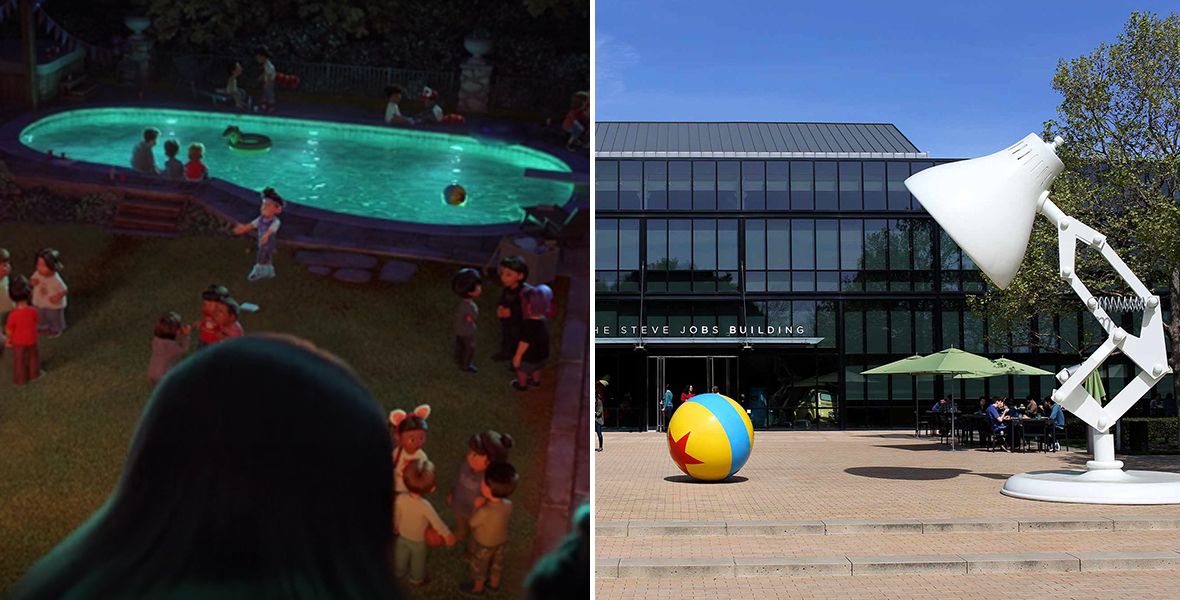 9. Luxo Ball Goes for a Swim
The iconic Luxo Ball appeared in Pixar's very first short film, Luxo, Jr., in 1986. Since then, the ball has appeared in numerous Pixar films and was prominently featured in the Toy Story films. This memorable toy appears in Turning Red during Tyler's birthday party. When Mei and her friends are hanging out on the roof, you can see the Luxo Ball in Tyler's pool as they look out over the backyard.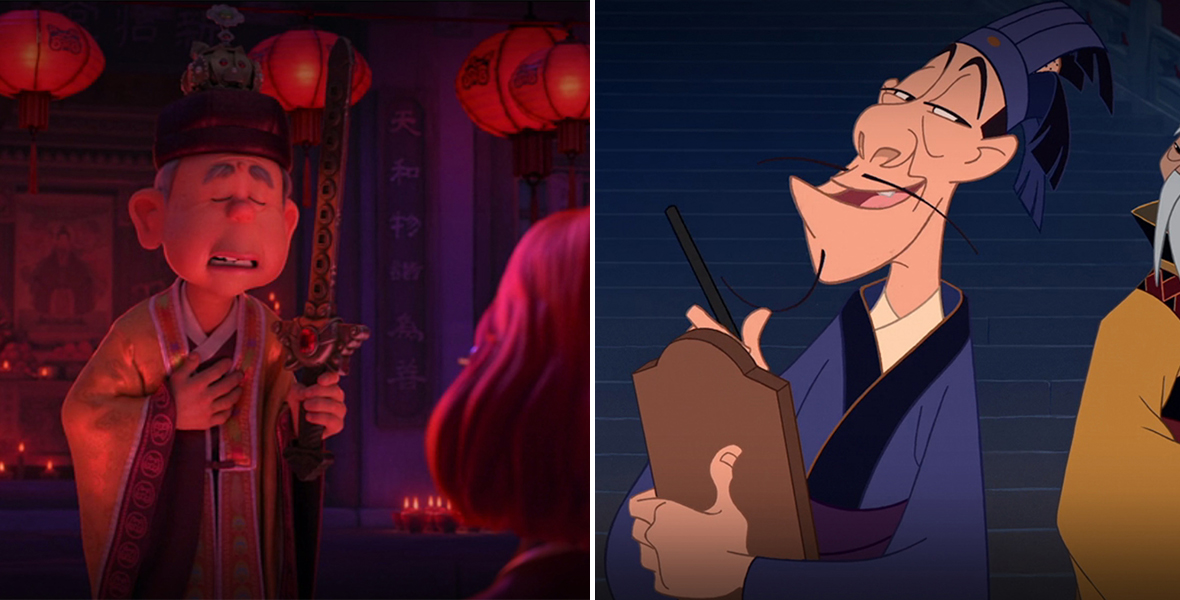 10. Voice Actor James Hong
Another connection between Turning Red and Mulan is voice actor James Hong! Hong is a prolific voice talent who has appeared vocally, and in live action, in many Disney projects. Hong voices Mr. Gao in Turning Red, Chi-Fu in Mulan, and has also appeared in Marvel's Agents of S.H.I.E.L.D and Star Wars Rebels. We'd recognize that voice anywhere!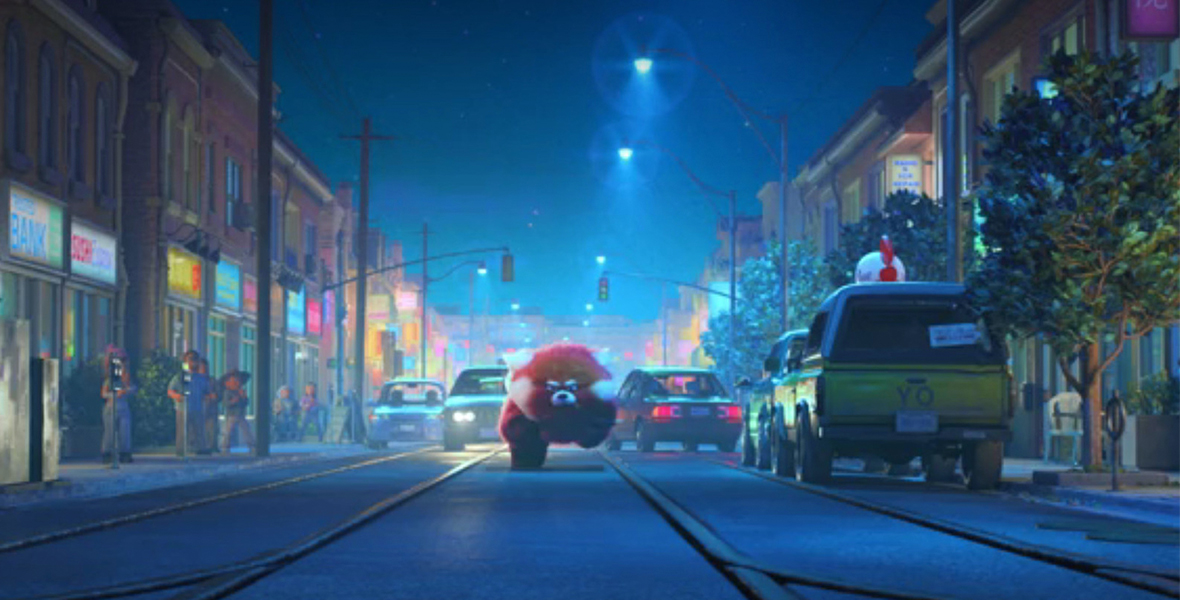 11. The Pizza Planet Truck
Arguably the most famous Pixar Easter Egg of all is the historic Pizza Planet Truck. This pizza delivery vehicle has been included in almost every single Pixar movie and Turning Red is no exception. The Pizza Planet Truck can be spotted toward the end of the film when Mei (in red panda form) is running down the streets of Toronto to get to the Skydome for the 4*Town concert.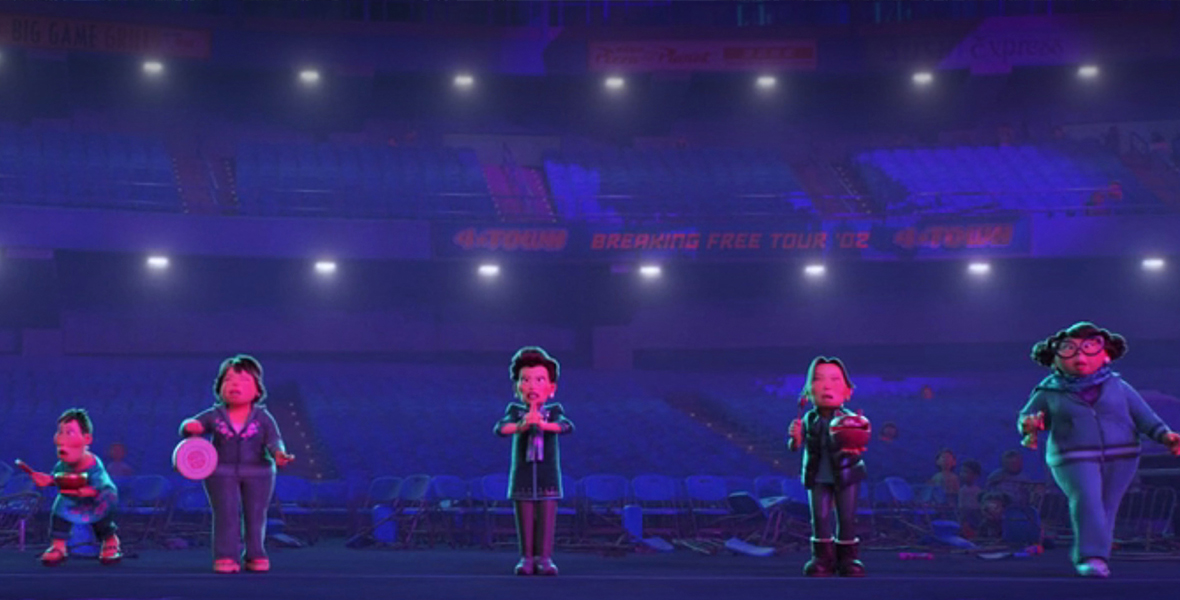 12. Serving Your Local Star Cluster
You found the Pizza Planet Truck, but did you notice that the chain restaurant was also advertising at the 4*Town concert? When Mei's grandmother and aunts start their red moon ritual at the Skydome, you can see a banner in the stands behind them promoting everyone's favorite fictional pizza chain.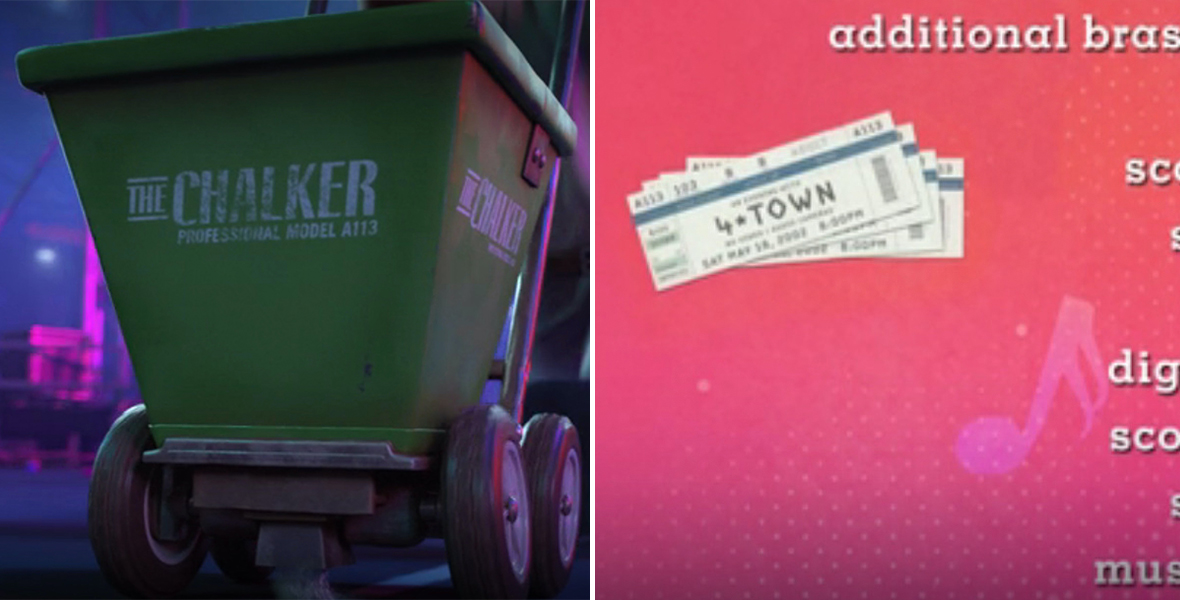 13. A113
Another Pixar classic is the sequence "A113," a nod to a classroom at the California Institute of the Arts where many Disney and Pixar animators studied. A113 can be seen two times during Turning Red ­– first on the chalk machine that Mei's dad uses to draw a large circle at the Skydome, and again during the film's credits on a pair of 4*Town concert tickets.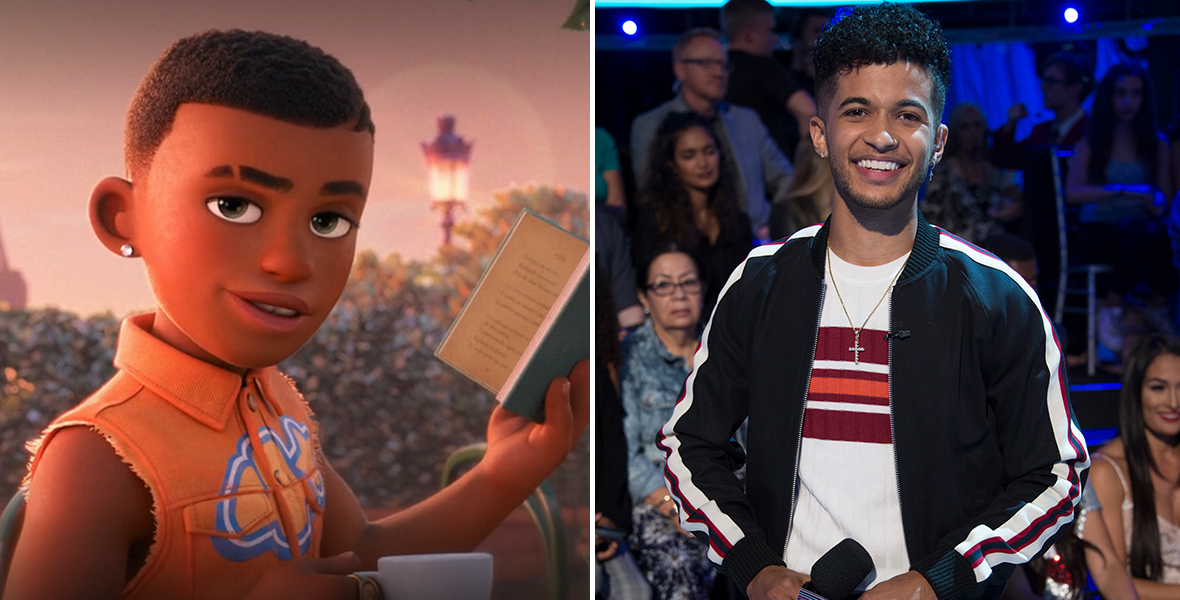 14. It's him, Robaire
Mei's favorite musical group, 4*Town, is made up of five dreamy boy banders, one of whom is voiced by singer and actor, Jordan Fisher! In addition to voicing Robaire, you may also recognize his voice from the Walt Disney World nighttime spectacular, Happily Ever After. Fisher also starred in Disney's Teen Beach Movie, High School Musical: The Musical: The Series, and Liv and Maddie. He also took home the coveted mirror ball trophy on the 25th season of Dancing with the Stars!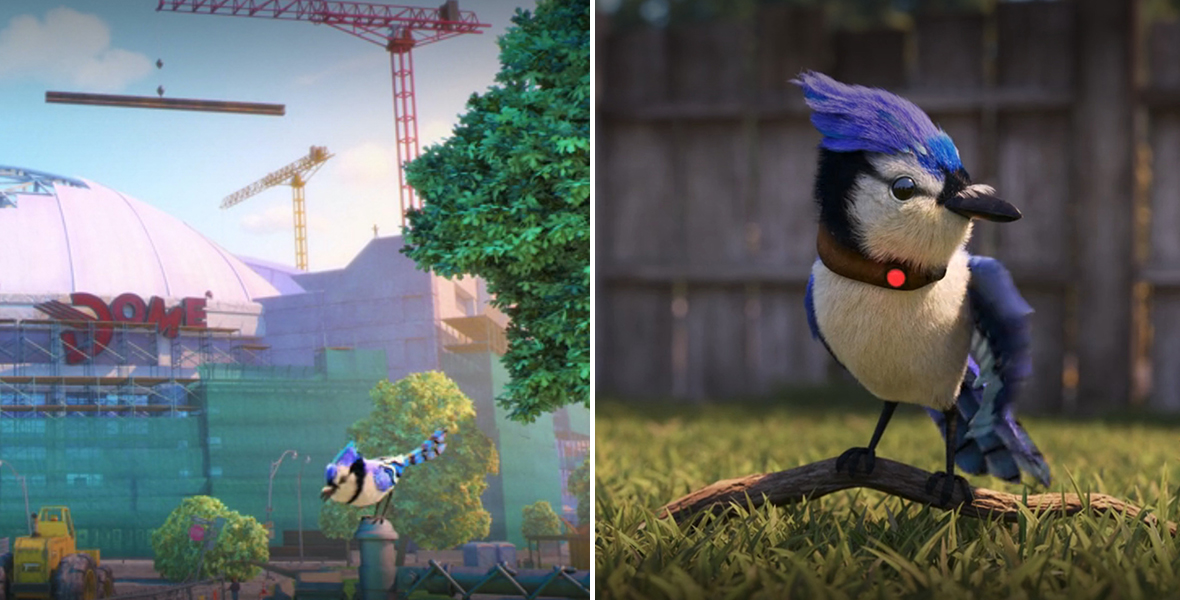 15. Dug's Blue Jay
At the end of Turning Red we see the totally destroyed Skydome arena and a little blue bird pops into frame. Not only is the bird a nod to the Toronto Blue Jays, but the blue jay also appears in the Disney+ show Dug Days. In the fifth episode, titled "Science," Dug communicates with a squirrel and a blue jay using the special collars created by Charles Muntz in UP.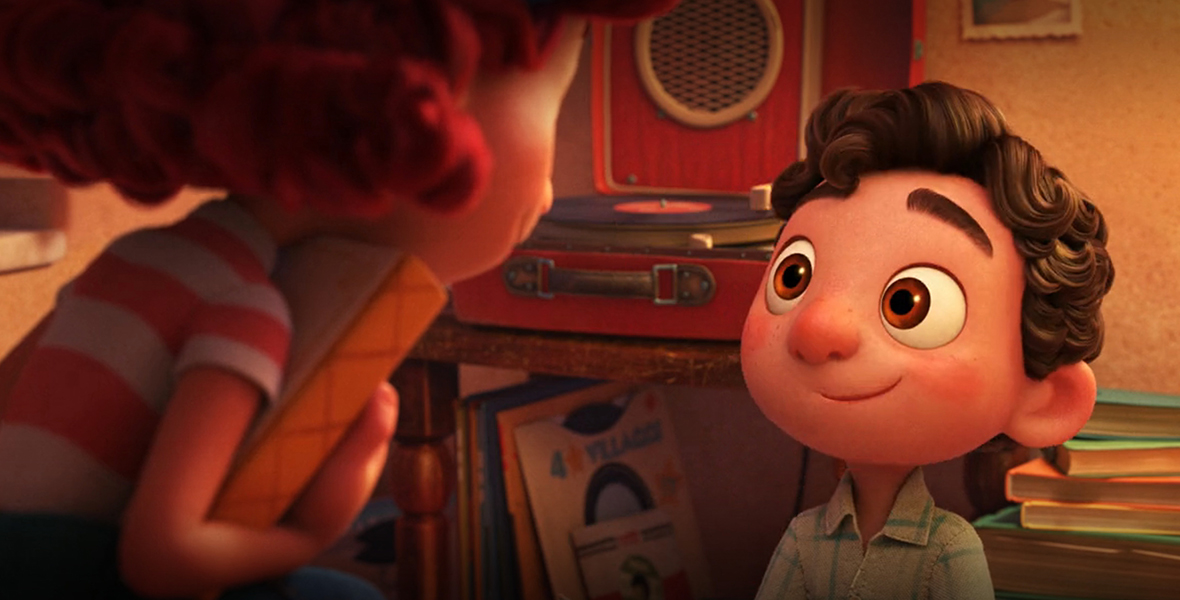 16. 4*Town Easter Egg in Luca
Pixar famously loves to hide Easter Eggs for their upcoming projects in each film, just like the Lightyear references in Turning Red! So, where was Turning Red in Pixar's last animated feature, Luca? When Luca is looking at books in Giulia's bedroom, you can see a record on the shelf behind him that reads "4*Villaggi,"which means 4*Villages in Italian. This means Giulia is also a 4*Townie!
How many of these references did you notice? Stream Turning Red on Disney+ and see how many you can spot on your next re-watch! Keep reading D23.com for more information on your favorite Disney movies and more.