This article, written by Lorraine Santoli, originally appeared in the Summer 2012 issue of Disney twenty-three.
With the help of devoted husband Glen Holt, Annette Funicello's life continues to be filled with warmth, happiness, and love.
Although Annette Funicello has faced many difficult challenges during her extraordinary life, if there's one constant that has carried her through it all, it's knowing that she is truly, unconditionally, and unequivocally loved. Her legions of fans have adored her for nearly six decades, and her husband of 25 years, Glen Holt, couldn't be more devoted. Battling multiple sclerosis for more than 20 years has taken its toll on the former Disney and Beach Party star, but Glen is Annette's knight in shining armor. "I told her a long time ago, before she was ever diagnosed with MS, that I would always take care of her, and I will always keep that promise," he says.
While media rumors have reported that Annette has lapsed into a coma, Glen is eager to set the record straight. "Those reports are absolutely false," he tells Disney twenty-three.
"She is happy and loved, and we make the most of every day."
Although no longer able to perform some tasks without help from loved ones, "her life is filled with daily activity," he explains. "If she wants to go shopping, we do that. If not, we just go for a drive. I want her to be able to be outside and feel the sunshine, breathe the air, and see people who still come up to her to say hello."
The world fell in love with Annette shortly after Walt Disney discovered her in 1955 while performing in Swan Lake with her dancing school at the Starlight Bowl in Burbank. He was drawn to the charismatic young girl and invited her to audition for a new kids show he was producing: the Mickey Mouse Club. She did, and was personally selected by Walt to be the 24th and last Mouseketeer cast for the series' first season. The show made its TV debut on October 3, 1955, and was, of course, an instant hit. The Mouseketeers became kid-show icons, with Annette, barely into her teens, becoming the most popular of the young stars.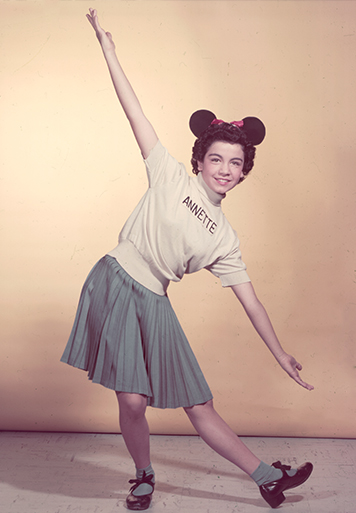 After the three-year series ended, Annette was the only Mouseketeer to be signed to a continuing contract with the studio. She ultimately appeared in a number of Disney TV series, starred in several motion pictures, and launched a successful recording career.
In fact, Annette is one of the first celebrities ever to be known by her first name only—long before Cher, Madonna, or Prince.
The early 1960s saw Annette extend her career beyond Disney, being cast in a series of sun-and-fun beach party films costarring teen idol Frankie Avalon. It was during this period that Annette married Hollywood agent Jack Gilardi and became mom to three children, Gina, Jack Jr., and Jason. Settling down in a large traditional ranch house in the hills of Encino, California, Annette became a stay-at-home mom, but worked intermittently, guest starring in myriad TV series and becoming the spokesperson for Skippy peanut butter.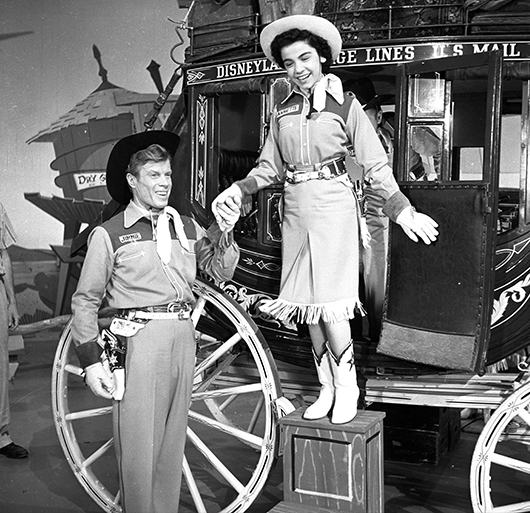 After 17 years of marriage, Annette and Gilardi were amicably divorced, and a few years later, she became reacquainted with old friend Glen Holt, an owner and trainer of racehorses. "Most people don't know that I actually met Annette when she was just 16 or 17 years old," Glen remembers. "She had a horse that she boarded at Hollywood Park Racetrack where my horses ran. I would see her there often with her parents. We'd always say hello, and I'd chat with her mom and dad. But then I didn't see her again until several years after her divorce, when she started visiting the track again."
The two became more and more friendly until an also-divorced Glen finally asked her out. In 1986, they were married. Another old friend, Mickey Mouse, surprised the pair at the reception and had the second dance with the new bride.
Barely a year later, the newly married pair was confronted with a life-changing situation. Annette was diagnosed with multiple sclerosis, a degenerative nerve disorder. "She was so happy after we got married," Glen recalls. "So was I."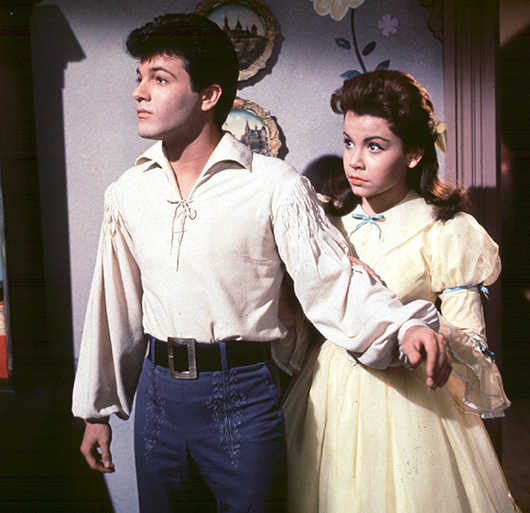 But in 1987, while Annette was filming Back to the Beach, a tongue-in-cheek Beach Party update with the middle-aged Frankie and Annette, she found herself somewhat unsteady, especially when trying to walk in the sand. "She'd tell me that she just couldn't walk very well on the beach," Glen explains. After seeing a neurologist, she and Glen received the diagnosis.
"Initially, we didn't tell anyone except the immediate family and close friends," Glen continues. But there was one other person who needed to know. "I secretly told Frankie Avalon."
"He and Annette were about to embark on a national concert tour that had been booked before she was diagnosed," Glen remembers. "I was afraid if she got too close to the edge of the stage, she might fall because she was becoming so unsteady on her feet."
While Glen was at every performance helping his wife on to and off the stage, the one place he couldn't be was onstage, and he needed Frankie to be her guardian. Frankie kept their secret and kept her safe. But those live shows were the last of Annette's public appearances.
By the early '90s, her balance issues became more difficult to hide, and the media started noticing. The tabloids began reporting an "inebriated" Annette being seen around town. Of course, that was entirely untrue.
"She knew then that it was time to go public with the diagnosis, and the story soon broke nationally in USA Today," Glen says. The outpouring of love from celebrities, friends, and fans was astonishing.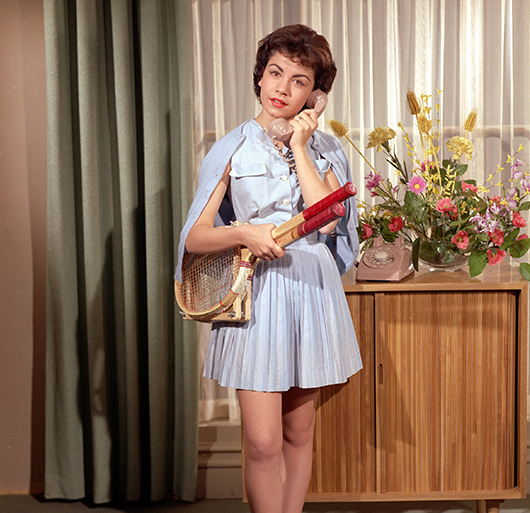 Annette and Glen's home became filled with bouquets and plants that overflowed from one room to another. The very first, and very large, arrangement that arrived contained a small card that read,
"If you need anything, call me," and included a telephone number. The card was signed by Frank Sinatra.
The Disney Studio soon became deluged with thousands of pieces of mail for Annette, offering all kinds of ideas for treatments and words of love and support. Interestingly, while Annette could be treated by MS specialists anywhere in the world, the one person she thought could help her was no longer around. At that time she lamented, "If Mr. Disney was still here, he'd know what to do…"
As a special surprise, a group of artists at Disneyland decided to create a one-of-a-kind cane as a gift for her. They started with a clear Lucite cane, upon which they hand-painted all of the highlights of her Disney television, movie, film, and music career. In 1992, on her 50th birthday, Annette was named a Disney Legend at a special studio ceremony, and in 1993, she received her star on the Hollywood Walk of Fame.
On March 10, 2011, tragedy struck the Holt household. The home in Encino that Annette had owned for more than 40 years sustained a devastating fire while Annette, Glen, and a health-care worker were in the house. "It was about 7 o'clock in the morning when one of our caregivers woke me and told me that she smelled smoke," Glen says. "I quickly got up, put on my robe, and ran out to the kitchen and heard a loud pop coming from our recreation room, which was filled with smoke. I ran back to the bedroom telling the caregiver that we had to get out because the house was on fire."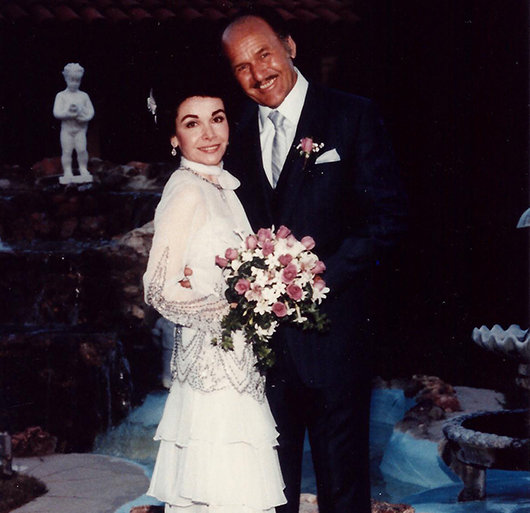 Glen's foremost thought was to get Annette out safely. "I got her out of bed, put her in the wheelchair, and headed down the hall to go out the garage or the front door—but by that time the smoke was thick and hot, and it was heading straight for us."
He then rushed back to the bedroom where there was a sliding door to the patio. Most important, he kept telling himself to stay calm. "I didn't want to frighten her, and I knew if I collapsed she would be helpless." Fortunately, Glen was able to open the patio door and, with a surge of super strength, picked up Annette in the wheelchair and put her over the fence into a neighbor's backyard. She was safe, but the fire completely destroyed the house. All of Annette's Disney and entertainment career memorabilia was lost. Especially cherished and gone were two personal letters from Walt Disney.
Today, relocated to a new home, Annette and Glen have moved forward, both thankful to be alive. "It was terrible to lose so much in the fire, but we've started again, and most importantly, we're together and she's happy," Glen says. "The Walt Disney Company is replacing a few of the most important items that she lost in the fire, like her bronze Disney Legend Award and a statue of Walt and Mickey Mouse."
In 2012, 25 years after the diagnosis, the degenerative disease has robbed Annette of the ability to do most all tasks by herself. But one thing that hasn't been taken away is how much she is loved by her husband, friends, and fans alike. As her primary caretaker, Glen and his entire life revolve around Annette.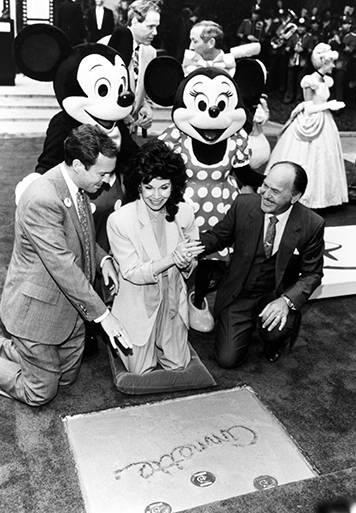 In addition to caring for his wife full time, Glen also oversees the nonprofit Annette Funicello Research Fund for Neurological Diseases, a component fund of the California Community Foundation. It was created to fulfill Annette's wish to provide funding into the cause, treatment, and cure of multiple sclerosis and other neurological diseases.
In his role as chairman of the advisory board, Glen often spends long hours reading medical research. "It's so important to Annette that we provide grants for institutions and doctors who are working on promising new ways to treat, and hopefully cure, these terrible illnesses," Glen says.
Love goes a long way when dealing with a life-changing illness, and Annette is surrounded with it. Her three children are all married, and she's even a grandma three times over. Many of the original Mouseketeers—Sharon Baird, Bobby Burgess, Tommy Cole, Lonnie Burr, Doreen Tracey, Cubby O'Brien, Don Grady, and Sherry Alberoni—stay in touch and visit. Letters continue to arrive from fans all over the world.
Annette's two best friends from childhood, original Mouseketeer Sharon Baird and actress Shelley Fabares, express their love by visiting on a regular basis. "I talk to her as I always have and fill her in on what's going on, what's happening with our Mouseketeer friends, and what people have told me to pass on to her as to what she's meant to them in their lives," Sharon says. "We just have a great connection of the heart."
Shelley also values the time she shares with Annette and marvels at Glen's devotion. "You hear about many heroes in this world," she says, "but rarely do you come upon one in your own life. Glen is definitely the hero in mine, and I thank God for him every day."
As original Mouseketeer Don Grady recently remarked, "Who doesn't love Annette? She gave me my first kiss… on the forehead! But hey, she will always be my favorite girl."
We have to suspect that there are a few million others who feel the same way.
For more information on The Annette Funicello Research Fund for Neurological Diseases, please
visit annetteconnection.com.