For one crisp spring morning, Main Street, U.S.A. transformed into Memory Lane as the tiny township welcomed its newest residents — Don Edgren and Rolly Crump — to the neighborhood.
Before the park officially opened its gates for the day on April 29, family, friends and fans of the two Disney Legends gathered to celebrate the former Imagineers' initiation into an exclusive club of fictional shop owners. Walt Disney Imagineering Ambassador Marty Sklar and Disneyland Resort President Ed Grier were also on hand to dedicate the store windows to these two men who played such vital and historic roles in the history of The Walt Disney Company.
Walt started the tradition of store window dedications back in 1955, the year his Magic Kingdom first opened its gates. Realizing that the shops lining Main Street, U.S.A. needed names, he decided to use the real names of employees who went above and beyond the call of duty to help him achieve his dream. Walt's special way of saying "thanks" caught on, and since then, more than six dozen people have become the proprietors of fictional businesses that reflect their unique contribution to the park.
Don, who worked on the structural design and detail of Disneyland from late 1954 until its opening and coordinated the park's expansion as a professional engineer with Wheeler & Gray, officially joined WED (Walter Elias Disney) Enterprises (now known as Walt Disney Imagineering) in 1961.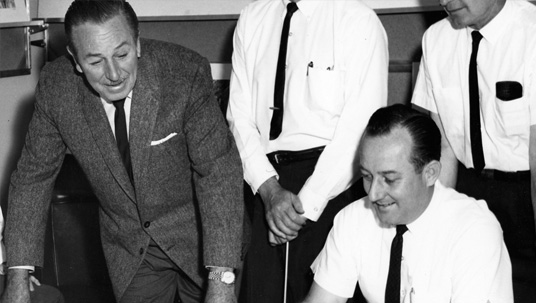 It was there that Don established what Marty calls a "yes, Walt — can do" mentality shared among all Imagineers.
It was this positive attitude that helped yield classic attractions such as Pirates of the Caribbean and inspired the fictional firm of "Yesmen Engineering Associates" and its catchy slogan, "We know no 'no'" for the pioneer's personalized window. "They were constantly challenged by Walt and the creative teams that followed, including me, to do things that sometimes defied engineering logic," Marty said at the event. "Believe me, we would not be here today if it wasn't for 'yes men' like Don Edgren."
In 1952, Rolly got his start at the Company as an in-betweener and later became an assistant animator on films such as Peter Pan, Lady and the Tramp and Sleeping Beauty. In 1959, the skilled artist joined show design at WED and eventually became one of Walt's key designers. Dubbed a "true original, even among Imagineers," some of Rolly's signature projects include the Tower of Four Winds for the 1964 New York World's Fair and groundbreaking attractions like Haunted Mansion, it's a small world and Enchanted Tiki Room.
With a love for the weird and the magical, it's only fitting that Rolly has become the proprietor of "Fargo's Palm Parlor," a business where "the designs are to die for" and the "predictions will haunt you."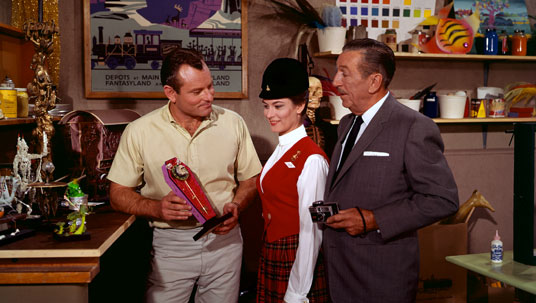 "Rolly had a special relationship with Walt, who appreciated his risk-taking with ideas,"
Marty said. "His very personal, sometimes outrageous, art and design style continues to flow and the many collectors of his art, including me, continue to be inspired by his talent and his sense of humor. It's a great privilege for me to help honor Roland Fargo Crump."
After a unique musical tribute by Main Street, U.S.A.'s very own Dapper Dans, Mickey Mouse and Chris Dudley, "the mayor of Main Street," unveiled the newly inscribed windows. Don's daughter Kathy Partee took the stage on behalf of her father, who passed away in 2006, to say a few heartfelt words. "I know Dad is watching with a great deal of gratitude and pride," she shared.
Rolly was honored to share the special moment with his good friend Don and took a few moments to tell the audience stories about working with Walt, who sometimes had trouble remembering his name. "I started off as Roland, then I was 'Owen' for awhile, and then I became 'Orland,' but of course, I would answer to anything he called me," he laughed. "But the crowning glory was when he called me 'what's his name.' So, he finally ended up giving me the nickname 'Rolly,' which I really appreciate."