By Jocelyn Buhlman
'Twas a long time ago… Well, maybe not as long as it seems, that D23 Members went to a place we've seen only in our dreams. Dressed in their Halloween best and ready to pose, our members prepared to enter Freeform's Halloween House, a totally immersive experience celebrating the films Hocus Pocus and Tim Burton's The Nightmare Before Christmas, just in time for Freeform's 31 Nights of Halloween. Join us as we recount their journey into the mysterious depths of this haunted habitation.
First, guests stepped into a mysterious green tunnel, emerging on the other side to face the front door and an ominous sign: Oogie Boogie's Lair. Did they dare enter and face the boogeyman himself?
Mr. Oogie Boogie's Lair
Covered in skeletons and chains (with a pair of dice or two), Oogie Boogie's lair was a neon-blacklight wonderland, with a chilling challenge for guests who enter. Did they risk spinning the wheel and discover whether they would win a trick or a treat? With the image of Oogie Boogie hovering over them (complete with all sorts of icky creepy crawlies), only the brave tried their hands at spinning the wheel to discover what prize was in store.
Dr. Finklestein's Lab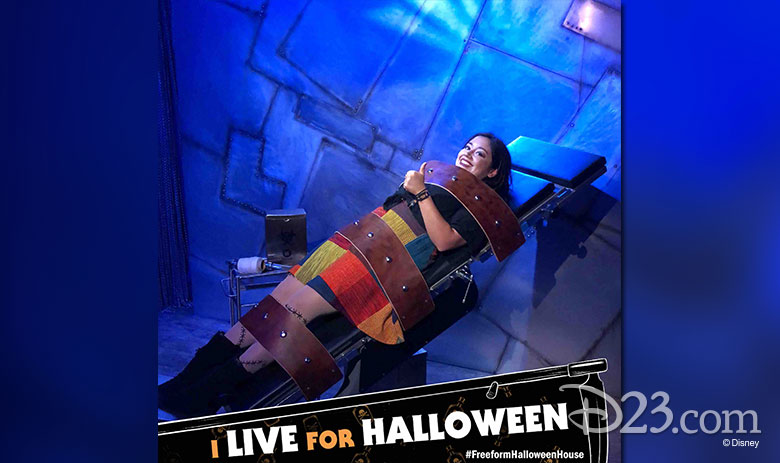 Once guests braved Oogie's lair, their triumphant treats in hand, they walked around the side of the house to another scene straight out of Tim Burton's The Nightmare Before Christmas: Dr. Finklestein's Lab. Guests no longer had to imagine what it was like for poor Sally, living as one of Finklestein's experiments. D23 Members were able to strap themselves to the operating table and become spooky experiments of their own!
Graveyard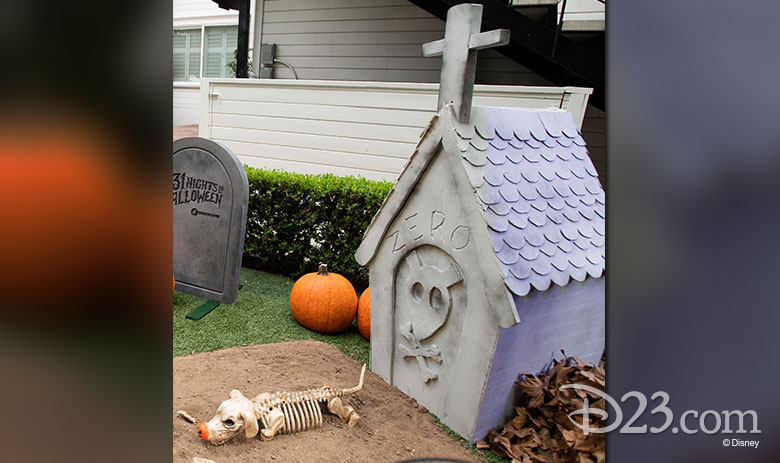 Outside of the house, shrouded in mist and mystery, lay the graveyard complete with tombstones for some of our favorite Halloween classics (that you might be able to catch during Freeform's 31 Nights of Halloween, no less!).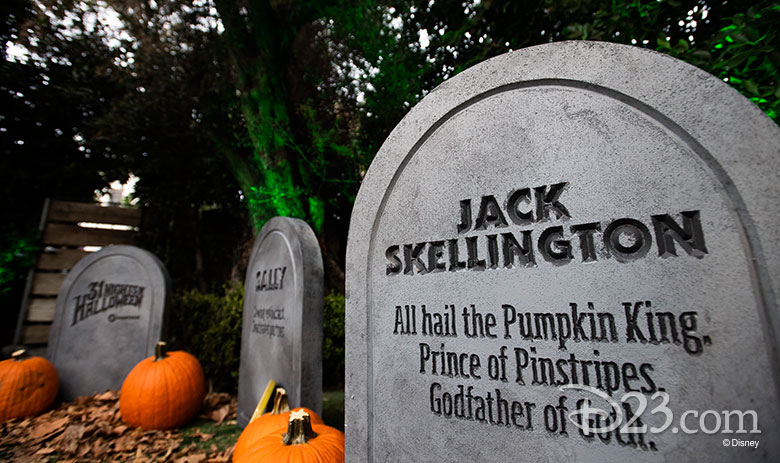 What graveyard would be complete without our favorite ghost dog? Zero's skeleton took a rest while his canine spirit was out haunting Halloween Town. But if guests listened closely, they could still hear the faint barking of Zero as he romped around on his adventures.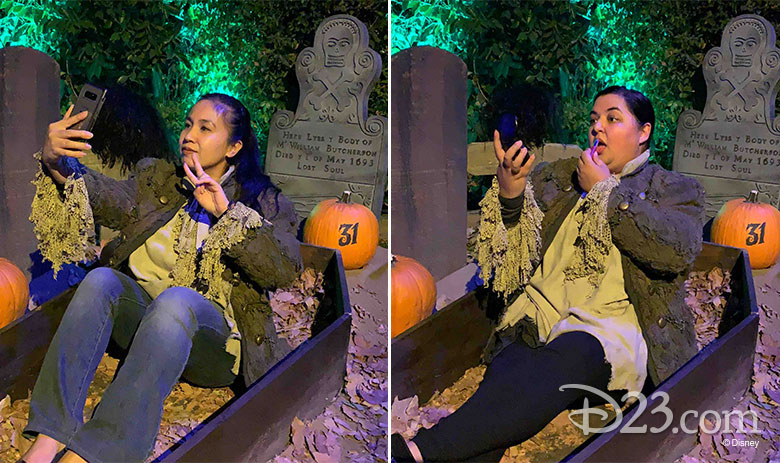 One grave in the graveyard sat empty—because it was a photo opportunity for guests! D23 Members channeled their best Billy Butcherson (complete with raggedy clothes and crazy hair, if they wished!) to snap a pic of themselves rising from the dead, almost as though they were under one of Winifred Sanderson's spells themselves.
Winifred's Statue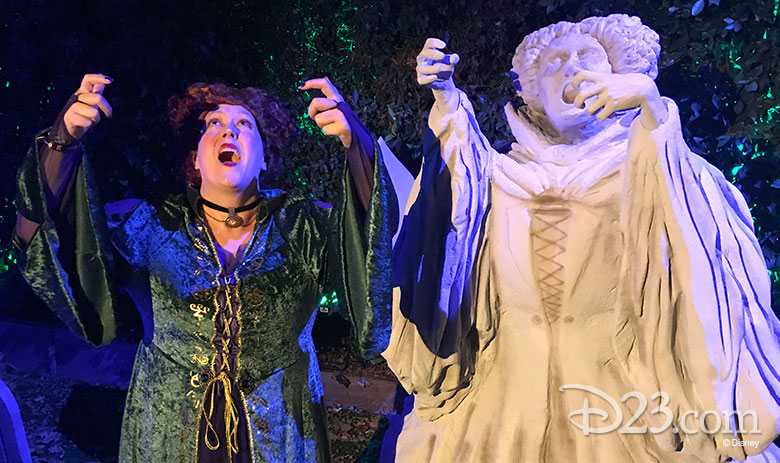 Billy Butcherson may have been out of his grave, but for now Winifred Sanderson is safely frozen in stone. Naturally, D23 Members took the chance take a pic with Winnie, pretending to run away in fear or matching her shocked pose perfectly. Now we just have to hope that no one ever tries to bring her back to life again!
Lock, Shock, and Barrel's Bathtub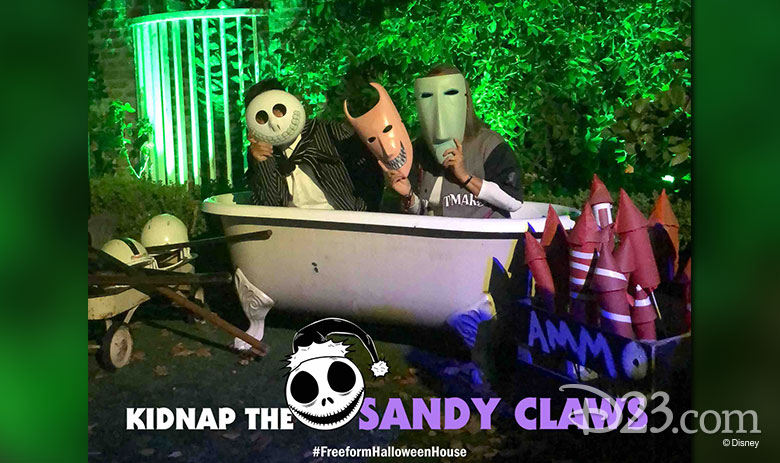 December is still two months away, but it's never too early to kidnap Sandy Claws. That's why guests were devilishly delighted to hop into Lock, Shock, and Barrel's bathtub, wearing the trio's iconic masks—if they dared! D23 Members channeled Oogie Boogie's favorite henchmen (and one of our favorite modes of transportation) in this perfect photo moment of holidays colliding.
Spiral Hill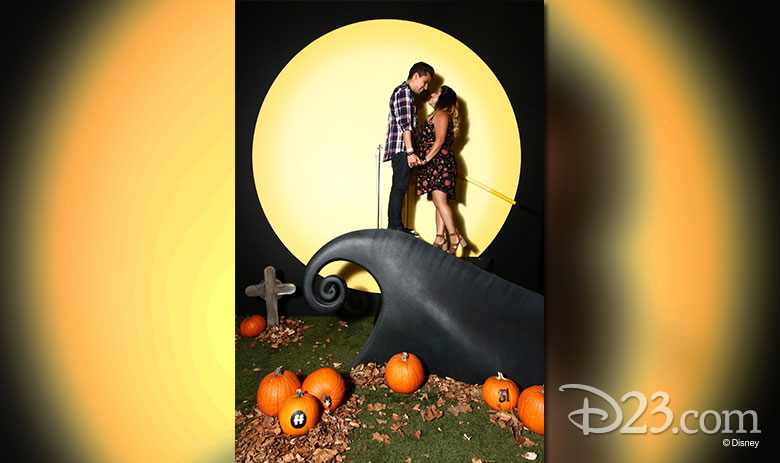 Is there any moment from Tim Burton's The Nightmare Before Christmas more iconic than Jack Skellington's walk along the spiral hill? Naturally, D23 Members had to pose for this perfect picture channeling the pumpkin king himself.
Sanderson Sisters' Cottage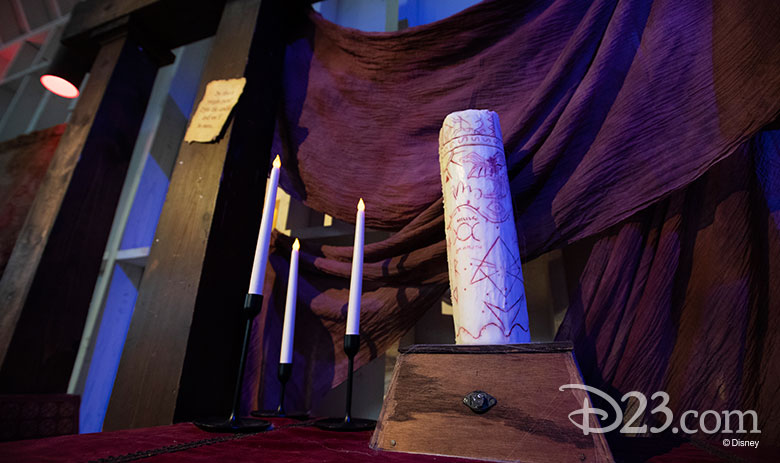 After guests finished exploring the graveyard, they rounded the corner and entered the most chilling of all the rooms: the Sanderson Sisters' cottage! All the witchy sisters' relics are just where they left them last, from the bubbling cauldron boiling up a mysterious green concoction, to Winifred's spell book full of interesting incantations. And what's that in the corner? Why, it's the Black Flame Candle! Guests needed to be careful if they tried to light it—Thackery Binx lurks nearby to make sure the sisters never return to our world again.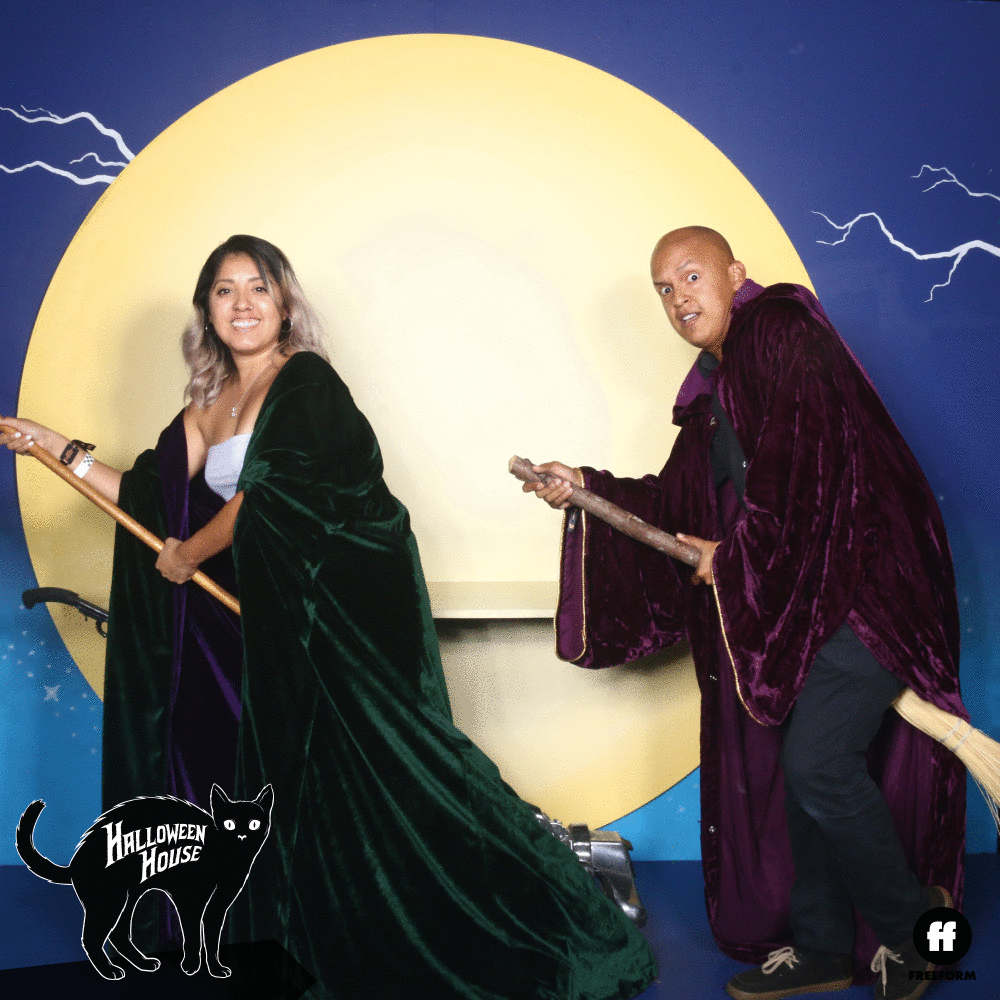 If guests preferred to channel the Sanderson Sisters rather than summon them, the final photo op brewed up the perfect opportunity to recreate the original Hocus Pocus poster! Complete with cloaks and brooms to make the picture perfect, D23 Members cackled with delight at the chance to recreate this spellbinding poster.
And just like that, D23 Members had survived it all! From the kooky to the spooky, every corner of the Halloween House had been explored. Would anyone believe the wonders they saw? Their photos shared some of the mystery, but only those who attended will really know the magic for sure.
Want to join in the celebration of Tim Burton's the Nightmare Before Christmas and Hocus Pocus? We're celebrating both movies' spooktacular anniversaries all month long with articles, recipes, exclusive interviews, crafts, and more!