By Courtney Potter
Minnie Mouse is readying for her 90th anniversary, and we get a peek behind the scenes of Disney's A Wrinkle in Time … Read more, along with other news from around Disney, in this week's news briefs!
Super-Special Celebrations for Minnie Mouse's 90th Anniversary
She's the sweetest of the sweet, and can rock the dots like no other! She's Minnie Mouse, and in 2018 she'll celebrate her incredible 90th anniversary! D23.com has a great rundown of what's in store for Minnie as the year continues—including receiving a star on the Hollywood Walk of Fame—right here…
Save the Date!
Be sure to mark these upcoming Disney events on your calendar:
D23 and Walt Disney Archives


February 2, 2018


D23's Magical Screening Series: Peter Pan on the Lot


February 3, 2018


D23 Member Night at Disney's Aladdin at the Hollywood Pantages Theatre


February 10, 2018


D23's Magical Screening Series: Peter Pan in Florida


February 20, 2018


D23 Member Night at Disney's The Lion King in Orlando


March 24, 2018


Celebrate the Opening Weekend of Frozen on Broadway in New York City
Parks


January 12–February 19, 2018




Epcot International Festival of the Arts




January 26–February 18, 2018




Lunar New Year Festival at Disney California Adventure




February 28–May 28, 2018




Epcot International Flower & Garden Festival




March 2–April 12, 2018




Disney California Adventure Food & Wine Festival




April 13, 2018




Pixar Fest begins at the Disneyland Resort




Summer 2018




Pixar Pier opens at Disney California Adventure




2019


Star Wars-Themed Lands Opening at Disneyland and Walt Disney World



Studios




February 16, 2018


Marvel Studios' Black Panther opens in U.S. theaters


March 9, 2018


Disney's A Wrinkle in Time opens in U.S. theaters


May 4, 2018


Marvel Studios' Avengers: Infinity War opens in U.S. theaters


May 25, 2018


Solo: A Star Wars Story opens in U.S. theaters


June 15, 2018


Incredibles 2 opens in U.S. theaters


July 6, 2018


Marvel Studios' Ant-Man and the Wasp opens in U.S. theaters opens in U.S. theaters


August 3, 2018


Disney's Christopher Robin opens in U.S. theaters


November 2, 2018


The Nutcracker and the Four Realms opens in U.S. theaters


December 19, 2018


Mary Poppins Returns opens in U.S. theaters


Television




March 4, 2018


The Oscars air live on ABC (8 p.m. ET/5 p.m. PT)


March 11, 2018


American Idol premieres on ABC (8–10 p.m. ET)

New A Wrinkle in Time Behind-the-Scenes Featurette
On March 9, we'll finally meet Meg (Storm Reid) and follow her on the journey to find her father, across time and space, in Disney's A Wrinkle in Time. Join director Ava DuVernay—as well as stars Oprah Winfrey, Mindy Kaling, and Reese Witherspoon—for a behind-the-scenes look at the making of the film in this brand-new featurette, above.
Disney's A Wrinkle in Time is an epic adventure based on Madeleine L'Engle's timeless classic, which takes audiences across dimensions—examining the nature of darkness versus light and, ultimately, the triumph of love. Through Meg's transformative journey (led by three fantastical celestial guides), we discover that strength comes from embracing one's individuality… and that the best way to triumph over fear is to travel by one's own light. Look for it in a theater near you this spring!
New Participants Chosen for Disney's Dreamers Academy
What if, when you were a teenager, you were lucky enough to participate in an incredible Disney-sponsored program that might actually change the course of your life? That exact scenario just happened for 100 teens across America, who this week found out they'd be taking part in Disney Dreamers Academy—an immersive four-day program at Walt Disney World Resort that turns the vacation destination into a colorful classroom! During the Academy, students discover new careers, learn how best to pursue their dreams, and even interact with motivational speakers and celebrities—including talk show host/comedian/entrepreneur Steve Harvey.
Disney Dreamers Academy, now entering its 11th year, was created to inspire teens to dream big while also making a difference in their lives at a critical time in their development. This year, the program has a new campaign called "Be100," an inspirational and aspirational invitation to encourage young people to answer the call of their dreams with relentless pursuit.
Five teen hopefuls—from Los Angeles, Houston, Virginia Beach, and Basking Ridge, New Jersey—got to attend a recent taping of ABC's Good Morning America, where they were surprised with the news that they'd be attending this year's Academy! Take a look at the big celebration, as well as some behind-the-scenes fun from past Academy events, in the video above.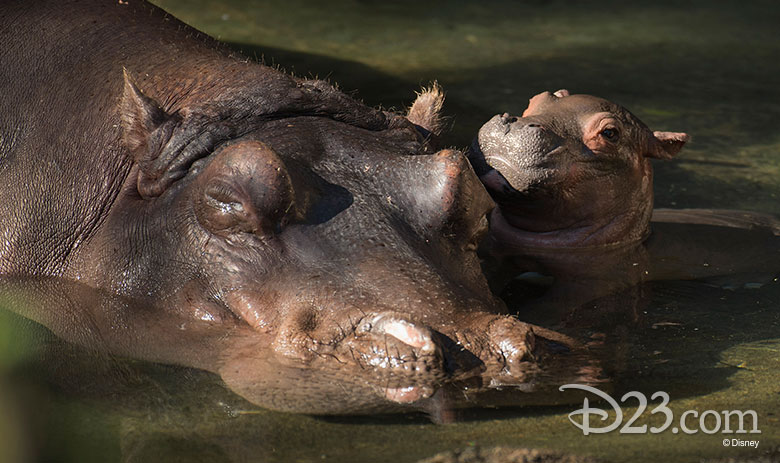 Disney's Animal Kingdom: Adorable Baby Alert!
If you're anything like us, you enjoy—nay, are obsessed with—baby hippos! How are they so adorable? They almost can't be real, right? But they sure are… and now, Disney's Animal Kingdom has a baby hippo of their very own.
Just last week, the park's animal care team announced the birth of a Nile hippopotamus, the first hippo born at the park in 13 years! The calf is staying close to mom Tuma right now, and the care team is giving them plenty of room to nurse and bond—so the calf's gender and weight may not be known for a while.
Tuma and her mate Henry were chosen to breed through the Species Survival Plan (SSP), which is overseen by the Association of Zoos and Aquariums. The Nile hippopotamus is a vulnerable species with a declining population—so this birth is a super-important contribution to the worldwide conservation and understanding of these delightful creatures. If you're headed to Disney's Animal Kingdom soon, you might just see Tuma and her calf on Kilimanjaro Safaris and during the Wild Africa Trek experience… so good luck! For more information, visit DisneyAnimals.com.
Meet the Warriors of Wakanda in New Black Panther Featurette
We're tracking ever closer to the big debut of Marvel Studios' Black Panther, in just about a month from now… And to get us in the (early) spirit, here's a new featurette about the film, above. Hear from Chadwick Boseman (T'Challa/Black Panther), Danai Gurira (Okoye), Lupita Nyong'o (Nakia), and Michael B. Jordan (Erik Killmonger) in "Warriors of Wakanda," a look at what makes the fighters in the film so supremely special.
Black Panther also stars Martin Freeman, Daniel Kaluuya, Letitia Wright, Winston Duke, Angela Bassett, Forest Whitaker, and Andy Serkis. Directed by Ryan Coogler, the film opens across the nation on February 16.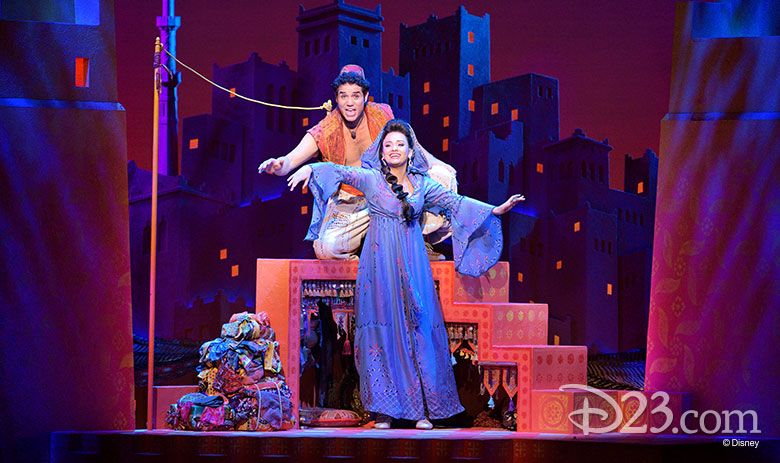 Hop a Magic Carpet to Disney's Aladdin
The North American Tour of Disney Theatrical's massive Broadway hit Aladdin has hit Los Angeles for the very first time, and D23 recently spoke with two of the show's stars about this truly in-"genie"-ous show! Read all about it right here… Remember: if you're in the SoCal area, you too can spend your own "Arabian Night" at the Hollywood Pantages Theatre, now through March 31!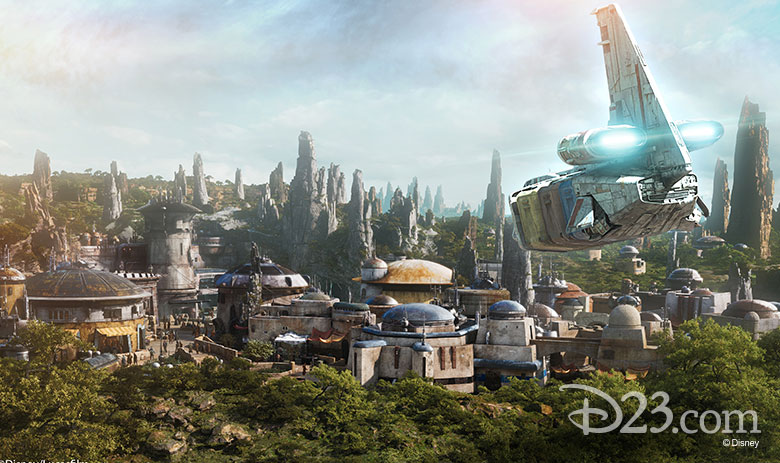 What We Know So Far About Star Wars: Galaxy's Edge
Our friends at the Disney Parks Blog took a spin through all the stuff we know so far about Star Wars: Galaxy's Edge, the new land coming to both Disneyland and Walt Disney World Resorts!
Perhaps most exciting? As of right now, it opens next year! It seemed like it was fairly "far, far away" there for a while, right? (All the best galaxies are.) But now that we're officially into 2018, that debut is just around the corner. We're also particularly enthused about the chance to fly the Millennium Falcon, as well as the opportunity to enjoy some blue milk at the land's cantina…
For a totally thorough rundown of what's to come, read on… and make sure to keep your eyes peeled on D23.com for further Star Wars: Galaxy's Edge news as it's fit to print.