By Courtney Potter
Salam and hello to you, our worthy friends! Ready to visit the fabled city of Agrabah? Well, you've rubbed the right lamp—because the North American tour of Disney's hit musical Aladdin is steering its magical flying carpet onto the Hollywood Pantages Theatre stage in Los Angeles!
Based on the 1992 Disney animated hit, Aladdin brings to bold new life the beloved story of a charming "street rat," the Genie he befriends, the princess he falls for and the evil vizier he conquers. The show, originally directed and choreographed by Tony® winner Casey Nicholaw, features all the songs you know from Aladdin's Academy Award®-winning score—written by Alan Menken, the late Howard Ashman, and Sir Tim Rice—as well as a few of the original film's previously-unheard tunes… plus several more written especially for the stage by Menken and book writer Chad Beguelin. While the show is still thrilling audiences eight times a week on Broadway at New York City's New Amsterdam Theatre, the Aladdin North American tour kicked off to standing ovations a-plenty at Chicago's Cadillac Palace Theatre in spring 2017 before making stops in Minneapolis, Seattle, and San Francisco. Now, it's ready to delight Los Angeles audiences during a three-month run at Hollywood Pantages Theatre, beginning January 10… And if that weren't significant enough, original Broadway cast members Adam Jacobs (Aladdin), Courtney Reed (Jasmine) and Michael James Scott (Genie) are reuniting for five weeks of this limited, 12-week engagement!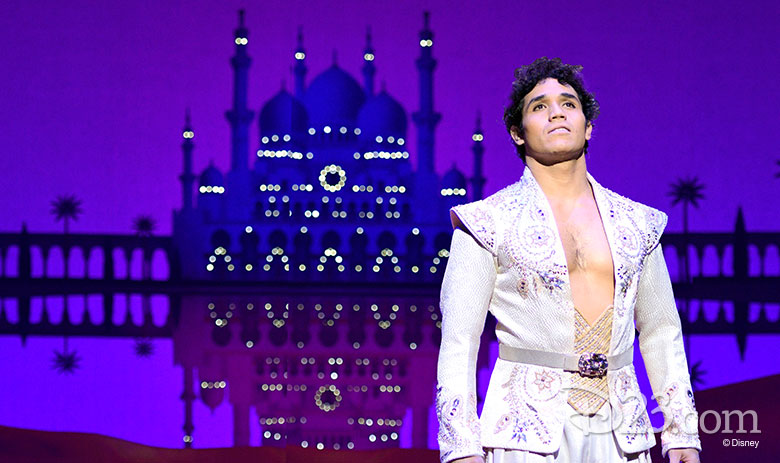 D23 recently spoke with Jacobs—as well as SoCal native (and former Disneyland Resort performer) Reggie De Leon, who portrays villainous Jafar's eccentric sidekick Iago—about what makes this show (and this North American tour) so in-"genie"-ous… "I did Aladdin for about three years on Broadway," Jacobs explains. "I originated the role there—[but] then to be able to look at the show with new eyes, to revisit it and rediscover it with a new cast, it's been pretty exciting. And it's made me fall in love with the show all over again." Jacobs is no stranger to touring in a Broadway production—Aladdin marks his fifth time seeing the country during the day and performing for audiences at night—but it's his inaugural "first national tour," which means a production is premiering in a given city for the very first time. "Each city welcomes you with open arms and throws a big party," he says, "and they're excited to have the show—and that just makes it even more fulfilling for all of us." On a personal level, there's something truly special about touring, this time 'round: "I have my wife and kids with me [on tour]," explains Jacobs, whose wife, Kelly, is no stranger to the stage either; she appeared on Broadway in Disney's Mary Poppins. "It's the first time I've ever done something like that… It's really been a great experience so far."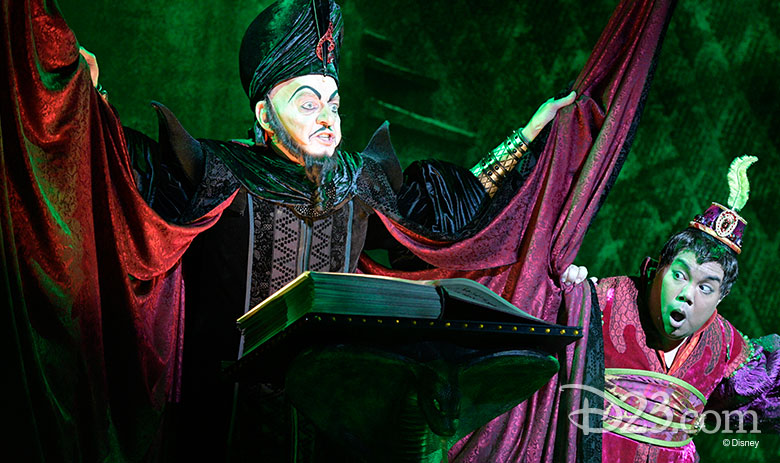 For De Leon, performing in Aladdin is the end result of a years-long wish, materialized. "It was always a dream of mine to work at Disneyland, because I grew up about 15 minutes away from the park," De Leon explains. "So when I finally got cast in a show there—and I pretty much stayed right up until leaving for the Aladdin tour—it was amazing training and preparation for what I'm doing now." De Leon graced the stages of Disneyland and Disney California Adventure parks for almost 15 years—appearing in the opening casts of Snow White: An Enchanting Musical and Frozen – Live at the Hyperion. "Growing up with so many Disney movies, working at the park was a dream come true—and now, as a result of my being on this tour, I was even able to make my Broadway debut!" That's right: After getting cast as Iago for the North American tour, De Leon was tasked with filling in for Broadway's Iago, actor Don Darryl Rivera, when he joined the tour himself for its recent Seattle engagement. "The whole experience is beyond my wildest dreams, at this point," he admits.
Both actors are excited to bring Aladdin to Los Angeles—a "home" of sorts for the show's source material (having been created at Walt Disney Animation Studios in Burbank), as well as the literal home of De Leon and several other tour cast members. "I cannot wait," De Leon declares. "The Hollywood Pantages is the theater I went to, growing up… To now be able to play there—I'm going to have my parents there on opening night, and my wife and all my family—I hope I'm going to be able to keep it together, because it will be such a cool moment to be able to share with the ones I love most in the world… I'm just really excited to bring this show 'home'!" And Jacobs is convinced L.A. will delight in the show, just like earlier cities on the tour: "It's been great to see the [public] receive it so warmly."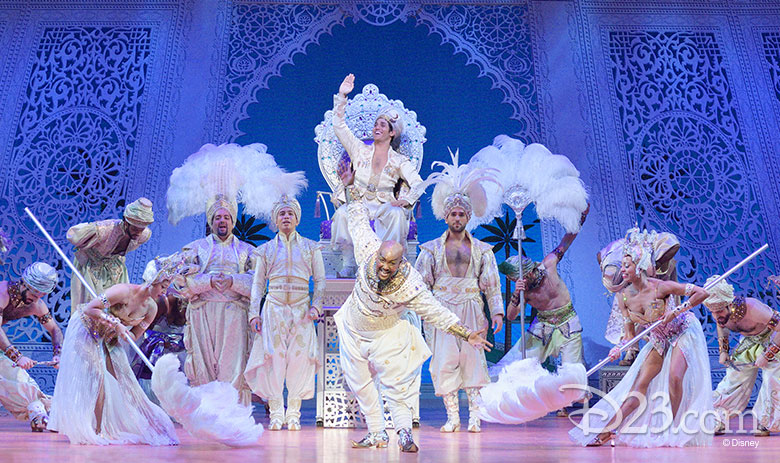 All told, audiences—both in Los Angeles, from January 10 through March 31, and at the tour's future stops (see AladdinTheMusical.com/tour for cities and ticket info)—should expect all the music, mirth and merriment the '92 film is known for… plus a whole lot of Broadway magic! "It just works so well," says De Leon, "because the animated feature itself is a musical—and then the show adds fun new characters and songs and all of the amazing scenic elements. I really believe this show captures the heart and spirit of the film beautifully." Jacobs concurs: "There's such joy—pure joy in this show, and I feel privileged to take part in it every night. It's just such a classic tale—who wouldn't want to get a lamp with a wish-granting genie inside?"