By Jim Fanning
A pot of gold in the form of Disney movie magic—'tis Darby O'Gill and the Little People (1959)! One of Walt Disney's most lively live-action fantasies, this combination of Irish wit, whimsical wishes, and mind-bending special effects has been enchanting audiences for 60 years. Originally released on June 26, 1959, this live-action special effects spectacular tells of Darby O'Gill (Albert Sharpe) who prefers spinning yarns about leprechauns to tending to Lord Fitzpatrick's estate. When his job is threatened by the young man (Sean Connery) sent as his replacement, Darby tricks the King of the Leprechauns (Jimmy O'Dea) into granting him three wishes, but King Brian's attempts to outwit the old storyteller results in even more adventures for Darby and his feisty daughter (Janet Munro). For Darby O'Gill's 60th anniversary, here are eight behind-the-magic facts about this charmin' Disney classic.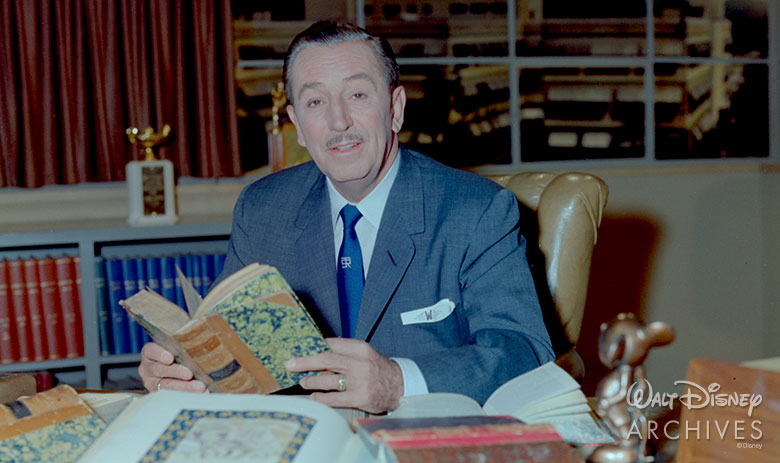 1. The luck of the Irish was with Walt as he selected his cast.
"Being half Irish myself, I learned about the Leprechauns of Ireland while I was still a small boy on our farm at Marceline, Missouri," Walt said in 1959. "I began to believe in Leprechauns then, because some of my relatives had pretty convincing stories to tell about the magic powers of these Little People, and the tricks they could play when angry." As early as 1945, Walt was developing a leprechaun feature. In 1946, several Disney artists went to Ireland to gather background material. In December 1948, Walt himself visited Ireland in preparation for a film to be based on the "Darby O'Gill" stories by H.T. Kavanagh. One of Walt's pet projects, Darby O'Gill and the Little People evolved from an animated feature to a live-action-animation combo to the all-live action film that finally went into production in 1958 for a 1959 release.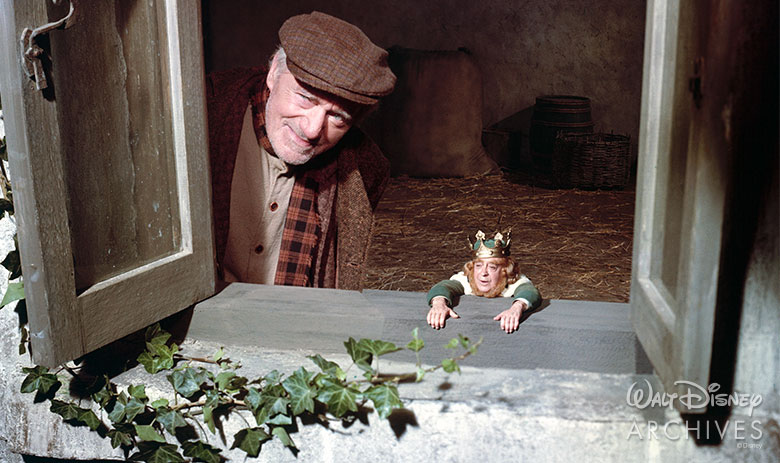 2. The dean of Irish actors came out of retirement to portray Darby.
Barry Fitzgerald was Walt's first choice to play the title role in Darby O'Gill, but when the semi-retired star declined, he turned to another performer he knew would be onscreen perfection: Albert Sharpe. Acclaimed as "the dean of Irish actors," Sharpe caught Walt's eye in the Broadway musical Finian's Rainbow in 1947. By the time Walt was ready to actually make the film in 1958, the veteran actor was retired and living in Ireland. But he was unable to resist Walt's invitation, coming to California to portray the wily old leprechaun expert.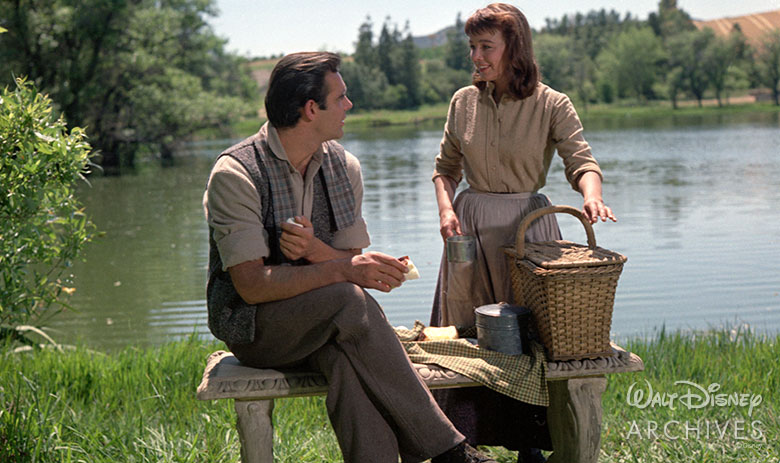 3. This very Irish story was filmed entirely in Hollywood.
Early on, Walt considered filming Darby O'Gill in Ireland but he ended up shooting it entirely in California. A number of exterior scenes were filmed at various Hollywood "ranches," while the fictional village of Rathcullen, including a parish church and the town square's 13-foot Celtic cross, was erected on the Disney studio's back lot. Disney Legend Peter Ellenshaw's colorful approach established the Gaelic atmosphere of the settings, while his matte paintings masterfully completed the transformation of Disney's Burbank lot and its movie environs into a romanticized vision of the Emerald Isle.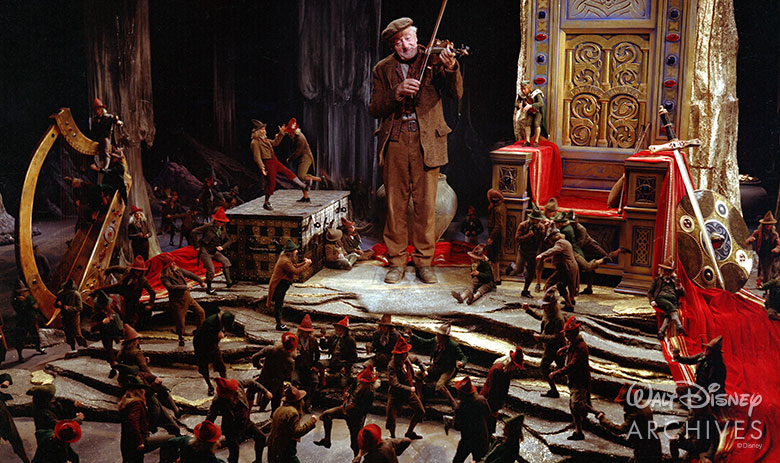 4. Disney movie magic "forced" the Darby O'Gill cameras to see the impossible.
Walt insisted that the 21-inch tall leprechauns seamlessly mix with Darby and human-sized props and settings. To achieve this illusion perfectly, the Ellenshaw-led special effects team utilized the principle of "forced perspective." Since the movie camera has only one eye, the camera lens does not distinguish true distance between objects. Because Albert Sharpe and the leprechaun players were all of average height, the effects team designed special sets on which Sharpe was positioned on a regular sized set closer to the camera—even if onscreen he was seen as farthest from the camera—while the actors playing the leprechauns simultaneously performed on an oversized set four times further away from the camera—even if onscreen the characters were standing right next to each other. That's why, in the film's most spectacular sequence, for example, Darby can fiddle amidst the little people as they dance a manic Irish jig.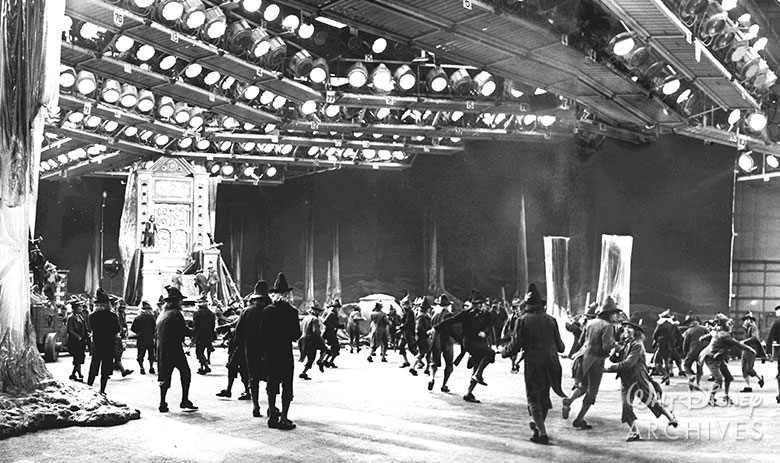 5. A brand-new Disney studio sound stage set the stage for Darby O'Gill.
The Disney Studios' legendary Stage 4 was built especially for the production of Darby O'Gill. Here was constructed one of the largest and most elaborate sets ever created for a Hollywood film, the leprechauns' cavern, including King Brian's throne room, which included oversized props such as a sword, a punch bowl, and (of course) a pot of gold. In order for forced perspective to work, both the sets close to and also far away from the camera needed to be in focus, meaning that the stage had to be brilliantly lit. In all, 649 lights were needed to illuminate the football field-sized stage. When the enormous banks of lights were switched on for the first time, the city of Burbank underwent a massive power failure.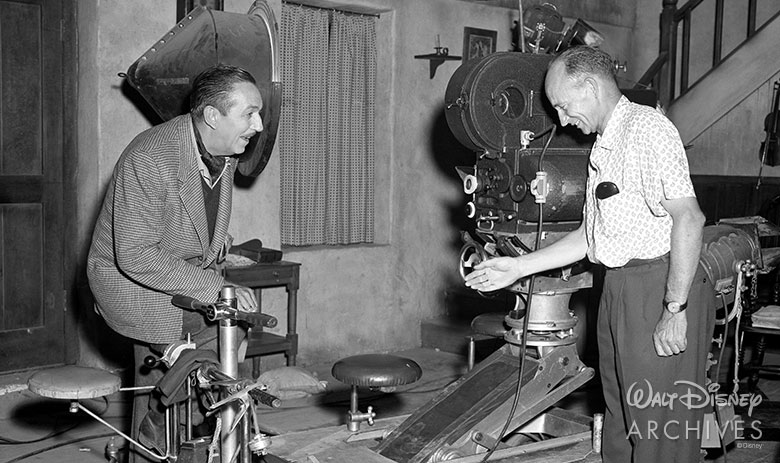 6. Director Robert Stevenson was well versed in both movie and leprechaun magic.
Peter Ellenshaw said that British-born Darby O'Gill director, Disney Legend Robert Stevenson, "helped us tremendously. Being a mathematician and an extremely intelligent man who used to read books on quantum theories and such, it was quite simple for Bob to work out the differences in perspective we were playing with." Of Irish descent on his mother's side, Stevenson—who would also helm such Disney classics as Mary Poppins (1964) and Bedknobs and Broomsticks (1971)—was familiar with little people folklore, as well. At her home, his grandmother would leave out a miniature jug of milk to treat any leprechaun visitors. On the other hand, a bucket of water was kept handy in case the tiny tricksters needed to be warded off. Said Stevenson: "Leprechauns hate water. Even for drinking."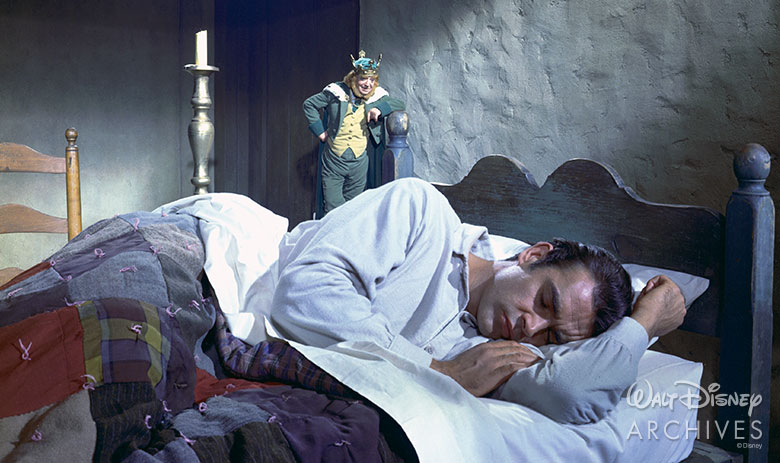 7. Sean Connery's Darby O'Gill role led him to James Bond.
After an extensive search of Ireland and the United Kingdom, Walt personally selected Sean Connery to play Michael McBride, a role that even called for the Scottish actor to sing. (A recording of Connery's duet of "Pretty Irish Girl" with Janet Munro was released as a single.) Under contract to Twentieth Century-Fox, he had worked extensively in UK theatre before appearing in several British and European films. Darby O'Gill was his first Hollywood movie, and it led to his being cast in his most famous and star-making role. Connery later recalled that James Bond producer Albert R. "Cubby" Broccoli "was viewing films in his search for Bond. He saw me in Darby O'Gill and the Little People. He thought I might qualify and called in his wife, Dana. She told him, 'Why, that is James Bond.'"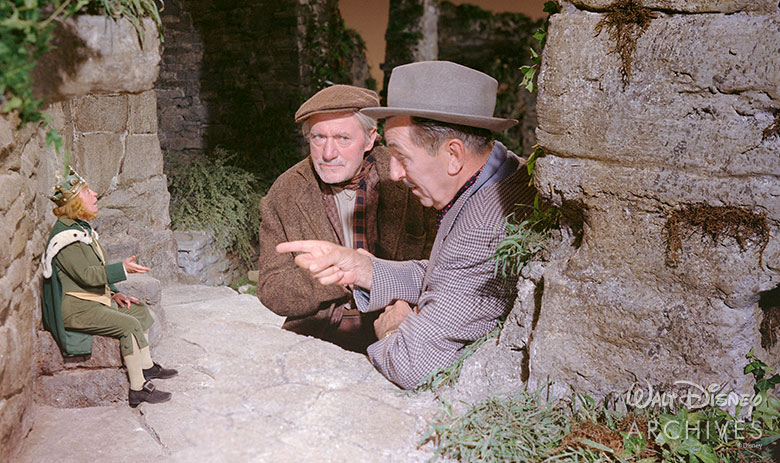 8. Walt wanted everyone to believe in leprechauns.
As a fun way to extend the film's fantasy, Walt went full bore on a campaign establishing that Darby O'Gill starred actual leprechauns. Publicity pieces were published detailing the wee folks' involvement in filming, as were photos of the small stars attending the movie's Dublin premiere. Walt went so far as to produce "I Captured the King of the Leprechauns," an episode of the Walt Disney Presents anthology TV show, in which he journeyed to Ireland to meet both Darby and King Brian. As a finishing touch, the movie's opening credits state, "My thanks to King Brian of Knocknasheega and his leprechauns, whose gracious cooperation made this picture possible—Walt Disney."