By Courtney Potter
In the world introduced by Pixar Animation Studios' iconic 1995 animated hit Toy Story, the character of Buzz Lightyear was popular enough to warrant a line of toys—leading to young Andy's memorable birthday gift. But what exactly made Buzz such a sought-after item? What movie inspired Andy to beg for an action-figure hero with lasers, karate chop action, and cool aerodynamic space wings?
A sci-fi action adventure and Buzz's definitive origin story, Disney and Pixar's Lightyear seeks to answer those questions. The new film, directed by Angus MacLane (co-director, Finding Dory), follows the legendary Space Ranger (voice of Chris Evans) on an intergalactic adventure alongside a group of ambitious recruits (voices of Keke Palmer, Dale Soules, and Taika Waititi) and his robot companion Sox (voice of Peter Sohn). Also joining the cast are James Brolin, Uzo Aduba, Mary McDonald-Lewis, Isiah Whitlock Jr., and Efren Ramirez.
Recently, D23 heard from several of Lightyear's filmmakers—MacLane; producer Galyn Susman; sets art director Greg Peltz; tailoring and simulation supervisor Fran Kalal; visual effects supervisor Jane Yen; and director of photography Jeremy Lasky—about how they're bringing this memorable new iteration of Buzz (as well as his galactic cohorts) to the screen: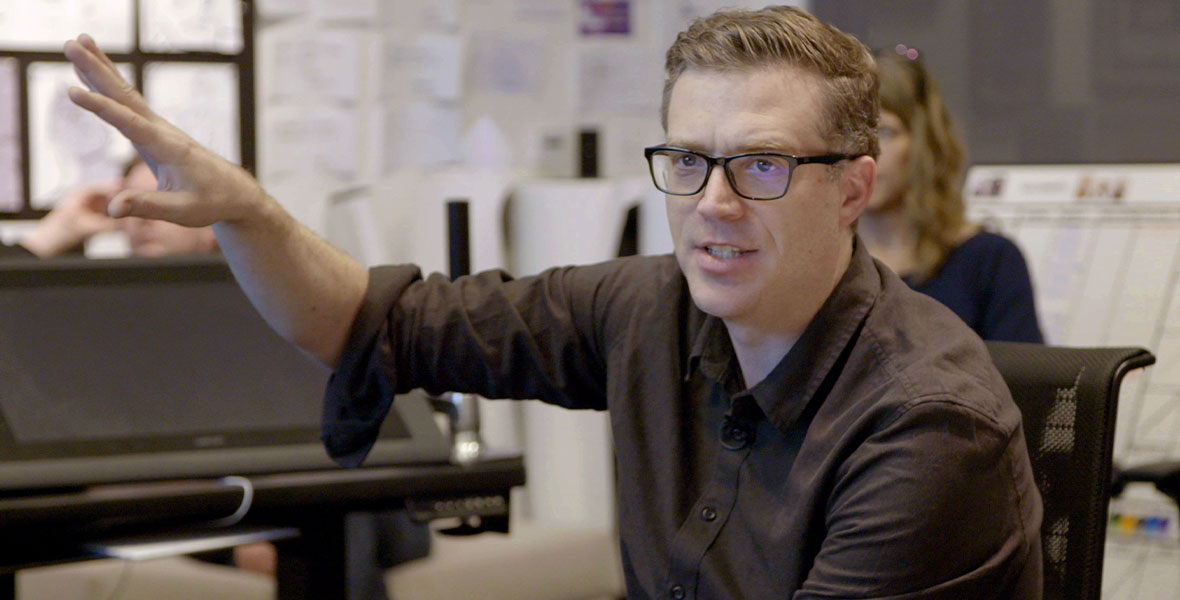 MacLane on how Buzz's Lightyear story began:
"Buzz is a character who is best when he is at odds with his surroundings," the director explains. "So, we've got Buzz's core trait; that's someplace to start. But we need to ground the story—we need a universal truth. What universal truth can I draw from? Pixar directors often draw from their own lives to find this kernel of truth to build around. My parents were very supportive of my art, so it's not a 'coming of age' story about a character who wants to be an artist. But for Lightyear, I wanted to do something really specific; something we could all relate to; something that I was thinking about a lot. For Lightyear, I chose time.
"When I started at the company, I was in my 20s," he continues, "and now I'm in my 40s. Time is moving on. It's universal for all of us... They say you can't live in the past, but what if you could? We all wonder what it's like to go back in time, but instead, we're jumping forward in time, all of us. So that's the truth I wanted to build a hand around for Lightyear. Nostalgia for the past, while rapidly jumping to the future."
Susman on some "out-of-this-world" research that informed the film:
"When we started working on Lightyear, I was absolutely certain we had to get a research trip to NASA," she admits. "We tend to be a bit obsessive about research at Pixar. The goal is to take your key creatives and expose them to the people, environments, experiences, everything that will impact the design and the language of the film. And we completely lucked out: Lindsey Collins, who's the producer of Pixar's Turning Red, introduced us to Tom Marshburn, an astronaut currently stationed on the ISS. And he in turn grabbed his fellow astronaut friend Kjell Lindren—and between the two of them, we were treated to a comprehensive, multiday exploration of the Johnson Space Center in Houston.
"We saw the original control center for the Apollo missions, as well as the one being used today to track the ISS [International Space Station]. We learned about spacesuit construction; we saw buttons and switches and knobs and dials and badges. We were guided through a replica of the ISS U.S. quarters, and the labs. We saw vehicles, and training aircraft, and capsules—and we even got to sit in a few... and the icing on the cake? Tom brought our picture up to the ISS and put it in the cupola, so we've been in space!"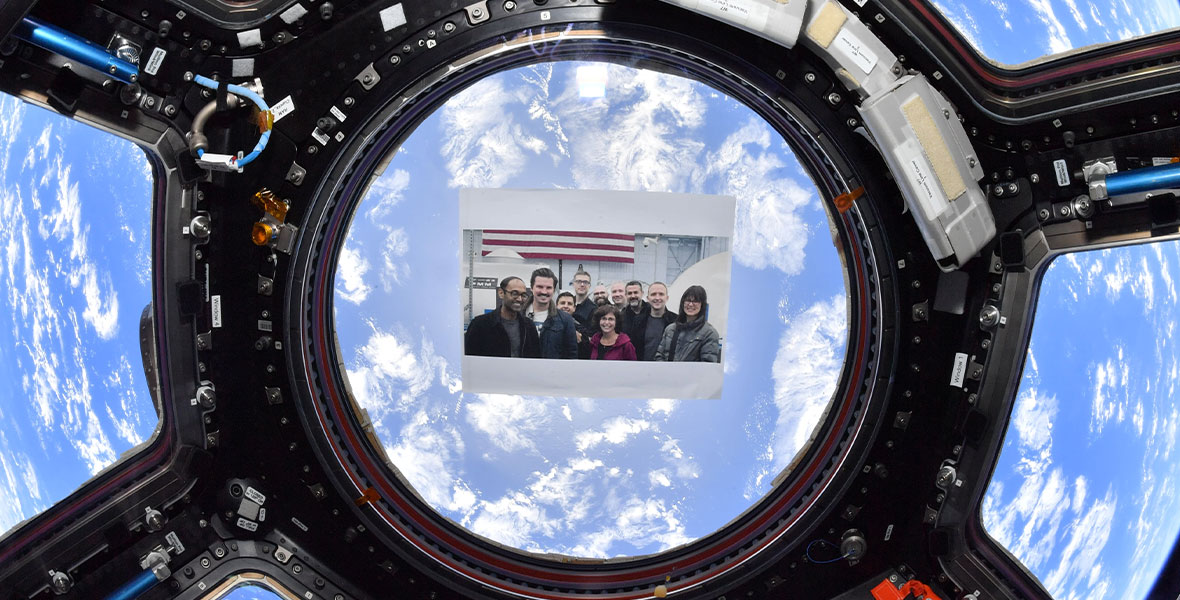 Peltz on the look and feel of the film's machinery:
"I'm a model maker at heart, and I've had a deep love for big machines ever since I was a kid," he admits. "Since this movie is literally overflowing with cool models and machines, it was kind of a dream come true for a nerd like me... We envisioned a 'push button' world that was thick, geometric, and analog. We really wanted the look of our models to be such that you'd want to reach out and touch them and start playing with all the buttons and switches. Plus, our basic rule of thumb is that there are no touchscreens or cloud-sharing in the world of Lightyear; it's all Zip disks and 20-pound CRT [cathode-ray tube] monitors. In addition to looking cool, there's a toy-like appeal to the shapes and the deco of the style that fits really well with the subject matter that we're adapting."
Kalal on how the team decided what Buzz and his cohorts would wear:
"As the tailoring and simulation supervisor, I lead a team that takes what we know about art and fashion to make the costumes of Lightyear," she explains, "and what we know about physics and computer science to perform our characters' outfits and hairstyles. Lightyear has a ton of supercool costumes that we're so proud of, including the spacesuits—not only did we get to design one spacesuit, we got to design several that advanced over time... [We asked ourselves], 'What is a spacesuit? What does it do? And how would a spacesuit design evolve over time?' To learn that, we dove into research. We went on a research trip to NASA; met with a spacesuit design consultant; looked at reference materials from the Smithsonian; found inspiration in cinema; and finally got access to a tangible replica.
"We achieved new levels of technical and look complexity to deliver these costumes," she concedes, "which we hope [audiences] enjoy as much as we do."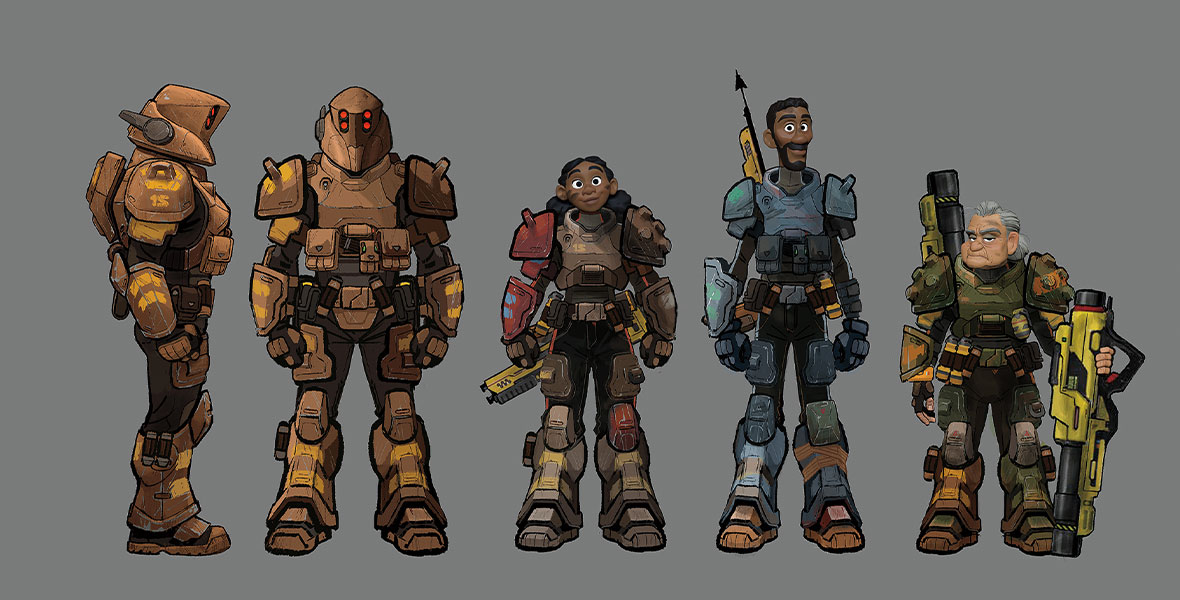 Lasky on his camera and staging goals for the film:
"After much discussion and input from Angus, our team decided on three goals for the look of the film," he says. "Cohesive, clear, and cinematic. Lightyear is a complex film, but the storytelling should always be clear. An audience watching a movie is constantly being bombarded with information, whether through sound or visuals; it's vital to construct the images that guide the audience through the film, so they're never confused about what's happening on screen. Through the emphasis of graphic shapes over form, our shots maintain a visual clarity that helps direct the audience's attention.
"I collected many images during pre-production that would help inspire the look of Lightyear," he continues. "Many, many images. And although they're from different films and genres, each one is notable for featuring bold, clear staging, and memorable compositions. On top of all that, it was vital to remember that we're making a sci-fi movie. That simple statement was a touchstone for me and for the crew."
Yen on how they made every image in Lightyear as unique as possible:
"When I joined the Lightyear team, Angus made it clear that his number one visual priority was having what I like to call a 'unified film stylization,'" she explains. "A stylization that not only was more graphic and less hyper realistic, but a stylization that felt exceptionally cohesive in every element of our world, both in the way it was animated and in the way it looked. For instance, we wanted to avoid realistic characters and animation in a 'cartoony' world—or 'cartoony' characters in a realistic world. The goal was to strike a precise balance across sets, characters, hair and cloth simulation effects, and lighting. After some exploration, it became clear that the biggest impact would come from focusing on the holistic oversight of the shading and look and materials of our world."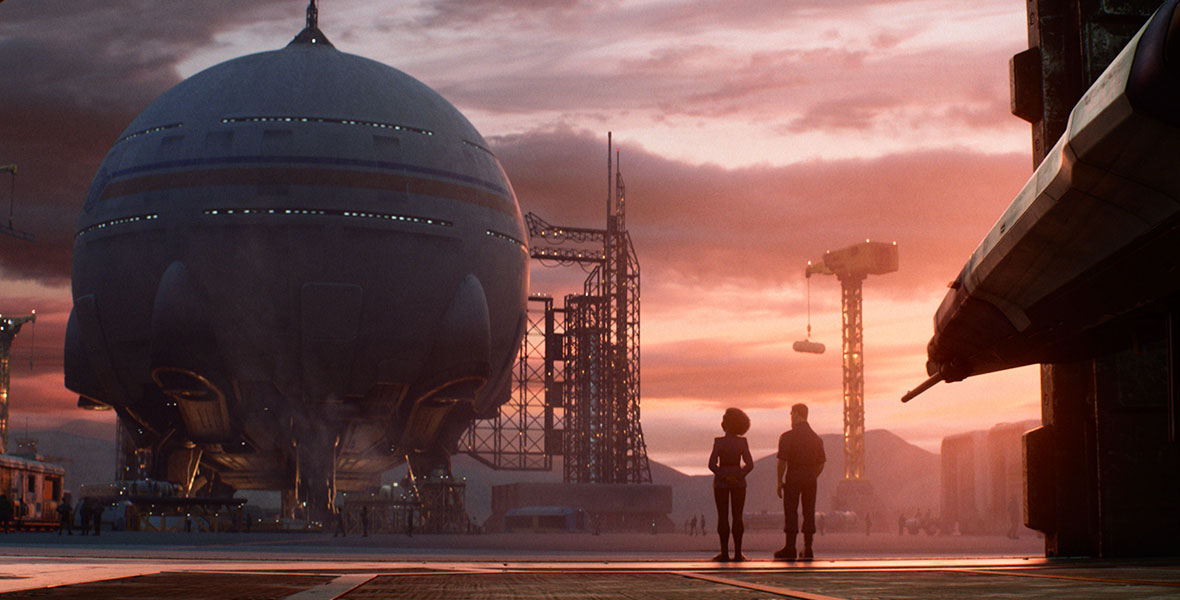 MacLane on what he hopes comes through to audiences:
"We really worked hard to nerd out and make this the best Buzz Lightyear film we could," he admits. "We built Buzz's world out in a way that we've always wanted to see it. I'm so excited about the film; it's gonna have everything you'd want in a Buzz Lightyear film... it's a celebration of movies, and sci-fi epics in general—but also inspired by the dark side of nostalgia, and the dangers of living in the past. As a director, it's the movie I've always wanted to make. And as a filmgoer, it's the movie I've always wanted to see."
Disney and Pixar's Lightyear rockets into theaters on June 17!