By Jocelyn Buhlman
Today's the day we celebrate a treat guaranteed to sweeten up your morning (or afternoon… or evening…)—the doughnut! If you're spending today at a Disney Park and want to celebrate this essential holiday, or if you just want to turn your summer days at Disney Parks into summer glaze at Disney Parks, we've rounded up all of the places you can go to get that special treat. So, sweet-seekers, head to the parks, grab a napkin, and doughnut worry: Here's everywhere you can go at Disney Parks to add a sprinkle of celebration to your day: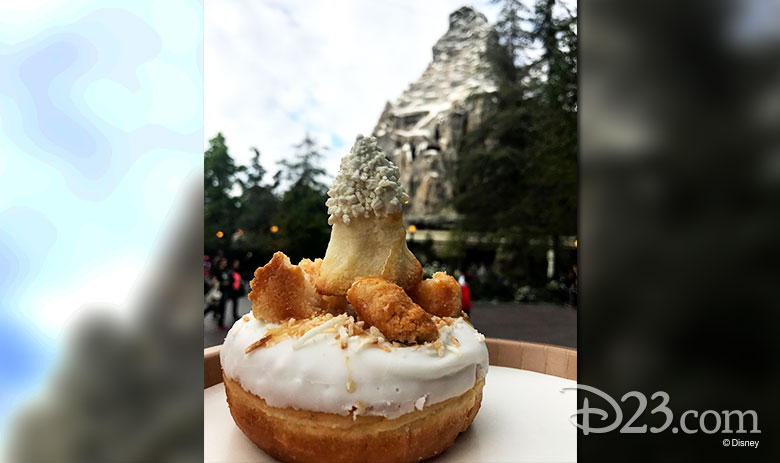 The Main Street Coffee Cart Disneyland
This is where it all started… Back in the fall, you may have heard the rumors of delicious doughnuts decorated with delectable delights like gummy bears, bacon, and more. These secret treats were quietly premiered at Disneyland and quickly sold out in the mornings, gaining popularity as lovers of Disney sweets discovered Disney's fantastical take on doughnuts, such as the "Avalanche" doughnut (picture above)—the popular Matterhorn Macaroon combined with a doughnut, covered in toasted coconut and caramel drizzle. To learn the behind-the-scenes-secrets of this sweet treat, read the full story of these doughnuts here.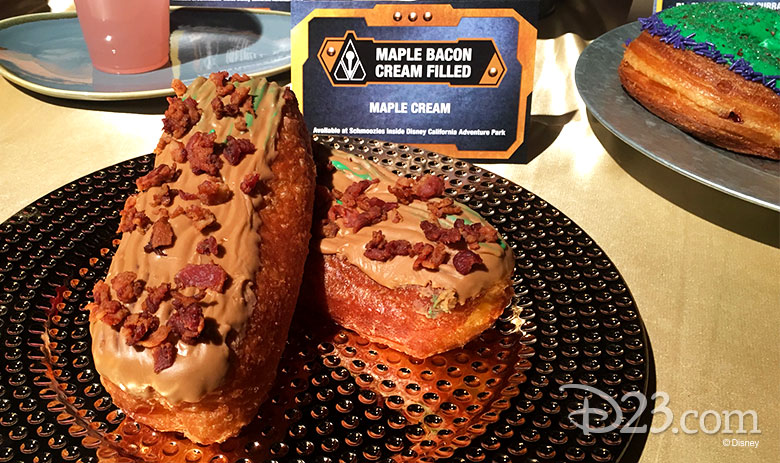 Shmoozies Disney California Adventure
To kick off Disney California Adventure's super-powered "Summer of Heroes" campaign, Shmoozies is offering doughnuts that are sure to save your day from intergalactic mayhem (or at least from a snack craving). These special doughnuts come in some marvel-ous flavors:
Gamma-Sized Doughnut—filled with blackberry and black currant
The All-American Doughnut—filled with apple and streusel topping
Spider Bite—a cinnamon-spiced doughnut
Local Favorite—a maple-bacon-filled doughnut with maple cream (picture above)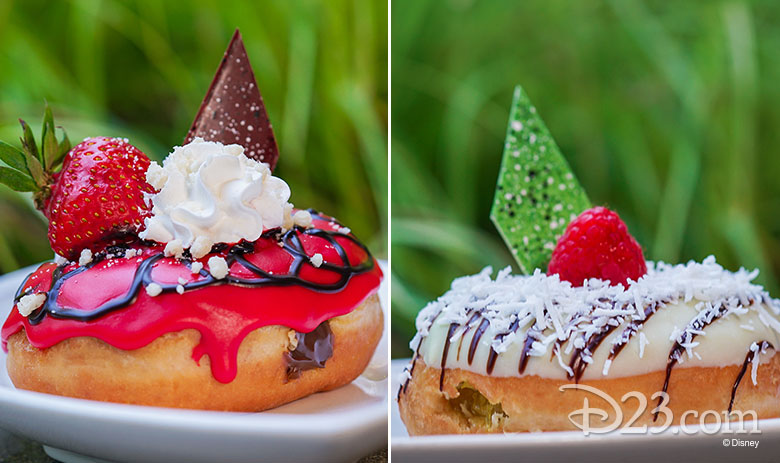 The Coffee House Disneyland Hotel
Just announced today by Disney Parks blog, The Coffee House at the Disneyland Hotel will be making a special rotating lineup of doughnuts that go on sale every morning at 8 a.m. Check out the magical flavors you need to snag to start off your perfect Disneyland morning:
Pineapple Coconut Delight—a green tea frosting-glazed doughnut with pineapple filling, topped with a drizzle of chocolate icing, shredded coconut flakes, and a raspberry (pictured above right)
Royal Strawberry—a strawberry-glazed doughnut filled with Bavarian chocolate, topped with butter streusel, chocolate icing, vanilla-bean Chantilly cream, and strawberry (pictured above left)
Blueberry Candy—blueberry-glazed doughnut filed with blueberry jam, topped with white icing, blueberries, vanilla-bean Chantilly cream, and crushed caramel almond
Refreshment Port Epcot
If you feel like adding a fancy twist to your breakfast treat, why not try out a cronut? This delightful blend of doughnut and croissant is the perfect snack for a day of exploring World Showcase at Epcot. Stop by the Refreshment Port on the right side of World Showcase and enjoy this unique take on the classic treat we celebrate today!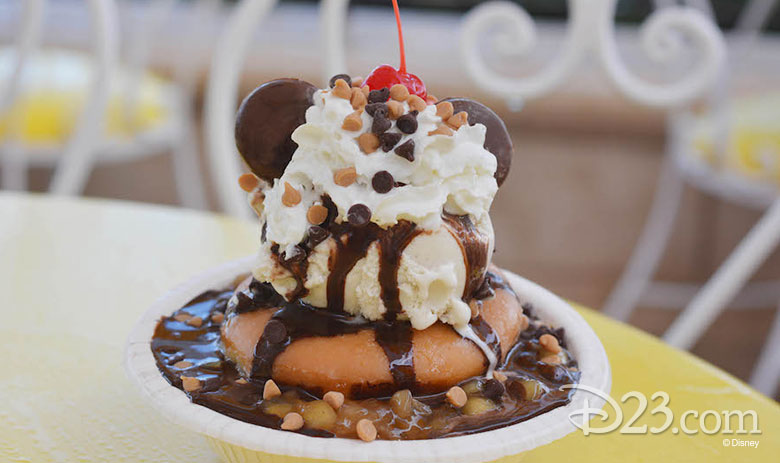 Plaza Ice Cream Parlor Magic Kingdom
Take your breakfast to the next level with this recently added offering from the Magic Kingdom: The Doughnut Sundae (pictured above). Adorn your doughnut with your favorite flavor of ice cream, a generous drizzle of hot fudge, a mountain of whipped cream, a sprinkling of peanut butter and chocolate chips, and a cherry on top. This unique treat is the perfect way to celebrate doughnut day in an extra-special (and extra-sweet!) way that's certain to make you want to celebrate National Doughnut Day every day!