By Courtney Potter
Kick off the holidays with 12 days of updates from Walt Disney Parks & Resorts, and catch a glimpse of how the Star Wars: The Last Jedi cast trained for the film's stunts… Read more, along with other news from around Disney, in this week's news briefs!
Don't Miss 12 Awesome Disney Parks Updates to Kick Off the Holidays!
On the first day of Christmas, our true love—Walt Disney Parks & Resorts—gave to us… the inaugural announcement in their new "12 Days of Disney Parks Christmas" daily update event, where we'll get the inside scoop on offerings that'll make their debut in 2018 and beyond!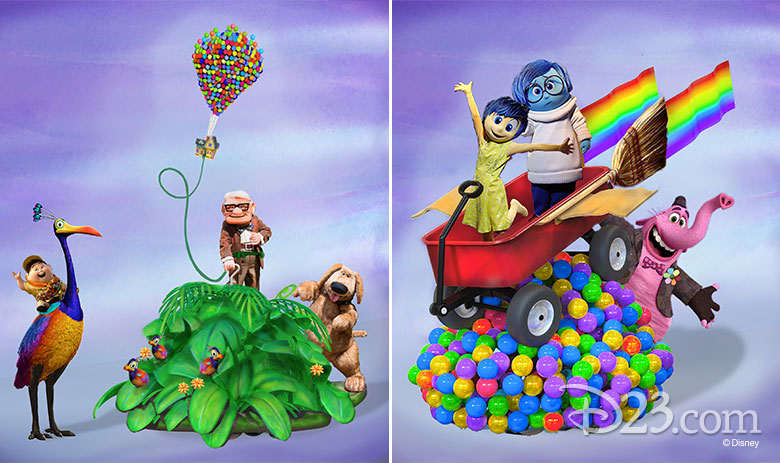 On Tuesday, they kicked off the event by sharing new details about the Pixar Play Parade returning to the Disneyland Resort on April 13 as part of Pixar Fest. Several new images were revealed (seen above), featuring story elements that'll be part of the parade as it winds its way through Disneyland park. The parade will begin with an appearance by the iconic and adorable Pixar Lamp as it follows the familiar yellow Pixar Ball, known to fans from its cameos in so many Pixar films.
Up's loveable curmudgeon Carl Fredricksen, Wilderness Explorer Russell, the colorful flightless bird Kevin and, of course, Dug the dog will join the parade—as will Joy, Sadness, and Bing Bong from Inside Out.
"12 Days of Disney Parks Christmas" continues through December 16, so don't miss out—keep your eyes peeled on the Disney Parks Blog for more fun than you can shake a pear tree at!
Save the Date!
Be sure to mark these upcoming Disney events on your calendar:
D23 and Walt Disney Archives


December 6, 2017


D23's Holidays in Hollywood Studios


December 10, 2017


D23's Light Up the Season


December 10, 2017


D23's Holiday Shopping Day at Mickey's of Glendale


December 15, 2017


A Force-Filled Star Wars Evening on the Lot


December 17, 2017


Exclusive D23 Holiday Gingerbread House Workshop


January 12, 2018


Lunch with a Disney Legend—Bob Gurr


January 13, 2018


The Official Walt Disney Studios Tour—Presented by D23


February 2, 2018


D23 Member Night at Disney's Aladdin at the Hollywood Pantages Theatre


February 20, 2018


D23 Member Night at Disney's The Lion King in Orlando
Parks


November 9, 10, 12, 14, 16, 17, 26 and 28. December 1, 3, 5, 7, 8, 10, 12, 14, 15, 17, 19, 21 and 22




Mickey's Very Merry Christmas Party at Walt Disney World Resort




November 10–January 7




Holidays at the Disneyland Resort




December 16


Star Wars: Galactic Nights returns to Disney's Hollywood Studios


February 28–May 28, 2018




Epcot International Flower & Garden Festival




April 13, 2018




Pixar Fest begins at the Disneyland Resort




Summer 2018


Star Wars: Pixar Pier opens at Disney California Adventure


2019


Star Wars-Themed Lands Opening at Disneyland and Walt Disney World



Studios




December 15, 2017


Star Wars: The Last Jedi opens in theaters


February 16, 2018


Marvel Studios' Black Panther opens in U.S. theaters


March 9, 2018


Disney's A Wrinkle in Time opens in U.S. theaters


May 4, 2018


Marvel Studios' Avengers: Infinity War opens in U.S. theaters


June 15, 2018


Incredibles 2 opens in U.S. theaters


Television




December 1–25, 2017


Disney|ABC's 25 Days of Christmas

Cool New Featurette and "Pop Icon" Posters for Star Wars: The Last Jedi
Hey, we almost forgot: Happy December! You know what that means… well, yes, of course, the holidays—but also, the Force will be disturbed (in a good way!) once more when Lucasfilm's Star Wars: The Last Jedi lightspeeds into a theater near you on December 15! You can imagine that these next few weeks will be chockablock with tantalizing Last Jedi content, to whet our appetites for all things Skywalker. Case in point: this brand-new featurette, about the physical training the cast went through prior to (and during) filming. Take a gander at stars Daisy Ridley, Gwendoline Christie, John Boyega, Kelly Marie Tran, and Adam Driver in action, above.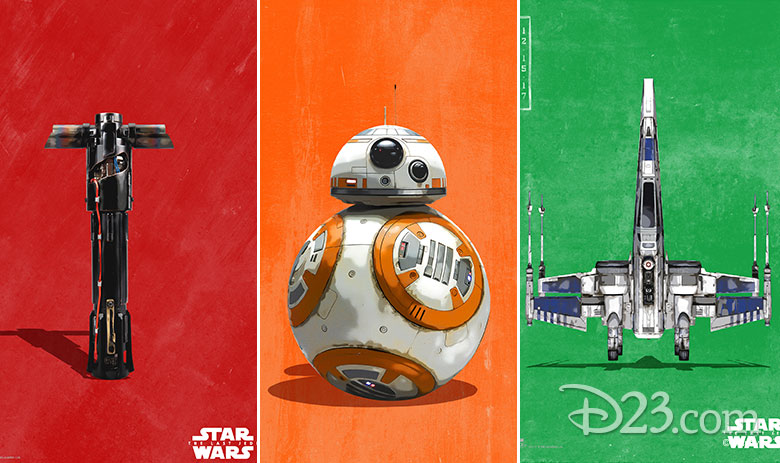 But that's not all: Lucasfilm also released a whopping 17 brand-new posters, featuring droids, gear, tech, and ships from the upcoming film. Nine of the posters debuted on the "Light Side" and eight on the "Dark Side." Look at the rest, you can, over at StarWars.com…
Disney Nominated for 35 Annie Awards
We've officially entered "awards season," when screenings and nominations abound! Just this week, the International Animated Film Society (ASIFA-Hollywood) announced nominations for the 45th annual Annie Awards, which recognize the year's best in the field of animation. Overall, Disney received 35 nominations, with Disney Television Animation earning 14 nods—including six for the Mickey Mouse shorts and four for Tangled: The Series; Pixar Animation Studios receiving 15 nominations, including an amazing 13 for Coco (including "Outstanding Achievement in Voice Acting in an Animated Feature Production" for Anthony Gonzales [Miguel] and "Best Animated Feature"); and Walt Disney Animation Studios garnering three nominations for Olaf's Frozen Adventure (including a nod for the featurette's music, penned by songwriters Elyssa Samsel and Kate Anderson and composer Christophe Beck.)
Additionally, Marvel Studios' Guardians of the Galaxy Vol. 2 and the Avatar Flight of Passage attraction from Pandora – The World of Avatar at Disney's Animal Kingdom each received one nomination.
The Annie Awards will be presented on Saturday, February 3, 2018, at UCLA's Royce Hall in Los Angeles; for a complete list of nominees, visit AnnieAwards.org. Kudos to all!
The Oscars Return in February, Hosted by ABC's Jimmy Kimmel
Speaking of "awards season," we've officially entered the 90-day countdown to The Oscars, airing once again exclusively on ABC. And this time, the broadcast will actually start a half-hour earlier than usual—at 8 p.m. EST/5 p.m. PST… plus, the big Oscars Pre-Show will start at 6:30 p.m. EST/3:30 p.m. PST, giving viewers a full 90 minutes of insider access and exciting red-carpet fun.
Check out ABC's brand-new promo for the world's most famous awards show (did you know it airs in more than 225 countries?), above. Hosted once again by ABC's Jimmy Kimmel, The 90th Oscars will be held on Sunday, March 4, 2018, at the Dolby Theatre® at Hollywood & Highland Center® in Hollywood. Mark those calendars!
#ShareYourEars to Support Make-A-Wish®
What's more festive than grabbing a pair of "Mickey Ears" and taking a pic with all your besties? (Honestly, not much.) Well, good news: This holiday season, you can snap a fun photo and help a deserving charity at the same time! Disney Parks is donating $5 to Make-A-Wish®, up to $1 million, for each photo you take and share on Facebook, Twitter, or Instagram wearing "Mickey Ears"—or any fun, creative ears—with the hashtag #ShareYourEars.
Millions of fans who shared "ear photos" on social media last year made the inaugural #ShareYourEars a huge success; the enthusiastic sharing led to a doubling of the original donation pledge to $2 million! Now it's time to take it to a whole new level… so from now until Christmas Day (December 25), Disney Parks wants you to post all manner of unique "ear photos"—and don't forget that hashtag!
Nearly 9,000 Disney-related wishes are granted worldwide by the Make-A-Wish Foundation each year—including experiences at Disney parks and voyages on Disney Cruise Line. For more info about Make-A-Wish here in the States, visit wish.org.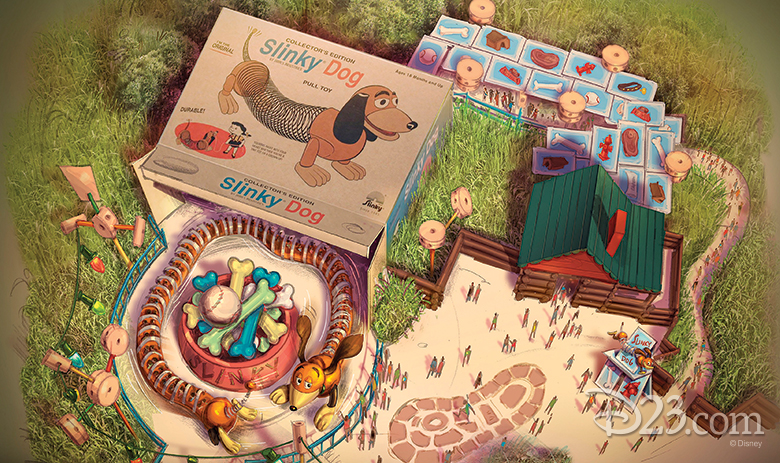 Read Up on Shanghai Disney Resort's New Toy Story Land
Yes, it's true—Shanghai Disney Resort is already expanding, and what they're adding sounds totally cool! Read up on the resort's newest area, Toy Story Land, coming to the newest Disney park next summer right here… D23.com got its hands on some amazing concept art, so do check it out, won't you?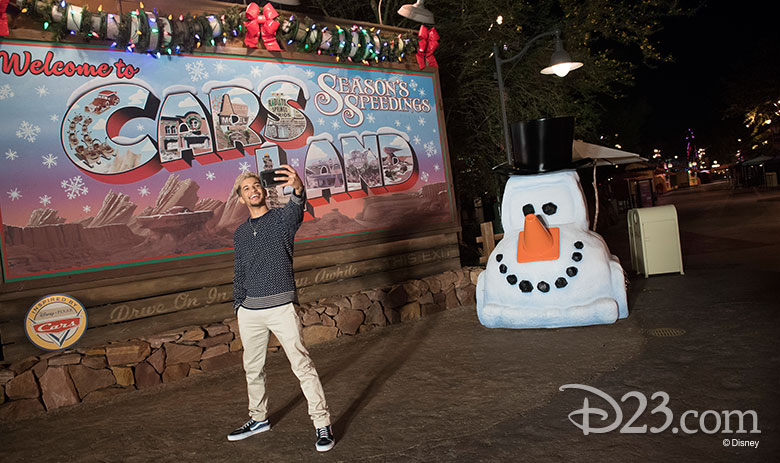 Whoopi Goldberg Hosts Freeform's Decorating Disney: Holiday Magic
Brew up a cup of cocoa and snuggle up on the couch—there's a great holiday TV special next week that you won't want to miss. Newly-crowned Disney Legend and ABC's The View co-host Whoopi Goldberg will helm Freeform's Decorating Disney: Holiday Magic, premiering Monday, December 18, at 8 p.m. EST. Featuring special co-hosts Sofia Carson (of Disney's Descendants) and Jordan Fisher (recent Dancing with the Stars winner), the one-hour event will reveal how the merry magic comes to life as the Disneyland and Walt Disney World theme parks and resort hotels are transformed into winter wonderlands filled with seasonal attractions, special entertainment, festive décor, and delicious treats that make every day feel like a holiday!
"As a longtime friend of Mickey, there's no place I'd rather spend the holidays than at the Happiest Place on Earth," said Whoopi. "To see the incredible work that goes into turning the parks into a winter wonderland is truly magical, and I'm so happy to be a part of it."