By Jocelyn Buhlman
Throughout the four seasons of Phineas and Ferb, the goofy-yet-devious Dr. Doofenshmirtz has invented all sorts of machines to aide in his schemes to rule the Tri-State Area. His most famous inventions are his Inators, named for the suffix he attaches to the names of certain inventions. In Phineas and Ferb The Movie: Candance Against the Universe, Doof takes his dastardly schemes to space! Before we watch the movie and discover exactly what kind of space shenanigans he's getting into, we're taking a look back at 10 of his most evil, maniacal, and just plain silly Inators.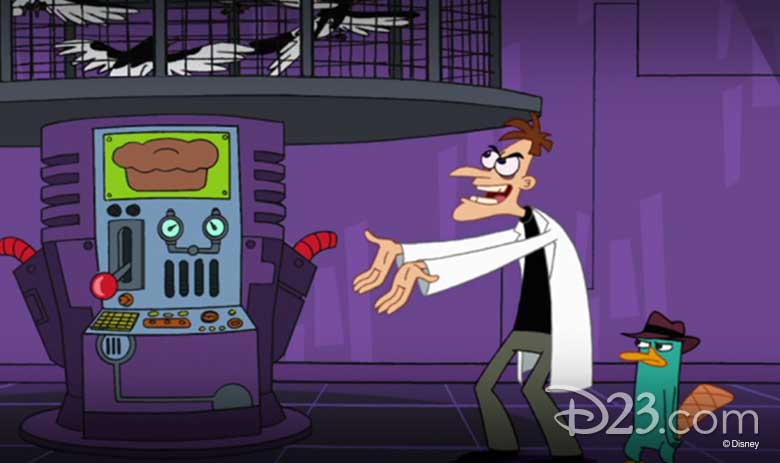 1. Bread-Inator ("Crack That Whip," Season 1, Episode 18)
Doof's Inator designed to turn objects into whole-grain bread isn't especially devious on its own (unless you're gluten-intolerant), but his end goal was especially dastardly: Destroy the statue of President Rutherford B. Hayes, which was constructed beside Doofenshmirtz Evil, Inc and mocks Doof daily with its immortalization of the president's magnificent beard. Unable to fabricate such follicular fashions himself, Doof plotted to turn the statue to bread and release a flock of hungry magpies to devour it. Fortunately, the Tri-State Area was saved from this truly "hair"-brained plot due to Doof himself having a terrible headache and being too exhausted to put effort into carrying out his plan. He turned the machine on, Perry turned it off, and then Doof went to go take a nap.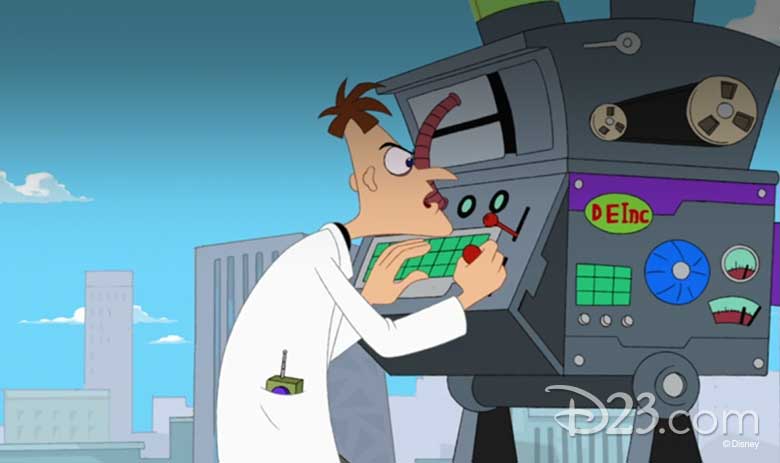 2. Media-Erase-Inator ("Voyage to the Bottom of Buford," Season 1, Episode 19)
After accidentally being caught on tape rescuing a kitten, Doofenshmirtz creates this Inator to erase the evidence of his errant do-goodery. Not only is Doof determined to maintain his evil status in the eye of the public, he also will not return any of the "welcome to the good side" gifts he's received since the footage was aired on local news stations! Now that's pretty maniacal!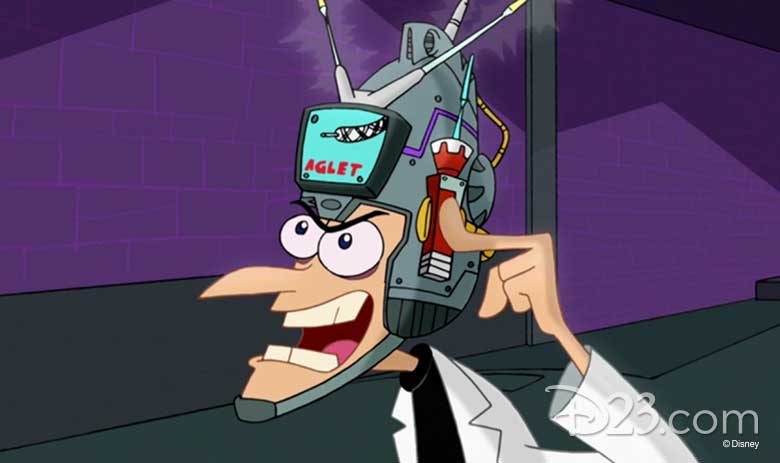 3. Delete From My Mind-Inator ("Tip of the Day," Season 2, Episode 2)
Did Doof create this Inator in order to delete the memory of an embarrassing viral video from the minds of everyone who viewed it? Yes. But, that's not the maniacal crime that places this Inator on the list—no, the real evil is how this device was instead used to delete the memory of what that little thingy on the end of a shoelace is called. There's definitely a word for it! What is it? We'll never know, thanks to Doofenshmirtz accidentally deleting the knowledge from our brains. If only there was a catchy pop song to help us remember the word…
4. De-Volition-Inator ("Brain Drain," Season 2, Episode 35)
Not to be confused with Doof's previously invented Devolution-Inator, the De-Volition-Inator is designed to control the mind of whoever is wearing it! Made with parts from Brain, Bath, and Beyond (you know, the local big box mind control store), Doof uses this device to control Perry the Platypus and make him perform horrifying tasks such as "skip down the street" and "eat gum off the sidewalk." Can a device so nefarious have any positive purpose? In the hands of Perry the Platypus, perhaps! Once Perry breaks free from the Inator, he uses it on Doofenshmirtz to help him DJ at the mid-day junkyard rave his daughter, Vanessa, is attending, and impress all the punks there. Plus, the punks discovered a new way to express how they feel in the shackles of society—because, really, isn't there a platypus controlling us all, metaphorically?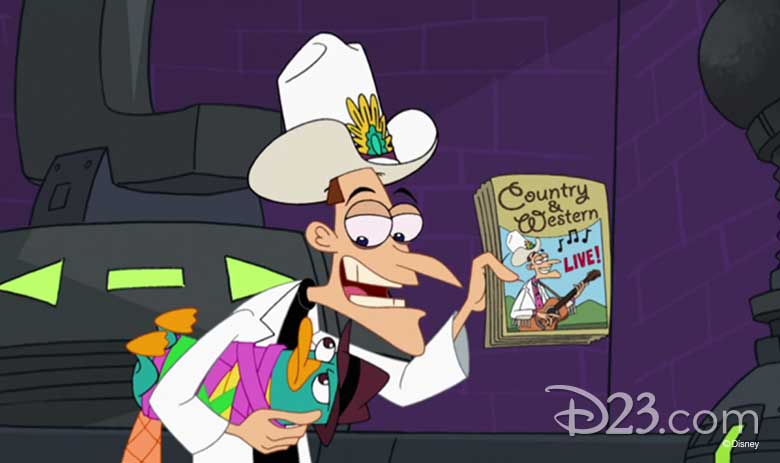 5. Yodel-Inator ("Bubble Boys", Season 2, Episode 16)
After realizing that he's "completely and totally unlikeable," Dr. Doofenshmirtz harnesses the truly devious power of yodeling to bewitch the minds of the public. Is the Yodel-Inator his most sinister invention yet? Using this hat-shaped invention, Doof performs a live country and western concert in order to convince the denizens of the Tri-State Area to "Yodel-Odel-Obey" him. Thank goodness Perry the Platypus was there to knock the Inator off of his head before he could fully ensnare the minds of his audience.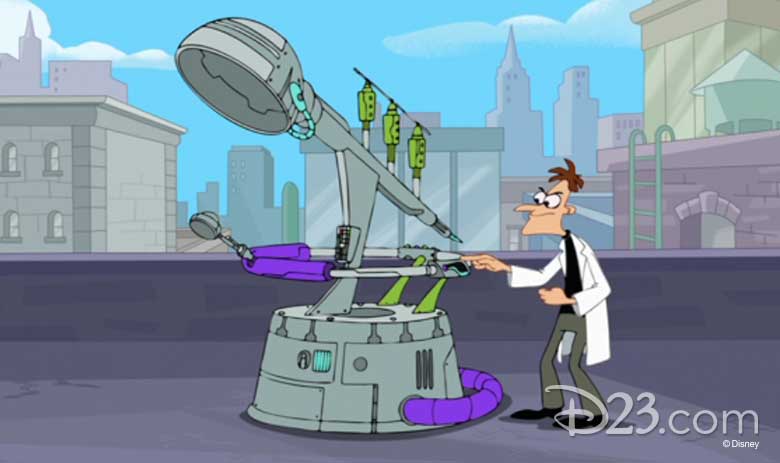 6. Other-Dimension-Inator (Phineas and Ferb The Movie: Across the Second Dimension)
This Inator was created for an innocent reason—for Doof to simply visit another dimension. However, the alternate universe uncovered by this Inator is ruled by an eviler version of Dr. Doofenshmirtz, who kidnaps Phineas and Ferb and even risks Perry's secret identity as an O.W.C.A. agent!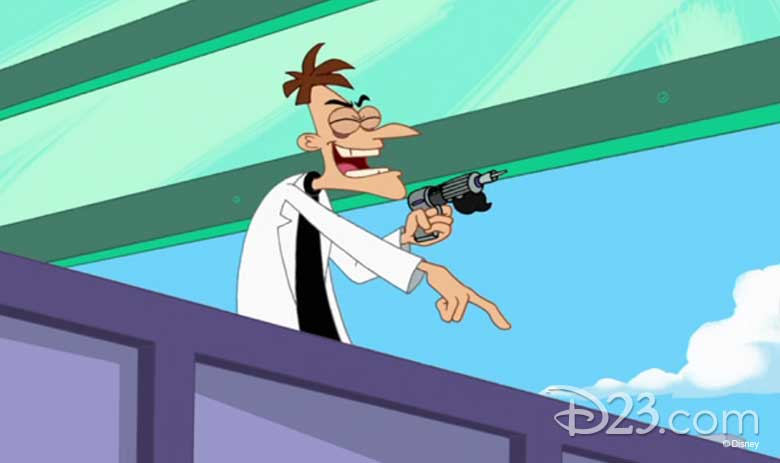 7. Mustache-Inator ("Perry the Actorpus," Season 3, Episode 13)
In a terrifying act of whimsy, Doof invents this machine that puts mustaches on its victims. What could possibly motivate him to carry out such a sinister scheme? "There's nothing sillier than a big, bushy mustache," he explains to Perry. Truly, his evil madness knows no end. Fortunately, Perry the Platypus steals the Inator and uses it for good (namely to disguise his own identity in a series of ads Phineas and Ferb had him pose for).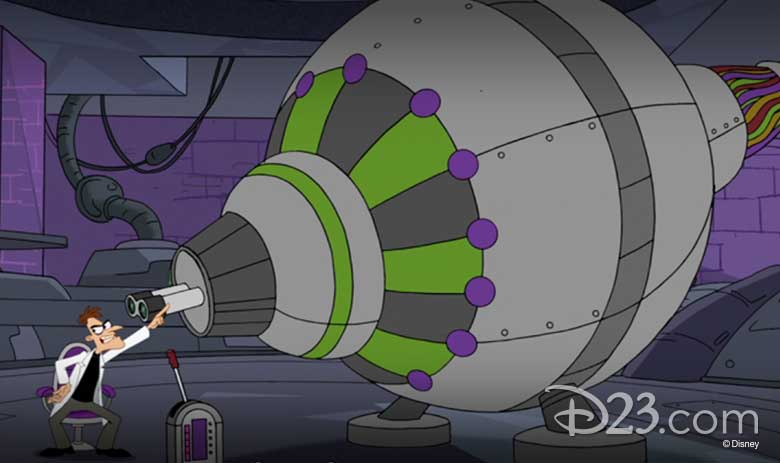 8. Big Sad Eye-Inator ("Blackout!" Season 3, Episode 31)
Dr. Doofenshmirtz decides to throw himself a party—a pity party, that is! What is more devious than the doctor when he's determined to look really sad so everyone will give him what he wants? How about an Inator that uses so much power it causes a Tri-State Area-wide blackout! Between his scientifically enhanced big, sad eyes and the cover of darkness, it seems like Doof cannot be stopped—that is, until the power is returned and everyone realizes how freaky big, sad eyes look in the light.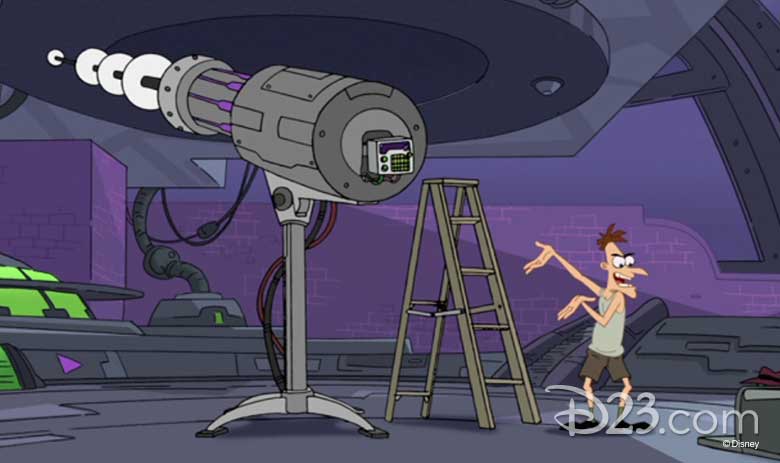 9. Double-Negative-Inator ("Great Balls of Water, Season 4, Episode 10)
Any good Tri-State Area citizen knows that you can't order eggnog in summer. That's just not how it works—unless you're Dr. Doofenshmirtz and you live to sow chaos! His Double-Negative-Inator was created to allow him to order seasonal drinks… during the wrong season! The horror! The Tri-State Area is lucky that Perry the Platypus hit the Inator's self-destruct button, saving everyone from the total disordered chaos Doof was trying to create.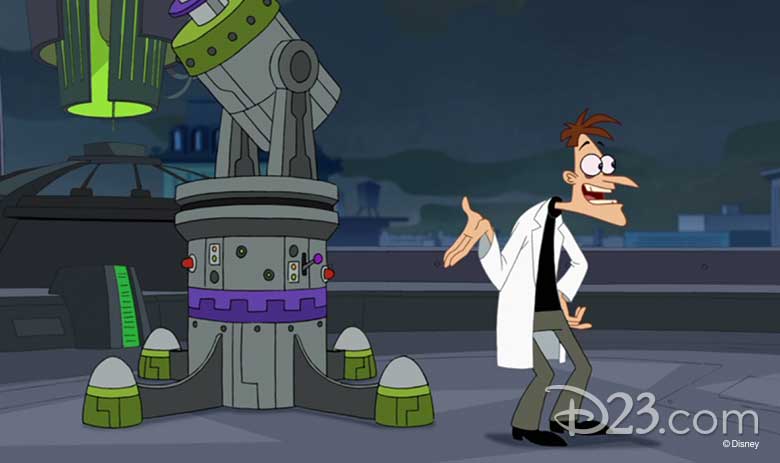 10. Inexplicable Giant Floating Baby Head-Attract-Inator ("Terrifying Tri-State Trilogy of Terror," Season 4, Episode 18)
Sure, the Inexplicable Giant Floating Baby Head may be a standard part of adventures in the Tri-State Area, but its true terror (beyond being, you know, a giant floating baby head) lies in its ability to grant wishes. In the wrong hands, three wishes could cause total mayhem. Doof creates the Inexplicable Giant Floating Baby Head-Attract-Inator in order to become the ruler of the Tri-State Area… if he had succeeded in his plans, who knows what would have happened? However, due to the tricky nature of wish-making, Dr. Doofenshmirtz ends up as the "head" of the Tri-State Area… as in, he becomes the Inexplicable Giant Floating Doofenshmirtz Head. Once again, the Tri-State Area is safe from his devious plans.
What will Dr. Doofenshmirtz invent next? Tune in to Phineas and Ferb: Candace Against the Universe, now streaming on Disney+.