By the D23 Team
Today marks our 10th anniversary since D23: The Official Disney Fan Club was founded, and since we've been sharing magical Disney moments with Disney fans. We love celebrating Disney with fans because we're Disney fans, too! To help celebrate our milestone anniversary, we asked 10 of our team members to share their favorite moments from when we first kicked off the club way back in 2009 to now. What's your favorite memory from 10 FAN-tasic years of D23? Let us know on Facebook or Twitter.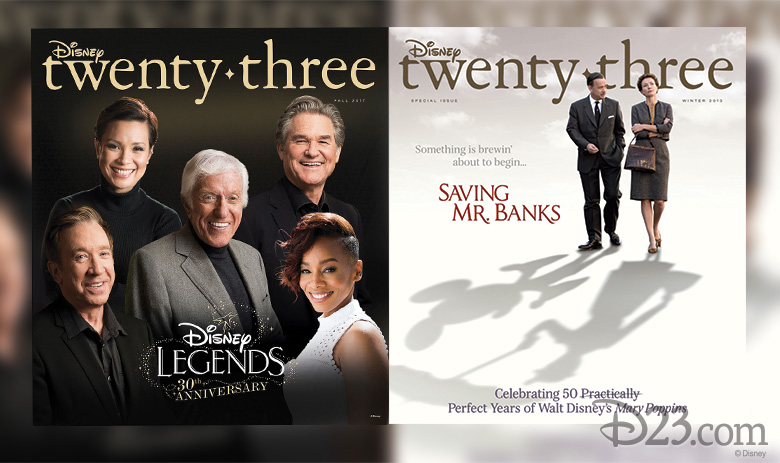 Max Lark (Disney twenty-three Editor-in-Chief)
There are a lot of interviews that stand out. For the Disney Legends issue of Disney twenty-three, we were fortunate to interview a lot of Disney luminaries, but getting the chance to interview Tim Allen in a soundstage on the Studio lot, Dick Van Dyke in Walt's "formal" office, and Kurt Russell in Walt's "working" office were pretty unforgettable experiences for a guy from Detroit who wonders, sometimes, how he landed at Disney.
As someone who is a huge Elton John fan, interviewing him on the phone for his movie Gnomeo & Juliet will always be one of my favorite memories. I mean I idolized this guy as a child; to have him call my office phone and say, rather charmingly, "Hello Max, this is Elton…" Well for me, it doesn't really get much better than that!
Getting the chance to go to Marceline, Missouri, and walk in Walt's footsteps was also a highlight. I did a lot of research and had the time to amble across the same open fields he did, to see the same streams, to eat dinner in the house where he lived for five years. After walking down Main Street in Marceline, a walk down Main Street, U.S.A. at Disneyland is now an altogether different experience.
Putting together the Saving Mr. Banks issue of Disney twenty-three will always be a highlight and an issue that I am especially proud of. It's funny how a labor of love can turn into something you love.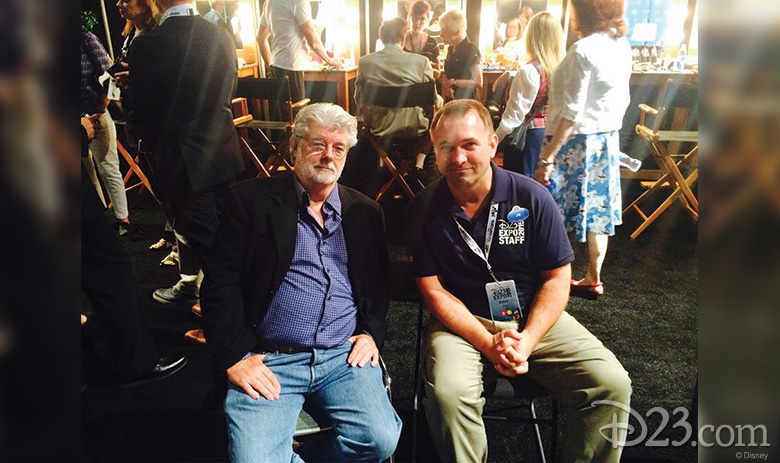 Jim Frye (Disney twenty-three Contributing Writer)
My best D23 memory is having a conversation with the legendary (and Disney Legend!) George Lucas at D23 Expo 2015! It was just before the Legends ceremony where George was being inducted. We were in the middle of special Star Wars-themed issue of Disney twenty-three magazine and wondered if it would be possible to get a few quotes from Lucas. So myself and Max Lark took off down to the green room where all the inductees were waiting, and Jeffrey Epstein was able to get one of us in—me! And that's when it happened. I have to admit, it was hard to form words at first, because my mind was consumed with the fact that I was TALKING TO GEORGE LUCAS! The rest is all a blur, but luckily you can see parts of that conversation in the 2015 winter issue of Disney twenty-three in the article, "Thank the Maker."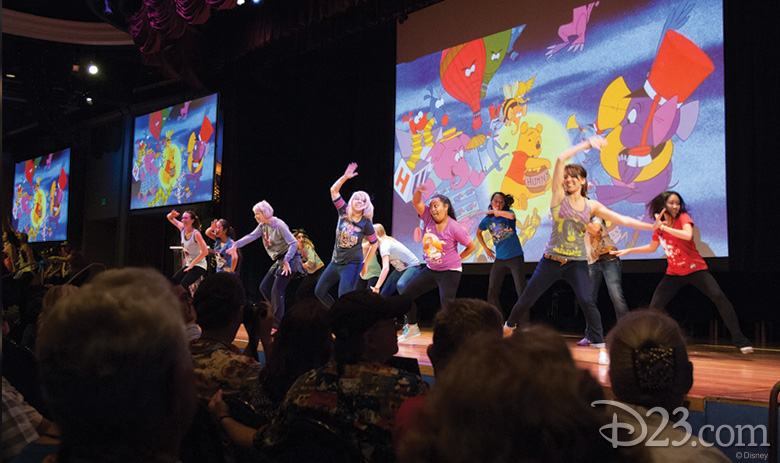 Courtney Potter (Disney twenty-three Contributing Writer)
I've been lucky enough—even before I wrote for D23.com—to attend every D23 Expo, and to see the growth of D23: The Official Disney Fan Club from a fairly close perspective. Back in 2012, when D23 was planning its Destination D event at the Disneyland Resort, I wound up as part of the team helping to execute a 'flash mob' to open the weekend with a bang—and it's one of my favorite D23-related memories. Not only was it a total blast to rehearse a dance number, set to an incredible mash-up of songs from Disney animated films, with some of my colleagues, but it was also so much fun to see the reaction of the guests when we (seated amongst them in the audience) got up and started to dance! I've never been a performer at Disneyland, but I feel like I got to experience that same kind of heart-warming joy for a few moments that morning… bringing a little bit of magic to those D23 Members in a tangible, first-person way.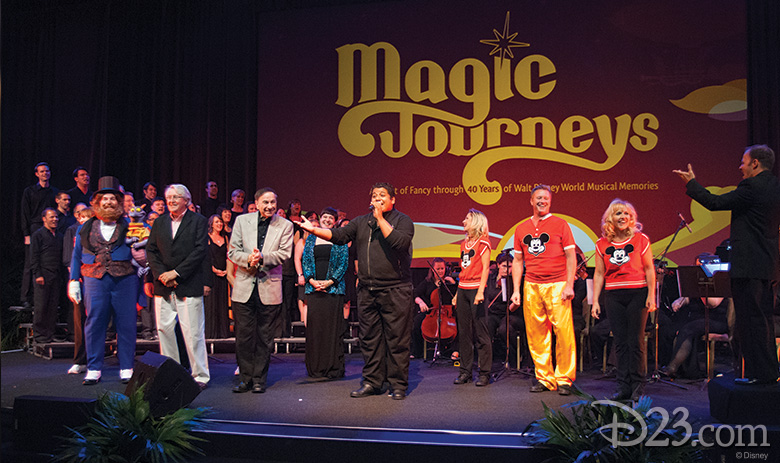 Steven Vagnini (Walt Disney Imagineering, Former D23 Team Member)
D23's Destination D: Walt Disney World 40th (2011)—the second of the six Destination D events held thus far—marked what was perhaps the most elaborate and in-depth Walt Disney World retrospective mounted by The Walt Disney Company. D23 Members gathered at Disney's Contemporary Resort to meet and hear from dozens of Disney Legends and resort pioneers in this celebration of four decades of "the Vacation Kingdom of the World." Among the luminaries were Debby Dane Browne, the first Walt Disney World Ambassador; Bob Foster, the counsel charged with scouting Central Florida to acquire the property; and many current and former Imagineers, marketing leaders, entertainment designers, songwriters, and archivists. The highlight was the finale concert, Magic Journeys: A Flight of Fancy Through 40 Years of Walt Disney World Musical Memories, which included special performances by the Kids of the Kingdom, the Main Street Philharmonic, resort entertainment legends Billy Flanigan, Carol Stein, Laura Compton, and Denny Zavett, the Encore! Choir and Orchestra, Dreamfinder and Figment, and Disney Legend Richard M. Sherman.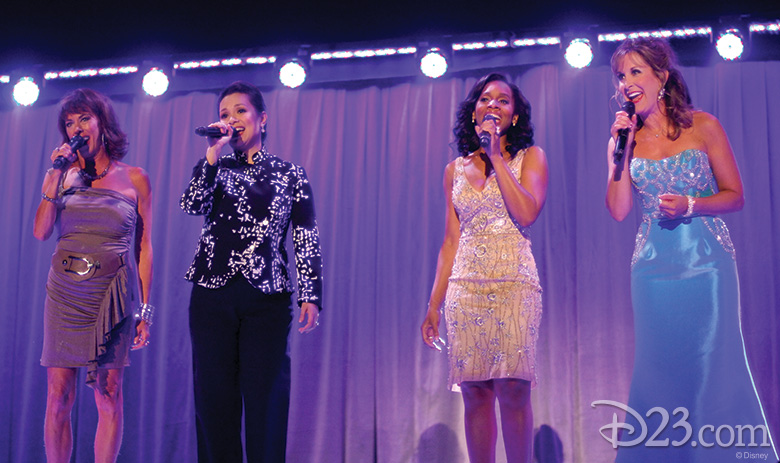 Francesca Scrimgeour (Walt Disney Archives)
D23 has given me so many great memories over the years, but one of my favorite memories was before I joined the Archives team, during the D23 Expo at the 2011 Disney Legends Awards Ceremony. The ceremony was gorgeous, and getting to watch so many of my childhood heroes be inducted as Disney Legends is something that I will never forget. Many of the voices of modern Disney Princesses were inducted that year and many of them even participated in a musical interlude where they sang together! To top it all off, that was the year Jim Henson was honored, which led to a once-in-a-lifetime performance from Kermit the Frog and Rowlf the Dog performing "Rainbow Connection," and the audience sang right along. I thought I had reached the pinnacle of excitement during the show, but on my way out, my friend and I stopped to watch the handprint ceremony, and were in for quite a surprise. We saw Anika Noni Rose "cementing" her legacy, and myself and my friend were picked out of the crowd and asked if we wanted a photo with her. Of course we did! We ran right over and quickly snapped a photo with the incredibly gracious Anika that we still treasure today!
Tyler Slater (D23 Events Team)
My favorite memory as part of the D23 Team was our managing our Magic in Manhattan event. The fun-filled day included a taping of ABC's The Chew, a private tour of the 1964-'65 New York World's Fair grounds, a behind-the-scenes experience at the New Amsterdam Theatre, a meet-and-greet experience with the Aladdin cast, and then concluded with seating to see the Broadway spectacular.
It's my favorite memory because it reminds me of the incredible diversity not only in our fan club, but also The Walt Disney Company. From ABC, to our heritage, to watching one of my favorite Disney movies come to life on Broadway, it will always be a moment in my career I'll see as a dream come true in one of my favorite cities in the world.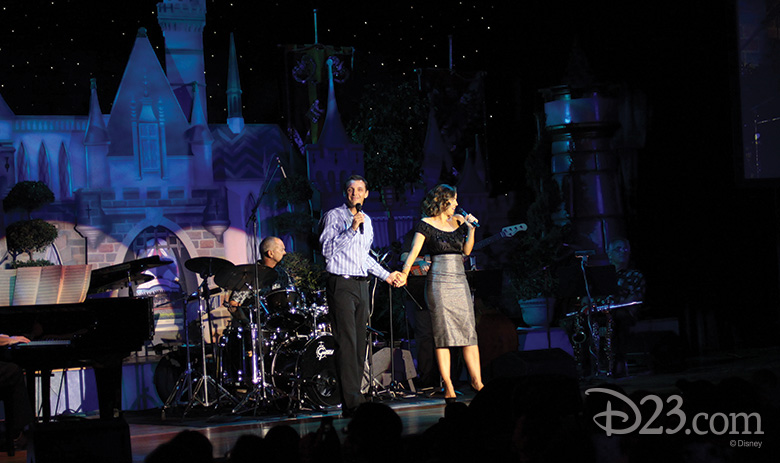 Jeffrey Epstein (D23 Creative Content Director)
Having been with D23 before its launch, I have been lucky enough to experience a lifetime of unbelievable moments with the fan club over the past 10 years. From interviewing the Once Upon a Time cast on stage at numerous D23 Expos to attending the opening of the magnificent Shanghai Disney Resort, it is almost impossible to pick one. But… In 2010 we held the first-ever Destination D event, themed to the 55th anniversary of Disneyland. The entertainment one night was a "two part" musical event in the majestic Grand Ballroom of the Disneyland Hotel, E Ticket: Music from the Disney Parks. The first part included wildly talented actors such as John Tartaglia, Traci Thoms, Wilson Cruz, Michael Urie, and Ana Ortiz singing parks favorites, and the second part was the wonderful Disney Legend Richard Sherman at the piano, playing a selection of songs he and his brother, Robert, created for Disney parks around the world. As the concert approached, an actor had to bow out because of work, and I was asked—somewhat on a lark—to fill in, singing "A Whole New World" with Ana (then on Ugly Betty, now on Whiskey Cavalier!). It had been years since I had sung in public, so breaking out a beloved Disney classic in front of more than 1,000 Disney fans could easily have been trial by fire. But I could not have felt more supported—by Ana, the amazing D23 Members in the audience, and even the man himself, Richard Sherman. My heart was so full, it felt like it could have burst. If we ever sold bottled pixie dust, I'm pretty sure that is the feeling it would create.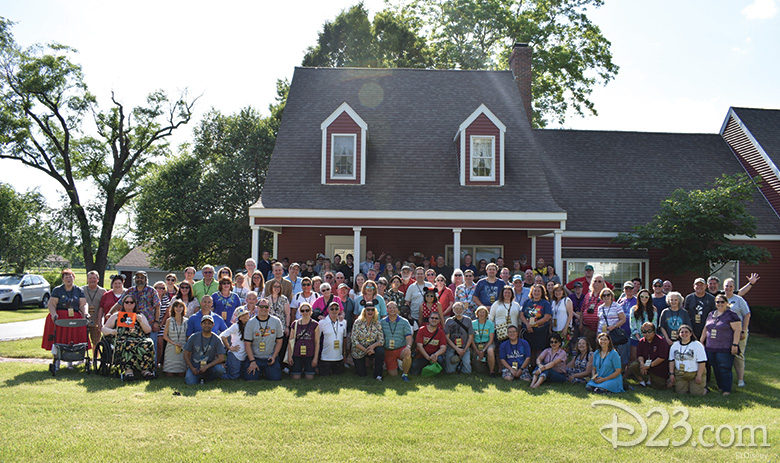 Laura Sanchez (D23 Events Team)
The trip to Marceline is one of my favorite memories. When the buses pulled up amongst the cheering people of the city and the children of Marceline, and seeing that the kids had made a huge welcome mural and the whole thing made me cry. The electricity of pride and excitement from everyone involved was palpable.
There was also the Lunch with a Legend hosting Marty Sklar. This was our first Lunch with a Legend and it thrilled me to be able to watch our guests have the opportunity to talk on a personal level with such a wonderful Disney Legend.
Destination D of 2011 celebrating WDW anniversary is another wonderful memory. The closing concert with Kids of the Kingdom, the Main Street Marching Band, and then with Richard Sherman not only performing but bringing in the Dreamfinder and Figment to perform with him was another electrifying moment.
The Fanniversary roadshows hold a special place for me as well. Again, it wasn't the show but the D23 members who were all just so thrilled that we would bring the fun of Disney and the Fan club to them! Always so many smiles and tears from joy.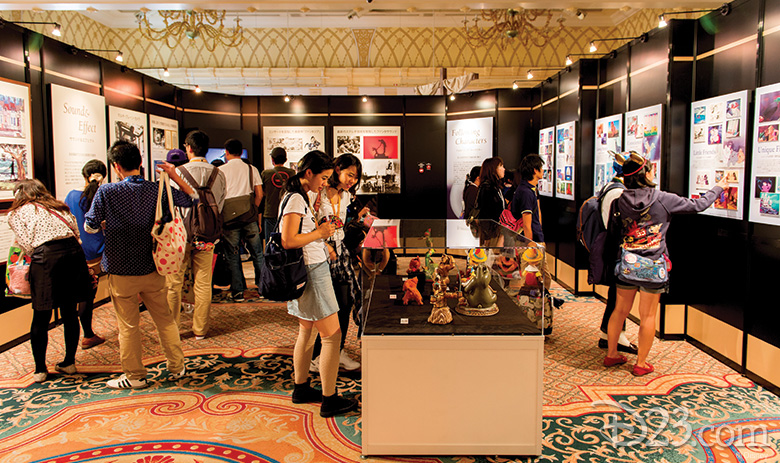 Justin Arthur (D23 Team, Formerly the Walt Disney Archives)
I've had so many great memories of D23 over the years, but one of my favorites has to be the very first D23 Expo Japan in 2013. I had been to the three D23 Expos in Anaheim prior to it, but D23 Expo Japan was such a unique and extraordinary experience. After many months of planning, packing, and getting items through customs, the Walt Disney Archives team arrived in Tokyo to install our very first Japanese exhibit, "Treasures of the Walt Disney Archives." The D23 Expo Japan was held at the Tokyo Disney Resort (you could do much worse), and the exhibit made its debut inside the beautiful Tokyo DisneySea Hotel MiraCosta. I'll never forget the morning we opened the Expo, when hundreds of Disney fans, who had been lined up for hours, came streaming in, thrilled that we had "brought the Archives" to them. Working with the incredible Disney Japan team, and meeting so many passionate fans over the course of the Expo was so special. After that initial Expo, the exhibit travelled all over Japan, enjoyed by thousands of Disney fans across the country, and it was followed by many more successful D23 Expos and Walt Disney Archives exhibits!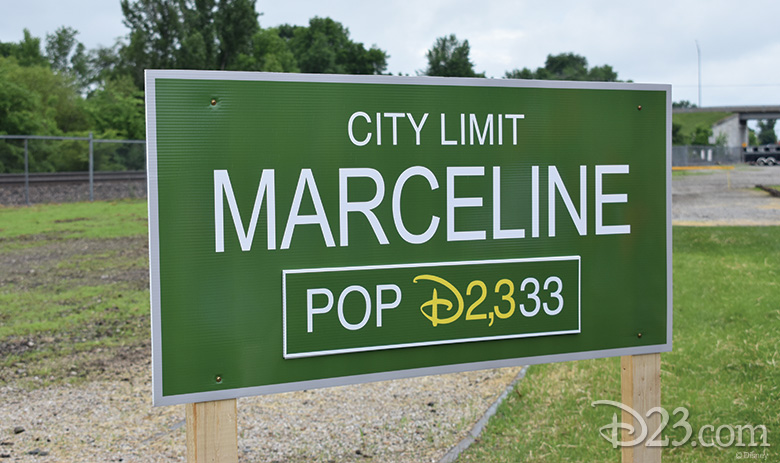 Michael Vargo (Head of D23)
One standout moment for me was a recent one, because it reminded me of how impactful Disney fandom is. Last summer, I joined several D23 Members on a trip to the Midwest: Marceline, Missouri—where Walt Disney enjoyed his early boyhood years. The local schools were on their summer break, but that did not stop the students from coming to town to welcome Disney and D23—some even changing their vacation plans to be there. When we arrived in the town of just over 2,000 people (2,333 to be exact!) on that warm summer morning, we were greeted by a true community of enthusiastic Disney fans. As our busses arrived at the town's Main Street, I never experienced such a heartfelt and genuine greeting like I did that day. The local elementary school students and teachers were cheering loudly and waving banners as they lined the town's streets; the high school cheerleaders and marching band were practicing for weeks to give us a rousing welcome performance; and the entire community came together to give us the ultimate D23 welcome. It gave your body goosebumps and made your eyes water. Standing there in the middle of Main Street watching a community of Disney fans come together, really showed how the magic of Disney touched people far beyond our theme parks or movies. We at Disney love to make magic, but that day, the people of Marceline made it for us.