By Zach Johnson
Ready to eat your way through DCA?
The Disney California Adventure Food & Wine Festival—running from February 28 through April 21—returns with unforgettable cuisine, beverages, and events. The Sip and Savor Pass also returns in 2020. The commemorative credential's coupons are redeemable for select food and beverage offerings (excluding alcohol) at participating Festival Marketplaces and dining locations. You can use them all in a single visit or save some tabs for another day. The pass can be purchased at Elias & Co., Festival Gifts and Marketplaces, Kingswell Camera Shop, Rushin' River Outfitters, Seaside Souvenirs, as well as the Sip and Savor Cart and the Studio Store in Hollywood Land.
Mark your calendars, because D23 Sip and Stroll is returning on March 12 and March 18! D23 Members will enjoy a private reception at Sonoma Terrace, where they will hear from the festival's chef de cuisine, Jimmy Weita, and taste a few of his favorite items while sipping a celebratory beverage. The team will also reveal their culinary inspirations, which will be followed by a Q&A. Members will then get to stroll along the corridor together, equipped with a $20 gift card to sample some of the delicious dishes.
Members will also get to experience a new D23 exclusive: a hands-on cookie decorating lesson from the Disneyland Resort pastry team, led by pastry chef Christina Orejel. Later, at Sonoma Terrace, members will receive an exclusive 2020 D23 Sip and Stroll apron. The event will conclude with access to D23's reserved viewing area for the nighttime spectacular World of Color! For additional details, including pricing, click here.
Make sure to pick up the handy Festival Tasting Passport, which contains every marketplace menu, as well as information about events, merchandise, and much more.
Be our guest and take a look at what's on this year's menu: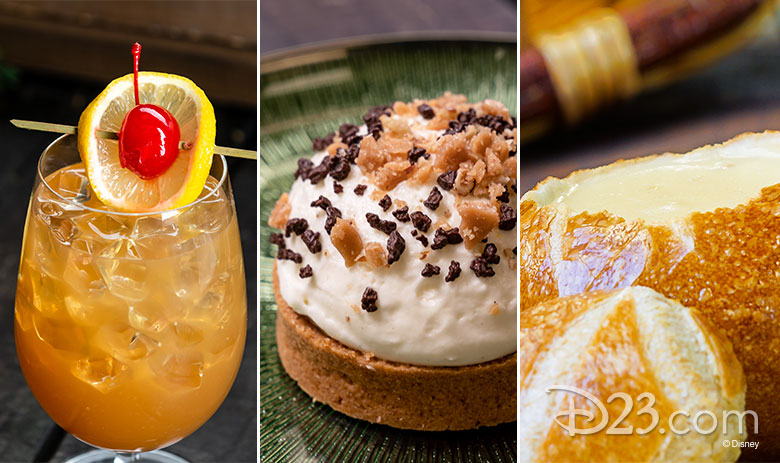 Nuts About Cheese Marketplace
Fiscalini White Cheddar Lager Soup served in a Mini Boudin® Sourdough Bowl (Vegetarian)
Impossible™ Cheeseburger Mac & Cheese (Vegetarian)
Oikos® Greek Yogurt Banoffee Tart
Honey Bourbon Lemonade (Alcoholic)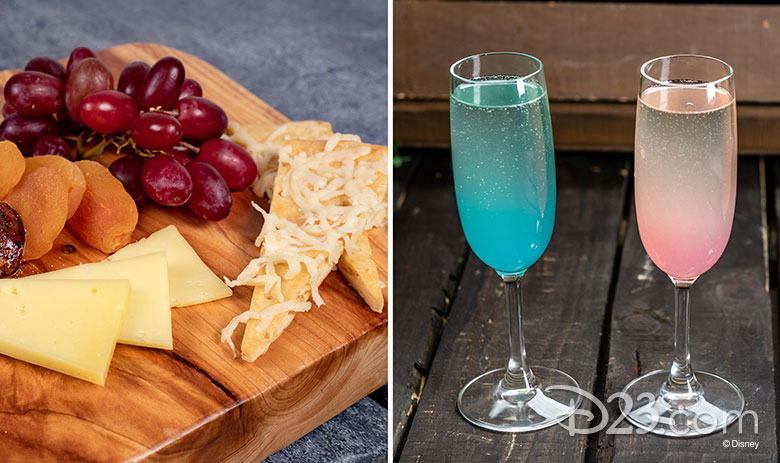 Uncork California Marketplace
California Artisan Cheese with Central Coast Creamery Holey Cow Swiss and Vintage Cheese Co. Cabernet Cheddar (Vegetarian)
White Wine Flight

Malibu Rocky Oaks, Sauvignon Blanc, California
Rombauer, Chardonnay, Carneros
Francis Ford Coppola Winery, Sofia, Rosé, Monterey County

Red Wine Flight

Erath, Pinot Noir, Oregon
The Prisoner, Red Blend, Napa Valley
Quilt, Cabernet Sauvignon, Napa Valley

Road Trip Mimosa Trio

Pacific Mimosa
Mojave Mimosa
Sierra Mimosa

Chandon Brut, Sparkling Wine, California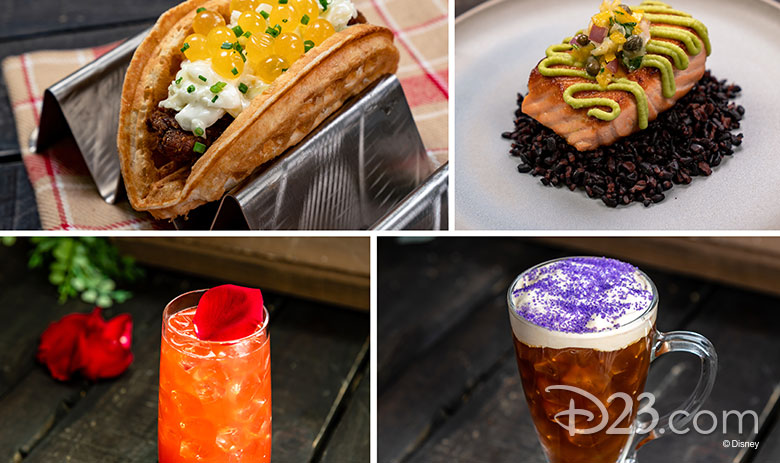 Golden Dreams Marketplace
Brunch Fried Chicken & Waffle Sandwich with Mimosa-inspired Slaw and OJ Bubbles
Seared Verlasso® Salmon with Lemon Pea Purée, Black Rice and Meyer Lemon Relish (Gluten-Friendly)
Strawberry-Rose Lemonade (Non-Alcoholic)
Fig & Lavender Cold Brew (Non-Alcoholic)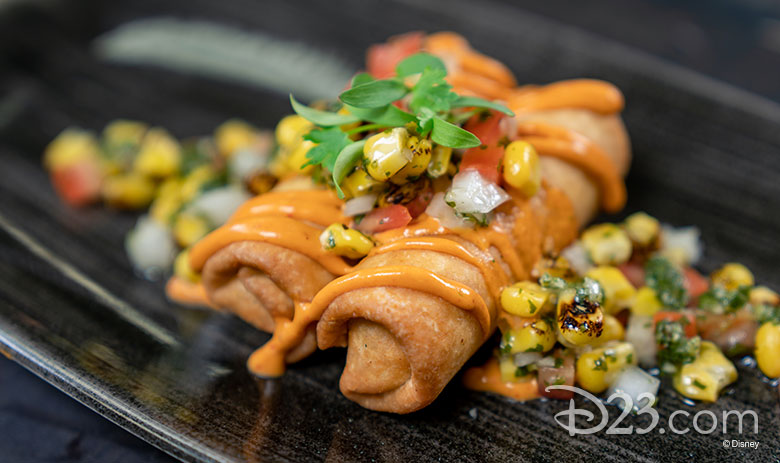 California Craft Brews Marketplace
Pepperoni Pizza Egg Rolls
Triple B Cocktail with Beer, Bourbon and Berries (Alcoholic)
Beer Flight – Fun with Flavor

Mother Earth Orange Vanilla Cali Creamin' Ale
Black Market Cucumber Sour
Golden Road Strawberry and Pomegranate Balboa Blonde Ale
Aftershock Guavaaah! Hazy Pale Ale

Beer Flight – Bigger & Bolder

Bootlegger's Rocco Red Ale
Stereo Perfect Day IPA
Sierra Nevada Hazy Little Thing Hazy IPA
Karl Strauss® Wreck Alley Imperial Stout

Backstreet La Calleja Mexican-style Lager
Boomtown Ingenue Belgian White
Divine Science Event Horizon Blonde (Gluten-Friendly)
JuneShine Acai Berry Hard Kombucha (Gluten-Friendly)
Meiomi, Rosé, California
MacMurray Ranch, Pinot Noir, Central Coast
Joel Gott, Cabernet Sauvignon, California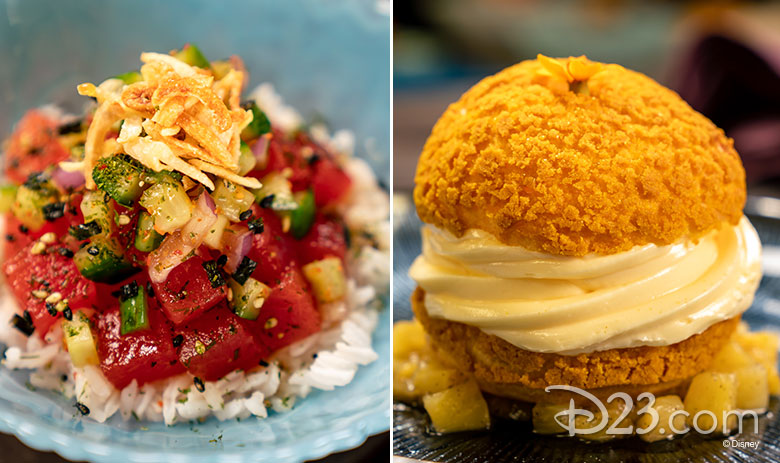 One in a Melon Marketplace
Compressed Watermelon and Tomato with Whipped Ricotta and Lemon Olive Oil (Vegetarian, Gluten-Friendly)
Poke-style Watermelon with Cucumber (Plant-Based, Gluten-Friendly)
Pabana Cream Puff with Mango, Passion Fruit and Banana Mousse
Berry Mule (Alcoholic)
House-made Watermelon Agua Fresca (Non-Alcoholic)
Peppers Cali-Ente Marketplace
Creamy Poblano Pepper Pasta (Vegetarian)
Grilled Shrimp Tacos on Jicama Tortillas (Gluten-Friendly)
Cantarito-style Paloma (Alcoholic)
Annabella, Chardonnay Special Selection, Napa Valley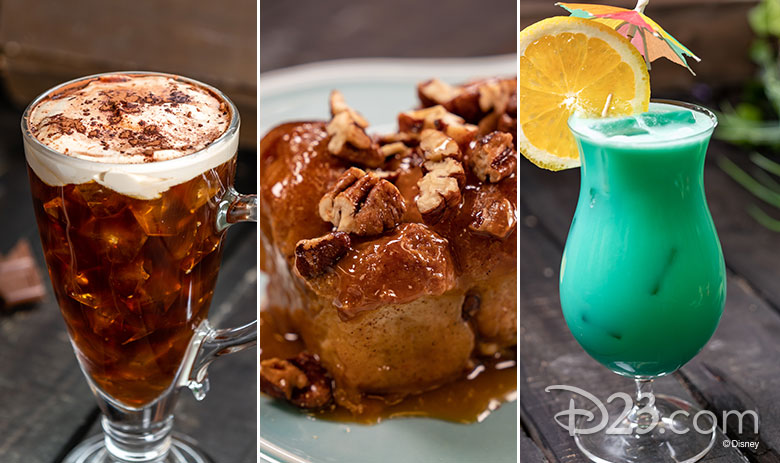 LA Style Marketplace
Asian-style Beef Barbacoa Street Tacos
Smoked Bacon Barbecue Beef Loco Moco on Rice (Gluten-Friendly)
Monkey Bread with Caramel Whiskey Glaze and Candied Pecans (Contains trace amounts of alcohol)
Amaretto Stout-Cream Cold Brew (Alcoholic)
Blue Angeleno Cocktail (Alcoholic)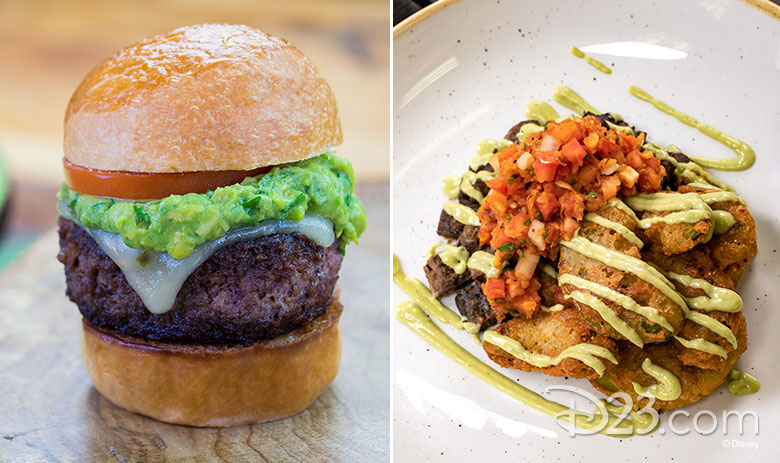 Avocado Time Marketplace
Petite Impossible™ Burger with Guac and Pepper Jack (Vegetarian)
Tortilla-crusted Fried Guacamole with Carne Asada
Mezcal Cocktail (Alcoholic)
Chapman Crafted Slow Riser with Coconut, Red Ale on Nitro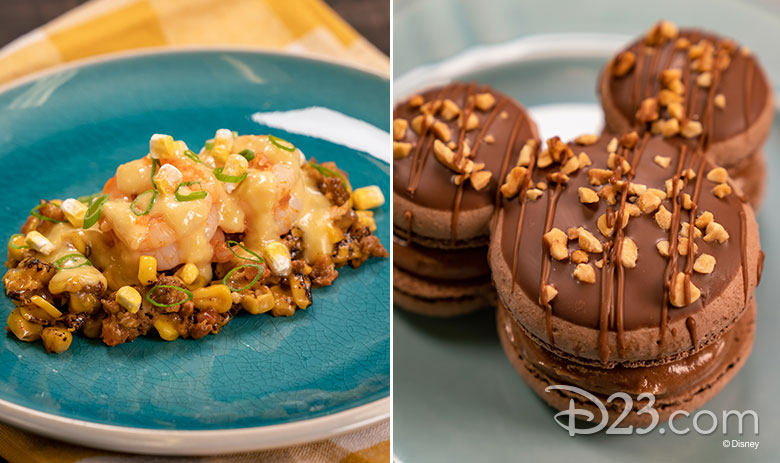 Off the Cob Marketplace
Mini Chicken Chimis with Chimichurri Corn Pico de Gallo and Chipotle Crema
Shrimp and Braised Corn with Chorizo (Gluten-Friendly)
Mickey-shaped Caramel-Peanut-Milk Chocolate Macaron
Fields & Orchards with Elderflower and Artichoke Liqueurs (Alcoholic)
Farmstand Punch (Non-Alcoholic)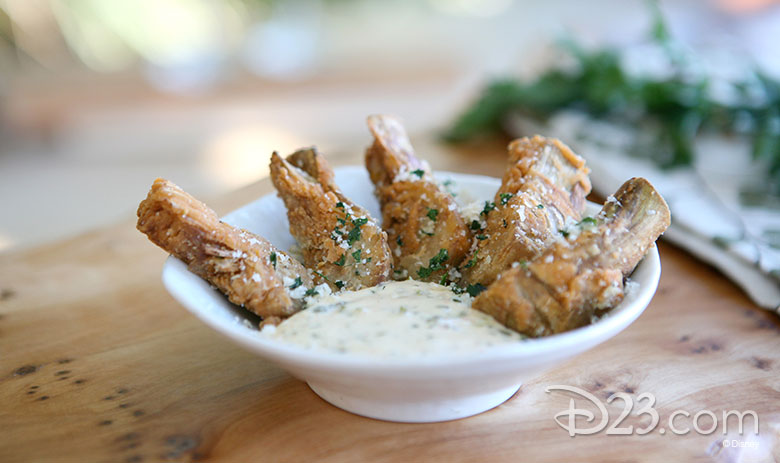 I ❤️ Artichokes Marketplace
Fried Artichokes with Lemon Aïoli (Vegetarian)
Artichoke Toast with Artichoke Cream Cheese and Olive & Artichoke Tapenade (Vegetarian)
Lolea, Red Sangria, Spain
Brooklyn Brewery Special Effects Non-Alcoholic Lager (Alcohol regulations apply)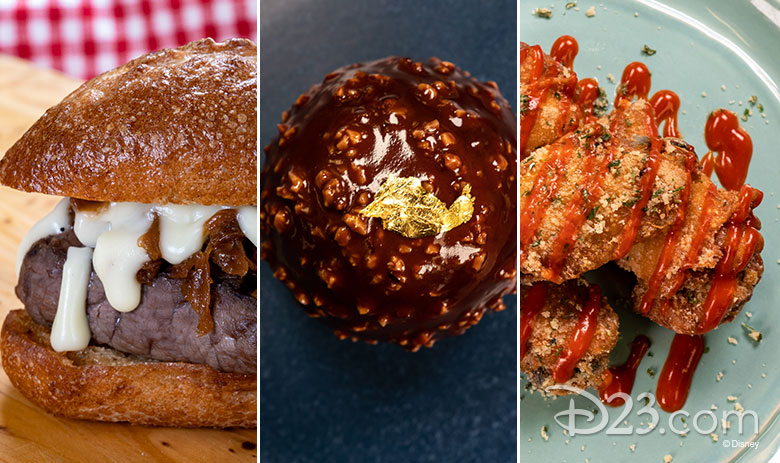 Cluck-A-Doodle-Moo Marketplace
Ranch Fried Chicken Wings with Buffalo Hot Sauce Drizzle
French Onion Grilled Beef Tenderloin Slider
Chocolate Hazelnut Crunch
Kronenbourg 1664 Blanc Witbier (Limited-Time Offering)
Craft Micheladas, Beers, and Flights

Pizza Port Honey Blonde Golden Ale
Golden Road Pineapple Cart Wheat Ale
Lost Coast Watermelon Wheat
King Harbor Cerveza Hermosa Mexican Amber Lager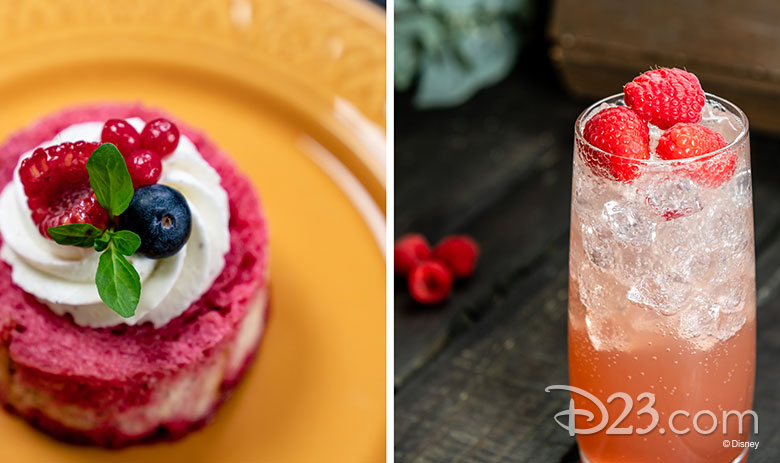 Berry Patch Marketplace
Raspberry-Lychee-Rose Custard with Mixed Berry Compote
Oikos® Greek Yogurt California Berries Summer Pudding (Contains Trace Amounts of Alcohol)
Blue Marble Berry Hard Seltzer (Alcoholic)
Blue Marble Tropical Hard Seltzer (Alcoholic)
Ruby Citrus Sparkler (Non-Alcoholic)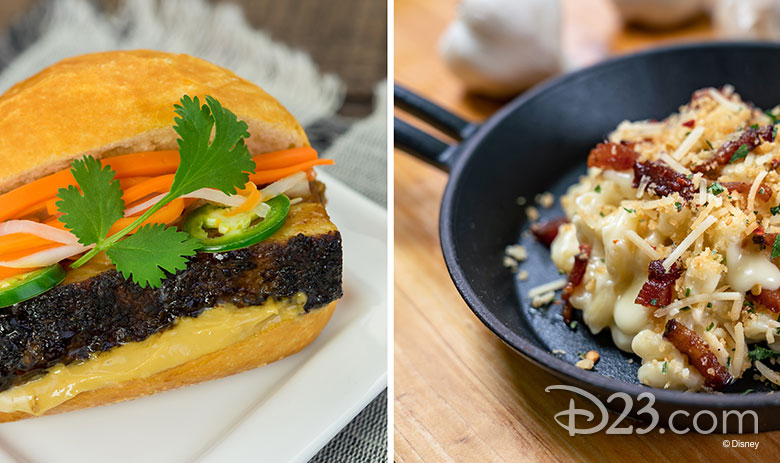 Garlic Kissed Marketplace
Black Garlic Soy-braised Pork Belly Banh Mi
Carbonara Garlic Mac & Cheese with Nueske's® Bacon
Aperol Cocktail (Alcoholic)
Wither Hills, Sauvignon Blanc, Marlborough
Paradise Garden Grill
Impossible™ Meatball Submarine (Plant-Based)
Beer-battered Fish Tacos, with Karl Strauss® Follow the Sun Pilsner-infused Batter
Buffalo-style Roasted Turkey Leg with Celery Slaw and Blue Cheese (Gluten-Friendly)
Brisket Sliders
Brisket Fries
Black Forest Parfait
Watermelon Vodka Lemonade (Alcoholic, Gluten-Friendly)
Matanzas Creek, Sauvignon Blanc, Sonoma County
Deschutes Pacific Wonderland Lager
Sudwerk Märzen Amber Lager
Berry Spectacular Cookie Shake (Non-Alcoholic)
Paradise Beer Garden
Smog City Little Bo Pils Unfiltered Pilsner
Ayinger Bräuweisse Hefeweizen
Chihuahua Guava Lime Suprema Low-Cal Lager
2 Towns Outcider Hard Cider
Karl Strauss® Practice What You Peach Sour
Bottle Logic Marceline Muffin Blueberry Imperial Blonde
Enegren Valkyrie Alt Bier
Figueroa Mountain Point Conception IPA
Lost Winds Whirlpool Galaxy Double IPA
Allagash Black Stout
Twisted Horn Raven's Claw Apple & Boysenberry Mead
Founders Backwoods Bourbon Barrel-aged Scotch Ale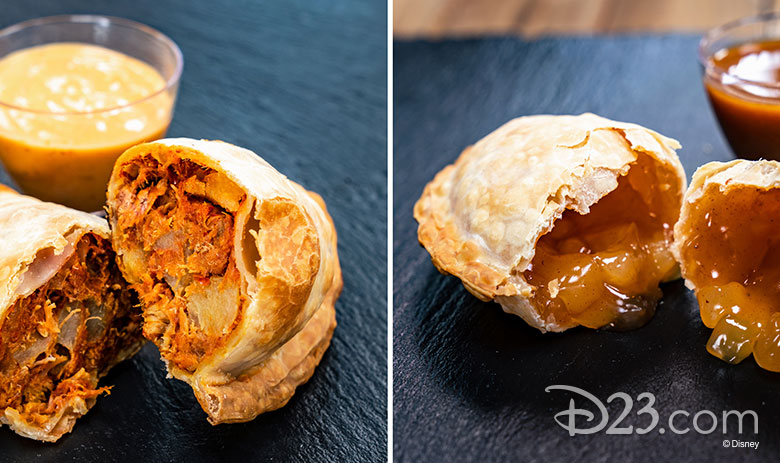 Outdoor Vending Carts
Savory Empanada with Chipotle Crema Sauce
Sweet Empanada with Caramel Sauce
Boardwalk Pizza and Pasta
Chocolate-Hazelnut Cheesecake
Hollywood Lounge
Leading Role Lemonade: Gin with Lavender Lemonade (Alcoholic)
Opening Night Cocktail: Banana Whiskey with Cream Soda (Alcoholic)
Movie Star Mule: Whiskey with Black Cherry and Ginger Ale (Alcoholic)
On Location Libation: Stone Peak Conditions IPA with POG juice (Alcoholic)
Backlot Michelada: Tomato-based Michelada with Modelo (Alcoholic)
Modelo Especial Lager
Hangar 24 Passion Punch Gose
Stone Peak Conditions Hazy Double IPA
Honest Abe Limoncello Hard Cider
Bottle Logic Emerald City Raspberry Piña Colada Hard Seltzer
Supporting Role Lemonade: Lavender Lemonade (Non-Alcoholic)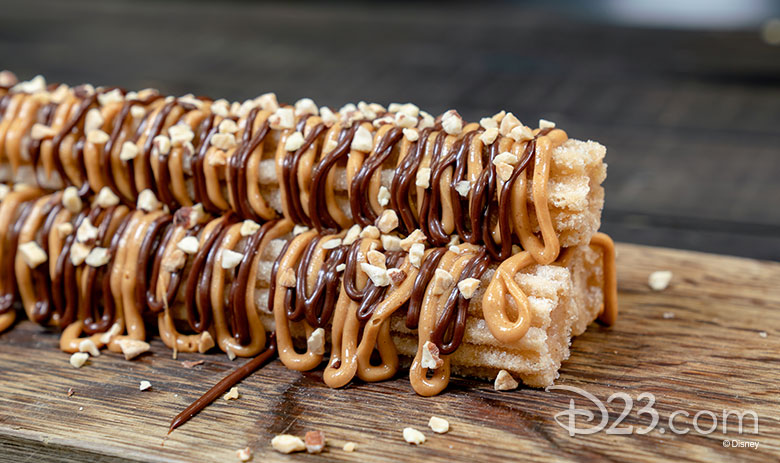 Hollywood Churro Cart
Churro topped with Peanut Butter Cream, Chocolate Icing and Chopped Peanuts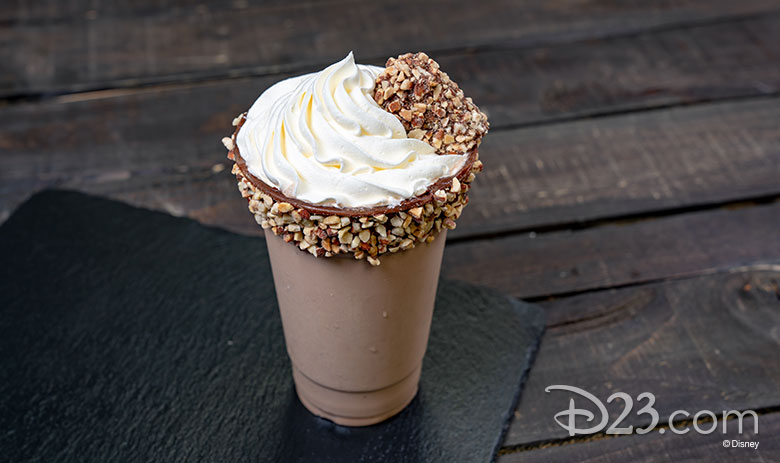 Schmoozies!
Almond Mocha Shake
Almond Mocha Affogato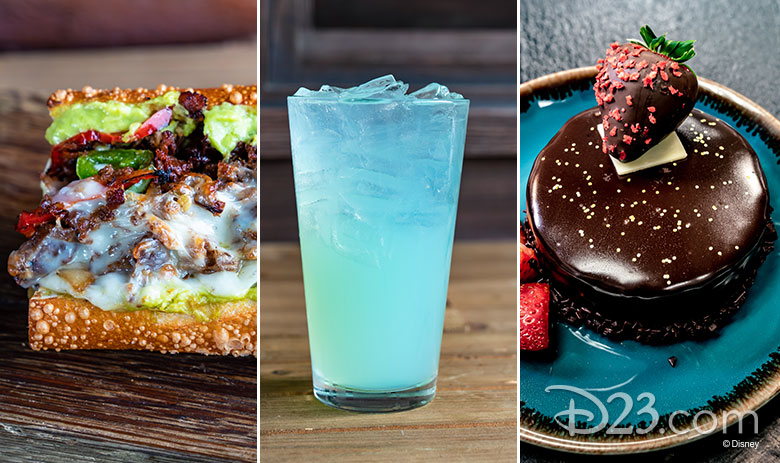 Sonoma Terrace
California Cheesesteak
Italian Meatball Sandwich
Bavarian Pretzel with Cheese Sauce
Triple Chocolate Brownie
Sandy Beach: Green Apple Vodka with flavors of Sea Salt Caramel (Alcoholic)
Catalina Island: Vodka and Passion Fruit with flavors of Raspberry Lemonade and Lime (Alcoholic)
Sparkling Greyhound: Vodka with flavors of Grapefruit, Chamomile and Cardamom (Alcoholic)
Pineapple Passion: White Rum with flavors of Pineapple and Passion Fruit (Alcoholic)
Firestone Walker Rosalie Beer Rosé
Francis Ford Coppola Winery, Sofia, Brut Rosé, Monterey County
Chandon Brut, Sparkling Wine, California
Selection of Craft Beers and Ciders
Pacific Wharf Coffee Cart
Tropicalifornia Tea Cocktail with Berry Vodka, Green Tea, Pineapple and Orange Juices (Alcoholic)
Fruitful Green Tea with Berry, Pineapple and Orange Juices (Non-Alcoholic)
Pacific Wharf Distribution Company
Karl Strauss® Crazy Eyes Doppelbock
Downtown Disney District also created special menu items to celebrate the Disney California Adventure Food & Wine Festival, including Ballast Point Brewing Co., Catal Restaurant, Ralph Brennan's Jazz Kitchen, Splitsville Luxury Lanes, and Salt & Straw.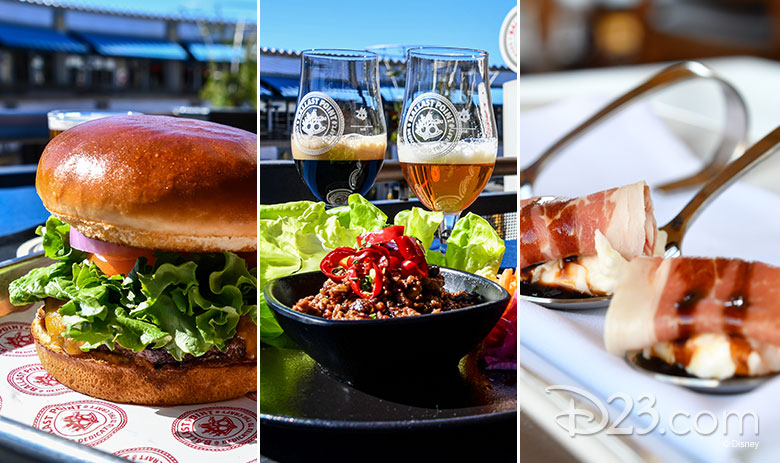 Ballast Point Brewing Co.
Impossible™ Lettuce Cups with Impossible™ Protein, Peppers, Hoisin, Sriracha, Garlic, Lime, Fresno Chilies and Hydroponic Lettuce
The Ballast Point Burger: 8 Oz Kobe & Chuck Blend Patty, Sharp Cheddar, Lettuce, Tomato, Red Onion, House-made Pickles, and Ballast Point Remoulade on a Brioche Bun served with Fries
Cioppino: PEI Mussels, Fish of the Day, Argentinean Shrimp, Spanish Chorizo, Stewed Tomatoes, Chili Flakes, Oregano, Crème Fraiche, Chili Thread, House-Made Pasta and Grilled Baguette
All Three Paired with Designated Beer Flight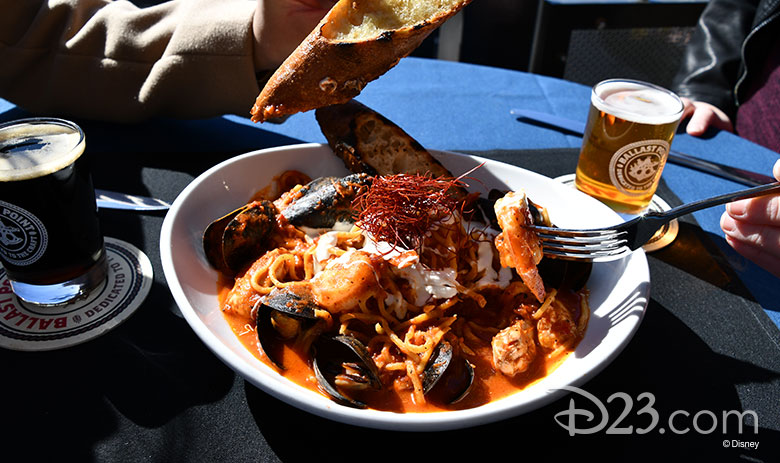 Catal Restaurant
Smoked Salmon Crostini: Whipped Ricotta, Smoked Salmon and Basil Pesto
Burrata: Burrata, Prosciutto, and Balsamic Gastrique
Hand-shucked Oysters with Champagne and Black Pepper Mignonette
Ralph Brennan's Jazz Kitchen
Creole Cobbler with Beefeater Gin, Santenay Crème de Peche, Fresh Lemon Juice, and Orange Bitter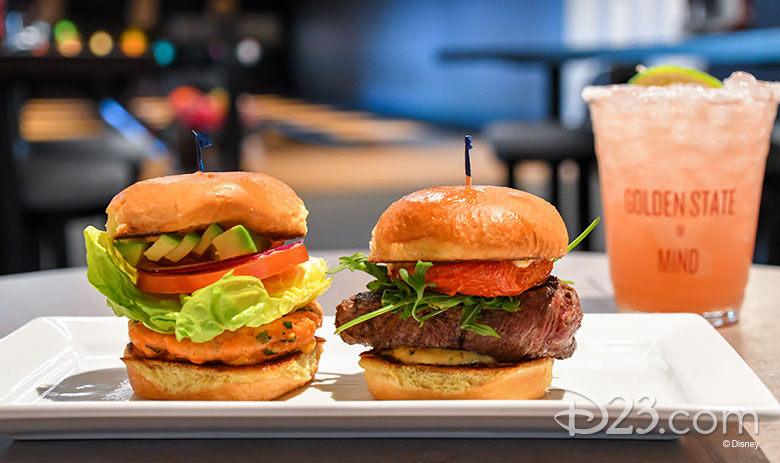 Splitsville Luxury Lanes
Surf & Turf Slider Duo: Salmon Slider featuring House-made Salmon Patty, Sriracha Aïoli, Red Onion, Butter Lettuce and Heirloom Tomato, and Filet Mignon Slider featuring Beef Tenderloin, Béarnaise Sauce, Arugula and Oven-Roasted Tomato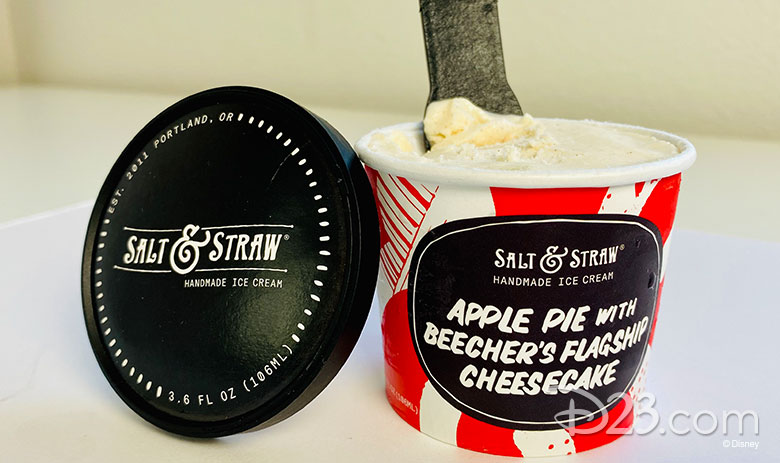 Salt & Straw
Apple Pie with Beecher's Flagship Cheesecake: Warm-spiced Apple Pie Ice Cream with Beecher's Flagship Cheddary Cheesecake
The fun continues with cooking demonstrations from some of the world's best chefs. And, of course, there are plenty of attractions to enjoy at Disney California Adventure. Glide above the Golden State's natural and manmade wonders by experiencing the Soarin' Over California attraction, back for a limited time! The journey begins as the foggy clouds of San Francisco part to reveal the majesty of the Golden Gate Bridge. Explore panoramic views of picturesque locations including Yosemite National Park, Napa Valley, Lake Tahoe, Palm Springs, San Diego, Malibu, Los Angeles, and, of course, Disneyland Park. In addition, Annual Passholders can enjoy an extra hour of ride time at Soarin' Over California—after the park closes—on March 11, 18, and 25.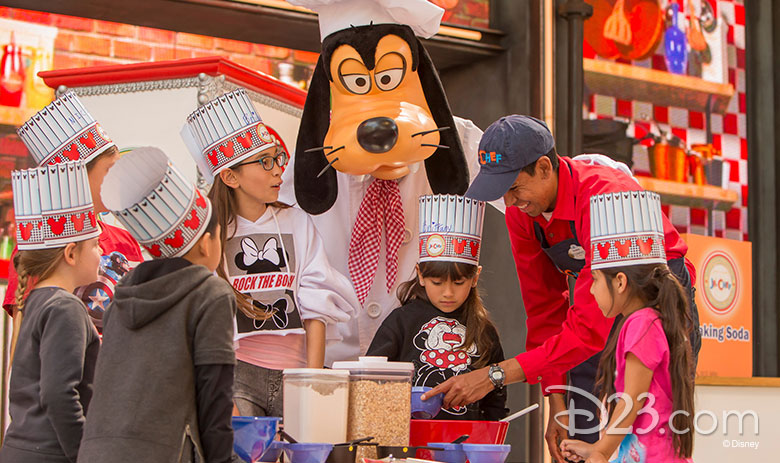 On Fridays, Saturdays and Sundays, celebrate family time with inspiring and interactive 30-minute cooking demos from chef and host Daniella Malfitano. (No samples will be served.) On those days, the Jr. Chef kitchen will also be open. There, under Chef Goofy's silly supervision, kids will follow a special recipe, swirl everything together, and pop their "batter" into the magic oven. They'll then receive a wrapped, ready-to-eat treat. And on Saturdays and Sundays only, don't miss a mini cooking demonstration where guests can meet the farmers, ranchers, and others involved in growing the food we eat.
The following demonstrations will also be held at the Backlot Stage in Hollywood Land:
February 29: Brian Malarkey (celebrity chef)
March 1: Alex Flores (chef de cuisine, Carthay Circle Restaurant, Signature Dining)
March 7: Nyesha Arrington (celebrity chef)
March 8: Gracie Gomez (pastry sous chef, Disneyland Resort)
March 14: Richard Blais (celebrity chef, restauranteur, and author)
March 15: Amy Benson (chef, Star Wars: Galaxy's Edge)
March 2: David Burtka (celebrity chef and actor)
March 22: Johnny Sequro (area chef, Lamplight Lounge)
March 28: Wing Lam (celebrity chef and restauranteur)
March 29: Jorge Sotelo (executive pastry chef, Disney's Grand Californian Hotel & Spa)
April 4: Shaun O'Neale (celebrity chef)
April 5: Marcel St. Pierre (chef de cuisine, Disneyland Hotel)
April 11: Jet Tila (celebrity chef and restauranteur)
April 12: Markus Meza (candy maker, Disneyland Resort)
April 18: Jamie Gwen (celebrity chef, radio host, and lifestyle expert)
April 19: Chris Maggetti (executive chef, Disneyland Park) and Gary Maggetti (general manager, Disney California Adventure Park)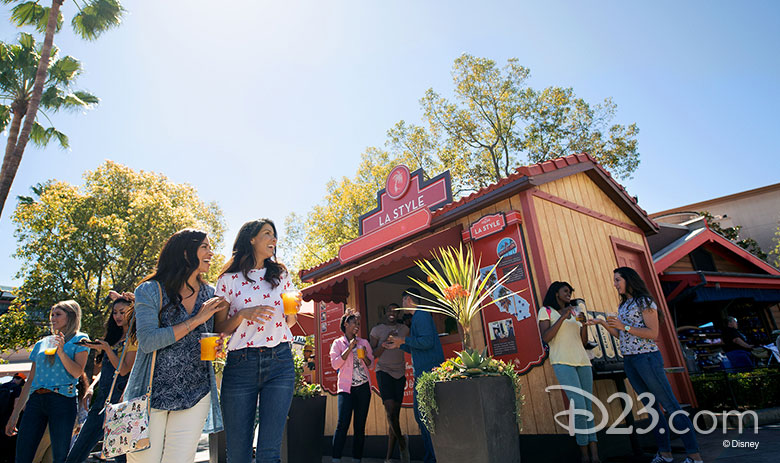 From spirit jerseys to pepper mills, you can commemorate the 2020 Disney California Adventure Food & Wine Festival with exclusive merchandise made just for Disney foodies! Head over to Festival Gifts (on the Performance Corridor, near Seaside Souvenirs), Studio Store, and Elias & Co. to explore all of the limited-time offerings.