By Zach Johnson
This Friday at 7:30 p.m. ET/PT, Disney Channel will unveil an all-new, half-hour music special, Disney Princess Remixed – An Ultimate Princess Celebration, coinciding with World Princess Week. Narrated by social media sensation Txunamy Ortiz, it will celebrate the empowering attributes of Disney princesses and queens through pop, rock and R&B performances of their iconic songs. Tune into see Dara Renée and Frankie Rodriguez perform "Into the Unknown" from Frozen 2; Julia Lester perform "Home" from Beauty and the Beast; Reneé, Ruth Righi, and Izabela Rose perform "Almost There" from The Princess and the Frog; and Sophia Hammons perform "Part of Your World" from The Little Mermaid.
Grammy® Award winner Brandy will also debut her music video for "Starting Now," the anthem for The Walt Disney Company's year-long event, Ultimate Princess Celebration, which spotlights the courage and kindness that Disney heroines inspire in fans all over the world. Plus, Walt Disney Records has already released a single from the special, "Into the Unknown (Disney Princess Remixed)," with two more songs available on Friday, August 27.
Disney Channel's Princess Night will kick off with a special presentation of the Disney films Tangled at 4:05 p.m. ET/PT and Frozen at 5:45 p.m. ET/PT. Immediately following the special, a new princess-themed episode of Disney's Magic Bake-Off will air at 8 p.m. ET/PT. The special will also be available on Disney+ same day in select markets, including the U.S.
Before the premiere of Disney Princess Remixed – An Ultimate Princess Celebration, four stars—Hammons, Reneé, Righi, and Rose—are taking us behind the scenes of the special.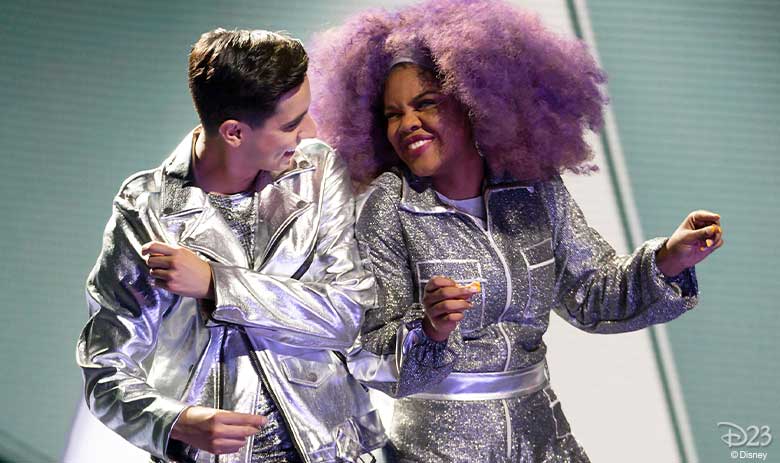 D23: The Ultimate Princess Celebration celebrates the courage and kindness Disney heroines inspire in fans around the world. Which Disney Princess inspires you most?
Sophia Hammons (SH): It's hard to choose which Disney Princess inspires me most because they're all so great, and each Disney Princess shares the same admirable trait: They all have a dream and the courage to pursue it. If I had to choose one, I would say that the Disney Princess that inspires me most is Raya. Raya is a brave and determined young woman who knows what she wants, and when faced with an obstacle, she does her absolute best to overcome it. She's an amazing leader, and something I really admire about her is that she's willing to work with a team. Throughout the movie Raya and the Last Dragon, she makes new friends and learns to trust others in order to bring back Kumandra. Raya is a very special Princess to me, not only because of her amazing qualities, but also because she's Southeast Asian, and it's always awesome to feel represented by a Disney Princess.
Izabela Rose (IR): I would vote for Princess Tiana because she is hardworking, optimistic, and never gave up on her dreams. This inspires me to reach for all of mine, as well.
Ruth Righi (RR): One of the most inspiring Disney Princesses to me is the one and only Mulan. She represents the classically kind, giving, curious, powerful, and passionate traits of a princess while also representing her own unmatched courage and style.
D23: Dara, how do you relate to Princess Tiana?
Dara Reneé (DR): Princess Tiana has been such a role model for me—not only for her representation, but also for her determination, wisdom, and power. She knows what she wants in this world, and she goes after it! I'm so glad that I had someone that exudes greatness to look up to.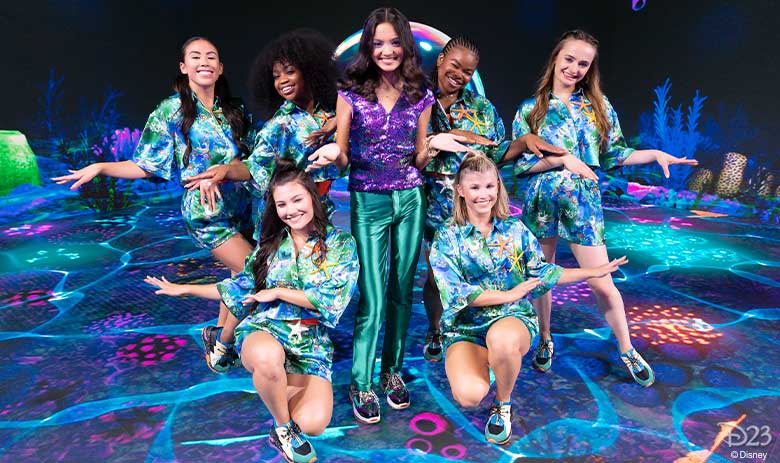 D23: How did each you approach your performance?
SH: I approached this performance with the inspiring curiosity that Ariel has in the song "Part of Your World." The song is all about dreaming of a different and better world and then going after that dream. I want other boys and girls when watching my performance to understand that it's OK to be adventurous and explore the world in search of something more. At times change can be scary, but this performance shows that it's worth the risk.
RR: I tried to approach the performance with the same love, excitement, and dedication that I know Tiana would have had. Now, I am just waiting at the edge of my seat to see the finished performance.
D23: Sophia, how does it feel to make your Disney Channel debut in this special?
SH: Even though I filmed Under Wraps before filming Disney Princess Remixed – An Ultimate Princess Celebration, it's amazing that this can be my Disney debut. I love the Disney Princesses, and this special is really going to encourage young kids to overcome some of the challenges we've faced in recent times, but also give them something to sing and dance along to! (Editor's note: Under Wraps will debut October 1 on Disney Channel.)
D23: Dara, can you share any behind-the-scenes moments from filming "Into the Unknown" with your High School Musical: The Musical: The Series co-star Frankie Rodriguez?
DR: Rehearsals were so fun with Frankie! We couldn't stop laughing and cracking jokes 24/7! Also, we FaceTimed each other while we were recording our vocals and competed over who was Anna and Elsa! Working with Frankie was like a dream, and I can't wait for y'all to see what magic we created!
D23: Izabela and Ruth, what makes your version of "Almost There" with Dara different from the original?
IR: There is a mixture of current and poppy kind of beats, along with that New Orleans swag sound, and a twist of gospel, as well.
RR: The new remixed and modernized version of "Almost There" takes an iconic Disney classic and reimagines it to add a layer of magic to an already beautifully empowering song. Everything from the horns to the dancing is perfectly presented in Tiana's trademark yellow theme.
D23: What makes "Almost There" such a fan-favorite Disney song?
IR: We all need some inspiration to keep moving forward, especially with everything going on in the world today—and the verses in "Almost There" encourage us to never give up. Every second, every minute, and every day you are one step closer to reaching your goals.
RR: "Almost There" is an inspiring and empowering song that I am beyond lucky to perform alongside Dara and Izabela. I think it is so loved because it represents what it means to have a dream, be passionate, and have hope.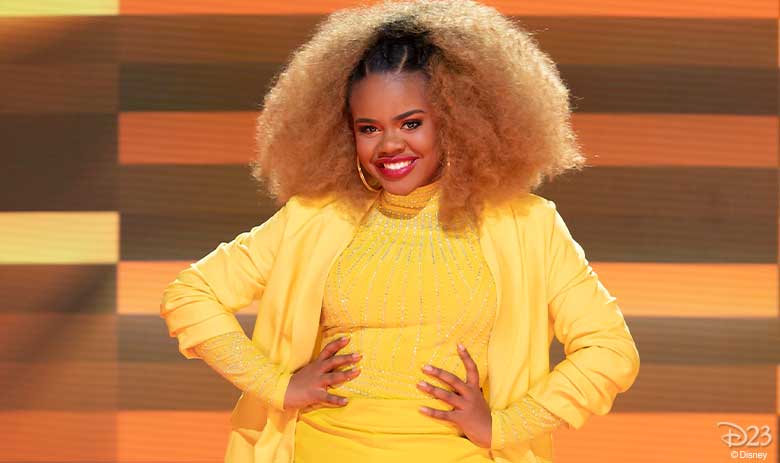 D23: Sophia, why do you think "Part of Your World" has been a fan-favorite since 1989?
SH: I think "Part of Your World" is so beloved more than 30 years later because of its message about facing your fears and believing in yourself, which anybody at any age can relate to. Curiosity and adventure are inspiring!
D23: What do you hope Disney fans take away from this special?
RR: I really hope that you all love the show as much as we do and, after watching, feel capable of achieving anything. I hope you all feel strong, courageous, and inspired, because each and every one of you has the ability to do amazing things.
D23: Izabela, what is your favorite memory from your performance?
IR: I will never forget the feeling of just stepping on the set for the first time to shoot the music video. Even though we had recorded our vocals separately, when we came together in person there was this kinetic energy between us all. It was so big, and so beautiful. I think we did a really good job of bringing Princess Tiana's spirit to life in 2021.