By Matt Moryc, Walt Disney Archives
If you grew up watching television in the 1980s and 1990s, there is an objective argument to be made that some of the greatest family sitcoms of all-time were produced during this era. The American Broadcast Company(ABC) was at the forefront of this golden age of adolescent television with their Friday night programming block titled TGIF (short for "Thank Goodness It's Funny"). Debuting in 1989, TGIF became a staple in millions of homes across America, and would continue to be throughout 1990s as audiences tuned in weekly to watch classic shows such as Full House (1987-1995), Boy Meets World (1993-2000), Step by Step (ABC: 1991-1997; CBS: 1997-1998), and Sabrina the Teenage Witch (ABC: 1996-2000; WB: 2000-2003).
For Disney fans, these titles are memorable not only for their place in ABC history, but also for the episodes each show filmed at Walt Disney World Resort. The idea to send family sitcoms to the vacation kingdom could not have come at a better time for The Walt Disney Company as it was in the midst of vastly expanding its hold on '90s popular culture with a string of hit animated films and new theme park attractions that were ripe for promotion via television programming created for families.
One of the most fondly remembered TGIF sitcoms is Family Matters (ABC: 1989-1997; CBS: 1997-1998), a show about the Winslow family and their brilliant but annoying neighbor, Steve Urkel. The series gained popularity on the strength of the character, who Jaleel White performed to geeky perfection. His portrayal of the nerd archetype cemented Urkel's place in pop culture history via catch phrases—"Did I do that?"—and a stream of merchandise including a board game, lunchbox, and the proverbial pull-string doll.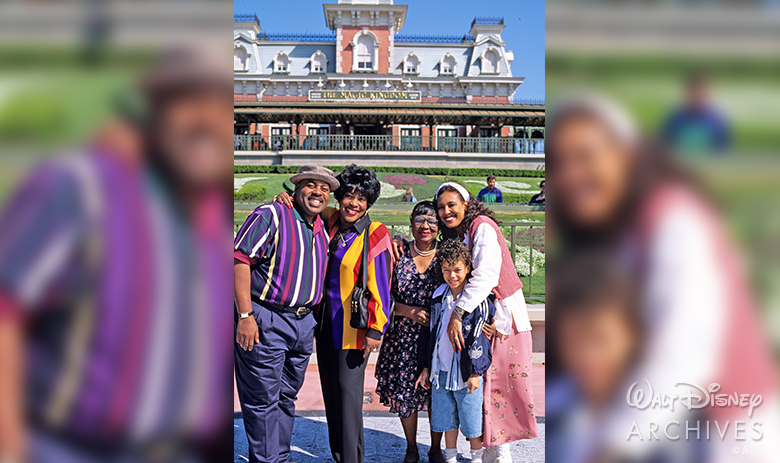 In early March 1995, the cast of Family Matters traveled to Central Florida to begin filming a two-part episode at Walt Disney World. The story begins with Urkel discovering he won a trip to the finals of Amateur Inventors Weekly's Annual National Contest, thanks to his transformation chamber—a device created the season prior that gives Steve the ability to change his DNA and become Stefan Urquelle, the suave and sophisticated alter ego version of Urkel. Because Steve is allowed to take whomever he wants to the contest, he chooses the entire Winslow family to join.
This news excites Laura Winslow (Kellie Shanygne Williams), who still has feelings for Stefan after a previous fling between the two ended when Stefan changed back into Urkel.
While at the contest, held inside the former Innoventions at EPCOT, Laura sabotages Steve's transformation chamber after he changes into Stefan—giving her more time to spend with the man who adores her. Stefan vows to fix the machine but needs a couple of days to do so. Meanwhile, the family patriarch, Carl Winslow (Reginald VelJohnson), becomes so unexpectedly entranced by the magic of Walt Disney World that he decides to quit his job and move the family to Orlando. It's a decision he later reverses thanks to his wife Harriet (Jo Marie Payton), who makes him realize he cannot walk away from the police job he loves back in Chicago.
After spending days romancing each other, Stefan and Laura become engaged to be married. The news comes at a bad time as Myra (Michelle Thomas), Urkel's overzealous and sweet girlfriend from Chicago, surprises Steve at EPCOT… only to find out he's changed into Stefan and will be marrying Laura. Myra then declares its over between them before storming off and seeking comfort from the nearby Winnie the Pooh. The blowup causes Laura to call off the engagement and confess to undermining the transformation chamber. Stefan pleads with Laura, but she admits she cannot be with someone based on a lie. This act of truth convinces Stefan to change back into Steve Urkel, resuming his life as über nerd, and Myra's main squeeze.
Thanks to our partners at ABC, we hope you enjoy these publicity photos taken during the filming of the 1995 Family Matters episodes "We're Going to Disney World, Part I," and "We're Going to Disney World, Part II," now available to stream on Hulu.
Celebrate even more Walt Disney World nostalgia with the 2021 D23 Gold Member Collector Set, exclusively available to D23 Gold Members!