By Matt Moryc, Walt Disney Archives
If you grew up watching television in the 1980s and 1990s, then you might agree that there is an objective argument to be made that some of the greatest family sitcoms of all-time were produced during this era. The American Broadcast Company (ABC) was at the forefront of this golden age of television with their Friday night programming block titled TGIF (short for "Thank Goodness It's Funny"). Debuting in 1989, TGIF became a staple in millions of homes across America, and would continue to be throughout the '90s as audiences tuned in weekly to watch classic shows such as Full House (1987-1995), Boy Meets World (1993-2000), Family Matters (ABC: 1989-1997; CBS: 1997-1998), and Step by Step (ABC: 1991-1997; CBS: 1997-1998).
For Disney fans, these titles are memorable not only for their place in ABC history, but also for the episodes each show filmed at Walt Disney World Resort. The idea to send family sitcoms to the vacation kingdom could not have come at a better time for The Walt Disney Company as it was in the midst of vastly expanding its influence on '90s popular culture with a string of hit animated films and new theme park attractions that were ripe for promotion via television programming created for families.
In 1996, a spellbinding new show joined the TGIF line up with the debut of Sabrina the Teenage Witch, starring Melissa Joan Hart, Caroline Rhea, and Beth Broderick. Sabrina Spellman (Hart) is a teenager who discovers on her 16th birthday that she comes from a lineage of witches with magical powers. Both of Sabrina's aunts, Hilda Spellman (Rhea) and Zelda Spellman (Broderick), also witches, provide Sabrina with the moral compass and guidance required to teach her how to harness these newfound magical abilities. And let's not forget Salem (voiced by Nick Bakay), a talking cat and friend to Sabrina.
In early March 1998, during production of the show's second season, the cast traveled to Walt Disney World Resort to film an episode at Disney's Animal Kingdom Theme Park—one month before the park's grand opening on April 22, 1998. The episode aired soon thereafter on April 24, 1998.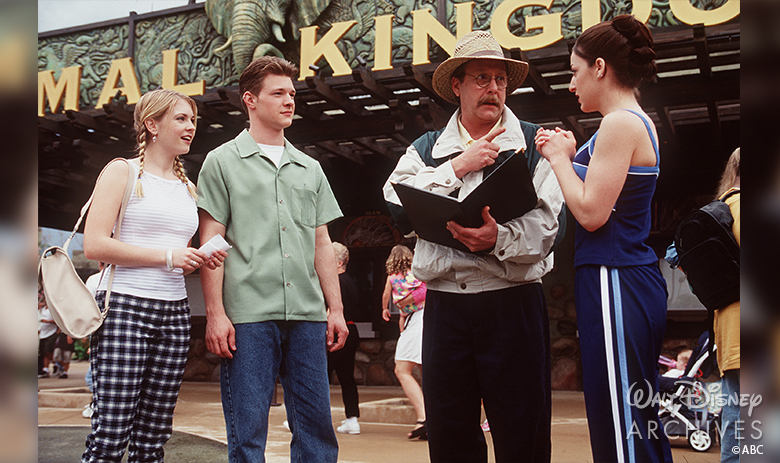 In the episode titled "Disney World," Sabrina's class goes on a field trip to Disney's Animal Kingdom thanks to some mind control magic applied to Principal Kraft (Martin Mull) by the Quiz Master (Alimi Ballard), a fellow witch that is tasked with helping Sabrina complete her witch's license. The Quiz Master tells Sabrina that in order to get one step closer to her license, she needs to learn how to create a potion to turn herself into an animal (convenient, considering how many species exist at Disney's Animal Kingdom!). Meanwhile, Sabrina's two aunts are also traveling to Florida, but as class chaperones. Hilda insists the first thing they do when they arrive is to ride all of the thrilling attractions, but Zelda convinces her they should first check out a paleontological dig happening at The Boneyard in the DinoLand U.S.A. area of Disney's Animal Kingdom.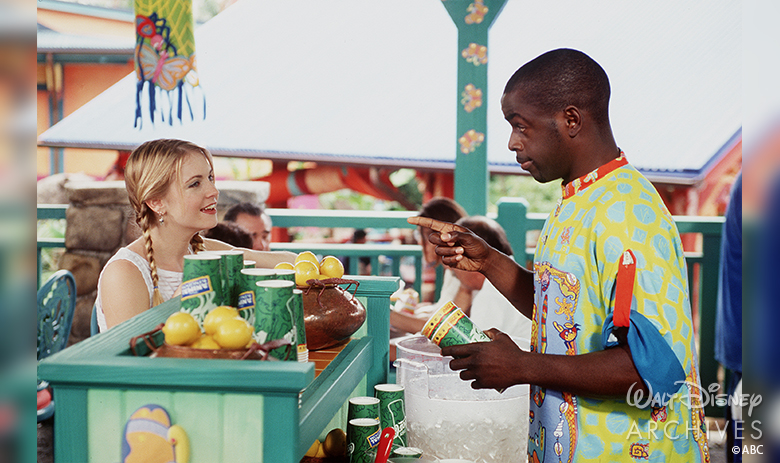 True to sitcom form, each storyline plunges into chaos as magical mix-ups occur at every turn: Hilda turns Sabrina's crush Harvey (Nate Richert) into a cast member at Kilimanjaro Safaris to ensure that cheerleader antagonist classmate Libby (Jenna Leigh Green) can't flirt with him; Zelda finds an ancient human bone at The Boneyard and uses her magic to turn it into a caveman; and Sabrina's best friend Valerie (Lindsay Sloane) and Libby accidentally drink the animal potion, turning themselves into zebras. Of course, by episode's end everything is resolved as Libby, Nate, and Valerie return to their normal state with no memory of what happened to them; Sabrina passes her witch's exam; and Zelda and Hilda teach the caveman a smidge of English and turn him into a cast member selling refreshments at Disney's Animal Kingdom. If you think that synopsis was strange—which it definitely is—don't miss out on watching the episode for yourself on Hulu.
As a bonus—and a thank you for making it all the way through such a totally quirky article— here is a selection of publicity images courtesy of ABC from the television special Walt Disney World's 25th Anniversary Party, hosted by Melissa Joan Hart and Will Friedle, star of Boy Meets World. The special aired on ABC on February 28, 1997, and included special guest appearances by Drew Carey, Michael J. Fox, Rosie O'Donnell, Jeff Daniels, Donna Summer, Gloria Estefan, and The Village People.
Celebrate even more Walt Disney World nostalgia with the 2021 D23 Gold Member Collector Set, exclusively available to D23 Gold Members!