By Ryan March
Boys and girls of every age: Wouldn't you like to see something strange? Come with us and you will see, a Magic Kingdom Halloween!
With headless horsemen dangling from their drinks and with their churros anchored in what appear to be bags of bugs, Walt Disney World guests are embracing the spirit of the season at Magic Kingdom Park, where D23 got a firsthand look at the ghoulish delights.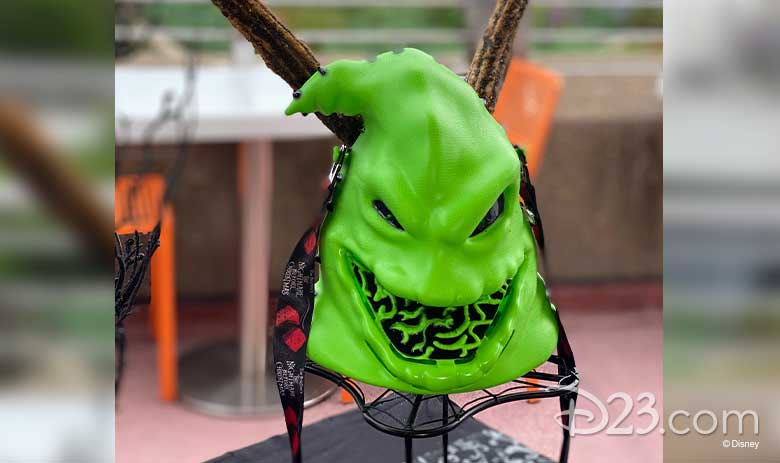 The aforementioned churros, coated this season in orange and black sugar, are available as an option with a new novelty bucket inspired by Oogie Boogie, the burlap bag-o-bugs that creepily crawled to fame in Tim Burton's The Nightmare Before Christmas. That same bucket is available with popcorn, joining a fall lineup of collectible popcorn buckets that also includes crafty containers inspired by Mickey Mouse (in jack-o'-lantern form) and those Hitchhiking Ghosts who follow you home from the Haunted Mansion. (Even if you already have 999 buckets in your popcorn collection… there's always room for a thousand.)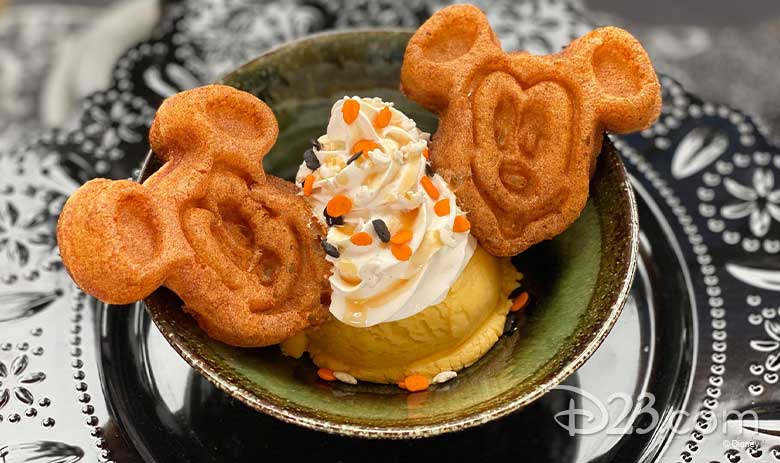 For those who define the seasons as winter, spring, summer, and pumpkin spice, the park has you covered. Our favorite pumpkin-spice discoveries were the Pumpkin Spice Waffle Sundae at Sleepy Hollow Refreshments in Liberty Square, where vanilla ice cream, whipped cream, a salted caramel drizzle, and sprinkles top pumpkin spice Mickey waffles; and the Pumpkin Spice Milkshake at Auntie Gravity's Galactic Goodies in Tomorrowland, where the pumpkin-spice ice cream blend is topped with whipped cream, a caramel drizzle, sprinkles, and a Mickey marshmallow straw.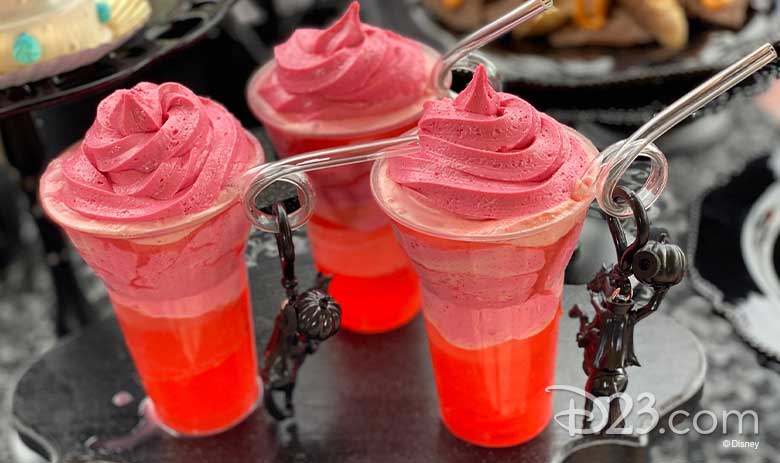 Among the other sweet treats that made us lose our heads was the Headless Horseman Rides Again beverage served this season at Sunshine Tree Terrace in Adventureland, adorning a concoction of Strawberry DOLE Whip soft serve and Fanta Strawberry soda with a Headless Horseman straw. And in Fantasyland, the Poor Unfortunate Souls float at Storybook Treats—a Coke float with cream cheese soft serve and black raspberry syrup, topped with a sugared crown and pearls—left us ready to do business with a sea witch.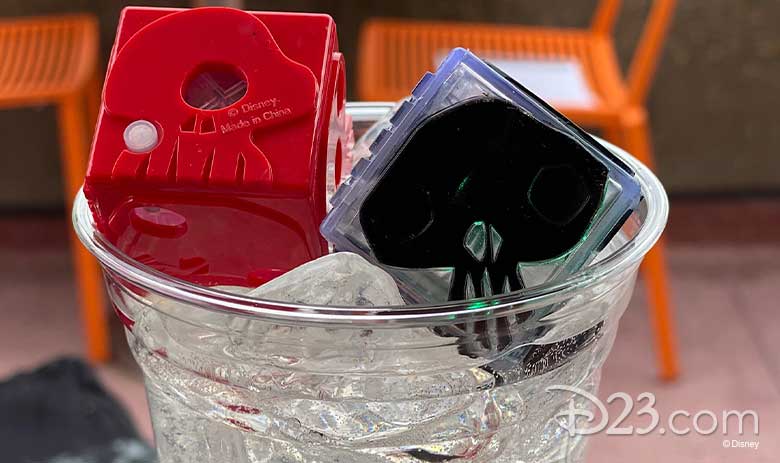 By the way, among the tips we followed during our sugar rush through the park was this novelty nugget: Guests may add Oogie Boogie Dice glow cubes to fountain beverages at many of the park's quick-service restaurants. We didn't get the complete list of restaurants, so you'll have to try your luck. (See what we did there?)
We've only scratched the surface of the fall food menu, which also features such savory selections as the Mickey Monster Mash Burger (topped with Muenster cheese, potato barrels, bacon, and a sriracha aioli) and Hades Nachos (black bean nacho chips topped with fiery buffalo chicken, lettuce, tomato, sour cream, salsa, and jalapeno)—both served in Frontierland at Pecos Bill Tall Tale Inn & Cafe.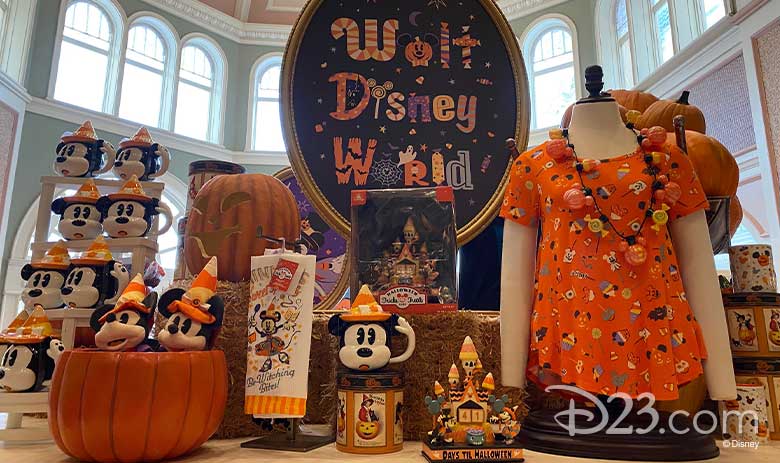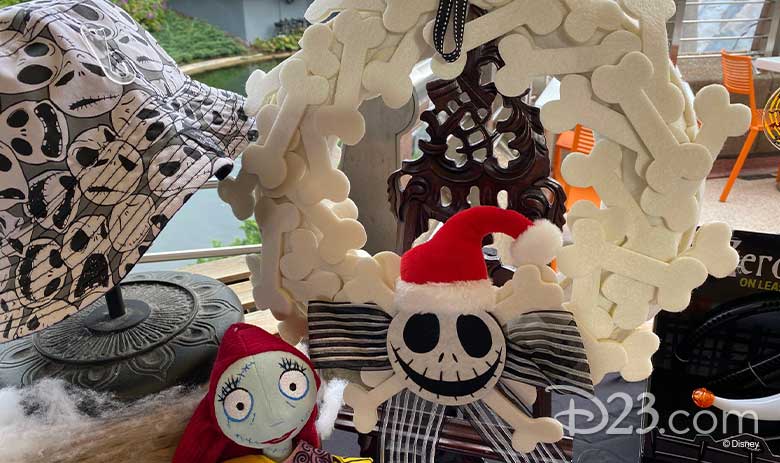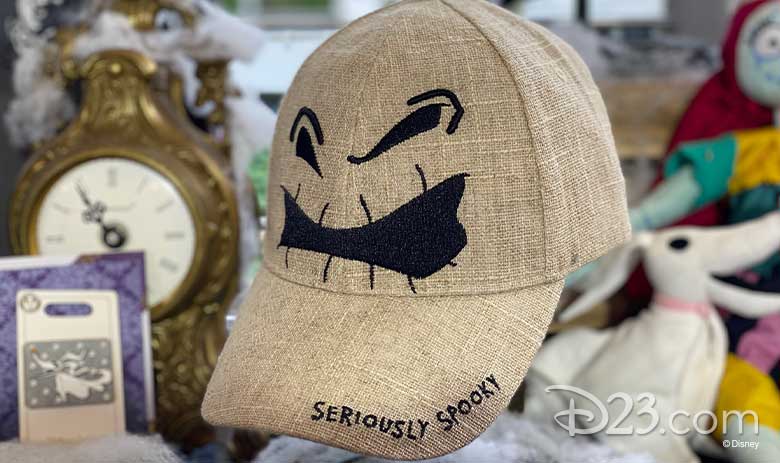 As you complete your own fall food quest, be sure to stop for shopping, as the park has debuted dozens of new items celebrating Halloween (Mickey and Minnie go candy corn crazy in some of the most popular new items), the Haunted Mansion (including chew toys and harness costumes for dogs!), and Tim Burton's The Nightmare Before Christmas (we dig the details of the Oogie Boogie burlap cap, and as transitioning from Halloween to Christmas is a home décor chore, we love the longevity of the Jack Skellington bone wreath).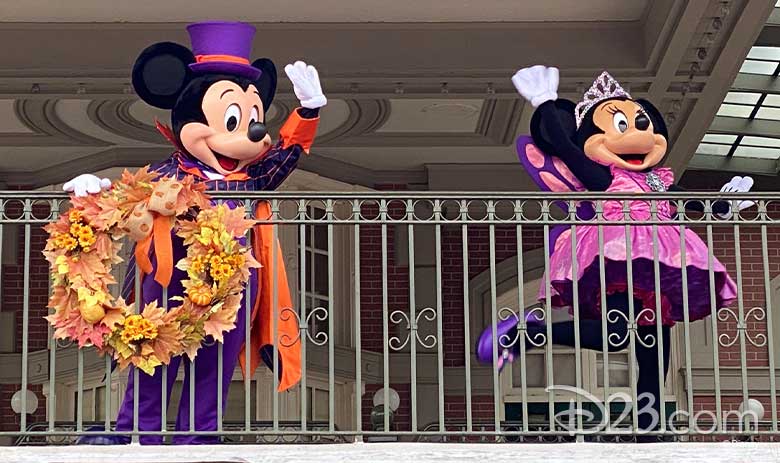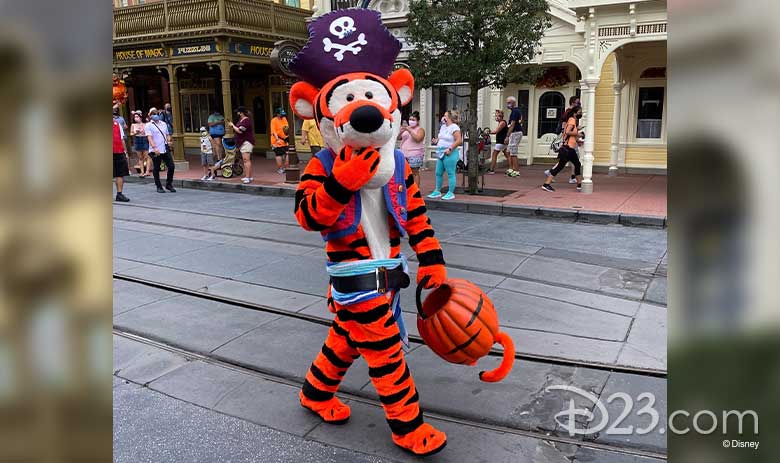 And you never know who may show up to celebrate the season during your day in the park. We were surprised by Mickey and friends in fall fashions, waving to us from the Walt Disney World Railroad's Main Street Station, Halloween-costumed Winnie the Pooh and friends following the trolley right down the middle of Main Street, U.S.A., and Jack Skellington and company (including the oft-mentioned Oogie Boogie) carrying on in a cavalcade near Cinderella Castle. We appreciated the spontaneity of these surprise appearances, which made us feel like we were spotting stars in Hollywood (only these stars were delighted by our cameras).
There's plenty more to consume this Halloween season in the vacation kingdom—from popcorn in a Green Cauldron at EPCOT to the Rotten Apple Punch (Angry Orchard Hard Apple Cider and Fireball Cinnamon Whisky over ice, garnished with a poison apple glow cube and gummy worms) at Flame Tree Barbecue at Disney's Animal Kingdom Theme Park to the Box of Bones Chocolate Éclair at Backlot Express at Disney's Hollywood Studios—but before our blood sugar level sets a new high score, we're going to take a salad break.