By Jocelyn Buhlman
Christmas came early! Don't look at your calendar; just fill your eyes with the festive fun from the world premiere of The Santa Clauses. The new Disney+ Original series follows Scott Calvin (Disney Legend Tim Allen) as he considers retiring from his holly jolly day job to be a better father and husband. But can he find someone to fill his iconic snow boots?
The series premieres Wednesday, November 16, on Disney+ with two episodes, and to celebrate on Sunday, Disney+ transformed the Walt Disney Studios in Burbank into the North Pole, rolling out a snowy white carpet for the series premiere.
One theme from the cast and crew that was emphasized all night? This series is here to spread holiday cheer. "We wanted to bring a little joy to the world," explained executive producer Jack Burditt, dressed in a Santa-themed Hawaiian shirt perfect for a California Christmas.
Executive producer Jason Winer added, "The show is about reconnecting with each other, and it's also about learning to emphasize giving instead of receiving."
Part of the reconnecting includes the Clauses themselves. Winer explained, "At the end of the last movie, 16 years ago, Mrs. Claus went into labor, and now that kid is a 16-year-old almost-man. So, now Santa has a family. We're exploring the idea of the Clauses as a family, and that's what makes this a series instead of a movie."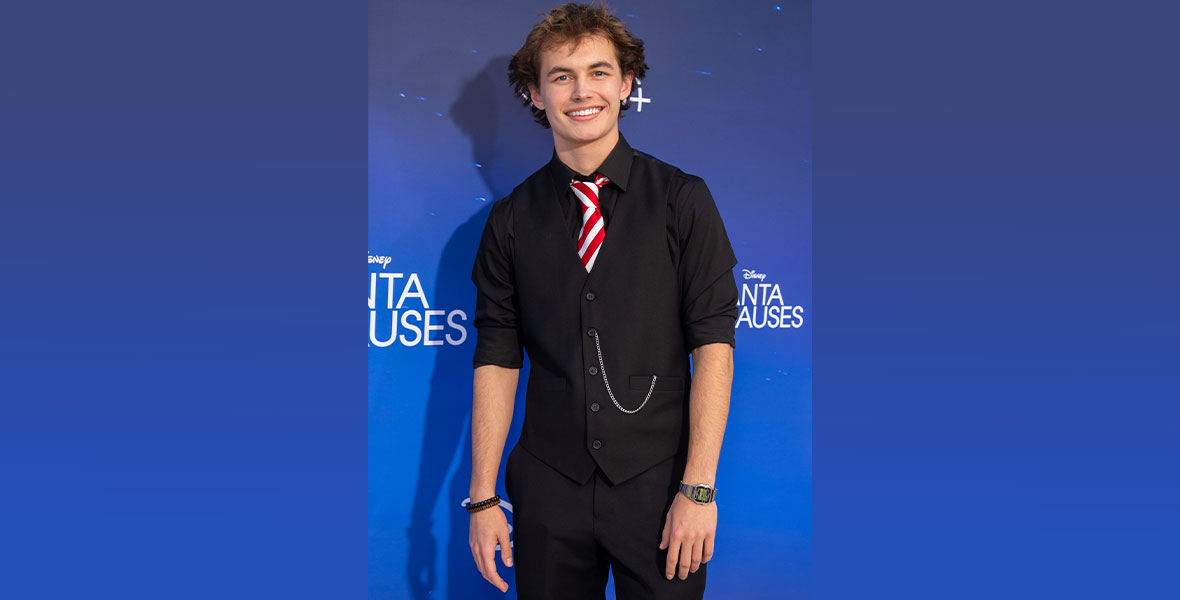 Speaking of that 16-year-old almost-man, newcomer Austin Cane gave us the inside scoop on his character, Cal: "He's the son of Santa Claus and he's a little odd kid who's never left the North Pole and doesn't know much about the real world." Just because all he knows is snowy slopes and elves doesn't mean he's afraid to explore. Cane explained, "He's up for anything! He's an emotional wreck, but he's up for anything!"
Also joining the franchise is Laura San Giacomo, who plays La Befana—also known as the Christmas Witch! "La Befana is the Christmas Witch who comes on the Epiphany, which is January 6 in the Italian tradition," San Giacomo told us. "She brings sweets and candy to the good little boys and girls in a sock or stocking and coal to the ones who have not been so good." How does one prepare to play a literal witch? For San Giacomo, it involved not just a lot of research into Italian fables and history: "I also watched a lot of Italian cooks cooking to get into the mood."
In The Santa Clauses, the Calvins now have two children: Cal, who was the child Mrs. Claus carried in The Santa Clause 3, and Sandra, who was born during the time between the third film and now. Who was the perfect choice to play Allen's onscreen daughter? How about… his actual daughter?!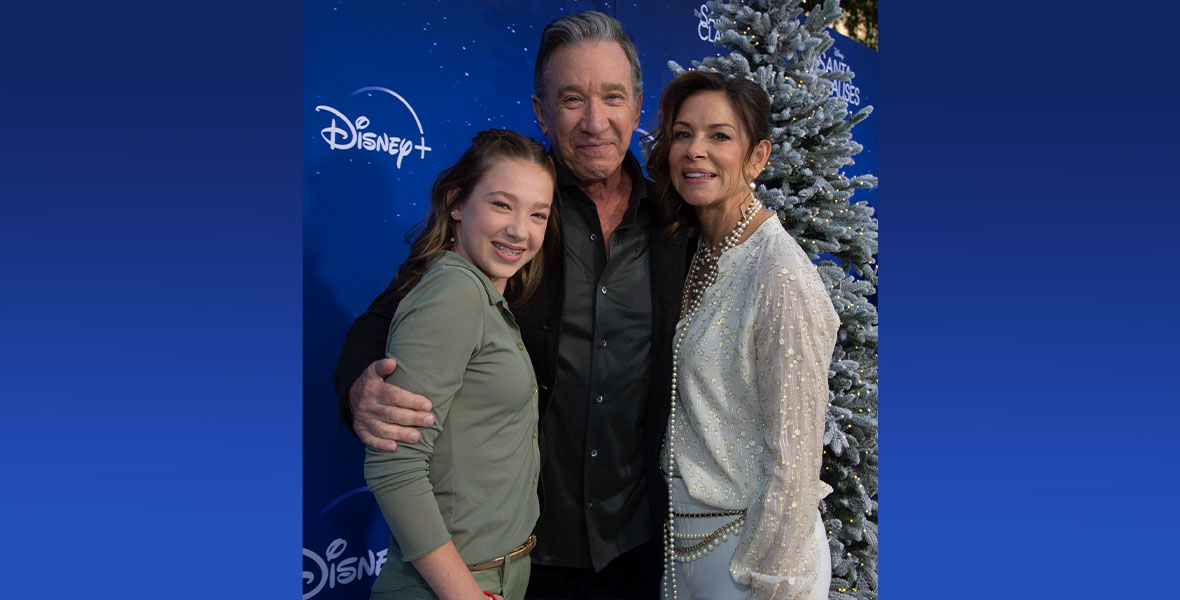 "I can't explain how convoluted that process was," Allen told us about his daughter's casting. "It was supposed to be a little gift—to be an elf!" That small elf role quickly turned into Elizabeth Allen-Dick getting a bigger part as Sandra Calvin. "It was indescribable," Allen said of acting alongside his daughter.
For Allen-Dick, Christmas is a big deal. She told reporters how every year she watches all three Santa Clause films and wakes her parents up at 6 a.m. on Christmas. You can imagine how she must feel having Santa Claus as her dad. "I don't have a word for it," she told us. "I guess the best I can say is that it's an honor. It's an honor to have a dad who inspires so many people."
Allen expressed a similar sentiment to the fact that, for many people, he is literally Santa Claus: "I'm overwhelmed. I'm humbled by it. It wasn't my intention. The movie was written well, directed well, and produced well. I'm grateful to be part of it."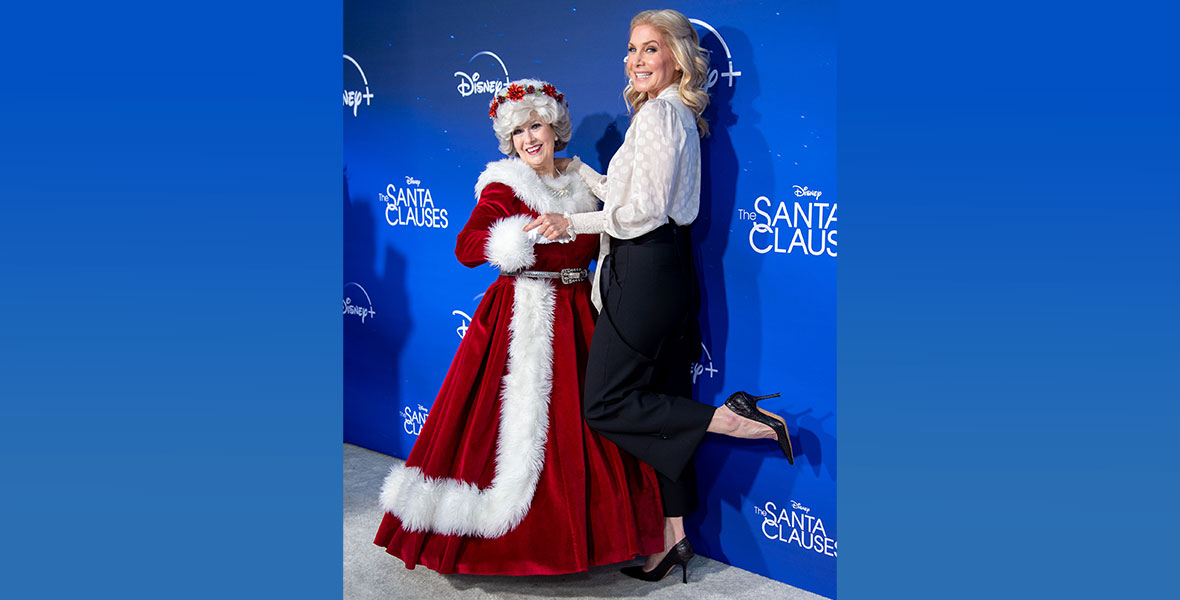 The Claus family isn't complete without Mrs. Claus! Elizabeth Mitchell was in a merry mood on the carpet, telling us, "I think that to have this all come back up again has been such a gift." She was delighted to return to the role, explaining, "It's a joy! I never thought it would happen."
While we know some general details of the series—the trailer hilariously reveals that Peyton Manning interviews to be Santa, for one—there's still much that's unknown to fans. Burditt teased, "All the writers are just fans of the series. We all love the movies but there's questions I felt we all had: Was there a Mrs. Claus before? Did the guy who fell off of Scott Calvin's roof have a wife?"
That's right—the series is diving into the lore of the Santa Claus universe. "This is interesting—can Santa retire? Do we even know?" Burditt asked.
We can't wait to watch the series to find out—and Allen is just as impatient. "I can't wait for people to see it," he told us. "That's why I do anything."
Check out more of the merriment from the Santa Clauses world premiere in the gallery below.