By Zach Johnson
In Disney and Pixar's new film, Turning Red, the relationship between Mei (voiced by Rosalie Chiang) and her slightly overbearing mother, Ming (voiced by Sandra Oh), is, well… complicated. It's a dynamic director Domee Shi knows firsthand—and one she was keen to explore onscreen. "Back in 2017, as I was promoting my short film Bao, a lot of people kept asking me, 'Why is this little dumpling a boy?'" Shi recalls. "I would reply, 'Oh, because I only had eight minutes to tell this story. For a mother-daughter story, I'd need an entire feature film to unpack that.'" Her response turned out to be prescient, because around that time, Shi got to pitch three feature-length film concepts. "All of my ideas were coming-of-age teen girl stories, because that was something I was super passionate about telling," Shi explains. "At the time, it wasn't something that I saw a lot of in media or in animated films."
The idea for Turning Red "was the most personal to me," adds Shi, noting that it also resonated with Pete Doctor, Chief Creative Officer for Pixar Animation Studios, and the Pixar Brain Trust. "It was weird and very specific. At the end of the day, that's what draws people to these ideas and stories. It was inspired by my own relationship with my mother."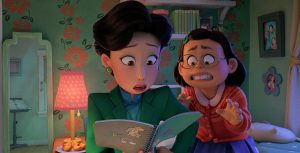 Naturally, Mei shares many qualities with her creator. The 13-year-old is confident, dorky, and torn between being her mother's dutiful daughter and becoming her own person. "Like Mei, I'm an only child," says Shi. "I was always super close to my parents—especially my mom—since my dad had to go away for work often. It was just the two of us. We did everything together. We commuted together to work and to school in downtown Toronto. We went on mother/daughter bus trips and vacations. But then, as all kids do, I started to grow up. I started changing. I started getting into anime and comics. I hung out with my friends more and more, and less and less with my mom. She didn't understand why I was obsessed with these fictional characters with huge eyes and colorful, spiky hair! I was being pulled in one direction, but my duty and my loyalty to my mom was pulling me in another."
However, unlike Mei, Shi didn't ever "poof" into a giant red panda whenever she got too emotional—which, for a teenager, happens practically all the time. In the film, the initial transformation comes as a surprise to Mei… but, it turns out, it's part of her family's history.
"For Mei, the red panda is like a magical spark that sets off this internal conflict within herself," Shi says. "Because up until that [transformation], Mei thinks she has it all figured out—like we all did before we woke up one day and realized all of a sudden we're covered in body hair, we smell funky, our emotions are all over the place, and we're hungry all the time. We wanted to use the red panda as an adorable metaphor for the scary, unadorable, awkward, and cringy changes we go through during that age. More specifically, we wanted to explore the nuances of Asian parent-child relationships, from dealing with change to all of the intergenerational conflict and how it shapes who we become. Turning Red is quirky and surreal, but at its core, it's a mother and daughter finally embracing change in all of its messy and furry forms—even if it means saying goodbye to the relationship they once had."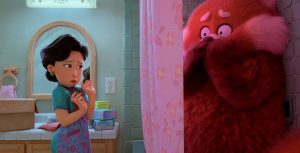 Shi's story is specific, but it is also universal. Early in the process, producer Lindsey Collins recalls, the Turning Red team relayed their own experiences to enrich the story. "The crew brought in their middle school yearbooks and shared stories of their awkward moments in middle school," she says. "Those of us who are parents shared our bad parenting moments. We really had to be real with one another about our daily failures and our daily successes."
Such perspectives added nuanced dimension to the evolving mother/daughter dynamic at the heart of the story. Collins, for example, was in a unique position as a mother of three, two of whom are teenagers, and often advocated for Ming. "As I would talk with Domee, our writer, and our story team, it was always coming from a place of: 'Let's not be too harsh on the mom!'" Collins says. "Moms don't necessarily always know what they're doing." Through these ongoing discussions, Collins says her priority "was making sure Domee's voice and tone shone through," particularly as it pertained to Mei and Ming's relationship.
Shi says she's grateful to have the opportunity to tell a story like Turning Red, especially since she longed for "a movie like this" when she was Mei's age. "It would have been so cool to point to a film that said, 'This part of your life is going to be messy. It's going to be scary, funny, awkward, and embarrassing, but it's going to be OK. You're going to survive!'"
Turning Red launches exclusively on Disney+ on March 11, 2022.
Want more details on Turning Red? The spring issue of Disney twenty-three features an exclusive cover, as well as conversations with Shi and Oh. The quarterly publication is delivered directly to fans' doorsteps and is offered exclusively to D23 Gold Members as a benefit of their membership. The issue will begin arriving before the end of February.