By Zach Johnson
Beverly Hills got a taste of New Orleans when the talented team behind Disney's The Princess and the Frog reunited for a special 10th anniversary event at Academy of Motion Picture Arts and Sciences' Samuel Goldwyn Theater in Beverly Hills on September 5. As part of the Marc Davis Celebration of Animation series, the evening brought out Disney Legend Anika Noni Rose (voice of Tiana), Jenifer Lewis (voice of Mama Odie), Michael-Leon Wooley (voice of Louis), and Keith David (voice of Dr. Facilier), as well as director Ron Clements, producer Peter Del Vecho, screenwriter Rob Edwards, head of effects Marlon West, character animator Bruce W. Smith, and composer and Disney Legend Randy Newman. Oscar®-nominated actress Quvenzhané Wallis—a self-admitted Princess and the Frog super-fan—hosted the lively Q&A, calling the job a "privilege."
Concept art from the film appeared onscreen as fans filled the room. Rose then emerged from backstage to give a rousing performance of "Down in New Orleans," backed by Kenny Sara & the Sounds of New Orleans. Later, Clements recalled how Rose was only the second actress to audition for the role—and how she was just as determined as the very character he'd created.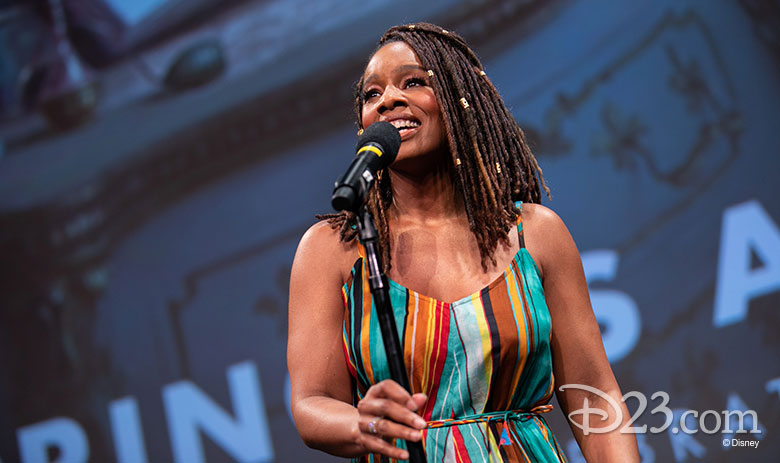 "My first audition was the night that Dreamgirls premiered in Los Angeles. I left the premiere, and I did not do one [interview], I did not go to a party, I did not drink a drink. I went back to my hotel, and I made my sister-in-law go with me and work with me on my lines for my audition the next day," Rose said. For her callback, Rose had to leave Australia, where she was working on a miniseries, to audition in Los Angeles. Although she didn't have much time to rest or prepare, Rose didn't complain. "Never once did I feel, 'Oh, my God! I can't believe I have to do all this.' Never once did I feel I was not where I was supposed to be. Never once did I feel like this girl was not me. I felt like I knew her from the moment I read the sides. And I'm going to cry, so…"
Wooley, meanwhile, didn't know he'd won the role of Louis until Newman casually mentioned it in a recording session. At the time, Wooley was working on a demo of the song "When We're Human" in New York when Newman made a surprise appearance at the studio. Before leaving, Wooley recalled, "I said, 'Randy, it's been a pleasure to work with you. I'm honored.' He said, 'Yeah, I'm glad you're playing the gator.' I walked to the car, got inside and just [screamed]!"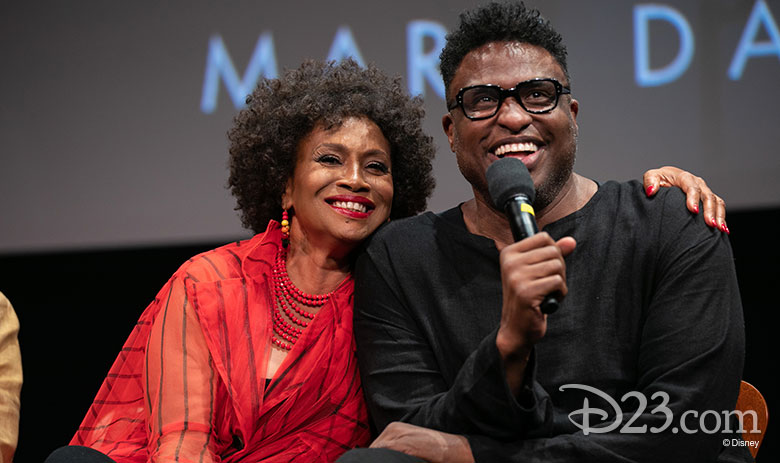 Like Wooley, the larger-than-life Lewis confessed she was in awe of Newman. "My favorite part was being in the studio with Randy. I wanted to please him so much! I had sung so many of the songs when I was doing club work in New York," she recalled, launching into a few bars of "Dig a Little Deeper" just moments later. Lewis also revealed she'd originally auditioned for the role of Eudora, which went to Disney Legend Oprah Winfrey. "I said, 'Darling, there's nothing sweet about my voice!'" she recalled, eliciting laughter. "'Do you have another part?'" Of course, her talents were better suited for Mama Odie, the 197-year-old voodoo priestess. Mimicking comedian Moms Mabley's iconic voice, Lewis joked, "All you gotta do is take your teeth out!"
Before the Q&A ended and the screening started, Rose introduced her goddaughter, who was dressed for the occasion in a Tiana dress. "This," the emotional star said, "is what it's all about."
Released nationwide on December 11, 2009, The Princess and the Frog received three Oscar nominations, including Best Animated Feature Film and Best Original Song for "Almost There" and "Down in New Orleans." The latter song earned Newman his 18th Grammy® nomination.