If you've ever visited Disneyland Park, you may have noticed the tall tree in front of the Golden Horseshoe Saloon in Frontierland… a stately oak reaching up to the sky while keeping watch over the passers-by below. Every Halloween since 2007, this tree gets a very special makeover—and it's all because of one of America's most prolific (and celebrated) writers.
"I'm glad I'm going to be a permanent part of the spirit of Halloween at Disneyland."
Ray Bradbury, the famed author behind classic novels like Fahrenheit 451, has a long history with The Walt Disney Company. In fact, his deep-rooted fascination with Halloween began as a child after watching a Disney cartoon: the 1929 Silly Symphony short The Skeleton Dance. Decades later, in 1964, Bradbury and Walt Disney met and became friends and collaborators, joining forces on several projects at both Disneyland and Walt Disney World Resorts, including Spaceship Earth at Epcot. Bradbury also wrote the screenplays for two Disney films based on his work: Something Wicked This Way Comes in 1983 and The Wonderful Ice Cream Suit in 1999.
The author celebrated his love of Halloween with his 1972 novel The Halloween Tree, which chronicles the adventures of a group of trick-or-treaters who learn about the origins of the holiday while searching for a missing friend. For years, Bradbury dreamt of having a Halloween tree at Disneyland—and on All Hallows Eve 2007, the 35th anniversary of the novel, that wish came true! The Frontierland oak was given a glimmering makeover, complete with twinkling orange lights and hand-painted jack-o'-lanterns hanging from its branches. "I belong here in Disneyland," said Bradbury at the tree's dedication ceremony, "ever since I came here 50 years ago. I'm glad I'm going to be a permanent part of the spirit of Halloween at Disneyland." A plaque at the base of the tree commemorates the night's celebration.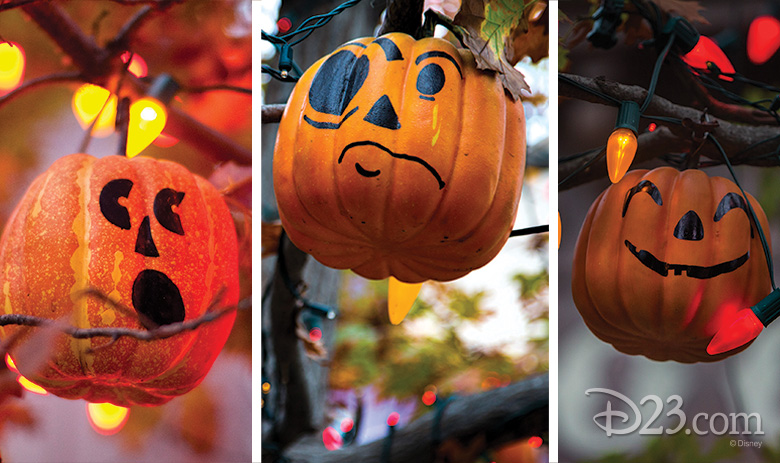 Brad Kaye, Creative Entertainment art director at Disneyland Resort, helped decorate that very first Halloween Tree. "As a fan of [Bradbury's] books, it was really an honor," he explained recently. "For the first year, [Walt Disney Imagineers] Tony Baxter, Kim Irvine, and I sat in front of the Golden Horseshoe late one night and 'magic-markered' all the pumpkins. In the years following, park enhancement has done a wonderful job of keeping it up in all its Halloween glory." Additionally, versions of the Halloween Tree can now be seen during the Halloween season on all four Disney Cruise Line ships.
Bradbury visited the tree his several more times before his passing in 2012. Today, the Halloween Tree delights Disneyland guests of all ages as part of the park's Halloween Time décor, and honors Bradbury's illustrious contributions to The Walt Disney Company.