By Jim Frye
How's this for a sandbox?
With the release of the first trailer for the upcoming Disney+ original movie Togo, fans got their first glimpse at Willem Dafoe as Leonhard Seppala, the champion dogsled trainer who, together with his dynamo lead dog, Togo, barreled through sub-zero gale-force winds and punishing storms for hundreds of miles to help deliver a serum that saved the town of Nome, Alaska, from a deadly diphtheria outbreak in 1925. Dafoe's character is seen fighting the elements, mushing his team across the edge of treacherous mountain passes and across a perilous stretch of the semi-frozen Bering Sea—just as it begins to crack into pieces. The scenes are all the more impressive because they were actually shot on location in the great white North of the Canadian wilderness (Alberta)—not in a green-screened studio. For the adventurous people who made this film, it was quite an impressive sandbox to be playing in.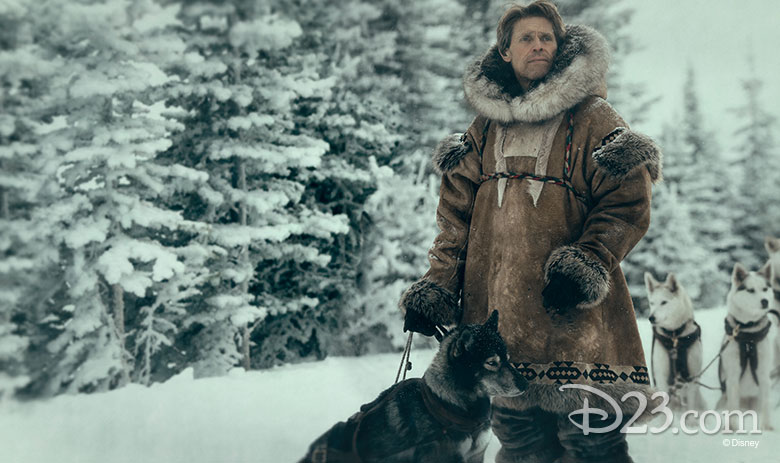 "It was really nice to shoot on location," Dafoe tells D23. "Every day you'd wake up and you'd look out the window to see what your day was going to be like. Sometimes I'd look at the temperature gauge, and it was 50 degrees below zero. A couple times we couldn't work because it was too dangerous for frostbite.
"We were up in those mountains," he continued. "Sometimes we were shooting above 8,000 feet and we'd spend part of the day getting up there and sometimes we'd just have a four-hour window to shoot in before we had to go back down the mountain just to be safe. But it was fantastic! Beautiful."
The movie is a harrowing adventure filled with hold-your-breath moments, such as when Seppala hangs perilously off the side of a mountain thousands of feet up; or when the sled team sprints across a massive expanse of frozen ocean, trying for all their lives not to fall through the cracking chunks of ice. Such a daring script naturally called for a daredevil director. Enter: Ericson Core, director of such high-octane movies as Point Break (2015), and Disney's Invincible, and cinematographer for The Fast and the Furious and, of course, Daredevil. "I seemed like the kind of person who knew how to work in extreme environments and inspirational tales," said Core.
He sharpened his extreme style of filmmaking on these films, especially Point Break. "I did a lot of crazy things, all in real locations," he tells D23. "From the bottom of the ocean to hundred-foot waves to mountains and jungles and all that. But for me, it came down to the script. I read it, and I was wrecked by the end of it. It was very, very powerful, a great character-driven drama. It seemed grounded and had a lot of truth to it."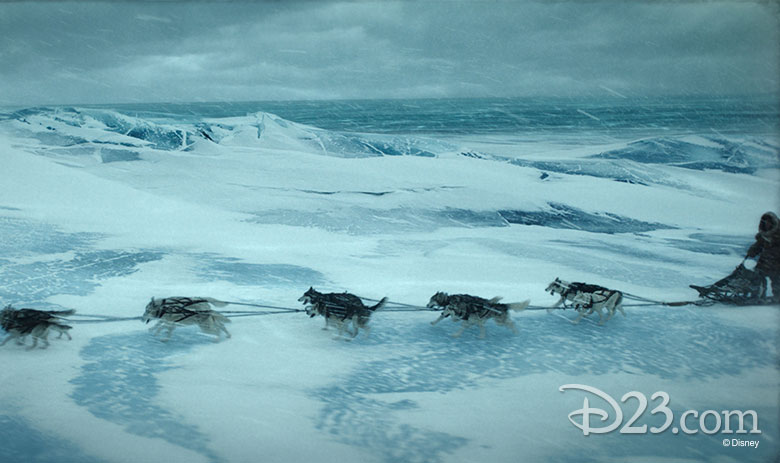 One of the biggest, most hair-raising scenes in the film is the death-defying trek across the frozen ocean. In the scene, Seppala decides he cannot spare the extra time it would take to go around an ocean inlet, so instead, he pushes his team directly across the frozen water. But the glassy surface starts cracking and giving way, and Seppala and his team must navigate around the splintering ice or risk being lost to the deep. According to Core, even though special effects were used, the scene was actually filmed atop a real frozen body of water—Abraham Lake in the Canadian Rockies—the largest ice lake in the region. "We shot on ice, and it was a big challenge," said Core. "We weren't sure at first if the dogs were going to want to run on the ice since they were used to running in the snow, but they wound up being great at it. So we actually shot on ice—that ice lake is real."
Of course, the cracks and gaps in the ice were added using special effects in post-production. They shot on that ice lake for 10 days, with the ice measuring around two feet thick in most places. Core would helicopter out over the lake each morning, search for the clearest spot he could find, and land there. "I would sit there alone for 45 minutes to an hour, waiting for the first trucks to arrive. It was rather an extraordinary effort to make that happen."
Core says that his best memories on set involved, what he called, some of the more extreme "stuff," such as when they had to travel up Mount McKinley. "It was very extreme," he laughs. "We had to take snowmobiles to the top of a mountain about three and half miles out and then a professional snowmobile ride up an almost vertical slope—it was about a 75-degree slope. You hold on to the handlebars and say, 'Whatever you do, don't let go.'" The professional rider would then deposit Core on the ridge of a mountain. They'd then have to make their way to the top of the mountain.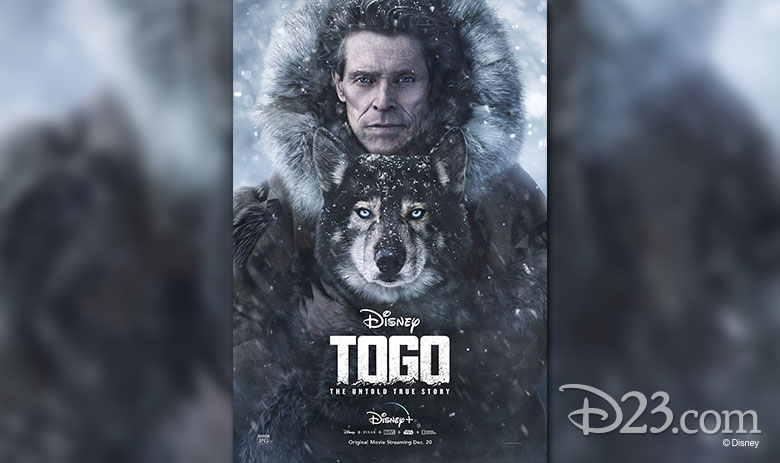 There's a particular scene in the film when Dafoe's Seppala character is dangling from a rope off a mountainside. "We actually did that on a mountain," Core says, animated at the thought. "That was not a sound stage. That was not a little hill with catering and craft services next to it. It was in very, very extreme conditions. But one of the most beautiful places I'd ever seen. And to be in the middle of the beautiful Alpine circumstances with Willem up there and the dogs, it was crazy. But beautiful. And it's what gave a reality to that scene. It was me playing in the sandbox of my youth."
Hear more about Togo on our latest podcast episode here.