By Zach Johnson
As the song goes, "You ain't seen nothin' yet!"
The season two finale of High School Musical: The Musical: The Series dropped on Disney+ last week, and now the cast is peeling back the curtain to share never-before-told stories from behind the scenes of the hit series. UMG's °1824 hosted a virtual panel on Thursday with Matt Cornett, Julia Lester, Dara Reneé, Frankie Rodriguez, Larry Saperstein, and Joe Serafini filled with musical moments, "super emotional" revelations—and a lot of laughter!
After the East High Drama Club staged a production of High School Musical in season one, the cast was excited to tackle another Disney production in season two. "I think Beauty and the Beast was so magical," said Serafini, who plays Seb Matthew-Smith. "It allowed us to really grow and expand all of these characters." Saperstein, who plays Big Red, shared his co-star's sentiment, adding, "I love that we use the music of whatever show we're doing to explore thematically what the characters are going through. Like, we used High School Musical songs to explore what Nini [Olivia Rodrigo] was going through in rehearsal, and then we did it so wonderfully with Beauty and the Beast and Dara's character this season."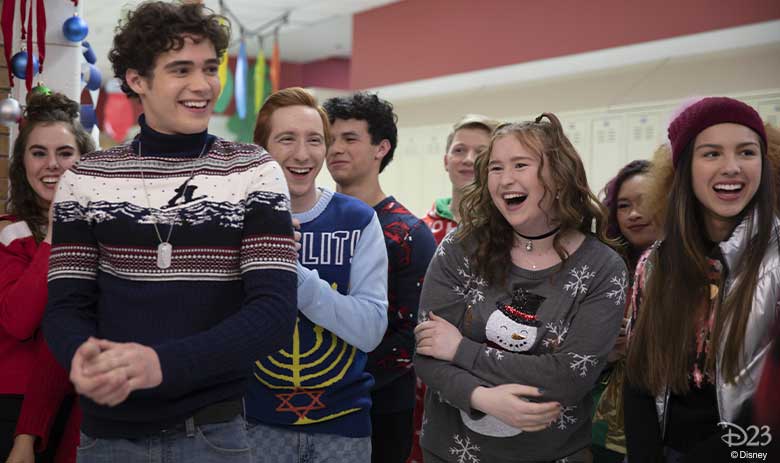 High School Musical: The Musical: The Series is filled with earworms, like "Something in the Air" from the season premiere. "The concept of the video was so cool. We did it all in one take," revealed Saperstein. "It felt like we were pushing some kind of boundary and doing something that had never been done before. It was a great way to start the second season."
Like all her fellow cast members, Reneé said she loved seeing her co-stars shine in solo numbers throughout the season. "It was fun that everybody got a chance to sing and I could hear Joe's 'The Climb,' Frankie's 'In a Heartbeat,' Larry's 'Red Means Love,' Julia's 'Home,' Matt's 'Gaston'—just slaying!" she said. "It was just so fun to see everyone shine with their beautiful voices and I absolutely loved it! And 'Be Our Guest' is mad fun to do."
"Be Our Guest," it turns out, was nearly everyone's favorite number in season two. "Seeing everyone in rehearsal pretend that they have big teacups on was absolutely hilarious," said Reneé, who plays Kourtney Greene. It was especially fun for Rodriguez, who noted that his character, Carlos Rodriguez, "didn't get to do the musical" last year. "When we got to this one day, where we were only doing 'Be Our Guest,' I felt like a literal child; I just couldn't stand still. They kept saying, 'Frankie, get on your mark.' I was like, 'I'm sorry! I'm just so excited!' It's been a minute since I've done live theater, so that was definitely a lot of fun."
"It's also just a big culmination of the whole season," said Lester. "It's our first really big musical theater-style group number. We all have really amazing memories attached to that. Like Frankie said, we really were like little theater kids having the best time ever."
Cornett's E.J. Caswell plays Gaston, meaning he wasn't part of "Be Our Guest." Even so, the actor admitted, "That one was really fun for me to watch, because while they were filming, I was standing in the wings of the stage. I've talked to Joshua Bassett about this, but there were a few times where I got super emotional, because it was like watching my family come together and do this big thing. It was so amazing. There were a few times where our first AD would say, 'You don't have to stand here. You're not on camera; you can go to the green room and chill.' And I said, 'No, I think I'm going to stay here and keep watching.' Because it was so much fun to see everyone come together and create this beautiful thing."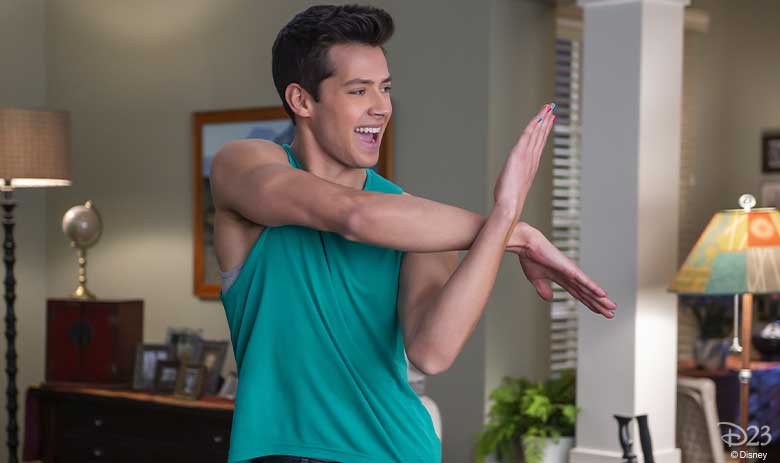 Another cast favorite is "Ain't Seen Nothin'" from the "Spring Break" episode. "I'm still doing the dance to this day!" said Cornett, who didn't seem to be joking. "The fact that Gina [Sofia Wylie] choreographed that over Zoom for everyone in like an hour? Come on!"
Serafini is partial to "The Climb," a cover from Hannah Montana: The Movie that his character performs for Carlos' surprise Quinceañero. "It's very significant in so many ways," he said. "I think everyone loves that song so much because it's such a universal feeling, to have these big dreams and figure out who you are and who you want to be—and that's 'the climb. But with Seb, I feel like he's talking about even more, like figuring out his sexuality, who he loves. It's a really powerful song, and obviously a super, super big anthem for Seb."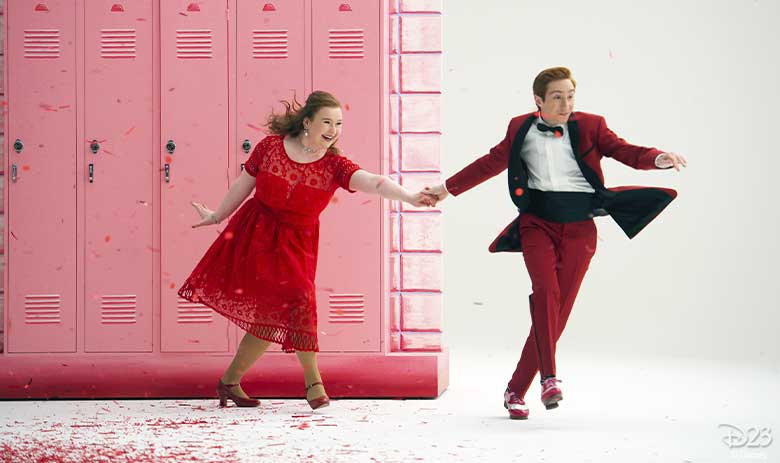 Lester, meanwhile, said she loved how whimsical some of the musical numbers became in the series' second season. "I think we definitely expanded the way that we tell story through music this season, especially with getting to play around with more fantasy style numbers like '1-2-3' and 'Red Means Love,'" she said. "I thought it was super cool that we got to deep dive into these numbers that may not exist in the High School Musical world."
Season two of High School Musical: The Musical: The Series culminates with the opening night of East High's production of Beauty and the Beast. While celebrating at Salt Lake Slices, Miss Jenn (Kate Reinders) shows up ready to share the results of the Alan Menken Awards for Excellence in High School Musical Theater—or Menkies, for short. But after a successful opening night, the cast decides they've already won and don't need an award to validate that. "It's really interesting to re-watch the season and really pay attention to the fact that no one is really interested in the Menkies from the very beginning," said Lester. "Miss Jenn is the only one who really ever brings it up. It's such a cool storyline that these high school theater kids, who would normally be deemed really competitive, are the ones who are levelheaded in this situation." To that point, Reneé added, "I do believe that mental health is very important, and you shouldn't sacrifice that by trying to please others."
"Awards are for that specific moment only," said Lester. "They don't really encompass the journey it takes to get there and the hard work you put in to eventually get to that point."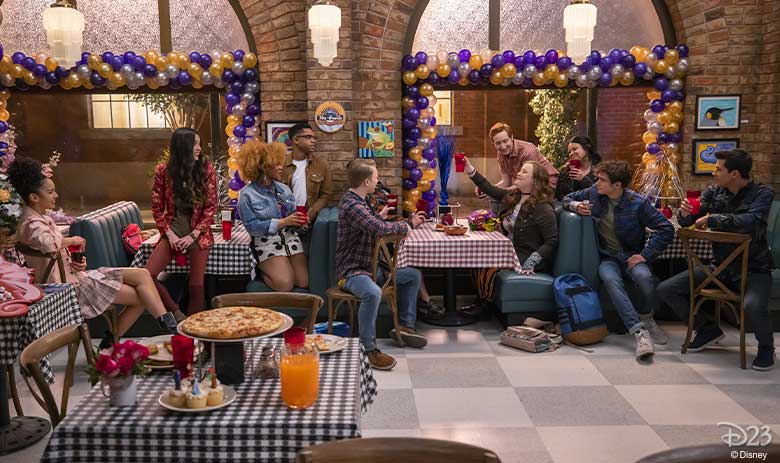 Season two ended with several cliffhangers, and Menkies aside, the cast is just as curious as the fans to see what may happen next. For example, Cornett hopes to see E.J. and Gina's budding romance bloom. "I would love to do a song with Sofia at some point; I think that would be so much fun," said Cornett. "We'll see what happens. After the finale of season two, there's a big open book for the Gina and E.J. story, and I think there's a lot to explore there. It could be a lot of fun to have a song and hear exactly what EJ's true heart is feeling. He has a lot of fun with Gina. He's truly the happiest version of himself with her."
For now, though, the cast is simply grateful to share the music and stories of season two with fans. "To have it all released feels like we've climbed this mountain and now we get to look down and see what we accomplished," said Saperstein. "I feel very fulfilled by having the second season fully out and saying, 'Wow, we really did that.' It's a really great feeling."
The High School Musical: The Musical: The Series season two soundtrack is available on Walt Disney Records across multiple digital service providers and also physically at Target.