By Courtney Potter
Start Your Engines! New Teaser Trailer for Cars 3
Cars 2 hit the pavement of your local movie theater in 2011—and if you're anything like us, you've been wondering what the charismatic Lightning McQueen (voice of Owen Wilson) has been up to in the years since… thankfully, we don't have too much longer to wait to find out! Cars 3 will race to a screen near you next summer. And to help tide us over, Disney•Pixar has just released a brand-new teaser trailer for the film, above.
This time 'round, Lightning finds himself blindsided by a whole new generation of supersonic racers—and he's suddenly pushed out of the sport he loves. To get back on the road again, Lightning will need the help of Cruz Ramirez, an eager young race technician with her own plan to return our hero to his former glory. And as you'd expect, there's plenty of inspiration from the late Fabulous Hudson Hornet… with a few unexpected turns along the way. Directed by original Cars story artist Brian Fee, Cars 3 starts its engines (in 3-D) on June 16, 2017!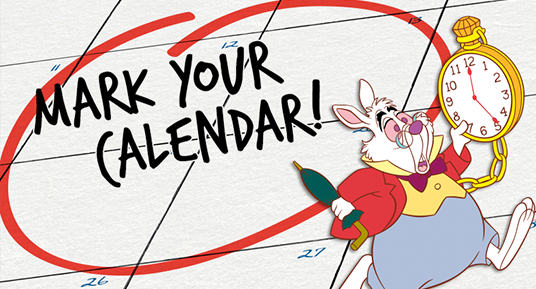 Save the Date!
Be sure to mark these upcoming Disney events on your calendar:
D23 and Walt Disney Archives


December 4, 2016


Light Up the Season with D23


December 11, 2016


Holiday Gingerbread House Workshop at Downtown Disney


December 13, 2016


D23's Disney Springs Holiday Celebration


December 13, 2016


D23's Moonlight and Mistletoe Dinner


July 14-16, 2017


D23 Expo 2017


Studios




November 23, 2016


Moana opens in theaters


December 16, 2016


Rogue One: A Star Wars Story opens in theaters


March 17, 2017


Beauty and the Beast opens in theaters


May 26, 2017


Pirates of the Caribbean: Dead Men Tell No Tales
opens in theaters
Parks


November 7, 8, 10, 11, 13, 15, 18, 27, 29; December 1, 2, 4, 6, 8, 9, 11, 13, 15, 16, 18, 22




Mickey's Very Merry Christmas Party at Walt Disney World Resort




November 10–January 8, 2017




Holidays at the Disneyland Resort




November 11–January 8, 2017




Holidays at Disney Springs




Television




November 24, 2016


The Wonderful World of Disney: Magical Holiday Celebration, 8–10 p.m. ET on ABC


November 24, 2016


Freeform's Countdown to 25 Days of Christmas begins


November 25, 2016


Disney Parks Presents: A Descendants Magical Holiday Celebration, 8–9 p.m. ET on Disney Channel


December 1-25, 2016


Freeform's 25 Days of Christmas


December 25, 2016


The Disney Parks' Magical Christmas Celebration, 9–11 a.m. on ABC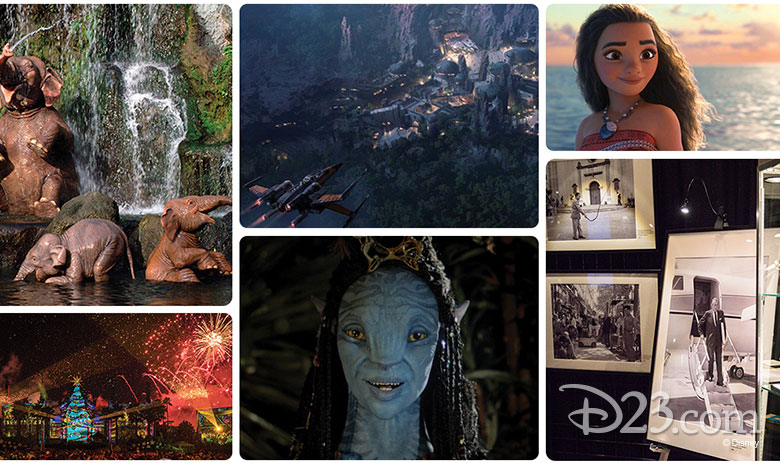 Exciting Announcements from Destination D: Amazing Adventures
If you visited D23.com at any point over the weekend, you may have noticed lots of fun coverage of our fabulous Destination D: Amazing Adventures event at Disney's Contemporary Resort at Walt Disney World. (And for those of you who were there in person, thanks for making it so marvelous!) One of the most awesome aspects of the weekend? Tons of exciting announcements!
On Saturday, Walt Disney Parks and Resorts Chairman Bob Chapek gave guests a construction update on Pandora – The World of Avatar… and shared that the new land is officially set to open at Disney's Animal Kingdom in summer 2017. During that same presentation, Walt Disney World's new MagicBand 2 was unveiled; featuring a new design, the band will be able to link to My Disney Experience—serving as a theme park ticket, access to FastPass+ selections, a Disney PhotoPass card, and a room key for guests of the Walt Disney World Resort.
But that's not all: Guests at Destination D: Amazing Adventures also learned how the new Star Wars-themed land at Disney's Hollywood Studios will look "after dark," and that a brand-new adventure is coming to the Star Tours—The Adventures Continue attraction! Walt Disney Imagineering and Lucasfilm teams are in production as we speak (err, type) to add a thrilling new mission to the attraction, based on elements from Star Wars Episode VIII.
Seeking a recap of D23's Destination D: Amazing Adventures? Look no further! And don't forget to visit our pals over at the Disney Parks Blog for more info on all of these exciting Parks and Resorts updates…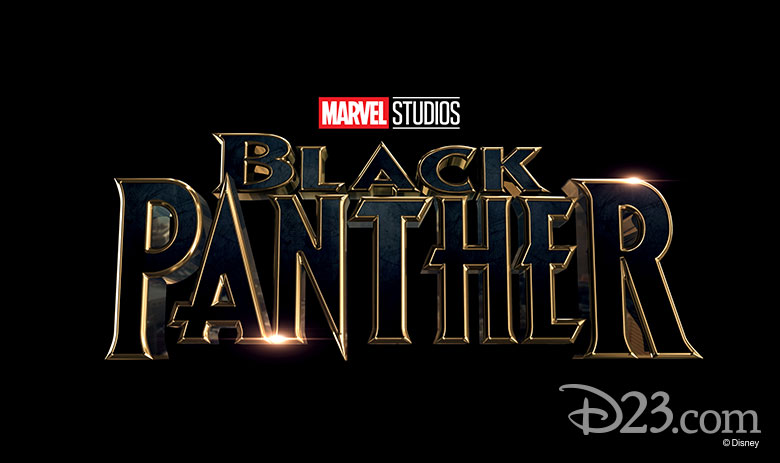 Angela Bassett Joins Marvel's Black Panther
Marvel fans, listen up! We've just received word, via the good folks over at Marvel.com, that Academy Award® winner Angela Bassett has joined the cast of Marvel Studios' Black Panther. Bassett, who currently co-stars on Fox's American Horror Story, will play Ramonda, mother of T'Challa, aka Black Panther.
Directed by Ryan Coogler (Fruitvale Station, Creed), Black Panther stars Chadwick Boseman in the title role—alongside previously announced castmates Michael B. Jordan, Forest Whitaker, Lupita Nyong'o, Danai Gurira, Daniel Kaluuya, Winston Duke, and Florence Kasumba. The film will leap into theaters on February 16, 2018.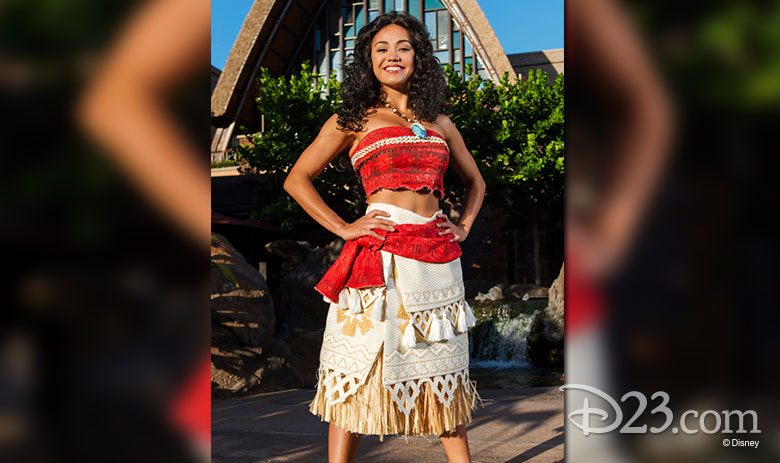 Here's Your Chance to Meet Moana!
In just a few short days, Moana will set sail for theaters around the country. Walt Disney Animation Studios' latest film—with epic adventure, lots of hilarity, and tons of great music—follows a brave young woman and her new demigod pal as they set sail on an action-packed voyage.
Now, Moana herself is setting out on another journey—to visit with guests at Disney destinations around the world! Moana recently arrived at Aulani, a Disney Resort & Spa in Hawaii, to greet resort guests and recount tales of her seaworthy adventures. And later in the month, she will make her way to Disneyland Park in California and Walt Disney World Resort in Florida.
Don't miss your chance to meet the master wayfinder herself at a Disney Park soon… and see Moana in theaters (in 3-D!) beginning November 23.
Go Inside Rogue One: A Star Wars Story with New Featurette
Oh, the anticipation! Rogue One: A Star Wars Story will finally come to a cinema near you on December 16; the first ever "stand-alone" Star Wars film, it follows a group of unlikely heroes as they band together on a mission to steal the plans to the Death Star—the Empire's ultimate weapon of destruction. This especially important event in the Star Wars timeline finds ordinary people choosing to do extraordinary things… and in doing so, they become part of something greater than themselves.
If you're looking for something to whet the Star Wars whistle in these last few weeks before the film's debut, you're in luck: A fantastic new featurette just debuted! Check it out (above) and hear from director Gareth Edwards, as well as several of the film's stars—including Felicity Jones (Jyn Erso) and Diego Luna (Cassian Andor).
Starbright Holidays Drone Show—Now Dazzling at Disney Springs
There is something so new, so cool, so special happening nightly at Disney Springs… you almost won't believe your eyes! And it's a first-of-its-kind show—not just for Disney Parks, but in the United States. The new holiday experience, Starbright Holidays—An Intel Collaboration, features 300 show drones illuminating the night sky in amazing formation.
Accompanied by an original Disney arrangement of classic holiday songs recorded by a full orchestra, the dazzling experience invites viewers to look up to sky and "wish upon a holiday star." And it's the very first time a drone show of this scale has ever been performed in the U.S.!
Check out a brief sample of the show—which takes place on the West Side of the Disney Springs waterfront—above… and if you're visiting Walt Disney World Resort this holiday season, look for the show each night at 7 p.m. and 8:30 p.m., from now through January 8.
Star vs. The Forces of Evil Gets Animated on Facebook Chat
Disney XD's hit animated series, Star vs. The Forces of Evil, follows fiercely awesome teen princess Star Butterfly—who, after receiving an all-powerful magic wand for her 14th birthday, is sent by her Royal Parents to live with the Diaz family on Earth… bringing along her own unique inter-dimensional style to her new home. Just this week, creator and executive producer Daron Nefcy utilized some very cool software (Adobe Character Animator, to be exact) for a live Facebook Q&A. It was the first time this technology has been utilized for a live FB chat!
Daron answered questions from fans as show character STARFAN13, Star Butterfly's biggest fan, as she was animated in real-time through the facial recognition software. And in case you missed the chat, don't fret—check out the video, above. And look out for that "Jellybean Hallucination Mist"!