By Beth Deitchman
If you left your heart in Wakanda after watching Marvel Studios' Black Panther earlier this year—or if it's always been there—Disney XD and Marvel have assembled a special treat for you. Marvel's Avengers returns for its fifth season with a new title and a new challenge for T'Challa, King of Wakanda and Black Panther himself, in Marvel's Avengers: Black Panther's Quest. The animated series debuts with back-to-back episodes, beginning at 9 p.m. EST on Sunday, September 23.
Black Panther joined the series in its third season—Ultron Revolution—but this season finds the Super Hero fighting new enemies and facing new conflicts: Is he an Avenger first or the ruler of Wakanda? Is he a sword or is he a shield? T'Challa won't have to take on this challenge alone, however; his sister, tech-wiz Shuri, will be by his side—not to mention his friends Iron Man, Black Widow, Thor, Miss Marvel, and the rest of the Avengers.
Actor James Mathis III, who has voiced Black Panther since the Super Hero joined the Marvel Avengers series, says that fans will see another, more vulnerable side of T'Challa in Black Panther's Quest that stems from the king's relationship with his younger sister. "We haven't seen that side of T'Challa, not in the way that a family member can bring out," says Mathis.
Shuri, a breakout character from the Black Panther film, is sure to be a fan-favorite with viewers of Black Panther's Quest, as well. And the actress who plays her, Daisy Lightfoot, knows how special the character is. "She walks into every room knowing exactly who she is and knowing what she's there to do," observes Lightfoot. "There's no withering. There's no weakness."
Black Panther's Quest takes place completely within its own timeline and is independent of the Marvel Cinematic Universe and its stories, but Mathis points out that the charm and strength of the relationship between T'Challa and Shuri is a great similarity between the MCU and the animated series. He notes, "We get to take it a little further because [the series] focuses on these two characters at different points during the season. We get to really learn through the simple things in life, the basic things and not just the things that have the stakes of the world involved."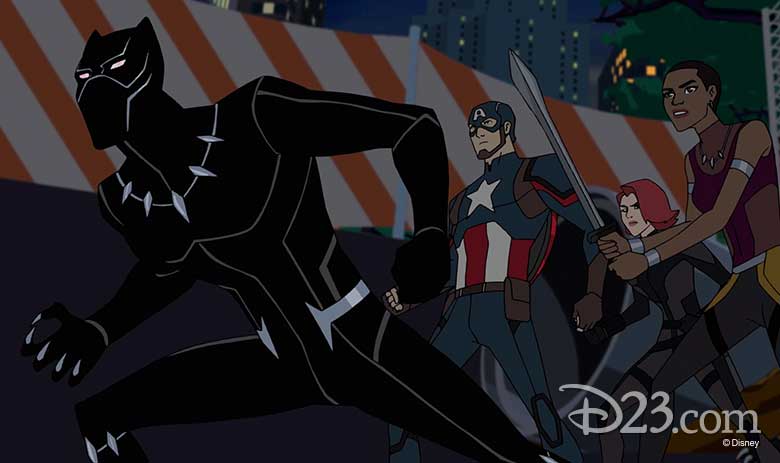 If T'Challa and Shuri, as well as Black Panther and Iron Man, play off of each other so entertainingly, that may be a result of the fact that the cast records each scene together as a group, rather than as solo actors in a recording booth. "Thankfully, with our ensemble we're able to really breathe in the moments and explore from an acting perspective, which then leads to just greater depth of character—which is a lot of fun to play," says Mathis. He emphasizes that the members of the voice cast do their homework and come in prepared and as sharp as Black Panther's claws. "We have fun together and the series is so well-written. The synchronicity with the show, it's all right there in the room," Mathis adds.
When it comes to their royal characters' super perks and super powers, Mathis admits he wouldn't mind having some of Black Panther's acrobatic gifts. "I would love to be able to jump and flip off of cars in that great martial arts/parkour type of way that he has. That'd be awesome," Mathis says with a smile.
Lightfoot wishes she had just some of Shuri's incredible tech abilities. "She's just very swift with the keys and she knows what she's doing and flies jets and planes—it's all incredibly tech-savvy," she tells us. She believes the science-minded and forward-thinking Wakandan princess will inspire young audiences, and "it means everything" for her to be part of the Black Panther story. "There are girls of all ages, all ethnicities, that are coming up in this generation and they're looking for something to tell them who they are," Lightfoot says. "And I want this to be something that gives them a glimpse into what they could be if they stepped into everything that they're called to be."
Mathis has been thrilled to see the rest of the world embrace Black Panther in amazing new ways in 2018, though he's quick to note, "I've always felt that great about him." Seeing the public response to the character has been uplifting to the actor, who adds, "It has added to the responsibility that I've already taken with the role. It's great to see how much he matters to people."