By Beth Deitchman
For Disney fans, Sunday evenings have traditionally been special times for families to gather 'round the TV and watch a favorite show together—from Walt Disney's Wonderful World of Color in the 1960s to, more recently, American Idol's first season on ABC. But in the case of Celebrity Family Feud, which kicks off its fourth season this Sunday, June 10 (8–9 p.m. EDT), you might feel compelled to do more than just watch. As host Steve Harvey poses questions to celebrity families—which, this season, include the families of NBA stars Stephen Curry and Chris Paul, Team Grey's Anatomy vs. Team Station 19, and so many more—we're betting you and your family won't be able to keep yourselves from calling out your own answers to find out if the "survey says" you're correct!
D23 spoke with Harvey, a best-selling author as well as a famed television personality, about the game show's enduring popularity. Whether he's engaging with celebrities and their relations or families just like yours, Harvey believes that there's a simple reason why the show continues be one that multiple generations enjoy together. "Everybody can imagine their family up there. The average person at home would love to win the game and they think they can play really well—because at home you know all the answers," he laughs.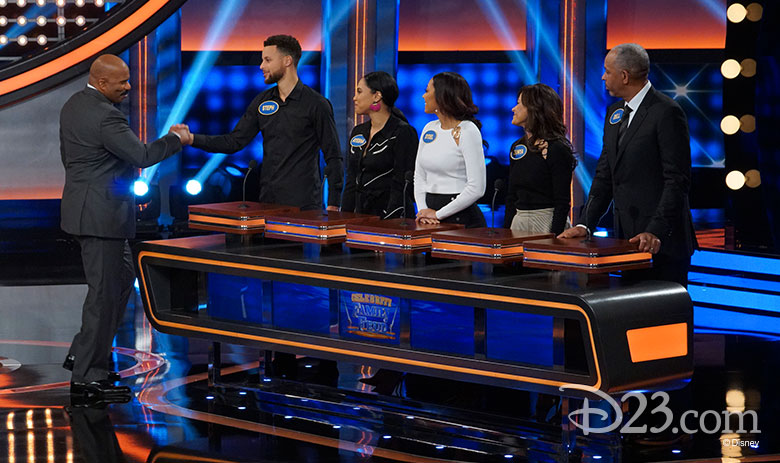 But Harvey is quick to point out that the survey responses are a relatively small part of the appeal of Celebrity Family Feud (and the original non-celebrity version, as well). The celebrated comedian takes great pleasure interviewing family members before each round begins and getting to know the players. "I have very unique abilities with all families to find the live wire in the family—the character in the family," he says. If you find yourself wondering why a family member gave a, shall we say, unexpected answer, simply look at Harvey's face and he's probably wondering the same thing. "You go up there and you're racing [an opponent] to hit the buzzer—you're trying to be first. And in order to be first you've got to hit the buzzer and you don't have time to think so you say the first thing that crosses your mind," Harvey explains, adding, "You'd be surprised at some of the stuff that comes out of some people's mouths."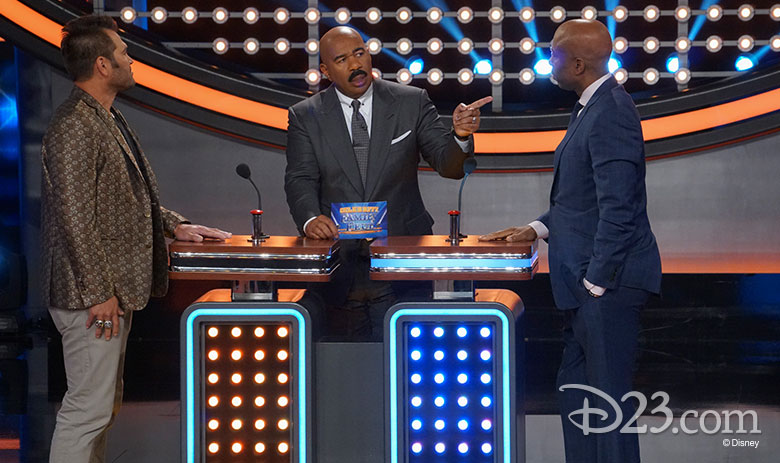 According to Harvey, adding celebrities into the mix allows fans to see that the game—as well as the thought process that goes into playing—is the same no matter who you are. "It's kind of fun watching them struggle to come up with the right answer and you find out that celebrities are very much just like you," he says. Harvey admits to becoming a little star-struck when athletes compete on Celebrity Family Feud, and the new season is chock full of them, with NBA stars Shaquille O'Neal and Charles Barkley, MLB legends Johnny Damon and John Franco, NFL Legend Emmitt Smith, and Olympic gymnasts Laurie Hernandez and Shawn Johnson East, to name just a few. "All celebrities wish we could play ball, all of us, so those are kind of like the big moments for me," he says.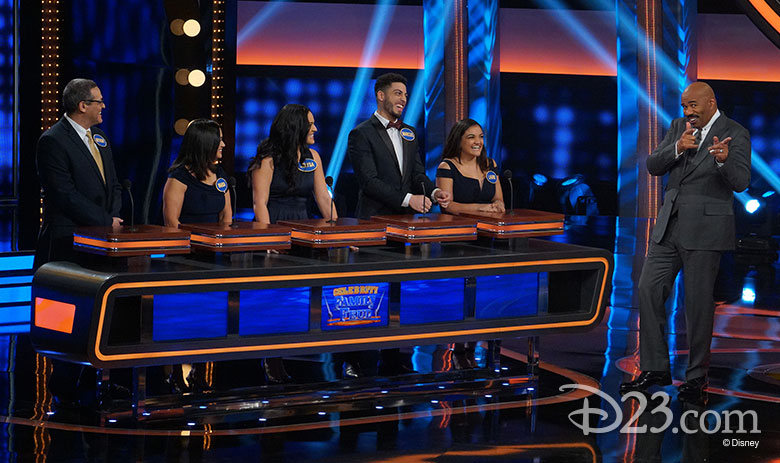 Celebrity Family Feud kicks off ABC's "Fun & Games" lineup on Sunday, which also features The $100,000 Pyramid, hosted by Michael Strahan, at 9 p.m. EDT; and To Tell the Truth, hosted by Anthony Anderson, at 10 p.m. EDT—and Harvey takes the "fun" seriously. "I never meet the contestants before the show and I never ask for the questions, so when I'm reading the question I'm seeing it for the first time and that's the way I want it," he says. "I don't prepare jokes and read the questions beforehand… I just go out there and do the show. I'd rather work that way because I want the show to be more spontaneous and more fun and I think that's what's led to its success."