By Zach Johnson
Who will win the coveted Mirrorball Trophy?
At today's TCA panel for Dancing with the Stars, ABC announced the first two celebrity cast members of its upcoming 30th season: Olympic gold medalist Suni Lee and pop star JoJo Siwa! Lee and Siwa will appear on ABC's Good Morning America for their first sit-down interview on Friday, August 27, and return when the remaining cast is revealed on Wednesday, September 8.
Season 30 of Dancing with the Stars will feature its first same-sex couple, executive producer Andrew Llinares revealed during the TCA presentation. "I'm excited that I get to do it," Siwa said. "I think it breaks a wall that's never been broken down before." Siwa also acknowledged there will be "a lot" of mechanics to work out. "Who leads? How do you dress? What shoes do you wear? But I think it's all something that I'm looking forward to."
"You're making history, JoJo," Banks told Siwa. "This is history."
Siwa added that when she received the email asking her to compete in the series' 30th season, producers asked if she wanted to be partnered with a man or a woman. It was Siwa's choice to partner with a woman. "I want to make it OK for the people who come after me," Siwa said.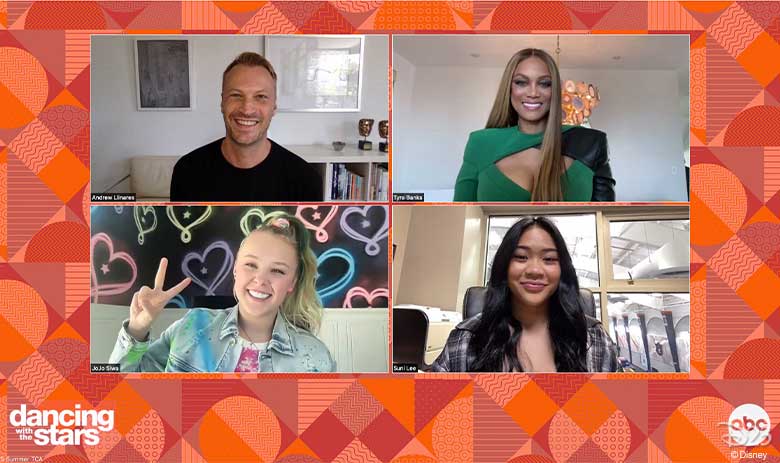 Lee, meanwhile, revealed she previously discussed the opportunity to compete on Dancing with the Stars with fellow gymnasts Simon Biles, Laurie Hernandez, and Nastia Liukin, all of whom competed in previous seasons of the hit competition series. "They basically told me anything I do on this show is not going to be as difficult as what I did at the Olympics or while preparing for the Olympics," Lee said. "I'm really excited for that, because they said it's a lot more fun and I can express myself… I'm excited to just let loose and just have fun."
The milestone season premiere of Dancing with the Stars will air live on ABC on Monday, September 20, at 8 p.m. ET/PT—the same night each celebrity will learn which professional dancer is their partner. This landmark season of Dancing with the Stars will see the return of judges Len Goodman, Carrie Ann Inaba, Bruno Tonioli, and Derek Hough, as well as host and executive producer Tyra Banks. Episodes can be viewed the next day on demand and on Hulu.
Lee is a three-time Olympic medalist, taking home the esteemed gold medal as the all-around champion in women's gymnastics at the 2020 Olympic Games. As the first Hmong-American Olympian, her story is more than just triumph—it's one of representation. Born and raised in Minnesota, Lee's journey now takes her to Alabama, where she will compete as a college freshman this fall at Auburn University. At just 18 years old, Lee hopes to inspire and empower her peers and the next generation to work hard toward their passions and achieve their dreams.
Siwa is a global superstar, singer, television and film star, bestselling author, and social media sensation. She has over 60.5 million followers on social media and over 3.6 billion views on YouTube. In 2020, she was named one of TIME's 100 Most Influential People. A consumer products powerhouse, her JoJo Siwa bow has sold more than 80 million bows globally to date.