By Becky Cline
One of the first formal portraits of Mickey Mouse was painted by Disney Legend John Hench for a very special event—a tribute to the character's 21st birthday that was published in a major article featured in Collier's magazine on April 9, 1949. But it was in 1953 that the tradition of an "official" Mickey portrait began.
When Walt Disney encouraged a few studio artists to depict Mickey at age 25 and submit the art to him as a sort of internal contest, an oil painting by Hench, whose credits at the time ranged from background artist on Fantasia and Dumbo to color stylist on Cinderella and Peter Pan, won the day.
25th Birthday—1953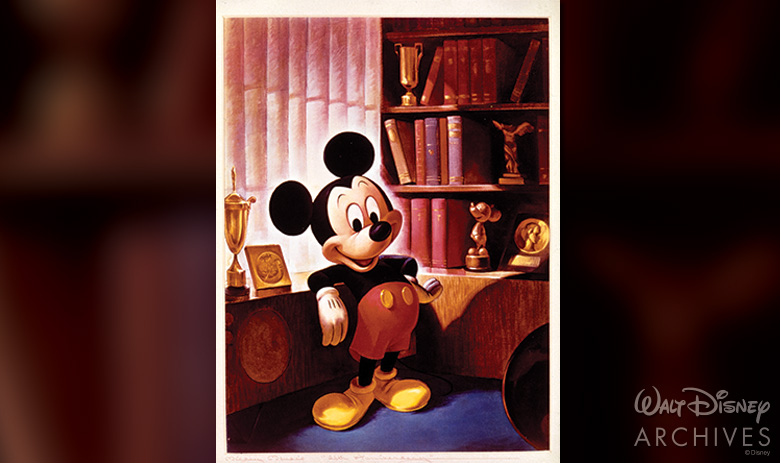 Mickey Mouse is seen in an office reminiscent of Walt's. There is a world globe situated in the lower-right corner in front of a well-stocked in bookshelf. Mickey, dressed in his classic red shorts, white gloves, and yellow shoes, casually leans against a cupboard where a trophy cup and framed photo sit. John wrote in his seminal book Designing Disney, published by Disney Editions in 2003, "In deciding how to approach the portrait, I remembered the awards I had seen in Walt's office, and thought of Mickey being recognized around the globe."
Though not prominent, the globe is an important element. According to the artist, "As an animated character, Mickey reflects Walt's caring and understanding of people. People relate to him emotionally, as a personality. As a result, he has become a part of not only American but worldwide folklore, as well."
50th Birthday—1978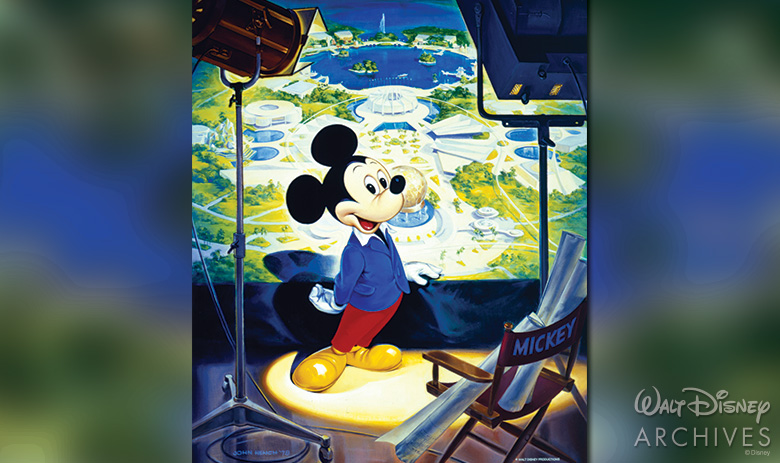 For Mickey's 50th birthday in 1978, Hench again was asked to provide an official portrait, and for this depiction, Hench decided that it was important to show Mickey engaged in the Company's newest projects.
"For Mickey's 50th birthday portrait, I posed him in front of the original EPCOT model," Hench said. Walt Disney World Resort had opened in 1971, and the Company was in the midst of designing its third theme park, EPCOT Center, which would open four years in the future, in 1982.
"The shadow that Mickey casts over the model was essential," Hench said. "Mickey's shadow lets the viewer know that they are looking at a model, and not through a big picture window at a distance view of EPCOT."
60th Birthday—1988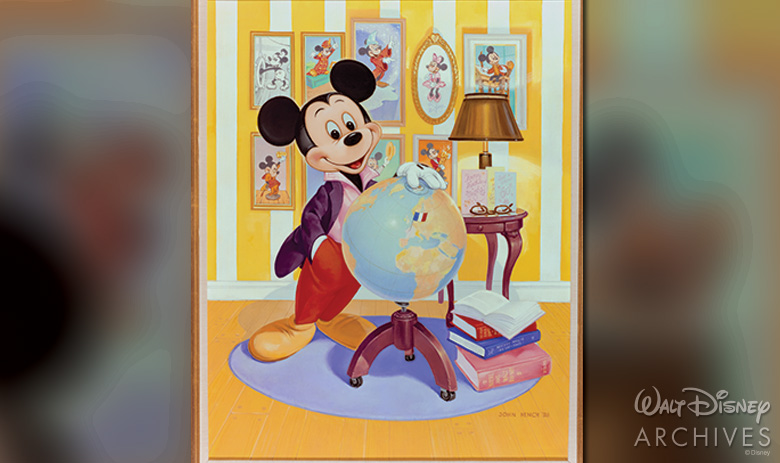 "For Mickey's 60th birthday portrait, our intention was to announce The Walt Disney Company's new ventures in Paris," Hench said. This portrait shows a new backdrop, that of an office wall with framed photos of some of Mickey's most popular roles and his friend, Minnie.
"I began with the idea of marking the newest spot that demonstrated Mickey's ever-growing worldwide influence. I decided to use a globe as a prop, with a miniature French flag pinpointing the location of the new park. Over the years, Mickey's personality unfolded and matured just like a real human being's. As a cartoon character, we have been able to give him the human qualities that Walt sought in animation. Of all the Disney cartoon characters, Mickey best symbolizes growth."
70th Birthday—1998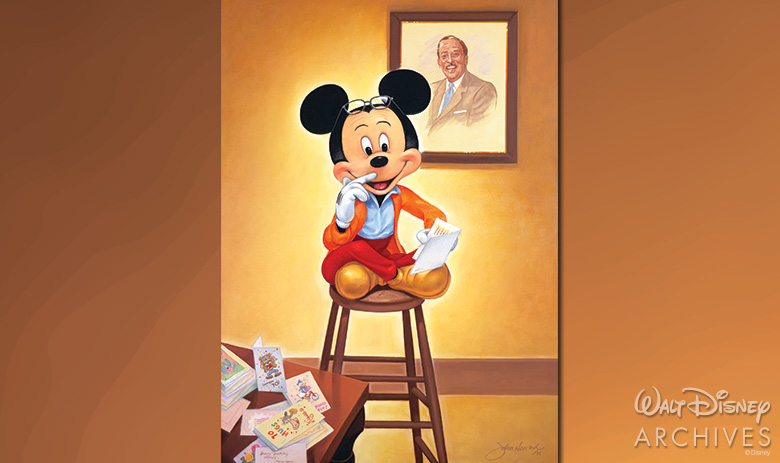 "For Mickey's 70th birthday portrait, I seated Mickey on a high stool to suggest his eternal youthfulness," Hench said, "and dressed him in an orange sweater like Walt's favorite old work sweater."
In the portrait Mickey is reading a selection of birthday cards including those from his old pals Goofy, Donald, and Horace Horsecollar. But the most notable object in the portrait is the portrait-within-a-portrait that can be seen over Mickey's shoulder.
"Behind Mickey, I painted a portrait of Walt. I tried hard to get a good likeness," Hench said. "Optimism is the sustaining quality of Mickey's character and conveys a feeling of hope to others. Walt's uncanny connection to the audience allowed him the opportunity to define a character that touched the hearts of almost everyone."
75th Birthday—2003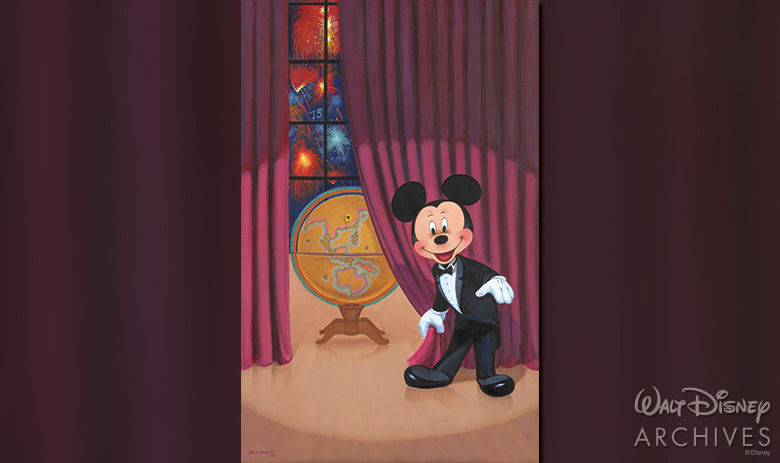 In 2003, an amazing 54 years after his first venture into Mickey portraiture, Hench created his final celebration of Mickey's birthday. Just as in that early portrait of Mickey produced in 1949, Mickey pulls back a curtain to present a globe. This time, it is positioned to show Asia, with a Mickey flag prominently pinned at the site of the future Hong Kong park. In the windows behind are celebratory fireworks featuring a small "75" high in the sky.
According to Hench, "Walt chose to develop the art of animation and the theme parks around classic tales that appeal to all of us and transcend our differences"–a sentiment that will always keep Mickey in the hearts of millions around the world.
80th Birthday—2008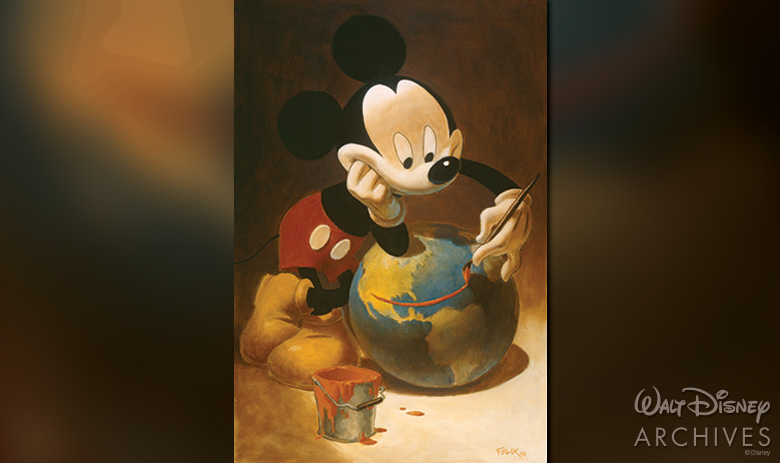 In 2008, Art Director Paul Felix was selected through another internal "contest" to create the next in a line of official portraits for Mickey and came up with a beautiful depiction. Like Hench, Felix focused on Mickey's global reach, depicting him as a "playful boy" painting a smile on the world.
Also like Hench, Felix chose a technique that was inspired by Maxfield Parrish's paintings–layering oils to create a contrast of light and dark areas.
"Just like people everywhere, I love the little-boy spirit in him that I sensed when I was a little boy," Felix said. "And the idea of an active Mickey appealed to me from the outset because he's visually more appealing when he's posed with attitude. I pushed his pose considerably and tried a few versions with even more attitude—Mickey spinning the globe on his finger, balancing on top of it while painting, and so forth. The sketch process was a great exercise, because there's always a better way to stage a drawing, no matter how many you've done."
The result is a portrait of enduring simplicity and great charm.
Watch the creation of the newest Mickey Portrait here.