By Zach Johnson
Some fan-favorite Disney characters really took the phrase "shop 'til you drop" to heart! From Hannah Montana fighting with Tyra Banks over a sole pair of soles to Preston Waters inventing a new identity to write himself a $1 million check, there's no (credit) limit to how much these characters are willing to spend. So, in honor of Black Friday, we're highlighting seven shopaholics from movies and series you can stream now on Disney+!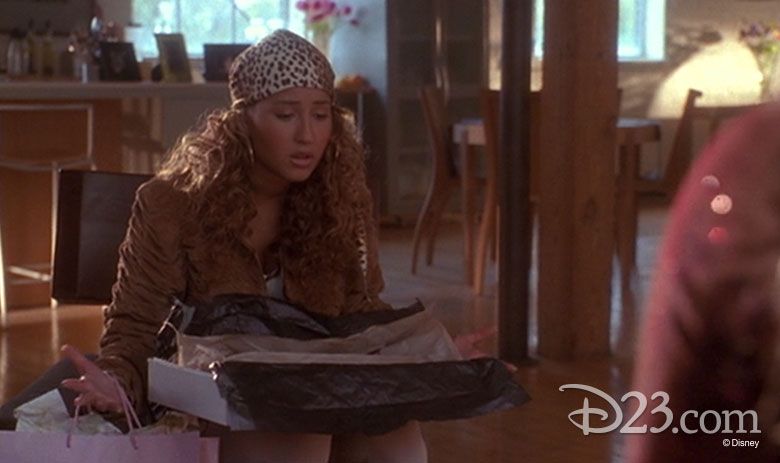 Chanel Simmons (The Cheetah Girls)
Girls just want to have funds! In the first of three Disney Channel Original Movies, Chanel (Adrienne Bailon) gets into trouble for maxing out her mom's credit card. Even worse? When her mom tried to buy a pair of sandals, the card was declined—and the saleswoman "snatched them back so fast she took the paint off my toes!" Chanel apologizes ("I thought we were going to be rich after this demo"), but the damage is done. "I trusted you!" Chanel's mom says. "I trusted you and you took advantage of me!" After some tears, amends are made—and eventually, the demo does make Chanel rich.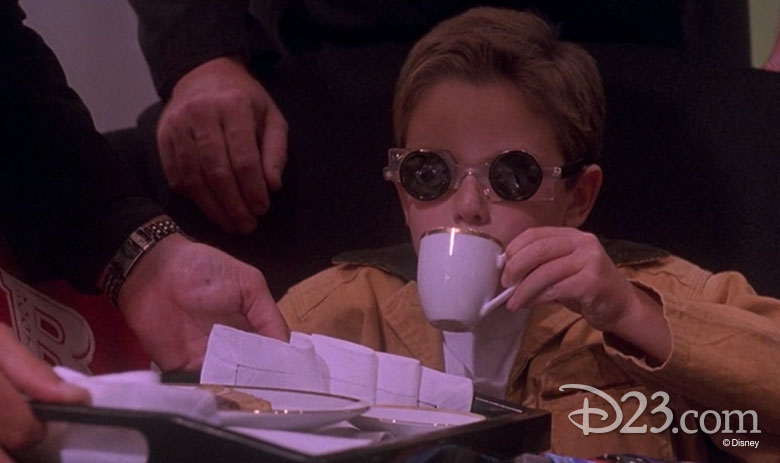 Preston Waters (Blank Check)
If a crook hastily handed you a blank check after running over your bike, what would you do? If you're 11-year-old Preston Waters, you make it out for $1 million, create a fake identity—Macintosh—and go wild! In just six days, he spends $999,667.83 on a castle-style mansion, a limousine service, a go-kart track, a water slide, and more! At one point, when his driver (Rick Ducommun) asks how Macintosh makes his money, Preston replies, "Well, he doesn't get it. He just has it." Hmm. When the driver pushes the issue, asking why Macintosh would allow a kid to spend his money, Preston has another lie ready. And boy, is it rich! "He never had a real childhood," he says, "so now that he's really, really rich, he can have all the fun he couldn't have when he was a kid."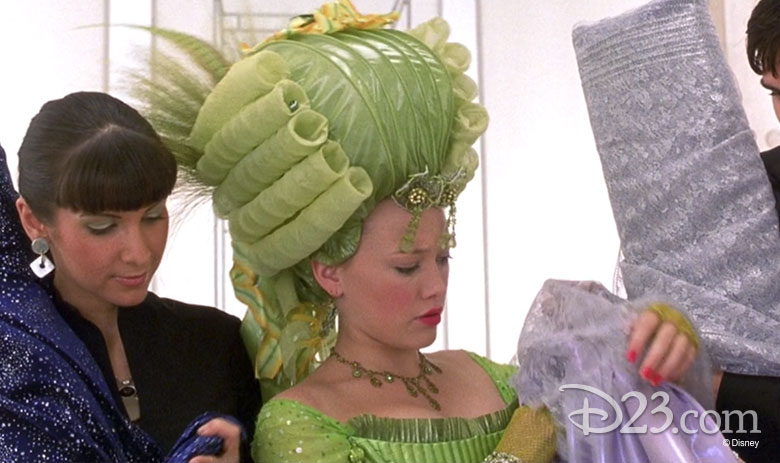 Lizzie McGuire (The Lizzie McGuire Movie)
Hijinks ensue on a class trip to Rome, where Lizzie (Hilary Duff) meets pop star Paolo Valisari (Yani Gellman) and is persuaded to impersonate his look-alike singing partner Isabella Parigi. To get Lizzie camera-ready for the Italian Music Awards, he turns to an avant-garde designer who might be a little too fashion-forward. Eventually, Lizzie—as Isabella—speaks up for herself. "I don't want you to dress me," she tells the designer. "See, I'm not your Barbie doll. I am Isabella Parigi and I dress myself! So… choices! I need choices!" It doesn't take long for Lizzie to find a look that suits her. Hello, fabulous!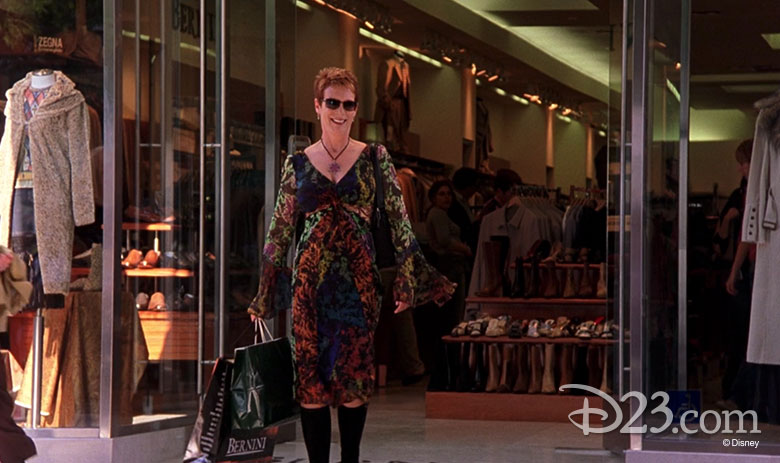 Dr. Tess Coleman (Freaky Friday)
After eating magical fortune cookies, Tess (Jamie Lee Curtis) and her daughter Anna (Lindsay Lohan) wake up the next day to discover they've somehow switched bodies. It's a shocking turn of events, of course—but not as shocking as the makeover Anna decides to give her mother while she's in her skin! Armed with two credit cards, "Tess" heads to the local mall and gets a haircut, a new wardrobe and a cartilage piercing—then struts her stuff in a slow-motion montage set to Aly & AJ's "What I Like About You." Needless to say, the real Tess doesn't love the look—especially since her wedding is days away. "Oh, my God! What have you done to me?" she asks. "My hair! It's gone! And those clothes? Those are going back first thing tomorrow… I look like Stevie Nicks!"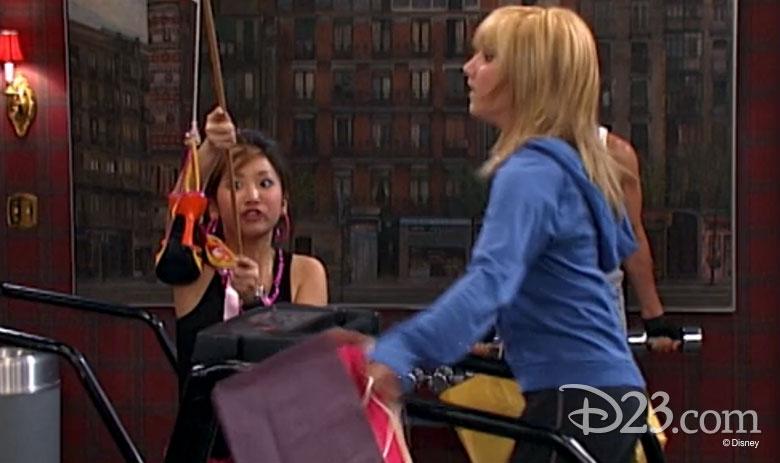 London Tipton (The Suite Life of Zack & Cody)
Teenage hotel heiress London (Brenda Song) only wears designer clothes and is obsessed with fashion. In the episode "Dad's Back," for example, she implements shopping bags as part of a training regimen she designs to help Maddie Fitzpatrick (Ashley Tisdale) raise her grade in P.E. "You build up a lot of muscle carrying these from store to store when your limo driver claims he 'has a bad back' because he 'hurt it saving someone's life,'" London tells her. Her method may be unconventional, but it works. As Maddie climbs a rope in P.E., she recites her London-inspired mantra: "Get the sandals! Get the sweater! I'm gonna make myself look better! I'm going to make it!"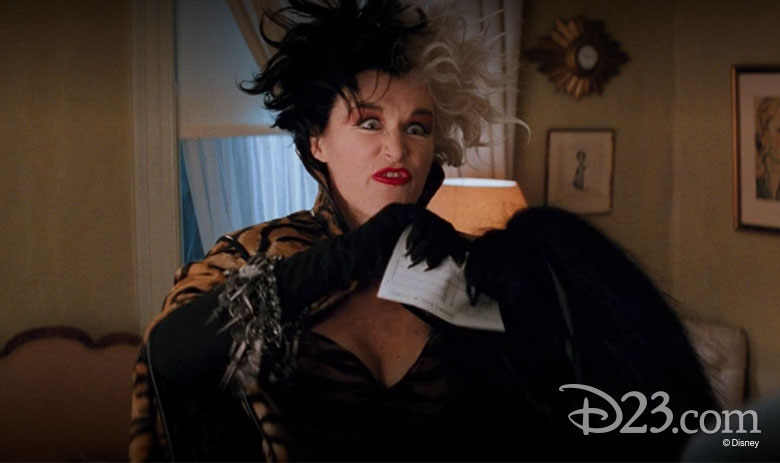 Cruella de Vil (101 Dalmatians)
In the 1996 live-action comedy adventure film, Cruella de Vil (Glenn Close) is incensed when Anita Campbell-Green (Joely Richardson) and Roger Dearly (Jeff Daniels) refuse her £7,500 offer to purchase their 15 newborn puppies. She feels it's generous, as it equates to "two pounds per spot"—but it doesn't matter. After Anita firmly tells her boss the puppies are not for sale, the furious fashionista sees red. "Keep the little beasts! Do what you like with them. Drown them for all I care!" Cruella yells. "You're a fool, Anita! I have no use for fools! You're fired! You're finished! You'll never work in fashion again! I'm through with all of you! I'll get even! Just wait! You'll be sorry! You fools! You idiots!"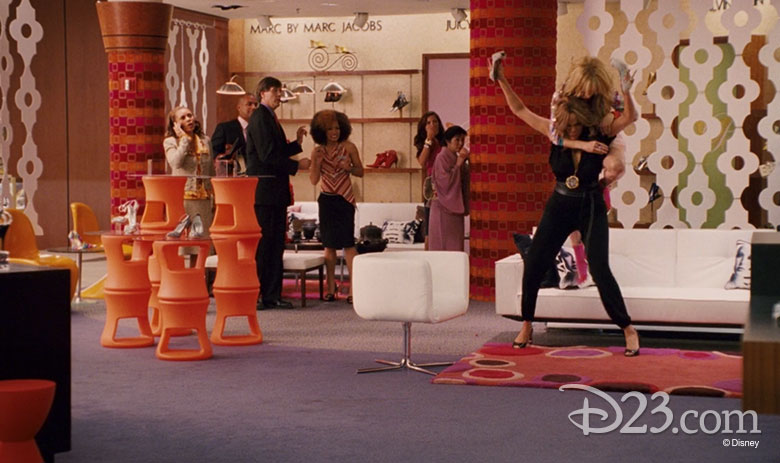 Hannah Montana (Hannah Montana: The Movie)
Before she's sent back to her home state of Tennessee for a much-needed attitude adjustment, diva-in-training Hannah (Miley Cyrus) cops some swag, courtesy of a deal her publicist Vita (Vanessa Williams) makes. Even though it makes Hannah uneasy, Vita argues it's part of being a celebrity. "Do you know what a well-placed photo of you shopping is worth? You're a star! An icon!" Vita says. "You look at it, touch it, wear it—and the whole world has to have it! They owe it to you, Hannah. Name it and it's yours!" Unfortunately, Hannah buys into her own hype and fights with Tyra over a pair of shoes. It turns out to be a blessing in disguise, of course, as her dad Robby Ray (Billy Ray Cyrus) recognizes he must intervene—and remind her of her roots—before it's too late.
Want more Disney+ news? Click here to stay up-to-date with what's streaming!