Do you remember the first time you rode Space Mountain?
—how exhilarating it felt to be soaring through outer space, with stars so close you could almost touch them and having a sense that you'd left Earth behind to journey somewhere only astronauts had gone before?
Forty years ago today, January 15, 1975, guests at Walt Disney World in Orlando were Space Mountain's inaugural travelers. The attraction opened with fireworks, astronauts of both the NASA variety and the Disney variety, along with a 2,000-piece marching band that Jim Christensen, director of Disneyland's music department, had just four hours before the ceremony to organize.

The spectacular opening also marked the Official Dedication of Tomorrowland, already home to Star Jets, which had opened on November 28, 1974, and Magic Carpet 'Round the World (as a new version of America the Beautiful was being finalized). The Carousel of Progress also made its Walt Disney World debut on January 15, after being moved from Disneyland; and Mission to Mars (replacing Flight to the Moon) and the WEDway PeopleMover would follow that summer.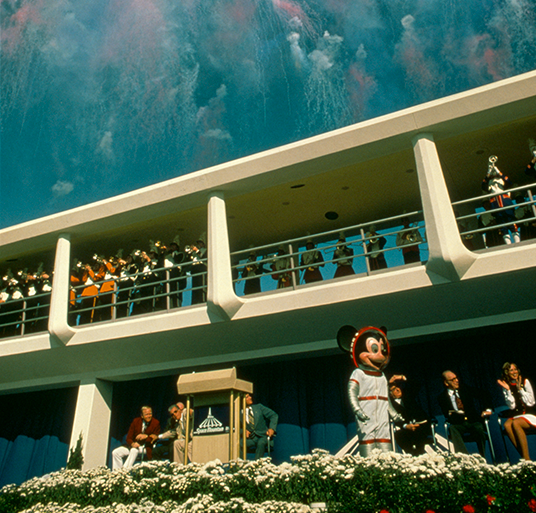 A photo from the dedication ceremony; in addition to Mickey Mouse, fans may notice Card Walker (then-Executive Vice President and Chief Operating Officer of Walt Disney Productions) catching the attention of Dick Nunis (Executive Vice President of Walt Disney World and Disneyland), along with representatives of sponsor RCA and 1975 Walt Disney World Ambassador Suzy O'Hara.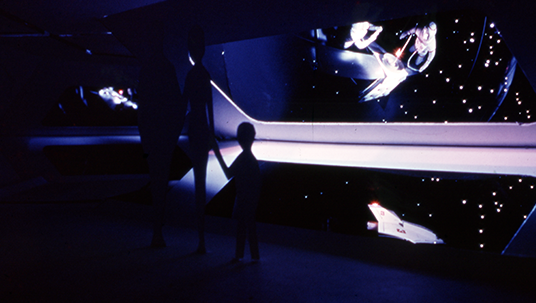 A rarely seen model of the Star Corridor, which guests passed through on their way to the Alpha and Omega Space Port areas where they boarded their shuttles.
Originally, guests concluded their trip to the outer reaches of the galaxy with a trip to the future, by way of RCA's Home of Future Living, which was offered at Walt Disney World's Space Mountain until a major re-theming of the attraction in 1985. As these rare photos of the post-show's model illustrate, the experience demonstrated how new technologies would affect the lives of the average family years into the future.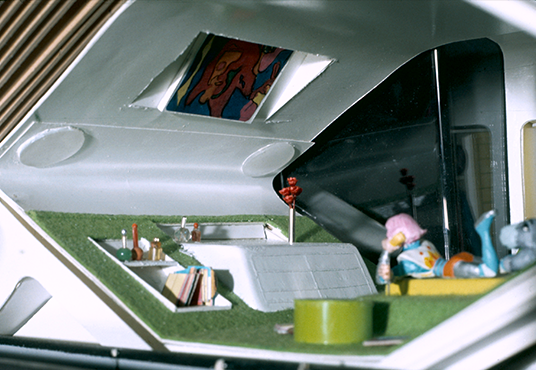 Not unlike Horizons, which would open at EPCOT Center in 1983, the Home of Future Living imagined technological innovations—that looks like a precursor to a smartphone in the teenage daughter's hand, doesn't it?—while keeping all the relatable "people details."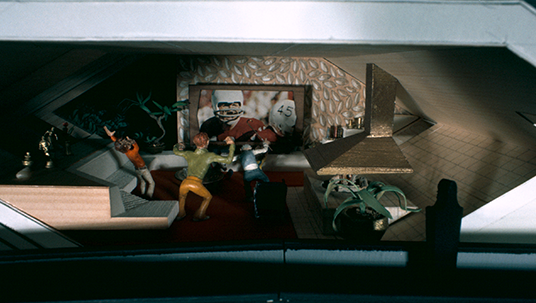 This was a model of the entertainment room, where even in the future, a gripping football team will continue to bring families together.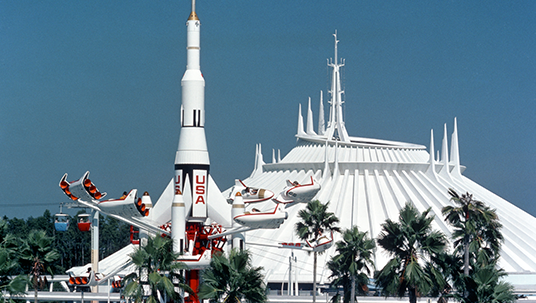 The thrills and wonder of Space Mountain will also continue to bring families together. We celebrate the attraction's 40th anniversary at Walt Disney World, and quote the attraction's original theme song as we say, "Here's to the future!"