By Courtney Potter
Disney Cruise Line Unveils Look at Newest Ship: The Disney Wish
If you watched the Disney Parks Magic Christmas Day Celebration on ABC over the recent holiday (and/or DVR'd it for a nice "Christmas in July" treat this coming summer… or was that just us?!), you've seen this exciting tidbit of news—Disney Cruise Line just revealed a look at their latest amazing ship, the Disney Wish. For those who may have missed it the first time, or in case you'd like to check it out again, take a gander at the brand-new sneak peek clip, above.
The video showcases new details of the ship's glittering Grand Hall, and offers a first look at the exquisite character statue at the base of the grand staircase. Inspired by the beauty of a fairy-tale castle, the Grand Hall truly sets the tone for an enchanted family vacation from the moment guests step onboard. And it's a great setting for a statue of Cinderella, whose story is the perfect example of magic transforming wishes into dreams… and dreams into reality.
The Disney Wish is the first of three—yes, three!—new ships joining the Disney Cruise Line fleet through 2025. All three ships will be powered by liquefied natural gas and, at approximately 144,000 gross tons and 1,250 guest staterooms, will be slightly larger than the Disney Dream and Disney Fantasy. Look for the Disney Wish to set sail in the summer of 2022.
5 Fantastic Things to Watch This Weekend
Well, it's finally here… we've made it to 2021, and there is plenty of fun stuff to watch from around the worlds of Disney for this first official weekend of the year. Nat Geo WILD welcomes an all-new season of The Incredible Dr. Pol on Saturday, while ABC's The Rookie returns on Sunday. And that's on top of new titles coming to both Hulu and Disney+. Find out what you can expect, and make sure to save some of those yummy New Year's Eve snacks to enjoy whilst TV-watching over the rest of the weekend.
The Suburbs Get Strange in New WandaVision Teaser
In just a few weeks' time, we'll all delight in the debut of Marvel Studios' WandaVision, their first-ever series streaming exclusively on Disney+. And to wet our proverbial whistles, the good folks at Disney+ just premiered another intriguing teaser—which finds Wanda Maximoff (Elizabeth Olsen) and Vision (Paul Bettany) settling into their new home in Westview. But it doesn't take long before they start to suspect things aren't as they seem…
Directed by Matt Shakman, with Jac Schaeffer serving as the series' head writer, WandaVision is a blend of classic TV and the Marvel Cinematic Universe. Rounding out the cast are Kat Dennings, who reprises her role as Darcy Lewis from Thor and Thor: The Dark World; Randall Park, who reprises his role as Agent Jimmy Woo from Ant-Man and The Wasp; as well as MCU newcomers Kathryn Hahn, playing a plucky neighbor; and Teyonah Parris, playing Monica Rambeau, who was introduced as a child in Captain Marvel.
Look for the series on Disney+ on January 15!
New Year, Big News from Shanghai Disneyland
Hot off the proverbial presses comes this fun news from our pals at Shanghai Disneyland: As of this writing, they've already passed midnight and are celebrating the first day of 2021. And during their incredible New Year's Eve fireworks show ("Ignite the New Year"), they officially unveiled the new logo for their upcoming Fifth Anniversary celebration!
The logo's debut, which illuminated Enchanted Storybook Castle (the world's largest Disney castle), marked the start of the resort's milestone year—and hinted at the many festivities and surprises in store for guests as the resort counts down to the Fifth Anniversary of its historic opening in June 2016. Disney guests and fans across the country—and around the world—are eagerly anticipating all the magical offerings that famously accompany a major anniversary at Disney resorts worldwide.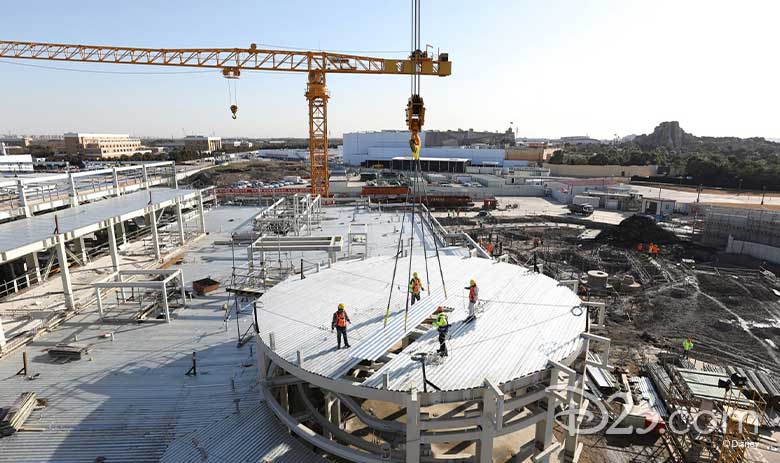 But that's not all: Earlier this week, Shanghai Disney Resort celebrated a new milestone as construction continues in Shanghai Disneyland's newest themed land, Zootopia! Leaders and representatives from the resort joined leaders from the Administrative Commission of Shanghai International Resort—as well as from Shanghai Shendi Group—to sign the final steel roof deck before its installation and watched as the attraction was topped out.
As the eighth themed land at Shanghai Disneyland, Zootopia will be the first-ever land of its kind, featuring a major new attraction that seamlessly blends Disney's storytelling and state-of-the-art technologies in order to bring the beloved movie and its characters (including fan faves Judy Hopps and Nick Wilde) to life. We can't wait to see what's in store!