By Beth Deitchman
The big moment is just days away! Next Sunday, May 17 (8–10 EDT), American Idol will crown its next singing sensation, as determined by America's nationwide vote. It's been a dramatic journey for all of the contestants, and this week's show no doubt became an indelible part of their American Idol experience. The remote episode continued American Idol's Disney Night tradition, with the Idol hopefuls all making their own Disney magic right where they are, but also gave them the opportunity to honor their first fans—the mother figures in their lives—as part of a very special Mother's Day show.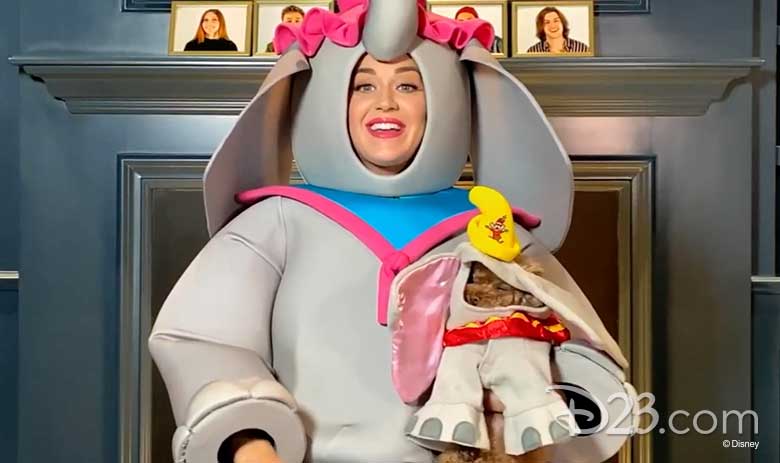 "I think all the Mother's Day performances had me quite emotional," mother-to-be Katy Perry said after the show, during a press conference with all three of the American Idol judges. As part of the festivities, the contestants wrote heartfelt notes for their mothers that they read to them before performing a song dedicated especially to that very special person. "That was a whole session in gratitude, what you saw," Lionel Richie stressed, noting, "I think what's happening most of the time is [the Idol hopefuls] don't really realize how special their families are until this moment, when they realize, holy mackerel, I made it and they've been supporting me all these years—through all the good times and bad times."
But ahead of the stirring Mother's Day tributes, the contestants each performed a Disney song, and all seven made these classic numbers their own. "Disney Night can be tricky for some of these contestants," Luke Bryan said, acknowledging that some contestants have to dig a little deeper into the amazing Disney catalog to find a song that suits their style. "But the beauty of Disney Night is always watching how the contestants make a Disney song have their stamp on it," he said. "I think the fact that we were able to combine the Mother's Day Night and the Disney Night was pretty amazing."
We also had the opportunity to talk with the Top 7 about choosing the perfect Disney song and paying tribute to mom on Sunday night. Here's what they had to say about making musical Disney magic from home.
Arthur Gunn—"Kiss the Girl"
Arthur Gunn put his own spin on this The Little Mermaid classic—and he even incorporated a hidden Mickey into his home-based set. Of his guitar-driven rendition with a beachy vibe, he told D23, "I came up with the arrangement, and when I tried it with the vocal coaches, it came to life—the whole song and different approach."
Just Sam—"A Dream is a Wish Your Heart Makes"
Just Sam may have been performing in her West Hollywood, California, apartment, but thanks to some dazzling digital magic, she was immersed in the fairy-tale world of Cinderella. The song's theme resonates with Sam, who told us, "I am trying to send a message to those people that are still going through the things that I've been through. I'm trying to send a message that no matter what, dreams really do come true. You've just got to keep pushing, got to keep fighting, got to keep believing."
Jonny West—"Almost There"
West transported us to the bayou by way of his California home, where he sang "Almost There" from The Princess and the Frog. The singer-songwriter has been a fan of Disney Legend Randy Newman for as long as he can remember. "Anything that he touches and does is amazing to me and I just wanted to take something he did and try to put my own spin on it," said West.
Louis Knight—"Can You Feel the Love Tonight"
Another Disney Legend inspired Louis Knight to perform "Can You Feel the Love Tonight" in his Narberth, Pennsylvania, backyard. "I chose 'Can You Feel the Love Tonight' because I love Elton John. I grew up listening to him in England," he told us. "Also, The Lion King is definitely my favorite Disney film. It's filled with so many beautiful life lessons, and I think it's just such a special film."
Julia Gargano—"Beauty and the Beast"
Flanked by candelabras and dressed in the perfect shade of gold, Julia Gargano performed the title track from Beauty and the Beast in her Staten Island, New York, backyard. The tale as old as time—and its iconic song—have always been favorites for her. "I think it's an incredible story. As a songwriter, that's what you want to do, tell a story," she said. "I think Belle is one of the most badass princesses of them all. She's like this woman who stands up for what she wants but she's also a softy—which is the best combo."
Francisco Martin—"You'll Be in My Heart"
"Believe it or not, I was very scared to perform these songs," said Daly City, California, native Francisco Martin of "You'll Be in My Heart" and the song he sang for his mother, Leon Bridges' "River." The judges' celebrated the confidence Martin showed Sunday evening, pointing out how much that confidence has grown over the course of the season. According to Luke Bryan, Martin was like the "king of the jungle" as he performed, thanks to animation magic, within the world of Tarzan. "It's one of my favorite performances so far on this show, so I'm proud of myself for that," Martin enthused.
Dillon James—"Our Town"
James took on James Taylor's song from Cars and blew the judges away with how he made "Our Town" his own. Once James discovered the song, he said it wasn't a stretch for him to connect to it on a personal level. "It just really hit me hard," he explained. "I felt like it was a good song for everything I represent in my life and everything I want to be doing in the music business so it was a good choice for me."
Next Sunday, the Top 5 contestants will be revealed at the start of the evening and will go on to perform two songs as they compete for the American Idol crown. The first song will celebrate their induction into the Top 5, and the second will be a previously performed song and their new official American Idol single. And best of all, America's real-time vote will determine the winner during the East Coast broadcast—so be sure to show your support for your favorite contestant!
Guests joining the finale, remotely, include Academy Award® nominee Cynthia Erivo, who will perform a medley of iconic Aretha Franklin songs with this season's Top 11 Idol hopefuls; Grammy® winner Lauren Daigle, who will perform her megahit "You Say" with the Top 5; and superstar vocal group Rascal Flatts, performing "Bless The Broken Road" with Doug Kiker, who was part of this season's early rounds of American Idol.
Katy Perry recently told D23 that she and her fellow judges have something up their sleeves for the grand finale, and it's a trio of musical performances we can't wait to see. Perry will perform her new single "Daisies" on television for the first time ever; while Luke Brian will pick up the microphone to sing his new single, "One Margarita." And Lionel Richie will pull out all the stops as he performs "We are the World," joined by his fellow judges and members of the American Idol family, including Alejandro Aranda aka Scarypoolparty, Gabby Barrett, Jordin Sparks, Katharine McPhee, Kellie Pickler, Laine Hardy, Lauren Alaina, Phillip Phillips, Ruben Studdard, and Scotty McCreery.
Tune in at 8 p.m. EDT as American Idol's third, history-making season on ABC draws to an epic conclusion!