By D23 Team
The D23 Fantastic Worlds Adventure Kit features a 24-by-36 inch map that lets you unfold the magic of the worlds of Disney! As part of the 2020 Gold Member Gift, this map celebrates
iconic locations from Disney Studios, Pixar, Disney Parks, television, The Muppets, and so much more! With so many tiny details and secrets hidden within the map, we've rounded up seven details you need to know about this gorgeous collectible.
Disney artist Bryan Mon based the design of the map on Sam McKim's early Disneyland Fun Maps.
An elaborate set of rules was created to dictate which locations were included. One of the rules was a strict ban on featuring real-life places not created by Disney, instead focusing on fantasy locations or locations created for Disney and Pixar stories.
Some of those Disney-created places include theme parks! The D23 Fantastic Worlds map includes locations from every Disney theme park resort around the world. Can you find them all?
There are over 250 places and Easter eggs, derived from over 168 films, television shows, and theme park locations.
Besides locations, the map also includes 23 Hidden Mickeys!
Two other iconic Disney characters have their own Easter eggs—can you find the hidden Oswald the Lucky Rabbit (from Walt Disney's Oswald shorts), and the hidden Julius the Cat (from Walt Disney's Alice Comedies)?
Of course, since the map features fantastic locations from Pixar films, we had to hide one of their most classic Easter eggs—can you spot the Pizza Planet truck traveling through our map?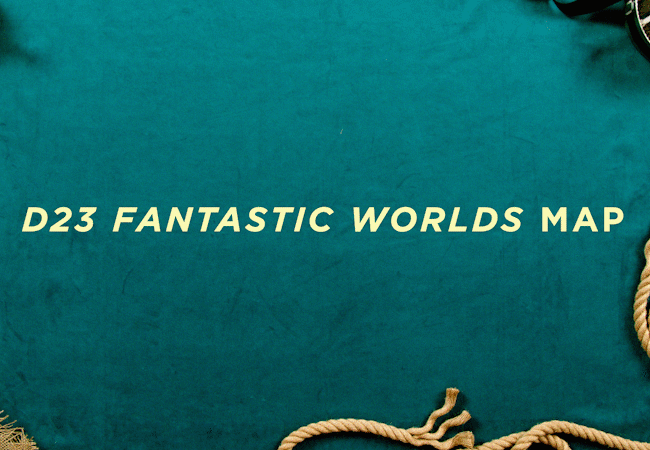 Get a closer look at all the amazing locations and dazzling details of the D23 Fantastic Worlds map with the D23 Fantastic Worlds Adventure Kit—exclusive to D23 Gold and Gold Family Members. More details here.