Channel your inner Indiana Jones and go on a culinary adventure with these savory empanadas and effervescent beverage straight from Jock Lindsey's Hangar Bar in Disney Springs at Walt Disney World.
Satipo's Empanadas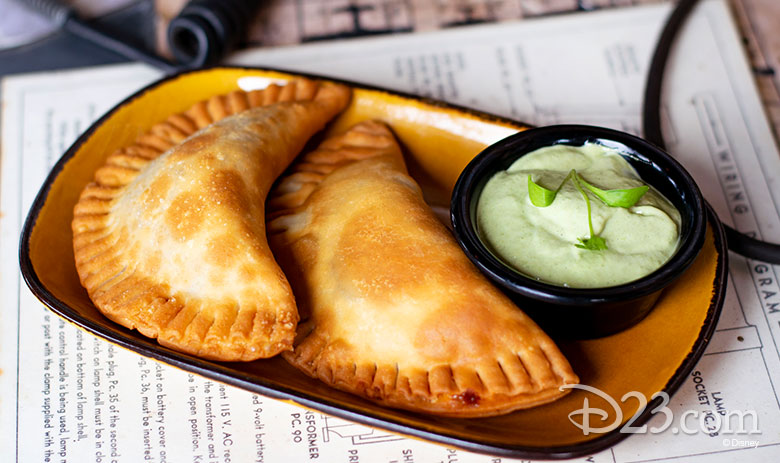 Makes 12–15
1/2 pound ground beef
1/4 cup diced onion
2 tablespoons diced green pepper
2 tablespoons diced red pepper
1 tablespoon diced jalapeno pepper
2 cloves garlic, chopped
1 tablespoon tomato paste
2 tablespoons water
Juice of 1/2 lime
1/2 bunch cilantro, chopped
1/2 teaspoon ground cumin
1/4 teaspoon paprika
1/4 teaspoon ground coriander
1/8 teaspoon dried oregano
1/8 teaspoon cayenne pepper
1 medium russet potato, diced
2 tablespoons chopped green olives
1/4 cup shredded cheddar cheese
1 teaspoon coarse salt, plus more, to taste
15 (four-inch) empanada wrappers
Oil, for frying
Brown ground beef in a large skillet over medium heat, until fully cooked. Drain excess grease from pan.
Add green pepper, red pepper, jalapeno, and garlic to ground beef. Sauté over medium heat for 5 minutes, until soft.
Stir in tomato paste, water, lime juice, cilantro, cumin, paprika, coriander, oregano, cayenne, and potatoes, Bring to a simmer over medium heat. Cover and reduce heat to medium low. Cook for 15 minutes, stirring occasionally, until potatoes are tender.
Remove from heat and add olives and shredded cheese. Stir in salt, adding more if needed.
Allow beef mixture to cool for 30 minutes.
Place 1 heaping tablespoon of beef mixture in the center of each empanada wrapper.
Add a small amount of water to the outer rim of each wrapper and fold into a half moon shape. Crimp the edges with a fork.
Preheat oil in a deep fryer or Dutch oven to 350°F.
Fry empanadas for 5–6 minutes, turning, until golden brown.
Cook's Note: Empanadas can be baked instead of fried. Preheat oven to 400°F and bake for 15–20 minutes, until golden brown.
Poisonless Dart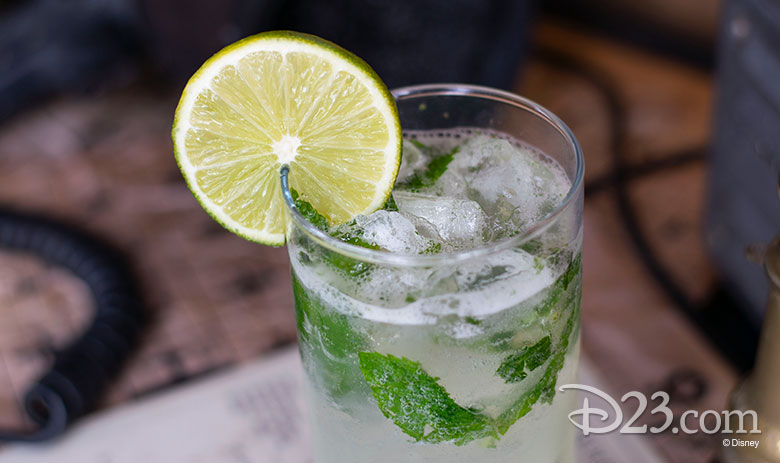 Serves 1
1 oz. simple syrup
1 ½ oz. lime juice
8 mint leaves
3 fresh squeezed limes
Soda water
Lime wheel, for garnish
Stir together ingredients in mixing glass. Add ice, shake, and pour into serving glass. Top with soda water.
Garnish with lime wheel.
This recipe has been converted from a larger quantity in the restaurant kitchens. The flavor profile may vary from the restaurant's version. All recipes are the property of Walt Disney Parks and Resorts U.S., Inc., and may not be reproduced without express permission.