You might think after 11 Oscar® nominations—and three wins—the bloom may be off the rose for designer Colleen Atwood.
Not so. "It's still really exciting," she says. "You never know what's going to get nominated." This year, she is being honored for her colorful creations for Into the Woods, one of the many projects she's done with Disney, including Alice in Wonderland and Chicago (both of which she won Oscars® for as well). We had the chance to catch up with Atwood before she walks the red carpet on February 22, to discuss working with "growing" talent, who she'll be wearing on the big night, and secrets to looking your best.
D23: How did you learn about your nomination?
A: I was in England working, so it wasn't first thing in the morning. It was the afternoon. I forgot about it. All of a sudden I started seeing a million texts and it was like, "Oh my gosh!"
D23: Do you put pressure on yourself to be more creative every time you work on a project?
A: I'm really lucky in that I get to do so many interesting and creative projects. You feel a pressure not to repeat yourself, and to take what you've learned from one and apply it to another but still expand on what you're doing artistically.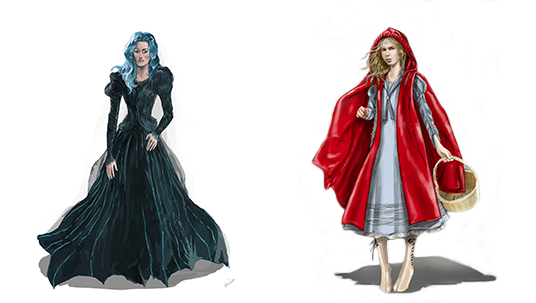 D23: When we spoke to the cast for our magazine Disney twenty-three, Meryl Streep and Emily Blunt were both amazed at how nimble your team was, coming up with creative elements to hide Emily's pregnancy. Can you talk about the effort that went into that?
A: When someone is expecting a baby, their body changes every day. And it doesn't stay the same once it's changed. We had multiple dresses, so I'd bring in the multiple and get it prepped for the next day. I'd raise the neckline of the blouse or shade the side. Luckily, because Emily has a really nice, long neck, you couldn't tell [she was pregnant] from her face. So we managed to get away with a huge amount. But we really had to be on it. The difference in the first costume to the last day of shooting was huge!
D23: Anna Kendrick told me she felt badly that she kept getting the pitch material from the stairs all over the dress.
A: It was hard for her not to, doing what she was doing—lying down on those steps. But luckily it rinsed out. It was just molasses. We just spot-cleaned them after each take.
D23: How many of those gowns did you create?
A: It was made out of a vintage fabric, so I only had two of them. So it was a little bit scary when she started doing that number. I was just worried someone would step on it and rip the back, because, believe me, I tested the "tar" way ahead of time!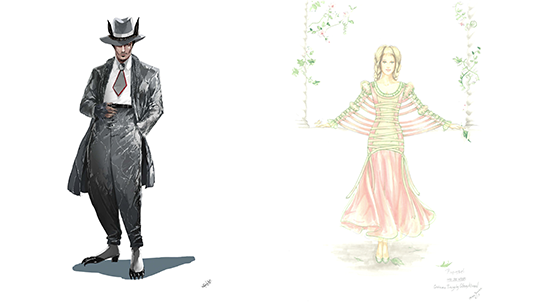 D23: You've worked with Johnny Depp many times before. Did you talk with him when designing his zoot suit Wolf costume?
A: Yeah, I showed him the sketch and he was excited about it. He came in a couple days early for a fitting to see what it would move like. He really loved it. It was a great fitting. We were in a hotel room trying it on. He was running around swishing his tail at people.
D23: What's he like to work with as a costume and as a "model" for some of your more intricately designed outfits?
A: He's one of those guys who puts something on and it feels like he's been wearing it for days. He has such an ability to wear clothes. And I love bringing lots of extra bits to play with. He is so creative, he'll come up with ideas if you present him with something.
D23: And now you've worked with him again on Alice in Wonderland: Through the Looking Glass. What's it like returning to a world you first designed the look of—from the dresses to all the hats!
A: The hats are still in. The Hatter is still in, but he has some surprise changes. There are some new characters. There's a fun, exotic vibe to the whole thing. The Red Queen is back and she has some really great new stuff. It was fun to take the characters to the next place of their journey.
D23: Do you need to be consistent with the original film's look and feel?
A: Not really. Because it's the same story with the same people so there are some things you want to tie together. But you want to expand the world that you've started. So it's a fun challenge.
D23: With the big day coming up, do you design your own dresses for your red carpet walk?
A: I have some years. And other times I haven't. This year I bought something I'm remodeling. My workrooms are so busy, I think if I asked them to make me something right now they might want to hit me over the head with a pair of scissors.
D23: So can I ask who you'll be wearing?
A: It's a Lancing dress. I like it.
D23: Are there any stores or designers you like?
A: I definitely am a fan of some of the basics of Club Monaco and Gap for layering. I like The Row for their great simple jackets. I use them a lot for work.
D23: Not everyone gets to walk a red carpet, but I feel like everyone wants to look their best, whether it be at a nice dinner or a gala event. What are the secrets to dressing well that won't leave you in pain—or bust your bank account?
A: I think that simple is always better. It's important not to overdress. Also, own what you're wearing. Stand up straight. Present yourself in a way that conveys confidence. Then you can pull anything off.
The Oscars air February 22 on ABC.