By Courtney Potter
Get ready for the latest adventure from Marvel Studios with these cool, coveted items available now at shopDisney.com.
We are mere days away from the thrilling debut of Marvel Studios' latest adventure, Black Panther, and the excitement is truly palpable! Need a little refresher on what you can expect at your local cineplex on February 16? Directed by Ryan Coogler (Fruitvale Station), Black Panther follows T'Challa (Chadwick Boseman), who—after the death of his father, the King of Wakanda—returns home to his isolated, technologically advanced African nation to succeed to the throne and take his rightful place as king. But when an old (and still powerful) enemy reappears, T'Challa's fortitude as king—and Black Panther—is tested when he is drawn into a colossal conflict that puts the fate of Wakanda and the world at risk. Faced with duplicity and danger, the young king must assemble his allies and release the full power of Black Panther to defeat his foes and secure the safety of his people and their way of life. The film also stars Michael B. Jordan, Lupita Nyong'o, Danai Gurira, Martin Freeman, Forest Whitaker, Angela Bassett, and Andy Serkis. (Don't forget: D23 Gold and Gold Family Members are invited to a special 3-D advance screening of Marvel Studios' Black Panther in a city near you; for more info, click here.)
Get the jump on all things Black Panther—and be the envy of your fellow Super Heroes—by checking out some of the cool movie-related merchandise currently available on shopDisney.com. Remember, D23 Gold Members get a special discount, good for 15 percent off purchases of $60 or more, now through March 31.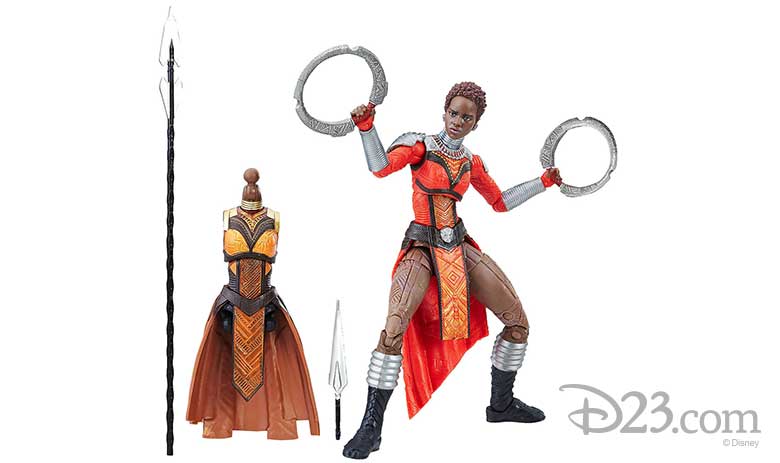 Nakia Action Figure—Black Panther Legends Series
Nakia (played in the film by Lupita Nyong'o) is a fierce member of the Dora Milaje, the personal bodyguards of Black Panther. She has strength, she has poise, and—in plastic, movie-authentic form—she'd be a supremely cool member of your Marvel action-figure cache. (And remember, if you collect all the figures from the Black Panther Legends Series Build-a-Figure Collection, you can assemble another whole action figure—depicting Okoye, the head of the Dora Milaje.)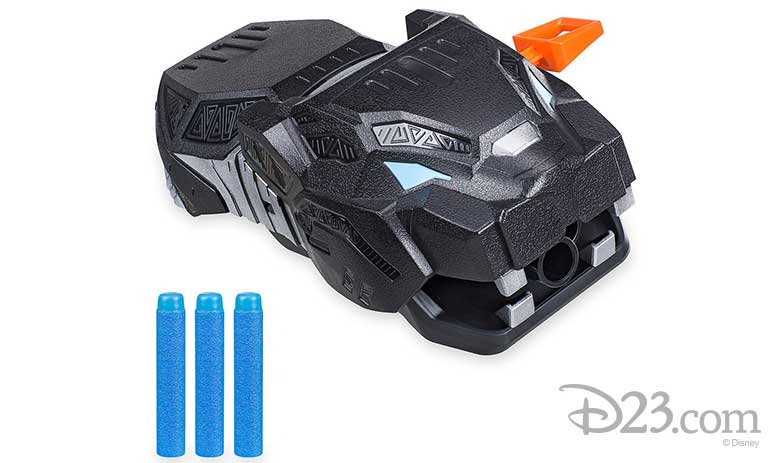 Black Panther Vibranium Strike Gauntlet
Here's a rip-roarin' toy for the younger Black Panther fans in your life, and it's "made" from a special material only found in Wakanda. The Vibranium Strike Gauntlet will (once the movie has premiered) let kids re-create all their favorite scenes; it looks like the head of a panther, but it sends Nerf darts flying through the air! (This could also be an interesting addition to your office cubicle, adult Black Panther fans. Just sayin'.)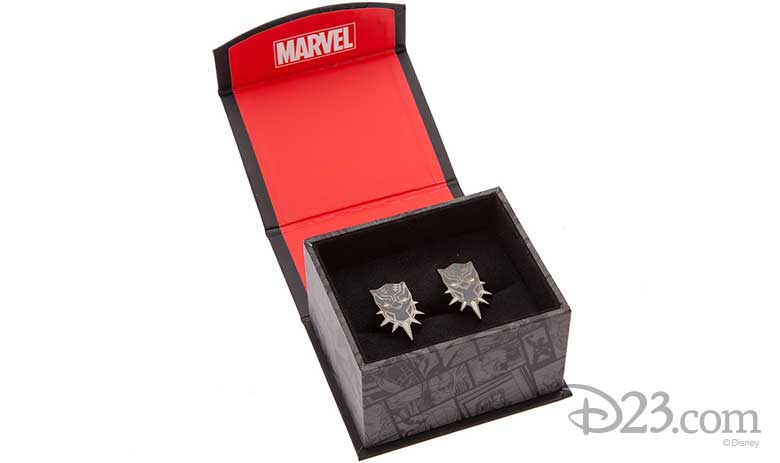 Black Panther Cufflinks
Here's a nice idea for a Father's Day gift (or honestly, a gift for anyone who likes to rock interesting wrist adornments): These Black Panther cufflinks are made with polished metal and depict the Warrior King, with the Marvel logo as the back button. Even the box is Marvel-ous, with comic panel sketches in black and grey and a striking red interior.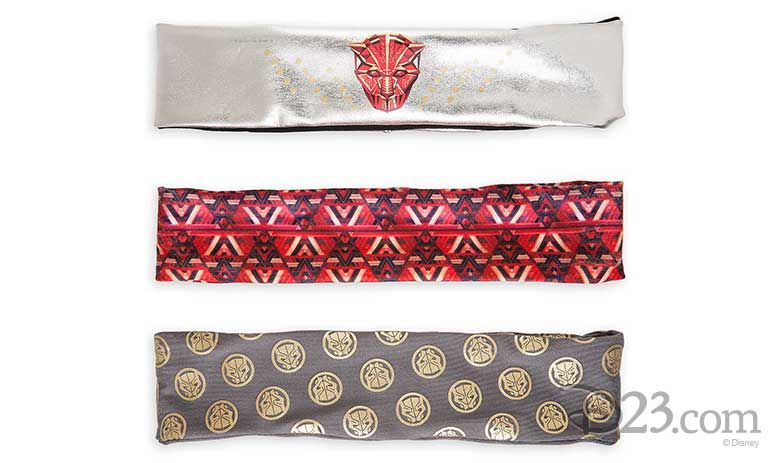 Black Panther Headband Set for Kids by Our Universe
Part of Ashley Eckstein's Her Universe clothing line, Our Universe aims to motivate kids with character-inspired active gear—and right now, it's only available at Disney Stores and shopDisney.com. These brand-new kids' headbands, influenced by the Warrior King of Wakanda himself, are part of the Our Universe collection; each headband (three total) is fashionably stretchy with a glittery non-slip grip.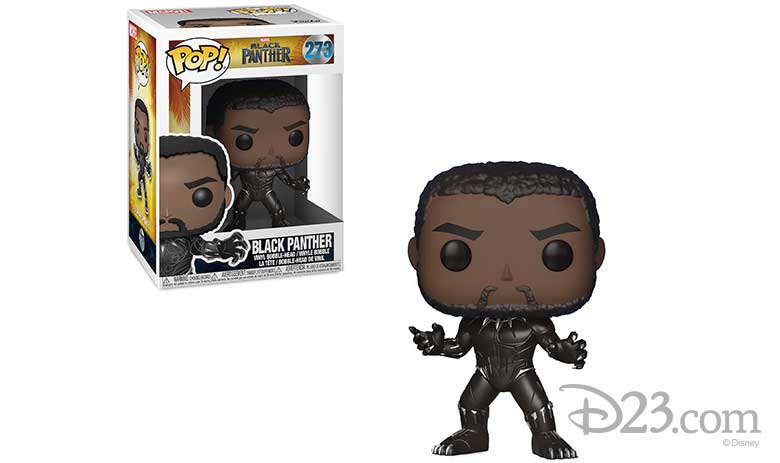 Black Panther Pop! Vinyl Bobble-Head Figure by Funko / Chase
No list of Black Panther merch is complete without a Pop! Funko figure, and this particular Pop! is pretty unique… You won't know which figure you're getting until you've opened the package! You'll either get Black Panther in his unmasked form, or in a rare, limited-edition masked "Chase" form. Both are quite nifty, so you will not be disappointed. Good luck!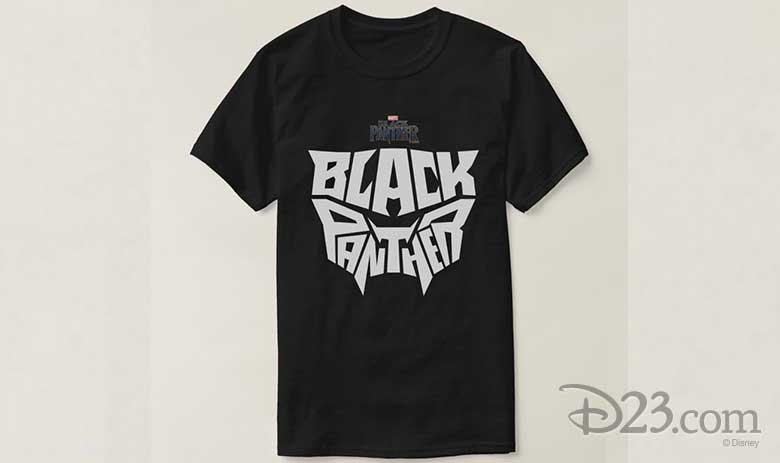 Black Panther Head Typography Graphic T-Shirt
This T-shirt not only features a cool typography graphic of the film's title (shaped like a panther), but it's also available with a host of options—with sleeves or without; in sizes up to 5X; as a sweatshirt or even a ringer tee; in many different colors; and they're a part of shopDisney's customizable line. Truly, you could outfit your entire family for a trip to the movie theater. (And if you do, post a pic on D23's Facebook or Twitter because we'd love to see y'all in action!)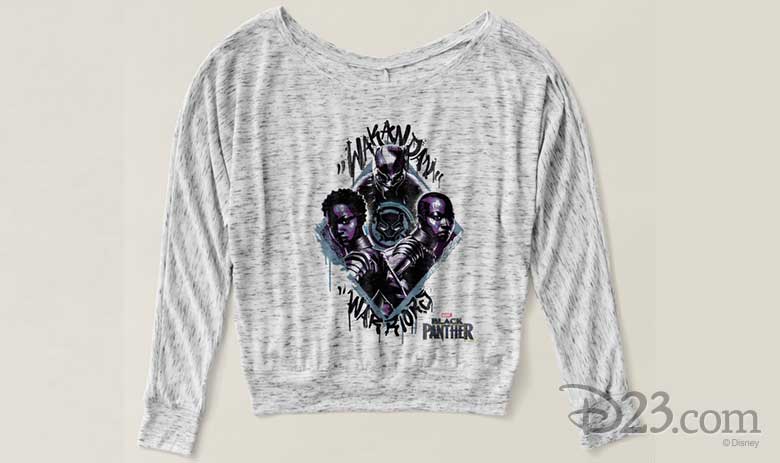 Wakandan Warriors Graffiti T-Shirt
Wear your Wakanda pride on your sleeve with this shirt; our favorite style for women is the Bella+Canvas Flowy Off Shoulder shirt, with its drapey silhouette, wide neckline, and soft poly-viscose blend. Every version, though, features a graffiti-inspired depiction of T'Challa, Nakia, and Okoye. And once again, as with many of these shirt options, you can customize it to your liking.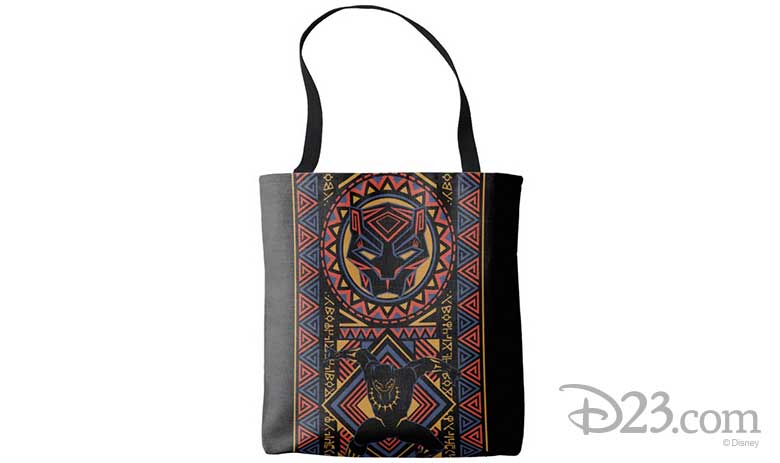 Wakandan Black Panther Panel Tote Bag
It's a tote bag fit for a king, and it'll even help you be a little more earth-friendly when you make a run to the local grocery store. This classic tote features an all-over print with edge-to-edge designs, and is even laminated for extra support. Available in two sizes, it can be "tailor-made"; the bag itself comes in several colors, and you can even add text.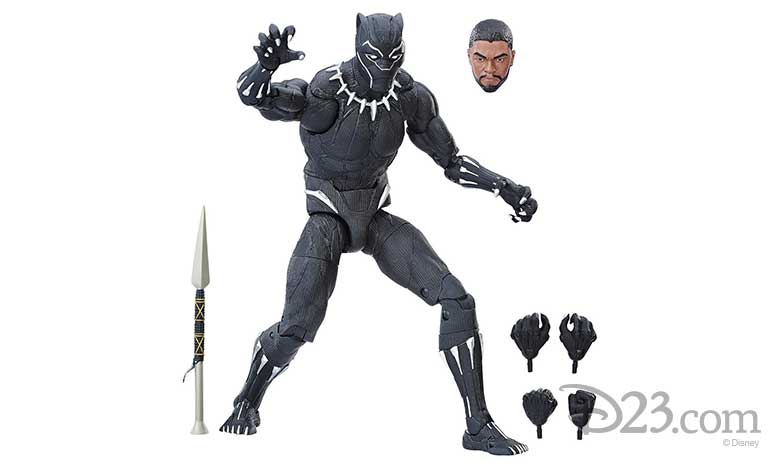 Black Panther Action Figure—Legends Series—12″
Now this is an action figure… The movie-inspired Legends Series Black Panther figure is a full 12 inches tall and features a super-detailed design and an incredible 30 points of articulation! It also comes with an alternate head, two alternate hands, and spear accessory—so it's almost like you're getting two toys in one. You'll be able to reenact the movie in no time!