By Megan Deppe
Let's face it—some of our favorite moments when watching a Disney movie come from discovering the little Easter eggs that have been dropped in to appeal to the "Disnerd" in all of us. Those details not only make us squeal with delight, but they point to how much work went into creating the magical world of the film. To celebrate its 10th anniversary, we went back and watched Enchanted, which is stuffed full of Easter eggs, and picked out our absolute favorites!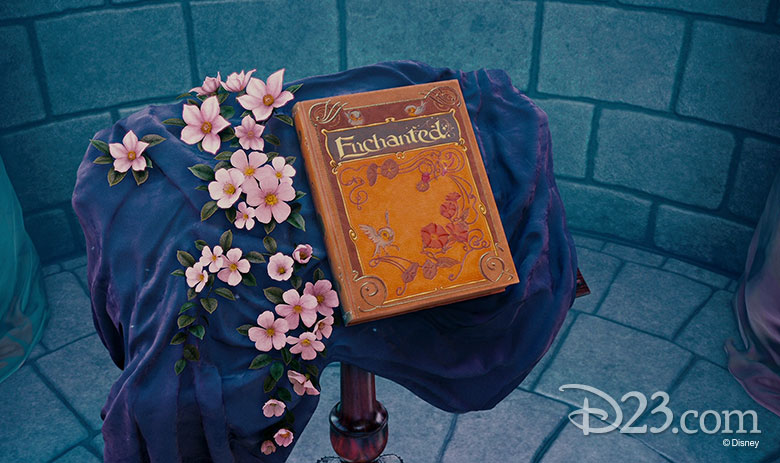 1. The Storybook Opening
Enchanted literally opens with an Easter egg, zooming in on a storybook that opens and begins our journey into Andalasia. This is a callback to many of Disney's earliest films, such as Snow White and the Seven Dwarfs, Cinderella, Pinocchio, Sleeping Beauty, and The Sword in the Stone, reminding us just how much we love Disney, then and now!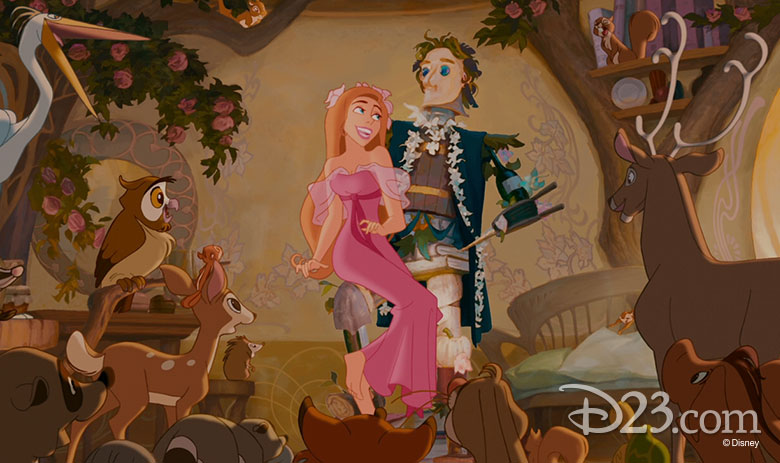 2. Prince Edward Statue
While Giselle sings "True Love's Kiss," she sits on the lap of a homemade statue of Prince Edward, dreaming of the day her prince will come for her. Ring a bell for you? It should—the statue resembles the one of Prince Eric from The Little Mermaid, which Ariel sings to in her cave of trinkets from the human world.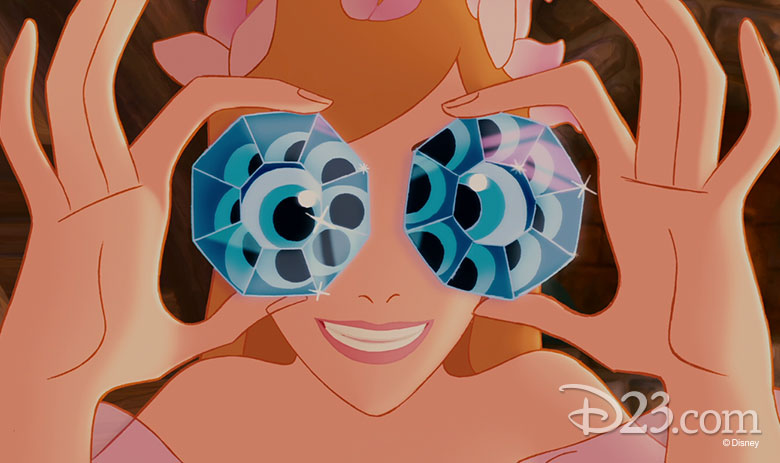 3. Dopey in the Sky with Diamonds
While Giselle creates her dream prince statue, she grabs two blue jewels to use for his eyes. She holds them up to look through them, and BANG—throwback to Dopey doing the same with the jewels he got in the mine!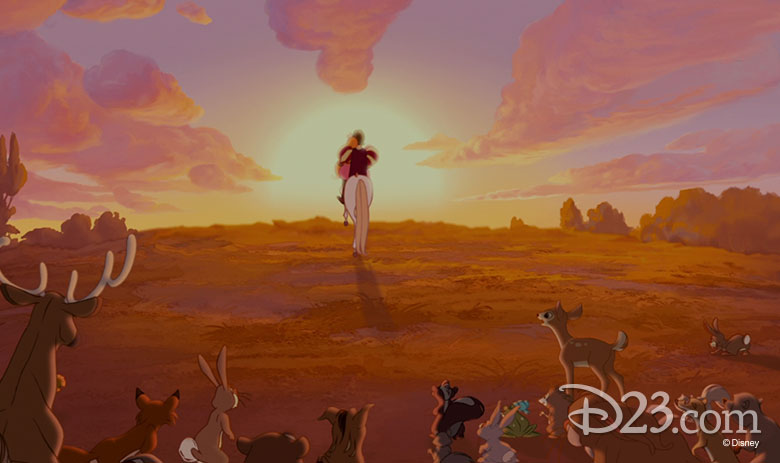 4. Riding off into the Sunset
Before their wedding day, Prince Edward saves Giselle from the troll and they fall in love, ending the scene by riding off into the sunset—a throwback to Snow White and the Seven Dwarfs, which ends with Snow White and her prince doing the same.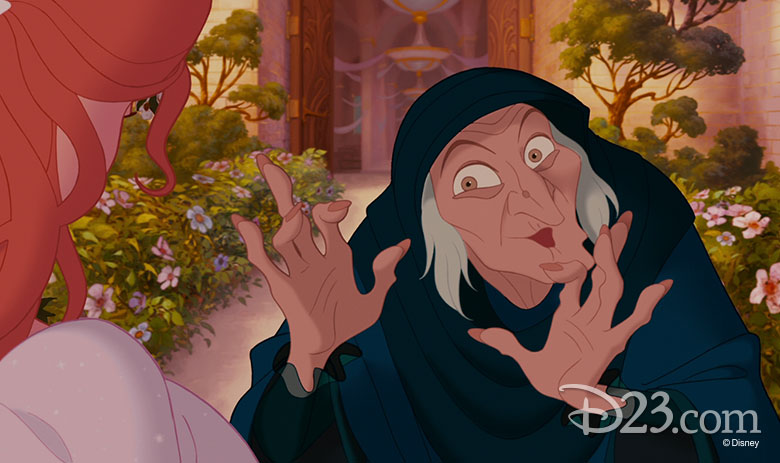 5. A Most Evil Queen
One of the more obvious Easter eggs is the disguise that Narissa wears when she chooses to banish Giselle from Andalasia: She takes on the form of an old hag with a poison apple as her weapon of choice. While her design is not quite the same as the Evil Queen from Snow White, we all know who she's emulating in her quest for the throne!
6. Jodi Benson Appears in the Film
Easter eggs continue to hatch when Giselle falls into the real world, where fans can spot cameo appearances by some of the actresses behind our favorite Disney princesses! The first is Sam, Robert's secretary, who is played by Jodi Benson, the voice of Ariel in The Little Mermaid! Looks like she finally got her legs after all! And keep an ear out for the moment when Giselle looks through a fish tank in the office and an instrumental version of "Part of Your World" plays in the background.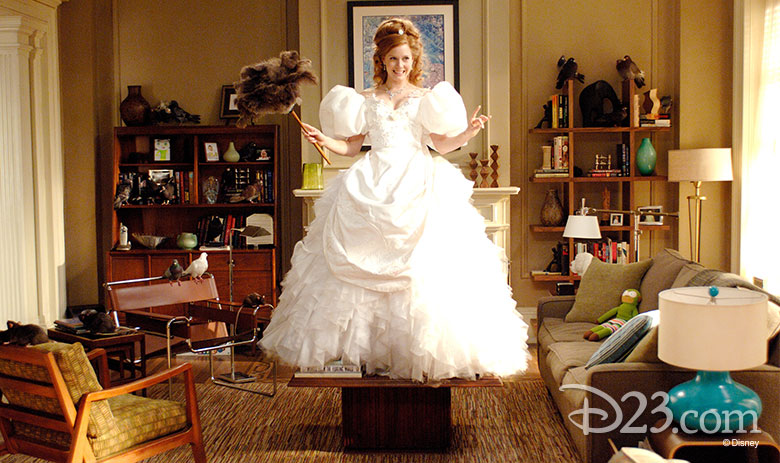 7. "Happy Working Song" and Cinderella's Apron
While Giselle stays at Robert's apartment, she decides to call on her animal friends to help her clean up, singing "Happy Working Song" while she does so. This harks back to Snow White's "Whistle While You Work" number as she cleans up the Dwarfs' cabin. There is also a moment where a group of birds lift Giselle's dress and tie it into an apron—much like Cinderella's birds do as she gets ready for her day! The Cinderella references continue when Giselle scrubs the floor and bubbles float up around her, as they float around Cinderella in the "Sing Sweet Nightingale" sequence.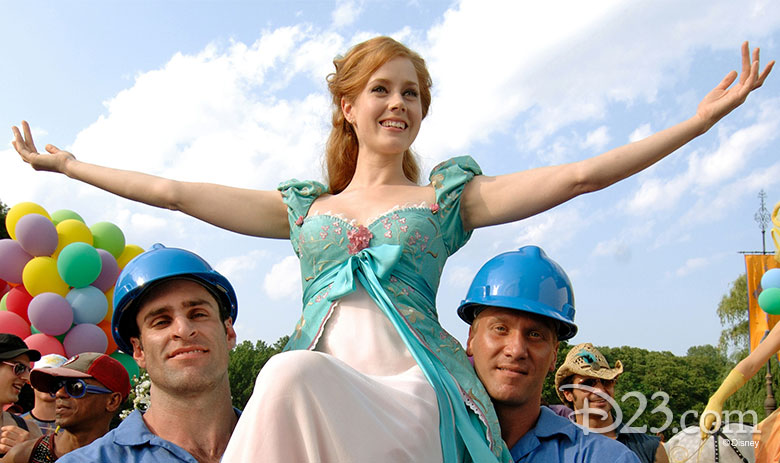 8. Hidden Mickey Dress?
Did you notice any Hidden Mickeys in the movie? If you take a close look at Giselle's blue dress made from curtains, you'll notice some tiny pink flowers stitched on. Now, look even closer—those pink flowers bear a striking resemblance to our main mouse! Coincidence?
9. Poison Caramel Apple
While dancing around in Central Park, Giselle is offered a caramel apple by Nathaniel. When she hesitates to take it, you can see that the caramel has dripped down the apple to form the same poisoned apple symbol that dripped down the apple meant for Snow White. Caramel may be a bit sweeter than the green stuff that the Evil Queen used, but we would still suggest that Giselle walk away!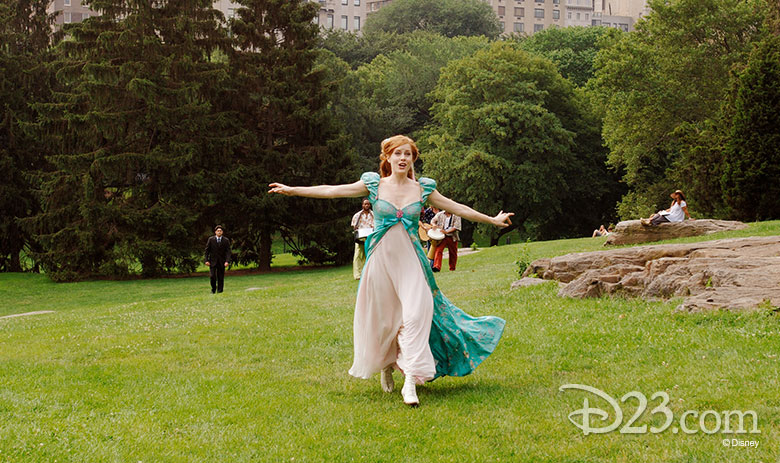 10. Belle's Hill Run
During "That's How You Know," there's a moment when Giselle runs up a grassy hill with her arms spread and she makes a cute little twirl to flare out her dress. Fans of Beauty and the Beast will remember that Belle did the exact same thing while singing "Belle (Reprise)" and running away from her provincial life.
11. Paige O'Hara
And speaking of Belle, guess who makes an appearance on TV while Edward is flipping channels? There are several references to other Disney movies while Edward listens to the "magic mirror," including characters named after several cast members from Beauty and the Beast (1991). But the only one who makes an on-screen appearance is Paige O'Hara, the voice of Belle. There is also a moment where the distinct score of Beauty and the Beast plays over her—just in case you don't recognize her without her signature yellow dress.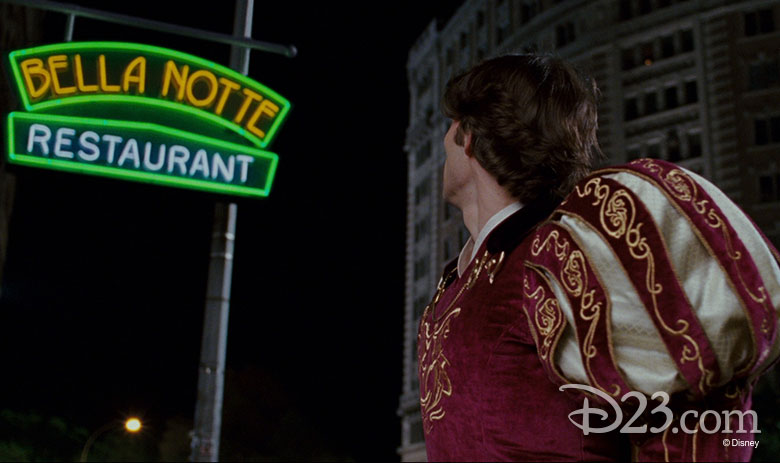 12. Bella Notte Restaurant
In a fun little reference that isn't from a princess movie, Edward searches for Giselle downtown while she is eating at the Bella Notte restaurant, a reference to the adorable scene from Lady and the Tramp. Did she order spaghetti to share with Robert?
13. Judy Kuhn
We run into an additional Disney princess while meeting Robert's neighbors: Edward is greeted by a mother and several children, and who might that mother be? Surely it isn't Judy Kuhn, the singing voice of someone who can paint with all the colors of the wind? That's right—Pocahontas is hanging out in New York City now! (Incidentally, Pocahontas had an outdoor premiere in NYC's Central Park in 1995!)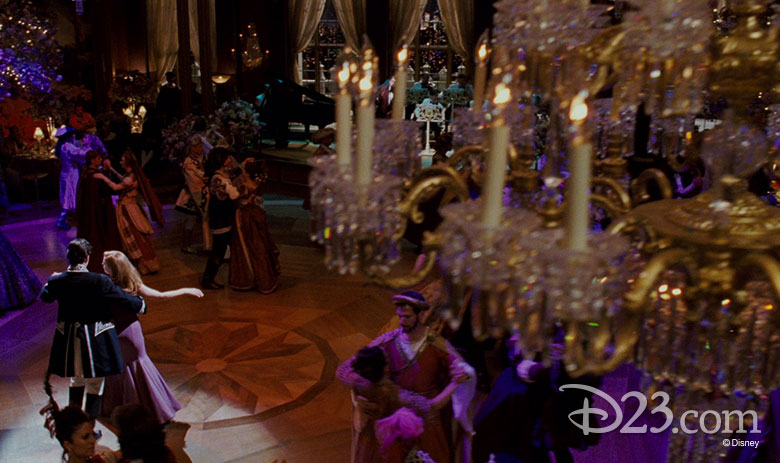 14. Beauty and the Beast Sweeping Shot
As Giselle and Robert dance at the ball, there's a shot that sweeps down over a chandelier to focus on the couple falling in love. This is a callback to the most iconic scene from the tale as old as time, as Belle and Beast share their first dance. It looks just as beautiful in 2007 and it did in 1991!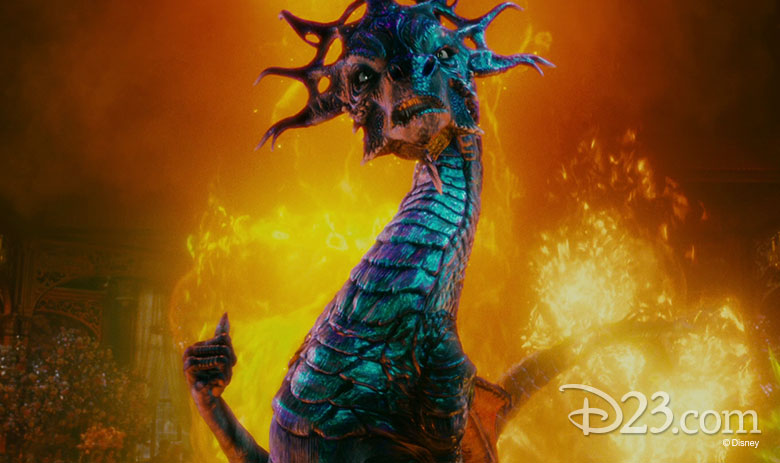 15. Maleficent / Dragon
The Evil Queen isn't the only villain that Narissa chose to study in her quest to rule the world—the final battle shows that she also took a page from Maleficent's book. Not only has Narissa studied her ability to create green fire, but she's learned the secrets of turning into a dragon to crawl up the skyscraper and fight the heroes.